How Business Schools Fuel Innovation Ecosystems
August 29, 2023 | By Mark Thaler and Meghan Webster
With increased choices for learning and working, the purpose of the physical campus is shifting. As institutions are redesigning and investing in spaces that maximize the campus experience, business schools have emerged as economic engines that fuel the local and global community — leading research and commercialization, strengthening the talent pipeline, and forging industry connections. By creating highly connective business school "ecosystems," where public and private sectors are working together to build synergies between work and education, there is significant untapped potential to help cities and communities thrive.
At SCUP 2023, we brought together three institutions who represent leading examples of this model: West Virginia University Reynolds Hall, John Chambers College of Business and Economics; Wichita State University W. Frank Barton School of Business at Wayne and Kay Woolsey Hall; and Purdue University Mitchell E. Daniels, Jr. School of Business. Four themes frame the commonalities and unique opportunities of each of these institutions and how design can bridge industry and academia in a variety of ways.
Programs and initiatives that champion an interdisciplinary mindset
More than ever, we are seeing the confluence of previously separate disciplines, such as advances in computer and data science that lead to breakthroughs in life sciences. Consequently, architects and designers are designing buildings that integrate these previously siloed areas. This is especially important for business schools with programs transcending local-global markets and industries. When successfully done, the physical building helps facilitate new conversations between disciplines. Ultimately, business degrees with an interdisciplinary approach help give future business leaders and entrepreneurs a new competitive advantage.
WVU's John Chambers College of Business and Economics Reynolds Hall breaks the outdated mold of business education spaces and prioritizes equality in a learning environment where students and faculty co-create solutions. For example, the college's Roll Capital Markets Center, which combines business and computer science, fosters a culture of sharing — helping to drive cross-pollination between students, faculty, and departments. Classrooms are innovative teaching spaces to empower faculty with cutting-edge technology and facilitate group learning. Similarly, the Hayhurst Ideation Hub, which hovers over the main entry, is a highly adaptable and high-tech academic space that puts business on display and fully supports project work, research, and the entrepreneurial endeavors that are key to WVU's mission of giving back to its community.
The new Reynolds Hall building also greatly improves the landscape of the western part of the campus, becoming a campus center that creates a hub of circulation from the existing campus buildings, public pedestrian trails, and recreational riverside courtyards. By being a visual and physical connector, the building facilitates connection to the greater community.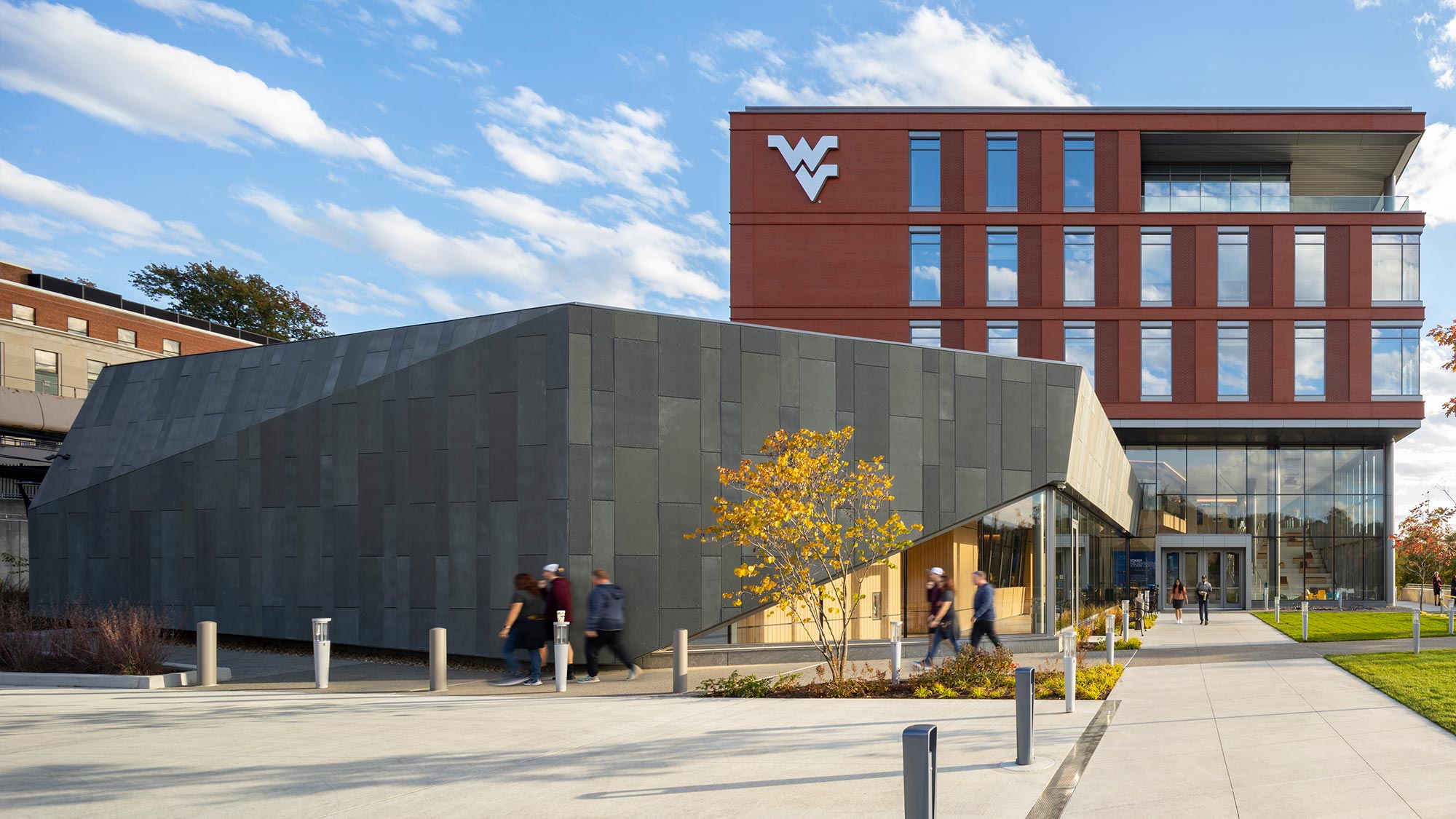 Infusing innovation into the campus ecosystem
Following the renewed investment in business schools in the early 2000s, the 2010s saw a rapid increase in innovation and academic incubators — spurred in part by the rapid explosion of startups and entrepreneurship that was driving business programs. Business schools continue to drive people together — not only within the school through interdisciplinary collaboration, but also with the surrounding community (both globally and locally) due to their ability to bring corporate partners and startup networks into the fold.
Currently in the initial stages of programming a new building in conjunction with strategic renovations to its existing facilities, the Purdue University Mitchell E. Daniels, Jr School of Business aims to help businesses and students to thrive in a data-driven, global economy. Doubling down on Purdue's global reputation in science and engineering, the business school has recently launched programs in Business Analytics and Integrated Business & Engineering (IBE), calling for spaces that expand on experiential/hands-on learning and embrace a larger scope of 'business' than before (such as entrepreneurship, fintech, and real estate finance). For example, the school's innovation labs promote active learning, design thinking, and collaboration in business analytics, real estate finance, and emerging financial technologies.
Innovation is prioritized through three distinct space types: Learning environments, such as innovation labs, fintech labs, and data analytics and visualization; working environments, such as collaborative or asynchronous work environments; and partner environments, such as an alumni center, partner showcases, and executive education spaces.
One of the first post-pandemic designed business school buildings, the school is cognizant of new ways of working and the importance of adaptability in becoming a destination for both students and organizations — modeling and emulating the future world of work.
Cultivating social entrepreneurship through community and industry partnership
As cities struggle to recover from COVID impacts and a rapidly restructuring economy, conversations around economic recovery have focused on office, retail, and residential sectors. However, educational anchor institutions are poised to offer considerable relief and creative partnerships for their cities thanks to their significant assets and resources. Anchor institutions are typically rooted in the community through real estate and community-serving missions, making them an important player in the local economy.
Connecting industry and academia, Woolsey Hall — the new home for Wichita State University's Frank Barton School of Business — is defined by a series of blended spaces. By consolidating faculty into a connected suite, Wichita State University has developed a flexible and collaborative faculty workplace where the lines between departments are blurred. Organized around a central atrium, learning, meeting, and workspaces for faculty are connected to the heart of the building. Faculty departments and administration are co-located for the first time, allowing flexibility and collaboration between departments. Central gathering and meeting space zones create a place for faculty to meet with each other and students, while business centers provide space for institutes and industry partners to work within the school.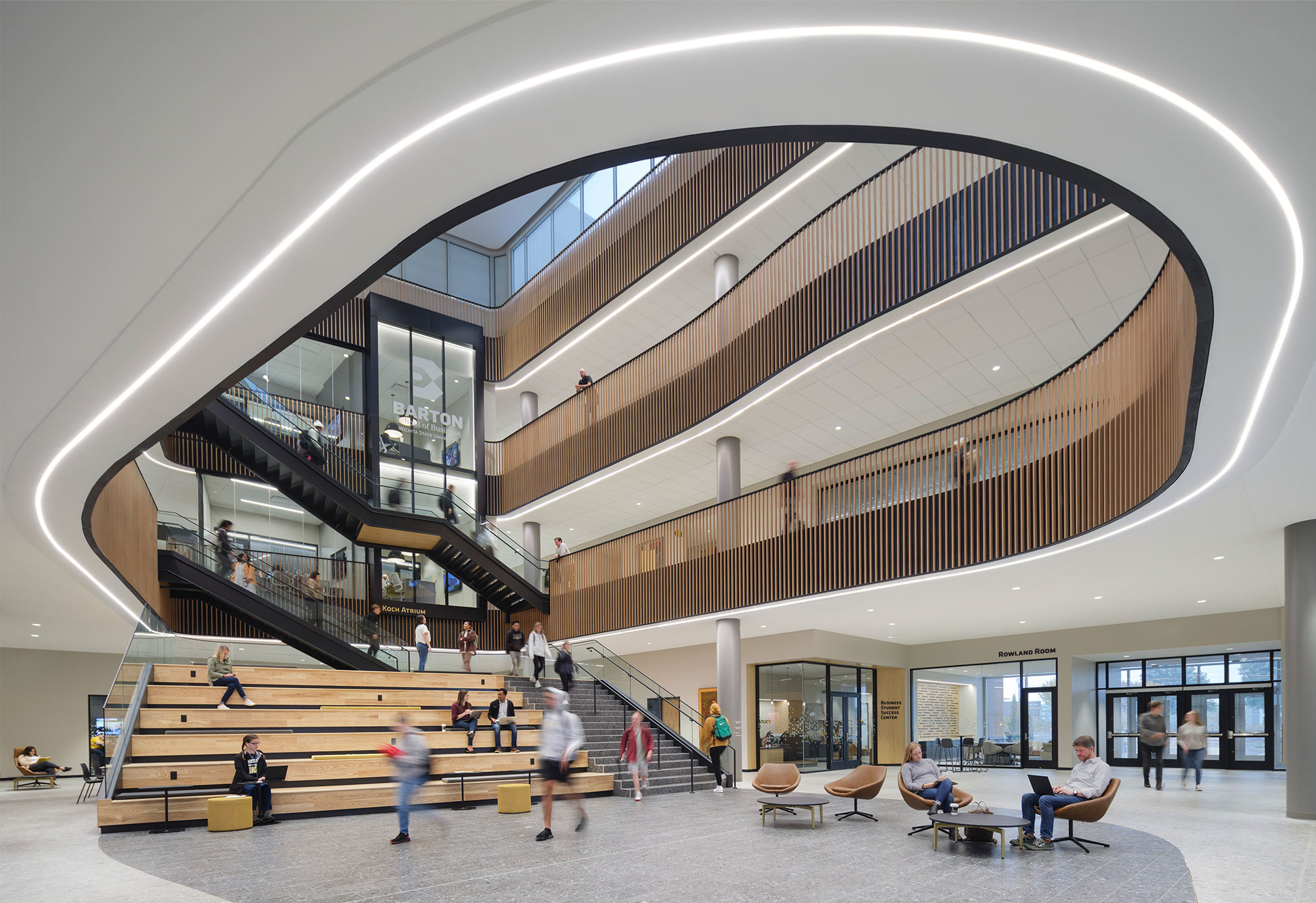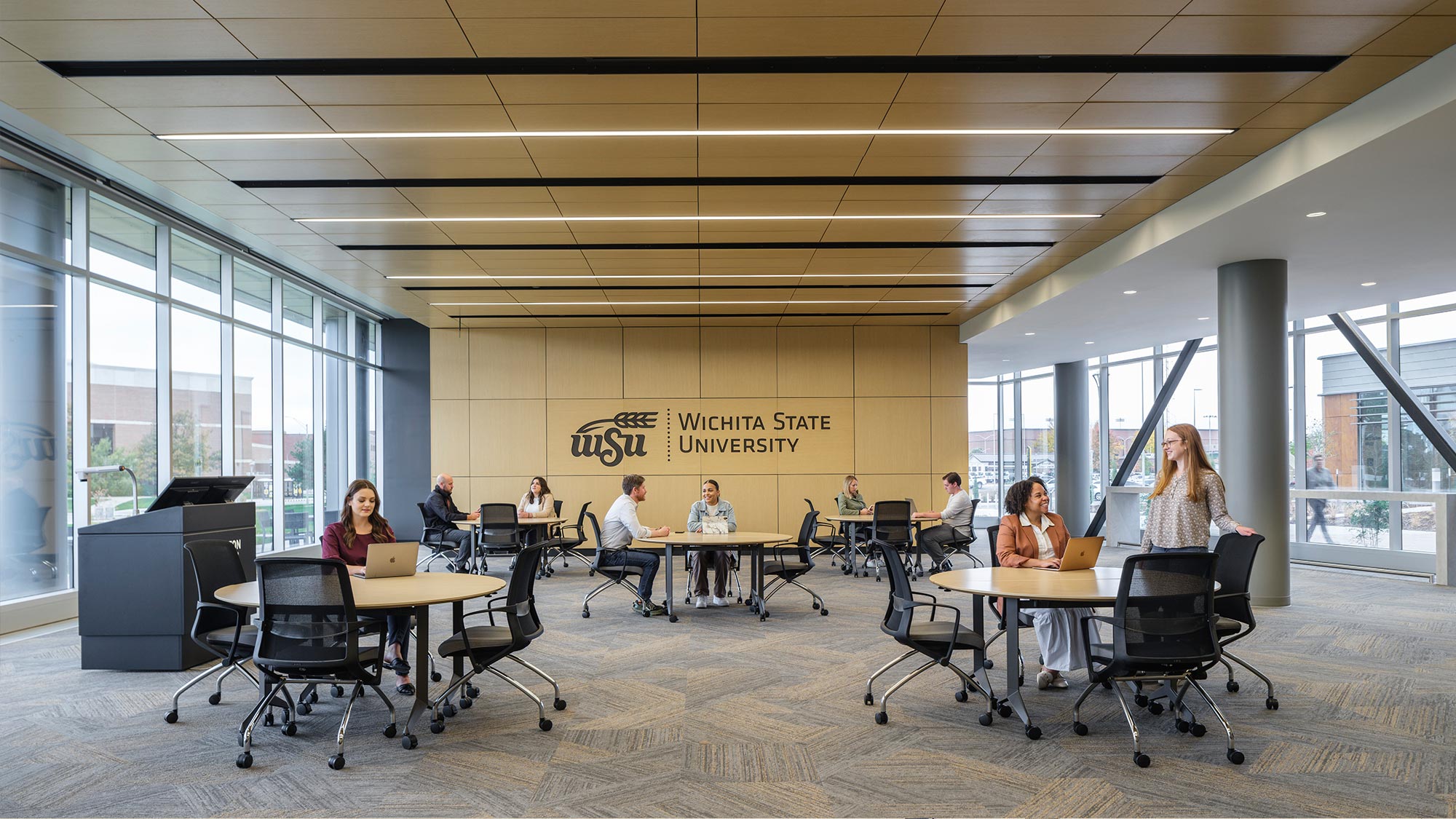 Engaging stakeholders in linking academic pathways, innovation, and community impact
Since the pandemic and the return to the classroom, most institutions have been dealing with the challenge of providing value through new multimodal ways of learning, working, and playing. Whether in class, labs, or studios, library study sessions, working out at the gym, or simply attending small in-person class lectures, students are looking to collaborate, meet, and interact more closely with their professors and peers. Designers and architects must be intentional about space planning, not just from the pedagogical perspective, but also to create an anchor place that meets students' needs. This is fundamental for creating the next generation of business leaders; the nature of work is changing, and so are the skills that are needed.
Input from students, faculty, and staff is essential in tackling the complex challenges operationally and academically. At WVU Reynolds Hall, stakeholder engagement was prioritized from the beginning of the planning and design process. Following site selection, the discovery and programming process was designed to encompass a broad spectrum of the business school community to create an integrated vision for the building. The design team co-facilitated workshops with students, leadership, faculty, and administrative staff to gain insights about their experiences, understand space requirements, and identify what they would like to see in the future. The team also led key WVU stakeholders on a three-day tour of inspiring business learning spaces to gain a better understanding of how peer institutions are modeled, as well as what design elements sparked inspiration.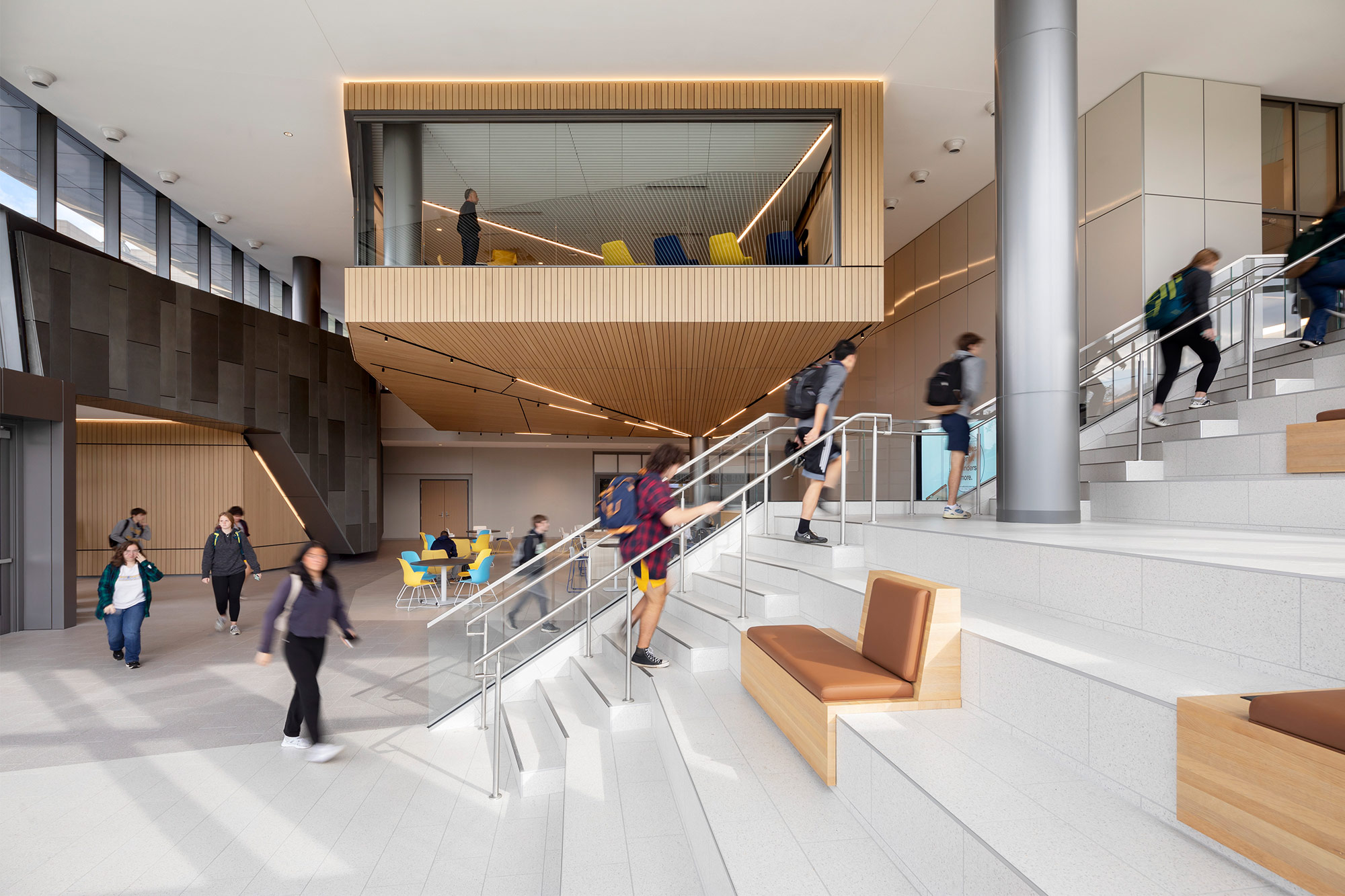 From building community to fostering networking and innovation, business school ecosystems can create synergies that cross disciplines and extend beyond campus, ultimately acting as catalysts for growth.
For media inquiries, email .