Designing the Unexpected
By Barry Bourbon
Last month, I had the opportunity to host a thought-provoking panel discussion in our San Francisco office. The event, titled "Designing the Unexpected," gathered the local community and industry leaders for a dialogue around shaping the future of cities, and the role stress and anxiety play in our daily lives as our environments become increasingly urban.
More than half of the world's population now lives in cities. In North America, that number jumps to 82%. Cities have become magnets for people looking for better jobs, creative pursuits, and diverse communities. As we make these moves to more urban environments and on-the-go lifestyles, we're faced with a series of challenges: over-crowded commuter trains, heightened security at airports and sporting events, increased violence on school campuses, an unrecognizable retail landscape, and an overwhelming amount of technology.
Our discussion focused on the questions we should all be asking ourselves: does this city life make us happy? Are our anxiety levels increasing? Are we starving for more human connection?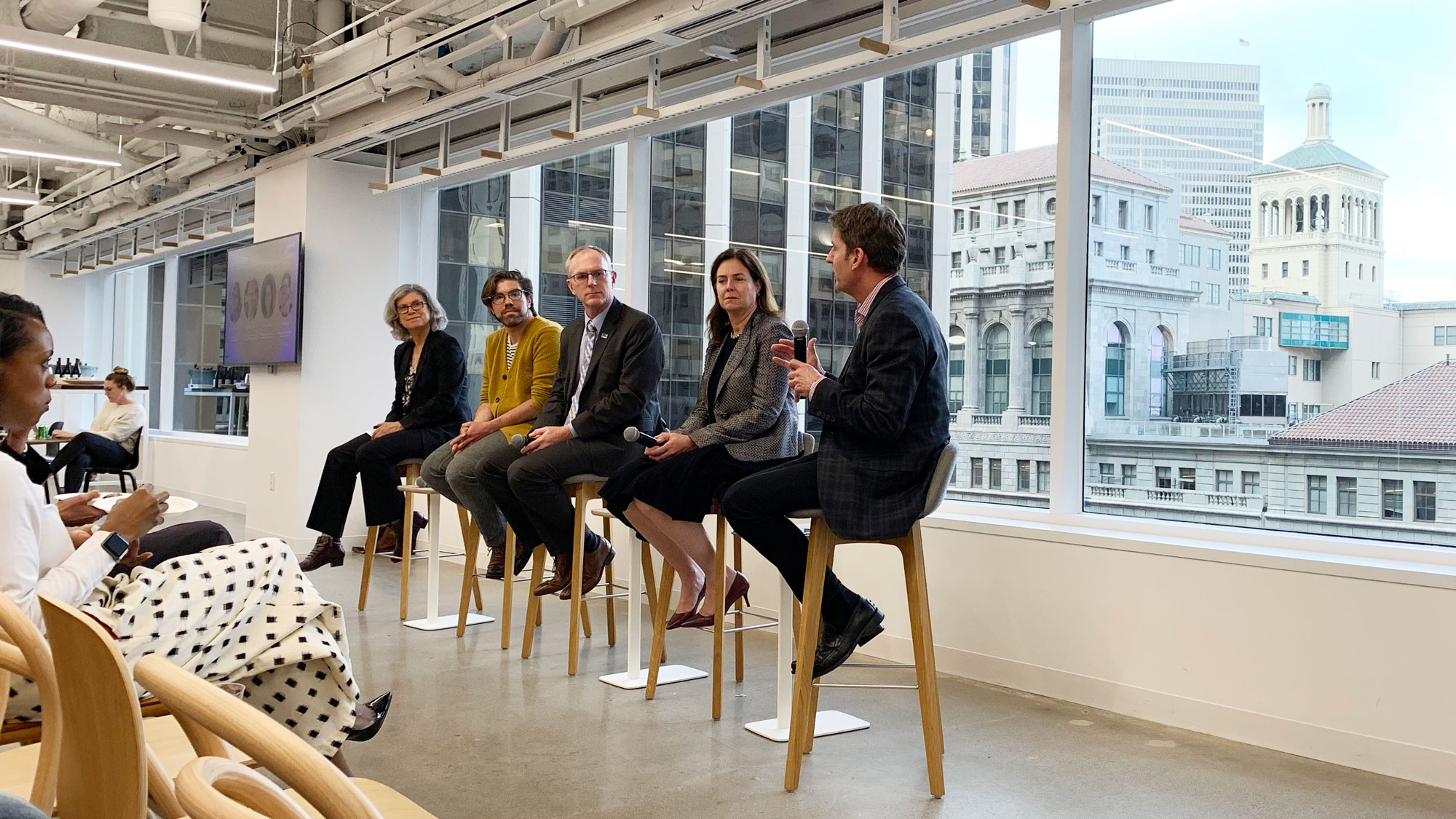 With a focus on the Bay Area, our diverse panel tackled these questions from a variety of expert perspectives. Dr. Cristina Banks, Director of The Interdisciplinary Center for Healthy Workplaces, shared findings from her global research center at UC Berkeley. Christopher Birch, the Director of Guest Experience at San Francisco International Airport, provided the perspective of today's traveler. Karin Flood Eklund, Executive Director for the Union Square Business Improvement District in downtown San Francisco shared thoughts on the effects the transformation of retail is having on communities. And Eryk Salvaggio of Swissnex San Francisco shared strategies for using technology to bring us together.
To start, Dr. Banks noted the dramatic increase in the expression of anxiety and asked: "what is it about the urban environment that affects people so negatively?" Along with anxiety, we are seeing an uptick in occurrences of depression and suicide. She asserts that in any environment, physical and psychological safety are basic human needs that must be addressed. On top of facing tremendous pressure, she shares that many university students are also faced with food insecurity, some are even homeless. A positive they're tracking is the increased awareness of sexual harassment on campus, allowing new policies to be introduced. Still, there's a role design can play in changing the perception of safety on campus. Dr. Banks says more glazing at offices and even the appropriate selection of furniture can go a long way when signaling change.
Dr. Banks also wisely noted that as humans we naturally fear uncertainty. We need anchors and a sense of belonging. The challenge for designers is how we creatively design for predictability.
Karin Flood Eklund's comments echoed Dr. Banks: there's a huge need to help shoppers feel safe at Union Square. Having a presence and practicing empathy in addressing precarious situations that arise helps to reassure visitors. Karin noted that the activation of our streets, such as the Winter Walk — when Stockton Street is converted to a pedestrian plaza during the holiday season — helps promote social gathering for the community.
Recently, our Seattle office participated in the Design in Public Festival by creating an interactive exhibit called Blind Trust. The exhibit encouraged passersby to interact and play. Easy to understand, the exhibit drew an audience that was both multi-generational and multi-cultural — kids used the ropes as a vertical bounce house, while couples snuck a kiss at the center, and families patiently guided one another through. Opportunities for unexpected play in the urban environment are welcome opportunities for us to connect.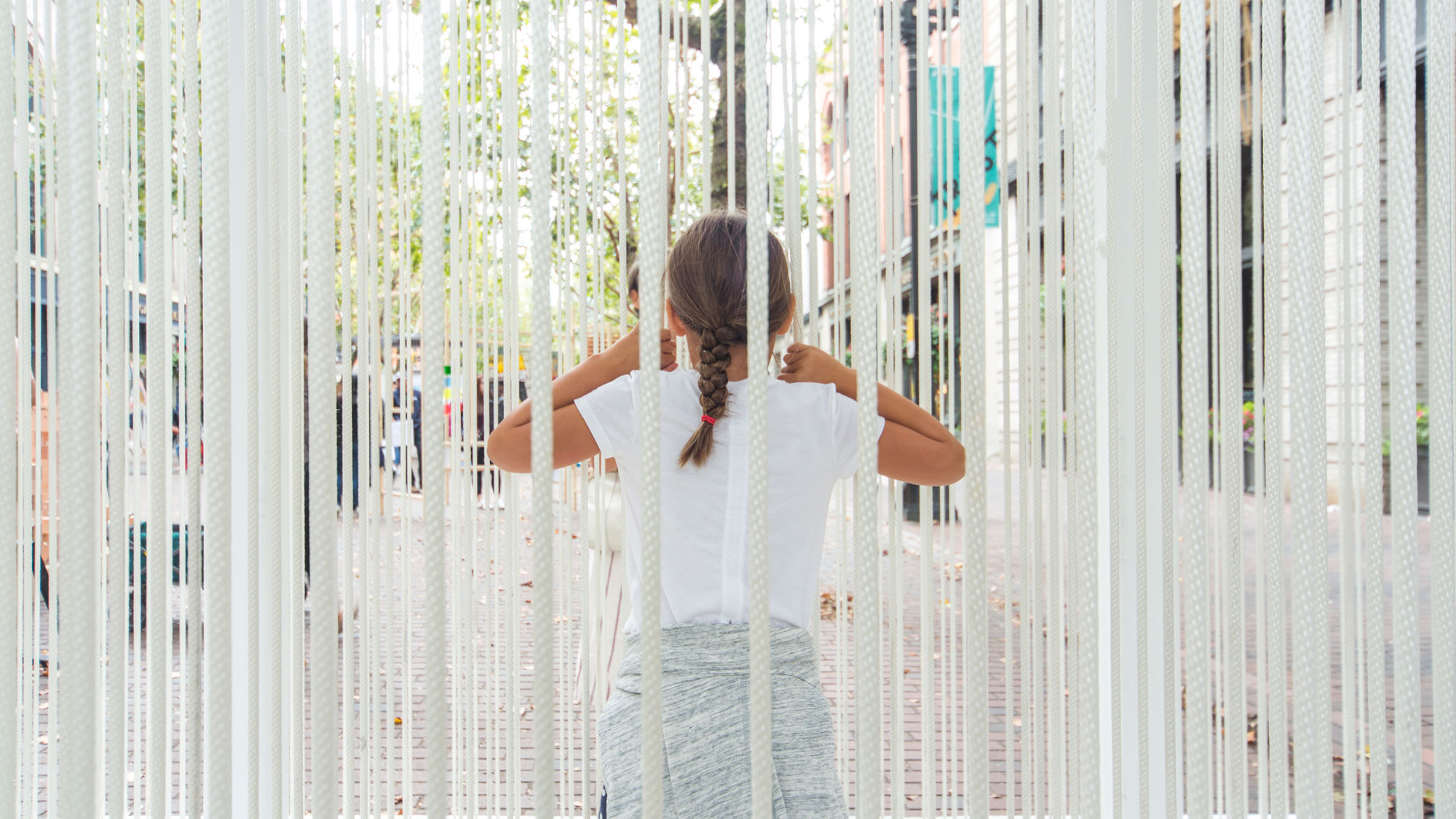 While the purveyors of our physical environments are looking for ways to encourage connection, we as people are diving further and further into our digital devices, essentially disconnecting from the community around us. However, there are tools we can access through our phones that can actually help us connect in real life. Eryk Salvaggio shared apps that actually encourage us to be present.
Somebody was an app experiment that asked strangers to deliver messages between friends — messages were sent to app users near the desired recipient, along with instructions to deliver the message verbally. Crowsflight is a navigation tool that acts as a compass rather than providing detailed, step by step directions, allowing you to wander to your destination. Eryk notes that moments of serendipity and chance encounters are not a source of anxiety. It's about creating experiences that bind people together and leave them with good memories.
San Francisco International Airport stands out amongst US airports by providing amenity rich spaces, including yoga rooms, elevated food and beverage offerings, and one of the only accredited airport museum art programs in the nation. Still, Chris Birch explains that there is still plenty for the airport to address when it comes to easing passenger's nerves. Their next initiative to conquer is implementing a "silent airport" concept, which would eliminate overhead announcements except for emergencies. SFO understands that airport noise is mentally and physically draining. They trust implementing this concept will have a positive impact on creating calm for passengers and employees alike.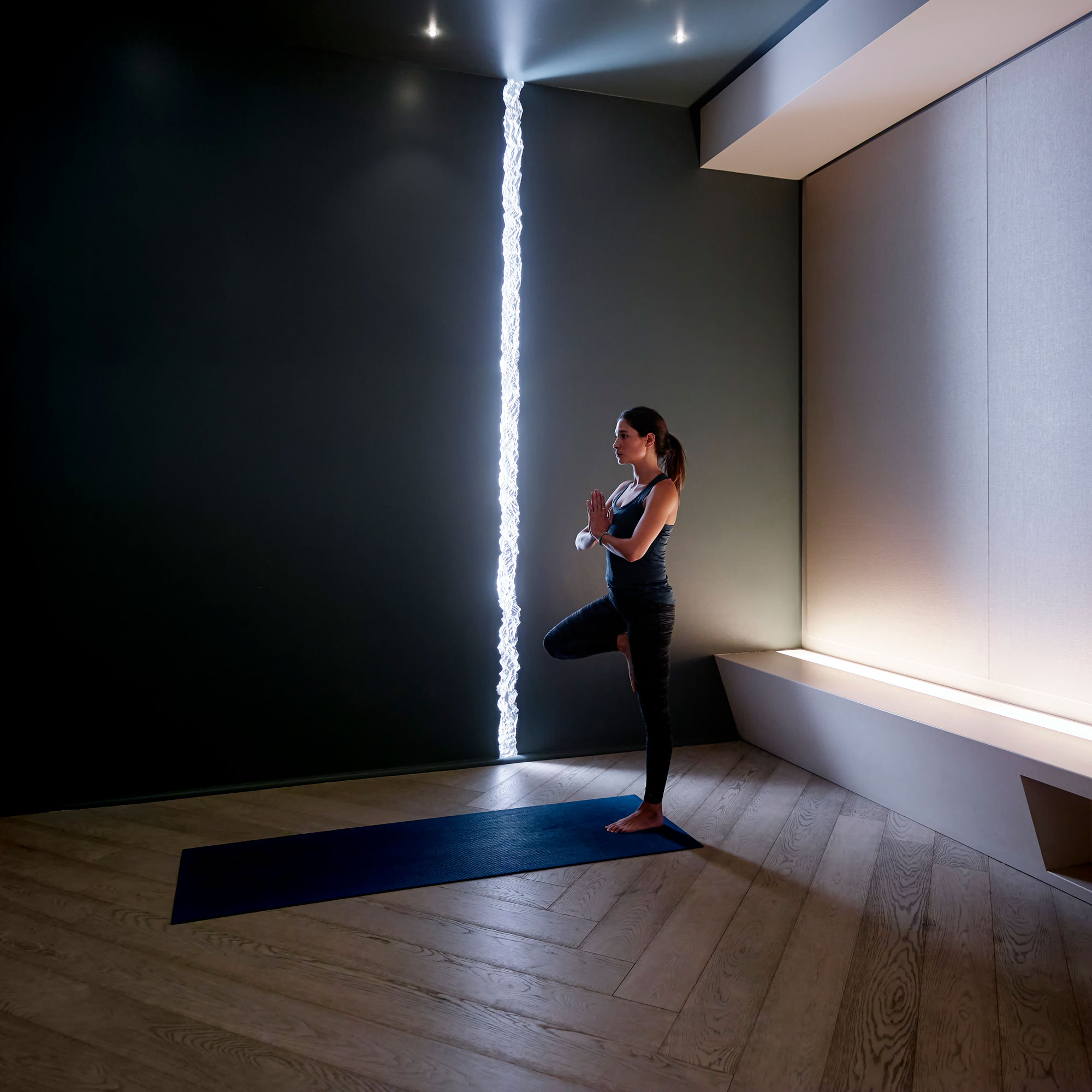 As designers, we have a responsibility to address these complex concerns impacting our everyday urban life. By being bold and having the empathy required to innovate, we can truly design a more meaningful and connected urban environment. Our cities present an unbelievable opportunity for the promotion of belonging and human connectivity. Let's seize the opportunity.