Designing an Equitable and Connected Airport Experience for Every Traveler
January 24, 2022

While air travel took a hit during the pandemic, passenger revenue in 2022 is expected to jump about 67% year-on-year to $378 billion, according to IATA. As travel resumes, what can airport travelers expect now, and what's next?
In this episode of the Gensler Design Exchange, four Gensler aviation industry experts explore how the pandemic has introduced airport design innovations in health, wellness, technology, and equity.
At Gensler, we see airports as small cities. We take inspiration from parallel industries and integrate them into the airport experience to create a great experience for all passengers, not just for few elites.
—Charishma Hunjan, architect, Gensler
Since the start of the pandemic, safety, wellness, and sustainability have become just as much of a requirement for passengers at airports as speed and efficiency. Ideas like outdoor areas, touchless technology, and automated disinfection are now at the forefront of terminal design. Gensler's work at the Pittsburgh International Airport, for example, introduces outdoor spaces as passenger amenities and employee oases. The airport has even introduced hospital-grade UV cleaning robots that roam the halls scrubbing floors clean. These new implementations serve a key purpose as visual reminders to travelers that airports are adapting to keep people healthy and safe.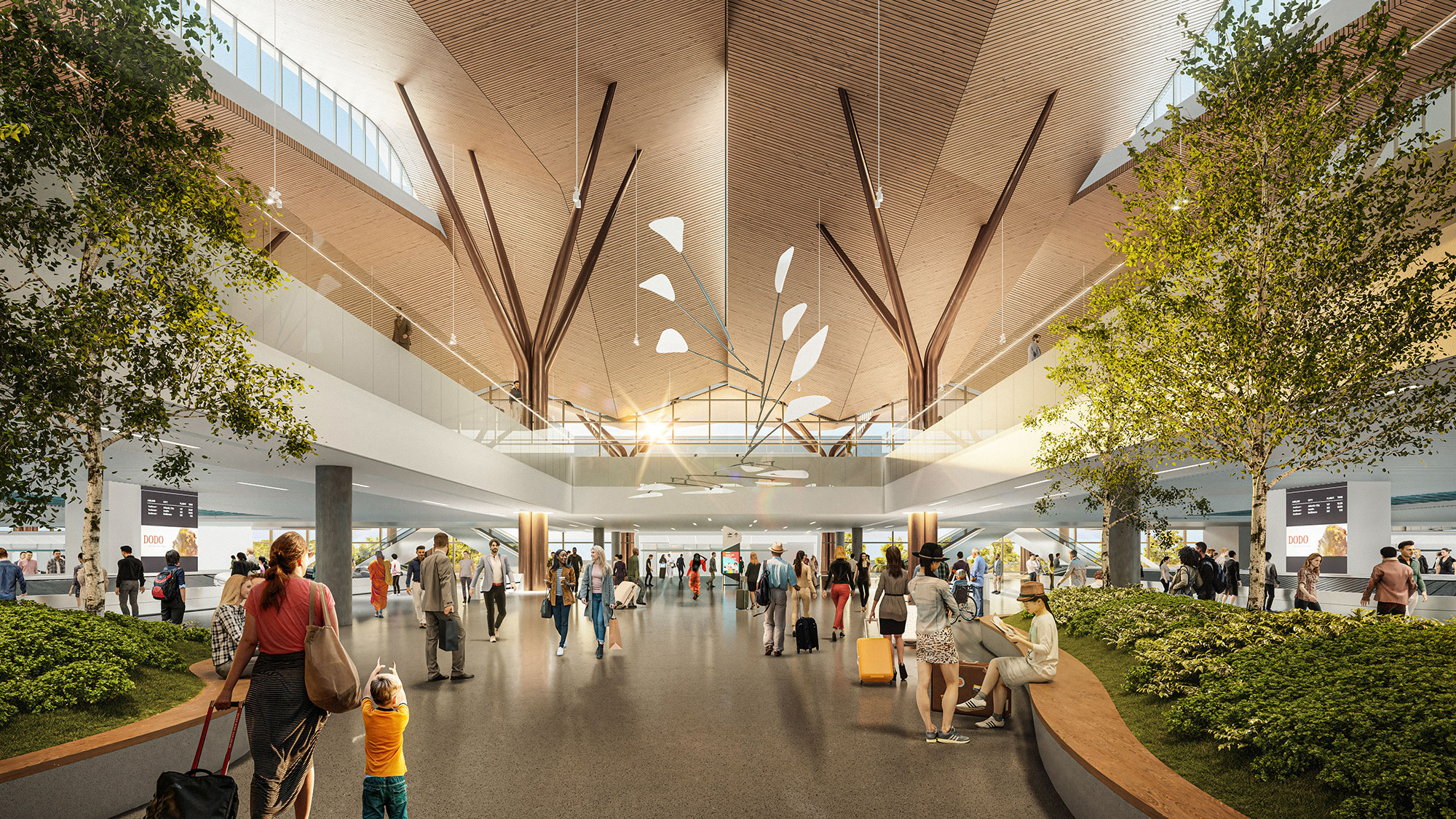 Technology will also play a large role in airport designs of the future. Biometrics, which use travelers' unique physical characteristics such as faces or fingerprints for automated recognition, are a popular implementation within airports. Services like Clear use biometrics to provide a fast, touchless screening process, and passengers can expect a larger adoption of this type of technology throughout airports as well as other venues that draw large crowds, such as stadiums, as a part of their COVID-19 health and safety response and into the future.
With new technology, passengers can get a customized experience because all of these bits and pieces around the airport are talking to each other, and the system is optimizing what their experience could look like, from the time they enter the airport to the time they step onto their plane.
—Mason Edge, architect, Gensler
The pressure is on airports and airlines to continue working with companies to better use technology and data for a more frictionless, tailored experience for passengers beyond the security checkpoint. In this episode, our experts discuss how Amazon's Just Walk Out technology, which uses store scanners and online payment systems to allow customers to grab their items and walk out, could be employed at airport terminal concessions to cut down on checkout line traffic. Additionally, data that airports are already tracking could expand to produce more individualized customer experiences, including congestion monitoring, personalized concession recommendations, and real-time queuing information. This does raise the question of privacy protection, which is something airports and airlines are considering when implementing new technologies.
Moving forward, technology will be critical in enabling the customer. But we need to be careful in how we properly harness that technology. With encryption and blockchain technology, the world is moving very quickly to protect the customer.
—Derrick Choi, Aviation leader, Gensler
A key fact that architects and designers must keep in mind when designing terminals is that not all passengers are created equal. Designing with equity in mind is key. Many passengers are brand new to flying and may not understand how airports work. Our experts are seeing a push from airlines to diversity their staff and provide training on sensitivity and assisting customers from different backgrounds and experiences. Common denominators such as technology and smartphones can help globalize the airport experience — and with more of the work being done by tech, more time is freed up for staff to provide support through human connection.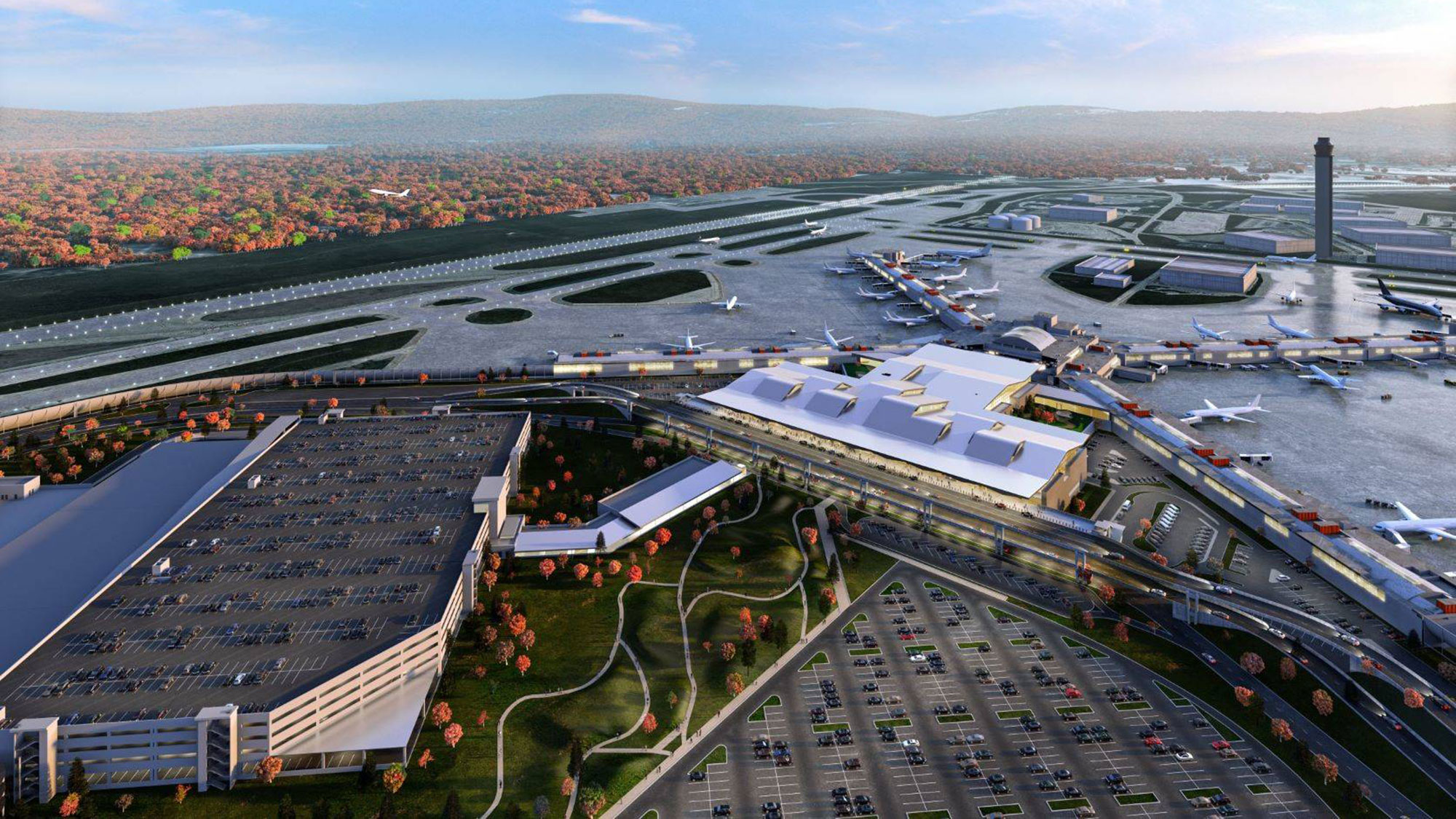 In our
passenger experience research
at Gensler, we've found that more infrequent flyers are more focused on their flight and flight details, while more frequent flyers are more focused on the airport building itself, and how that building is or is not meeting their needs. So, we are always looking through the lens of both users in our terminal design process.
—Mason Edge, architect, Gensler
Now more than ever, we have an opportunity to rethink what airports look like. Because of our approach as a cross-disciplinary global design firm, we pull on inspiration from different practice areas, including cities and urban design and digital experience design, to create terminals that feel more like town squares with a curated mix of local retail, food & beverage, healthcare, and hospitality functions that result in a more tailored journey for travelers and locals alike. As travel returns to pre-pandemic levels, we plan to lead with empathy in reimagining how airports will be experienced well into the future.
For media inquiries, email .