How the Bipartisan Infrastructure Law's FAA Airport Terminals Program Will Impact U.S. Airports
August 30, 2022 | By Derrick Choi
As part of the once-in-a-generation Bipartisan Infrastructure Law (BIL), the Biden Administration will allocate $25 billion in grants over the next five years for U.S. aviation infrastructure overhauls to improve performance and ensure that U.S. airports remain competitive in the global marketplace. In the words of the Federal Aviation Administration (FAA), the BIL will "modernize infrastructure, increase equity in transportation, help fight climate change, strengthen the supply chain, and create jobs."
The first $1 billion in funds in the BIL's Airport Terminals Program (ATP) to improve airport terminals were awarded in July to more than 90 airports across the country, which includes locations the Gensler aviation practice is serving: Austin, Dallas-Fort Worth, Denver, Los Angeles, San Diego, Pittsburgh, and Bangor, Maine. Over the next four years, airport sponsors will be actively working with their stakeholders, consultants, architects, and engineers to compete for the remaining BIL funds. Here are a few considerations for airport sponsors who are considering or currently pursuing funding from the infrastructure law.
Understand the process and work with your FAA Airport District Office (ADO) now.
In general, any airport eligible to participate in the Airport Improvement Program (AIP) should be eligible to participate in the ATP grant application process. One of the key considerations for grant selection is ensuring projects are "shovel-ready." In the case of Bangor International Airport, work started in early 2020 on the master plan for a terminal connector project, which was designed to allow the constrained existing domestic terminal to expand the security checkpoint and physically connect to the adjacent international terminal to allow for immediate access to aircraft gates. By the time the infrastructure funding call was announced, the terminal development study and concept design had advanced enough and to a level worthy of consideration. A concept-level cost estimate was prepared during the Master Plan and Terminal Study to ensure a firmer understanding of the cost implications of the expansion.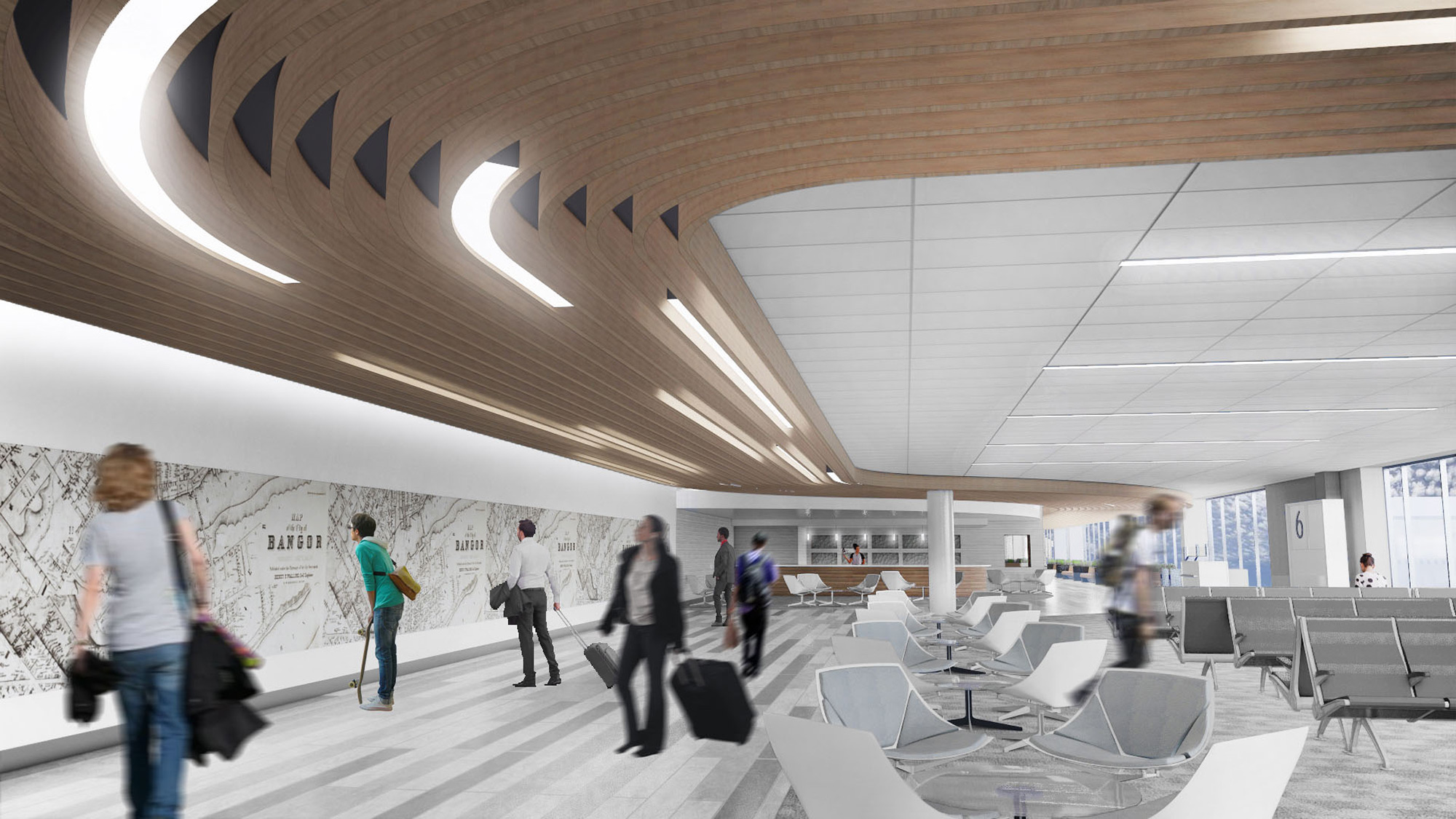 Align with the FAA selection criteria.
The FAA's selection criteria noted an interest in supporting terminal improvements that can accomplish the following:
Increase capacity and passenger access.
Replace aging infrastructure.
Achieve compliance with the Americans with Disabilities Act (ADA), including expand accessibility for persons with disabilities.
Improve airport access for historically disadvantaged populations.
Improve energy efficiency, including upgrading environmental systems, upgrading plant facilities, and achieving Leadership in Energy and Environmental Design (LEED) accreditation standards.
Improve airfield safety through terminal relocation.
Encourage actual and potential competition.
Create good paying jobs.
These ATP criteria resonate with our teams' work, particularly in redevelopment expansion programs in Pittsburgh, Austin, and San Diego where attention to passenger accessibility, equity, efficiency, and sustainability have heavily influenced the design process.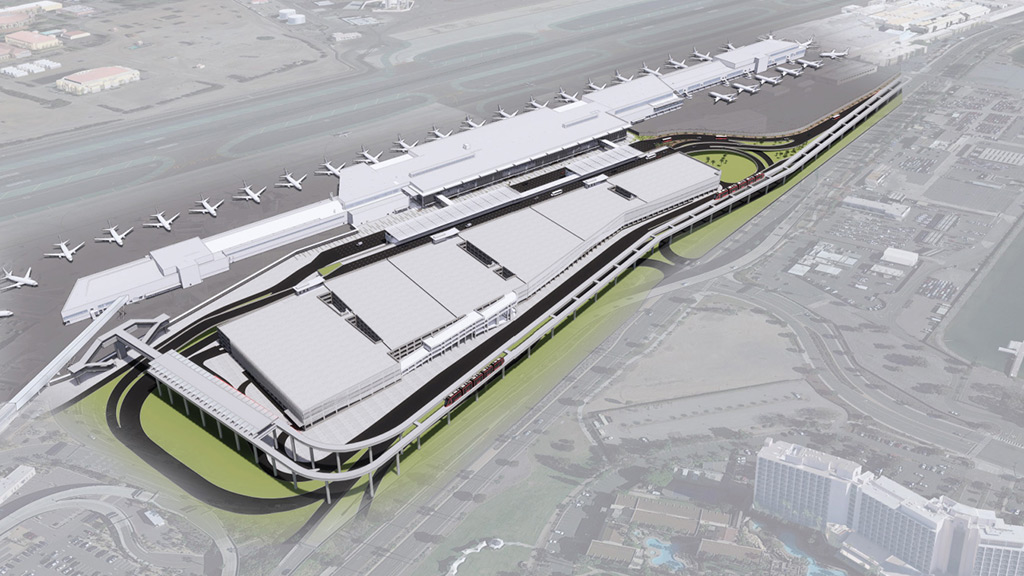 The $3.4 billion redevelopment of San Diego's Terminal 1 – a Gensler-designed 30-gate replacement facility – is a recipient of a $24 million ATP grant to pursue ambitious sustainability objectives, including:
Achieving Airport Carbon Accreditation Level 3+ by the end of the year and eliminating airport-wide emissions (on a per passenger basis) by one-third in 2035.
Transition to 100% renewable electricity and decrease energy use intensity (EUI) by one-third in 2035.
Decrease airport-wide potable water use by one-third in 2035.
Be mindful of grant award obligations and terms.
Not surprisingly, these once-in-a-generation awards come with expectations. Of the total funding, the FAA has stipulated large hub airports will receive up to 55 percent, medium hub airports will receive up to 15 percent, and small hub airports will receive up to 20 percent. At least 10 percent of the total funding will go to non-hub and non-primary airports.
In the first year of this program, it was noted that hard construction bids are expected by the end of the calendar year. To that end, airport sponsors should be mindful of the following:
Be realistic when proposing a submission that could be too conceptual or still early in the master planning stages.
Align with the consultant team early on in preparing for the ATP grant submission to:

Ensure the design and engineering team can be staffed to prepare design documents in a timely manner for not just the concept material to support the grant application, but the contract documents for final bidding.
Confirm the pre-qualified contractors bidding on the work can realistically bid for the work and negotiate the final construction contract.
Acknowledge the market dynamics and fluid nature of construction costs as there is often a time gap between the grant application, award, and the approval of the final hard bids.

Keep in touch with ADO liaisons early and often throughout the submission and awards process as the ATP is evolving, so constant communication is key to ensure a project is in alignment with the program's latest requirements.
Be flexible and keep stakeholders up to date with progress since the program is evolving, and there are myriad ways to address project costs that may be changing. From AIP grant funding to Passenger Facility Charge (PFC) grant funding, there are multiple ways to offset project cost shortfalls or additional phases of an evolving terminal project.
As we continue to work with our airport sponsors, stakeholders, and regulators to take advantage of this once-in-a-generation process of infrastructure re-investment over the next four years, it should be understood that the Airport Terminal Program grant program is a time-intensive process that requires a combination of preparation, strategy, market-savvy, and flexibility to achieve the highest returns towards achieving transformational next-generation terminal facility improvements.
For media inquiries, email .