Reimagining the Airport as the New Town Square
June 28, 2021 | By Tim Hudson
With millions of passengers projected to hit the skies, July 4th is expected to be the biggest travel weekend in the U.S. since the beginning of the COVID-19 crisis. As travel begins to rapidly return to pre-pandemic levels, we see opportunities to reimagine and create how airport terminals will be experienced well into the future. Perhaps the most noticeable shift will be the airport itself. As passenger behaviors evolve and people seek more opportunities for connections and places to experience local culture, the airport will no longer be solely a place for coming and going, but a community hub where people come to interact and gather — a new town square in the heart of the airport.
The Terminal as a Town Square
It isn't often that we have an opportunity to experience, let alone influence, a paradigm shift in the world as we know it. This recent pandemic is going to drive such a paradigm shift in the travel industry, providing opportunities to learn from how travel behaviors have changed, as well as how expectations of travelers using airport terminals have been redefined.
With the convergence of various non-aviation functions into the overall travel experience and the desire for open spaces for organic social distancing, we see a shifting paradigm in airport terminals, that if activated with these functions, can be the new town square. Typically found in the heart of a downtown core, a town square has a mix of program elements and amenities that weave together the threads of a city and its people. By integrating these types of functions — whether it be a curated mix of local retail and food & beverage, performances from celebrated community organizations, or outdoor fire pits — into the design of an airport, we have an opportunity to create a tailored experience for travelers and locals. An experience that gives the airport a repurposed role — a place where people want to gather, not necessarily tied to arriving or leaving at all.
This design point of view was a primary driver behind the concept for Gensler's Skyport Mobility Hub concept, which focuses on a town square design approach to draw the local community to the hub as a place to gather, disguising the transportation aspects of the facility by wrapping it with retail, dining, and healthcare functions. For Eagle County Regional Airport, the use of a central hearth provides an opportunity for visitors to interact while sitting around a fire conversing, eating, or relaxing. In our Confidential Ground-up Terminal Vision, we created a town square that serves as a combination of the airport terminal as a transportation gateway, being wrapped by retail, F&B, and hospitality functions around the perimeter, almost disguising the terminal. The draw is for the community at large to visit the airport to participate in these non-aviation functions, reinforcing that the airport is not a place focused on leaving and returning, but a place that can be experienced by all.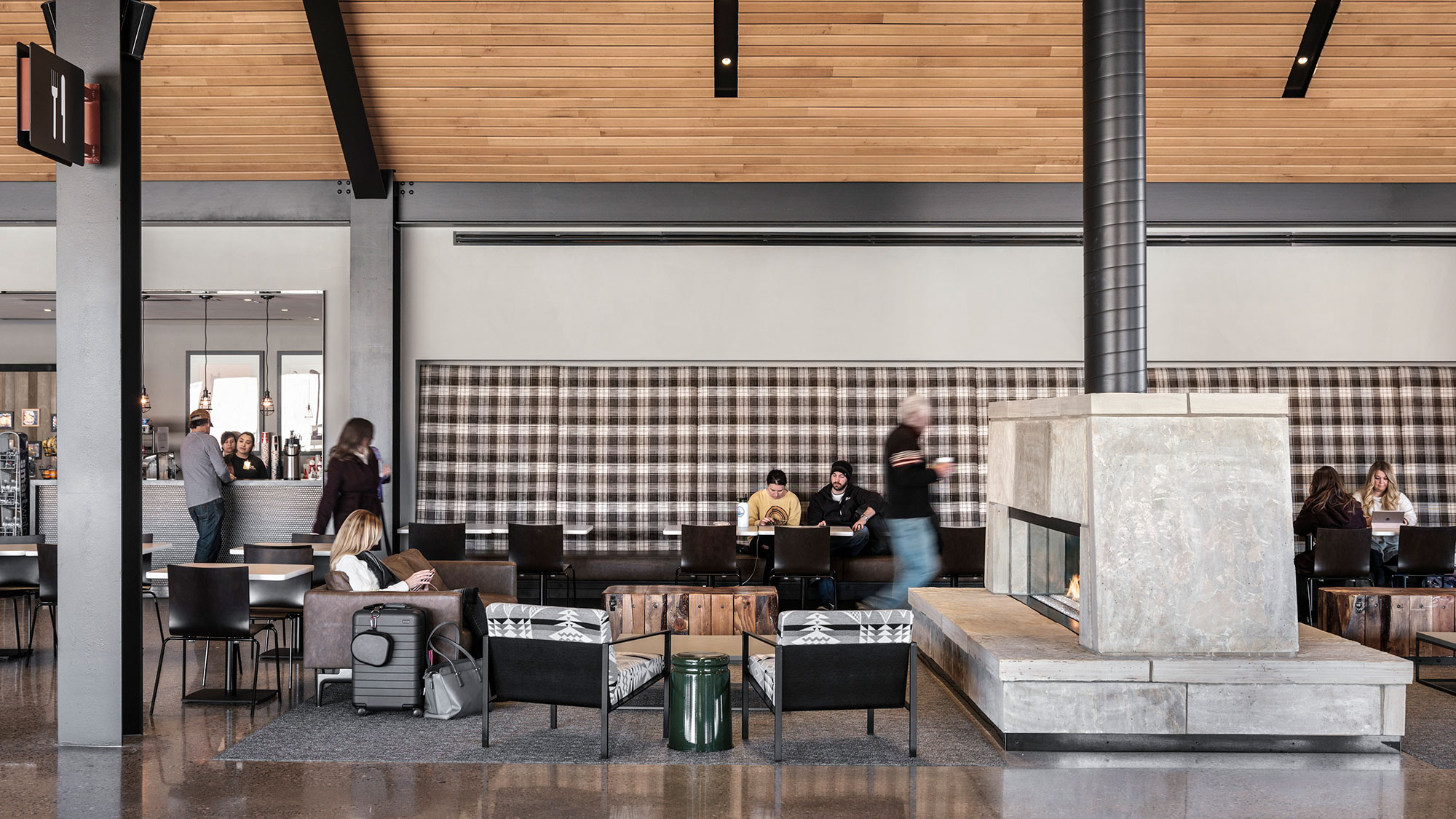 The Commuting Gateway
The pandemic has accelerated the concept of working from home, being driven by the use of technology for connectivity. The pre-pandemic concern of how employees can effectively perform their job responsibilities from home has been replaced with proven technologies that enable employees to perform these same tasks through web-based calls, presentations, and seamless information sharing. With the ability to work remotely and not needing to drive to a downtown office, more people and families have moved to the suburbs or smaller cities for a better quality of life, while still accomplishing job responsibilities remotely.
This move outwards has created an opportunity for regional or municipal airports to transform into a commuting gateway, providing connectivity to larger cities through a localized, community influenced airport terminal. A more scaled, right-sized personalized travel experience will make travel a simpler process, from curb to gate. Commute times to and from home will be minimized, passenger processes will be streamlined, and the overall time spent traveling will be reduced, supporting expectations for a newly discovered work life balance. These terminals will be populated with concessions offerings based on local establishments as a continuation of the community integration.
The Increase in Leisure Travel
A quick study of the passenger typologies seeing the fastest growth relative to the easing of travel restrictions, coupled with increases in vaccinated travelers during this pandemic, the leisure traveler is dominating the return to the skies. While business travel is and will continue to be on a more conservative return trajectory, there is no certainty as to when, if it will, return to pre-pandemic levels. Working from home or in remote locations has shown that job responsibilities can be accomplished without the need to be there in person. While certain jobs or positions will always need that face-to-face meeting, most pre-pandemic jobs do not need travel to be successful.
With the significant increase in leisure travel, we see the distinct opportunity for airport terminal facilities and functions to be reimagined with a focus on the processes that best support these travelers. Families and larger touring groups have different needs than a more streamlined business traveler; some of those needs result in slower curb-to-gate process. Unlike a business traveler, who heads straight to the security screening checkpoint with boarding pass on their phone, families will more than likely utilize the ticketing lobby to check-in for a flight, including dropping off checked baggage. These processes need to be more user-friendly and efficient. More kiosks with fewer menu selections and served by increased airline staff to assist checking in will help make ticketing simpler and less stressful. Providing screening lanes defined by travel experience will make the screening process for families and large groups more efficient. These lanes can have additional TSA coaching and more divesting table area dedicated to preparing personal items to be screened, such as breaking down strollers or kid's backpacks.
While the reimagining of terminals to address elevated leisure travel meets current trends, these same facilities need to be flexible and transitional in nature. When business travel does return in an elevated capacity, the terminal needs to be flexible enough to reconfigure the various functions to simultaneously provide the business traveler the opposite processes they are most familiar with — no wait times, quick movement through the facility, and isolated areas for conducting business.
Looking Forward: Opportunities to Reshape the Travel Experience
The pandemic has presented opportunities to analyze how current airports and terminal facilities are being utilized, or even adapting as travel trends change. With change comes the opportunity to reshape the overall travel experience, including modifications of existing facilities or establishing new paradigms for new terminals.
As we look forward, terminal designs need to be flexible to accommodate evolving travel needs, as well as being transitional to adjust to permanent change. That includes how regional airports that support the suburbs and municipalities become commuter facilities, providing connectivity to larger markets with the ease and feature of a community airport. As we emerge from this pandemic, we need to take advantage of what we are learning from the change in travel behaviors and work methodologies to redefine a tailored travel experience.
For media inquiries, email .