Real Estate Design Strategies for Leasing in a Post-COVID Market
September 15, 2020 | By Erin Saven, Evan Danchenka
Commercial real estate will look very different after 2020. COVID-19 has disrupted business-as-usual and is accelerating the momentum of trends that were shifting even before the pandemic. Unpredictable growth and contraction, non-traditional work settings and schedules, and a sense of security are driving office building consumers to look beyond their traditional building preferences.
In this new environment, tenants will gravitate towards the properties that best solve for flexibility, adaptability, and well-being. In response, building owners and developers should explore new real estate design strategies that can differentiate them from the competition and adapt to this new marketplace.
Here are four key strategies that building owners and developers can leverage to have more informed conversations with prospective tenants in the post-pandemic market:
1. Tenant Strategy - Who is this building for?
When tenants from across industries are looking at many different types of buildings, it's very difficult for an asset to stand out. To get to the table, leasing teams must map the architectural features of an asset directly to a potential tenant's core workplace values and showcase those opportunities through storytelling.
At Vornado's Farley Building in New York, the team demonstrated how the scale and horizontality of the 730,000 square-foot "groundscraper" was akin to the tech headquarters of the West Coast, creating a product ideally fit for a global enterprise tenant. With large, open floor plates, slab heights at 17 feet, and column spacing of 40 feet, the team envisioned a workplace with ample daylight and transparency. The sheer size of the building will allow multiple lobbies, private entry ways, branded experiences, expansive green space, and access to nearly 70,000 square feet of outdoor landscaped park space — transforming the building into a best-in-class creative office hub.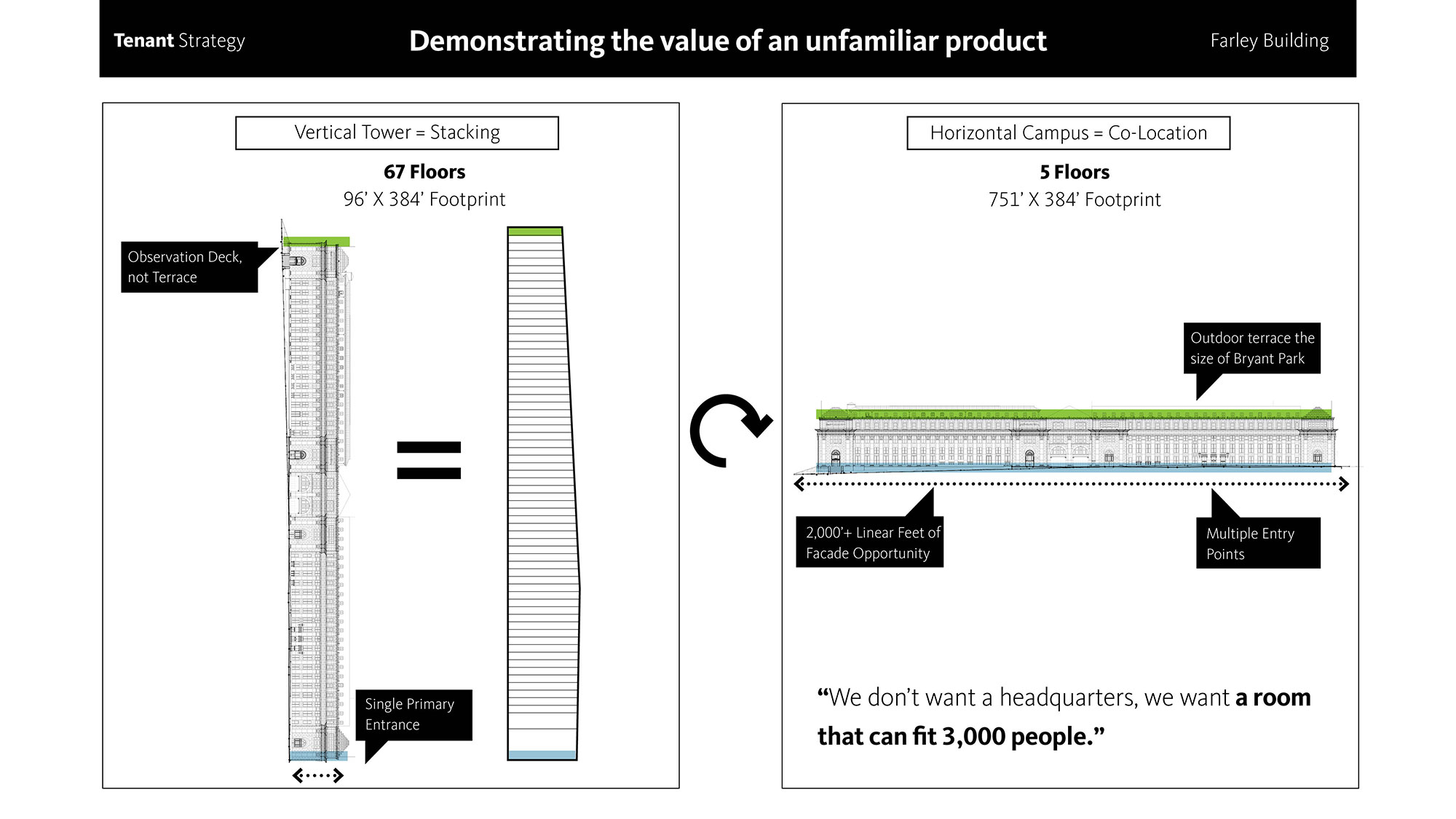 2. Architectural Strategy - How can buildings stay relevant for longer?
Base building attributes — floorplate sizes, ceiling heights, elevatoring, and egress capacities — that adapt to multiple uses overtime can extend value beyond the life of a single leasing cycle. The approach to Oxford Properties' 550 Washington in New York began with rapidly testing multiple tenant scenarios in order to find the most flexible building configuration without compromising the end-user experience. Investing in early experimentation like this ensures that the architecture will support a single headquarters today or an ecosystem of smaller companies tomorrow.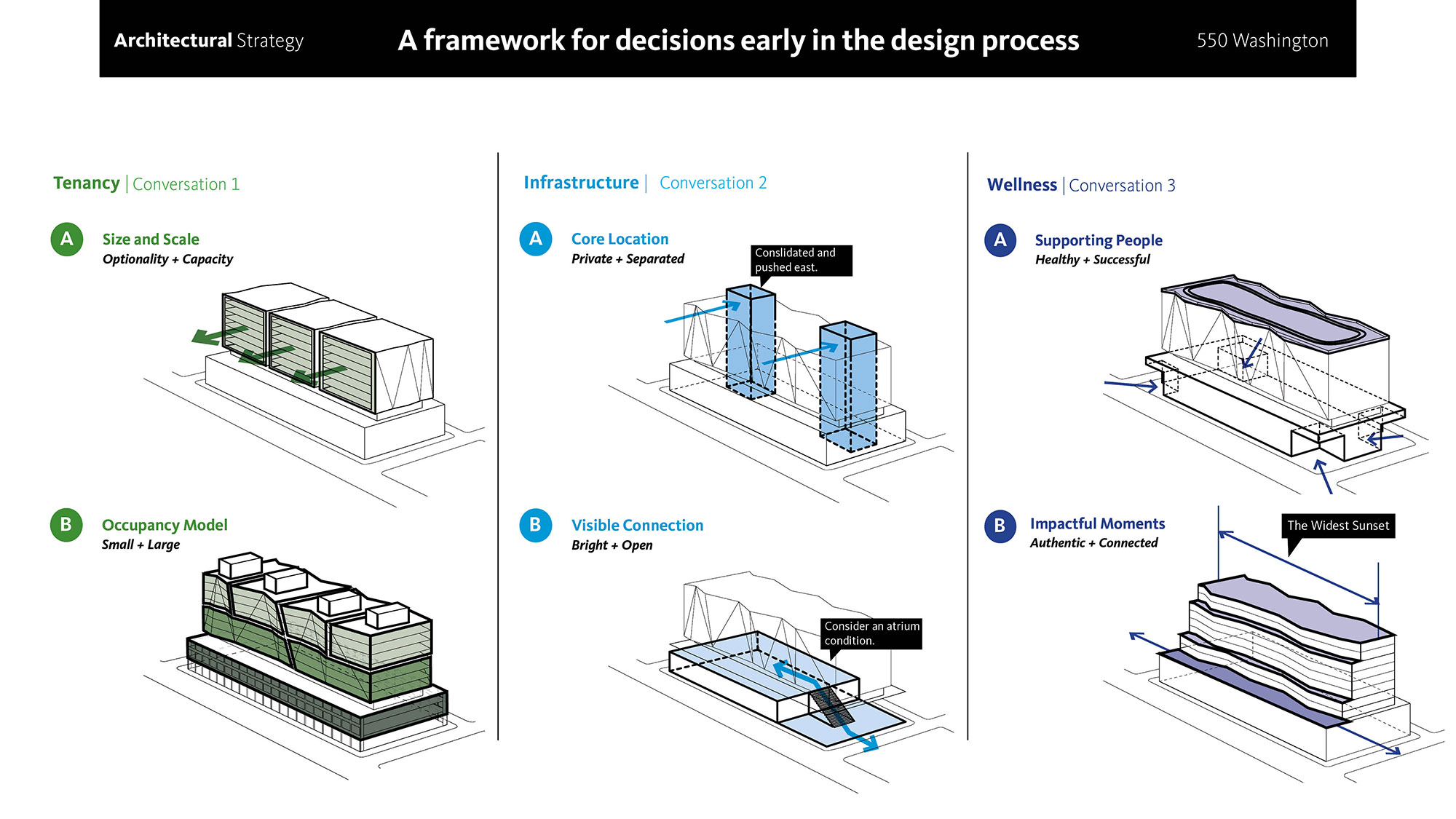 3. Amenity Strategy - What shared offerings will tenants want in the future?
Amenities are not going away — they are simply evolving. While large tenants might become more insulated, small- to medium-scale tenants will continue to use shared amenities as outlets for their own internal workplace programs.
In designing the amenities for Edge Fund Advisors' 1540 Broadway, near New York's Times Square, the design team first needed to understand the profile of the building's tenants. Whereas the building used to exclusively house tenants with formal and traditional workplaces, the typical building occupant had shifted to include more progressive and creative companies. By assessing the mix of offerings, how much space they require, and who would use them, the team determined the amenity floor's location, size, and operations. The transformed amenity floor features a food hall, fitness center, and conference center — a variety of hospitality-like offerings to attract a diverse range of tenants.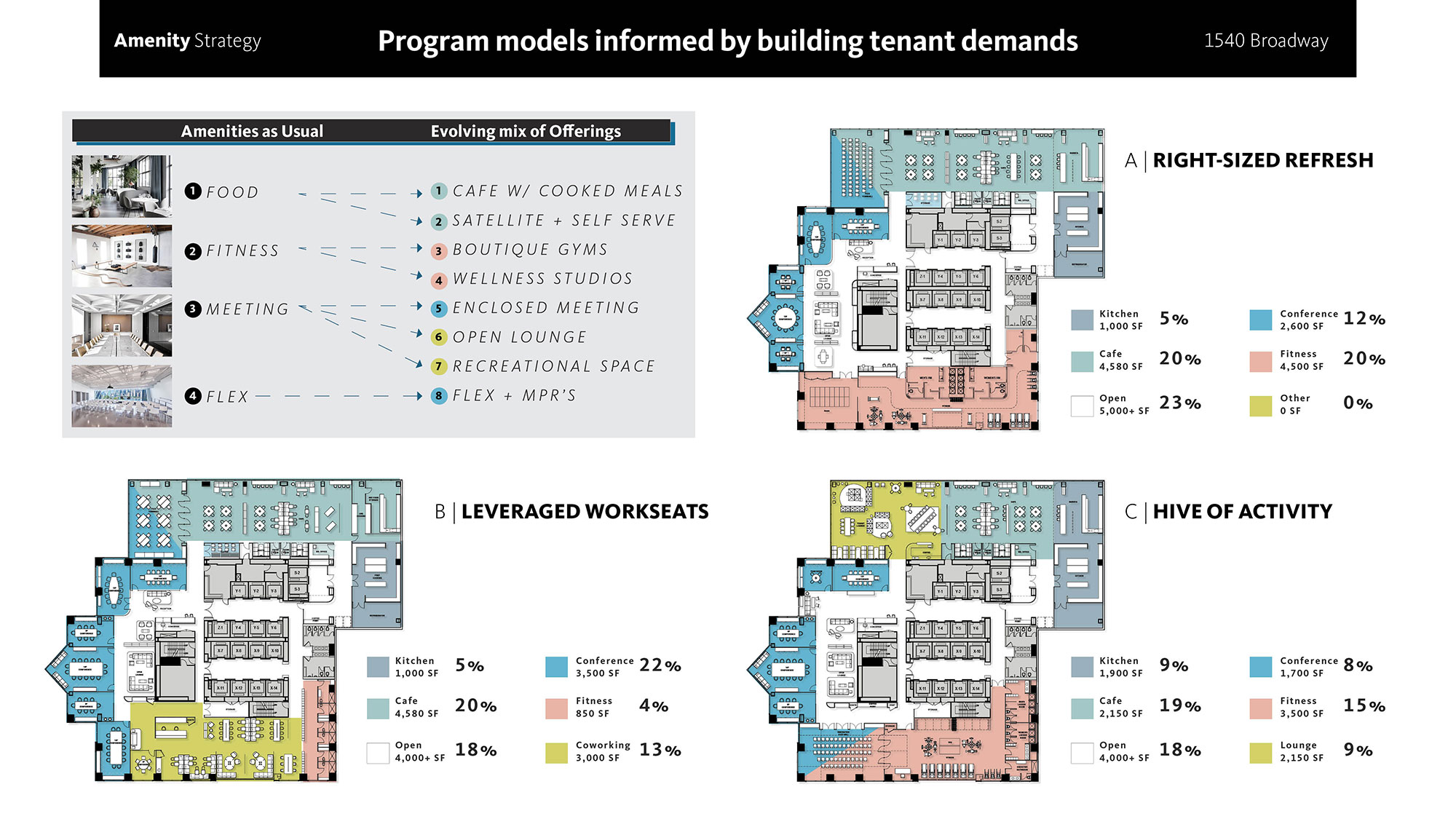 4. Positioning Strategy - What visual tools best convey opportunity to tenants?
Attracting tenants back to the office will require that they want to be in the office. Buildings must offer experiences that people simply cannot replicate at home. When Rubenstein approached the concept of 25 Kent, they designed for a collection of programmatic uses for the tenant of the future, creating a connected campus where workplace, retail and light manufacturing could function seamlessly. The ability to help tenants imagine something that they might not yet see for themselves is the key to unlocking value in any real estate asset.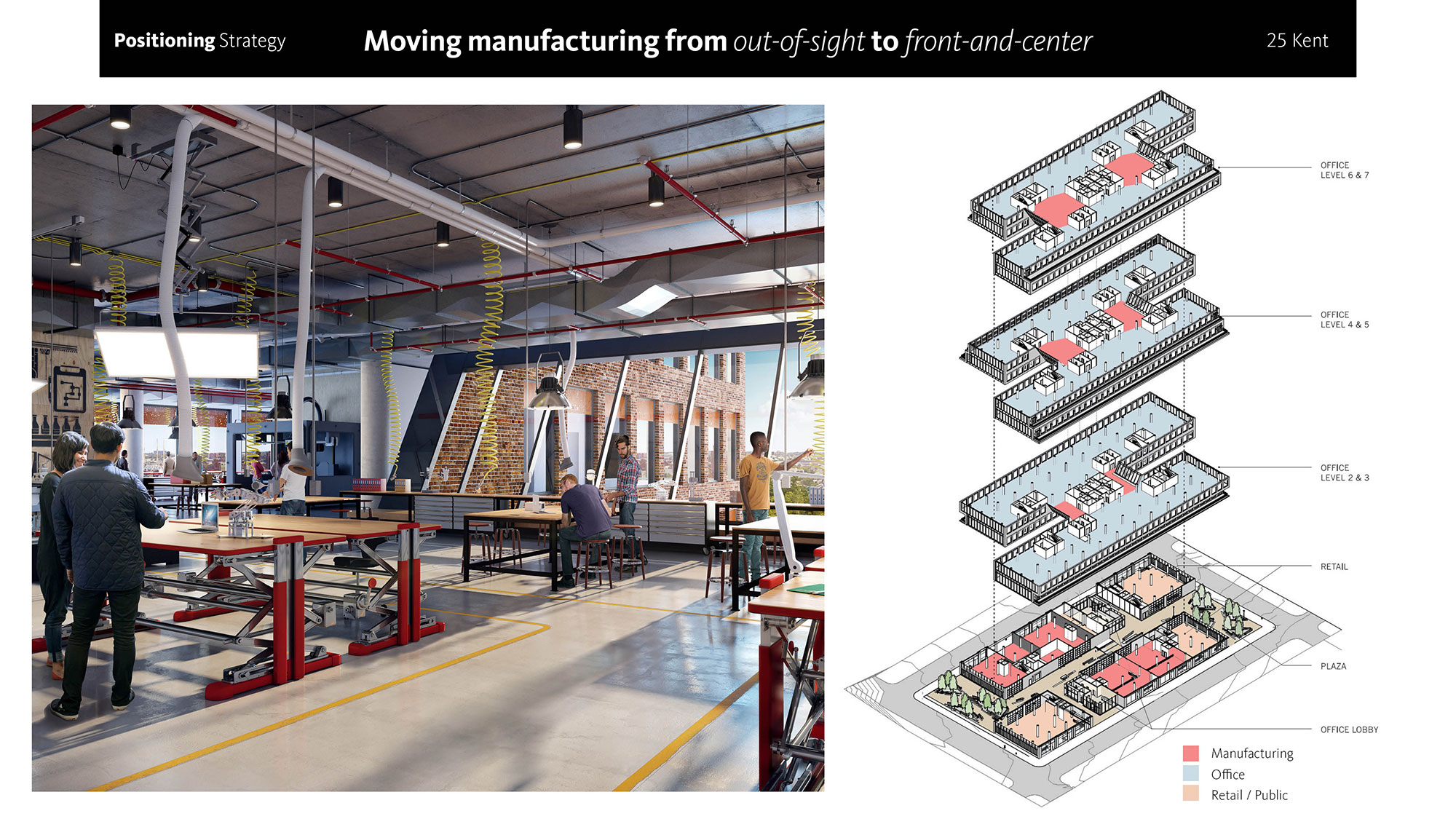 All four of these strategies are tools that enable owners to have more flexible conversations earlier on with potential tenants, and build more trust with current tenants. These insights are agnostic to aesthetics or any current stylistic trends, keeping the focus on the fundamental value and experience of commercial real estate properties.
For media inquiries, email .