Gensler Honored As First Firm to Win Three AIA COTE Top Ten Awards for Sustainable Design
November 18, 2020
Three Gensler projects were recognized for excellence in sustainable design at the 2020 American Institute of Architects Committee on the Environment (COTE) Top Ten Awards. This year, Gensler became the first firm to win three times in a single year since the AIA COTE Awards were first launched in 1997.
A jury recognized Gensler's designs for Ford Foundation Center for Social Justice, UPCycle, and Etsy's Brooklyn-based headquarters, which each met COTE's rigorous criteria for social, economic, and ecological impact. AIA's annual COTE Top Ten winning projects expertly integrate design excellence with cutting-edge performance in ten key areas, illustrating how architects can foster the health and welfare of our communities and planet through the power of design.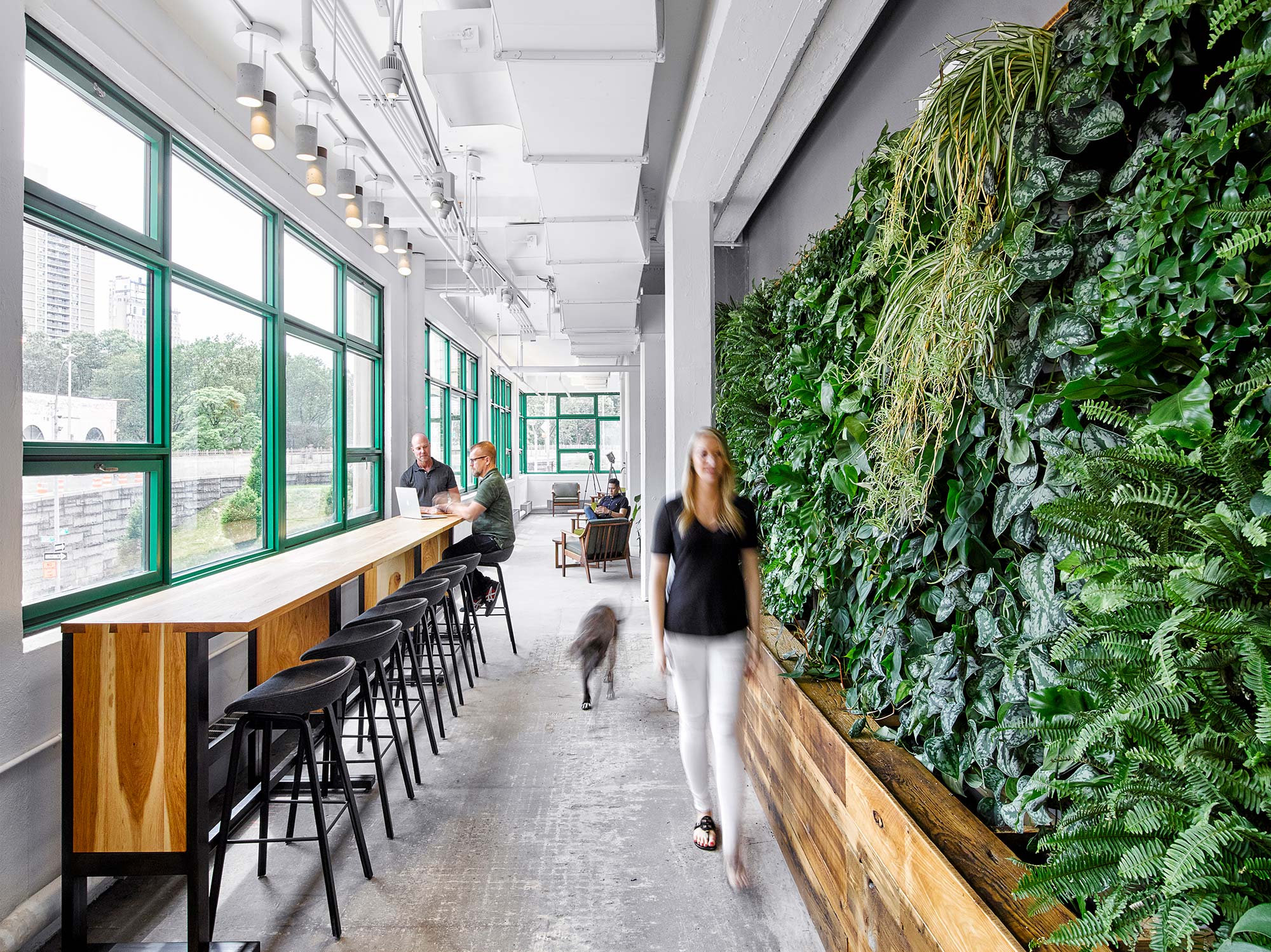 Ford Foundation Center for Social Justice

Gensler's holistic restoration of the Ford Foundation headquarters preserved the historic Manhattan landmark while transforming it into a 21st century center for social justice that aligns with the organization's mission of transparency, equity, justice, and dignity for all. A multidisciplinary team of Gensler designers collaborated to carefully renovate the Foundation's building, which was originally designed by Kevin Roche, John Dinkeloo and Associates and hailed as a modern architectural icon upon its completion in 1968. Gensler's mission-driven redesign of this iconic site transformed both its workplace and public spaces into more open, inclusive, and sustainable environments while preserving its unique midcentury character and overall sense of civic purpose.
The two-year renovation offered an opportunity for the Ford Foundation to consolidate its operations, opening two floors of the building to likeminded tenants and doubling convening space for other not-for-profits and grantees to use to meet and collaborate. The Foundation's sustainable mission set high expectations for the project, which achieved LEED Platinum certification, helped shrink energy use by 35%, and modernized the structure to meet New York City safety codes and Landmarks Preservation Commission requirements.
To champion inclusivity, handicapped accessibility was improved beyond ADA requirements. The public is invited to experience the Ford Foundation's large-scale atrium garden, which was restored to the original Dan Kiley aesthetic. Also open to the public is a new double-height gallery that features art, performances, and public programs highlighting themes of social justice.
The jury commented, "the new design adds adjustments and changes to its planning that make it more public and equitable. The garden is reestablished as a public oasis that invites the community in, and following the current values of the Ford Foundation, the building makes room for like-minded partners in a more collaborative structure."
The significant restoration efforts and expanded public access help the reborn building to embody Ford Foundation's mission "to promote the inherent dignity of all people."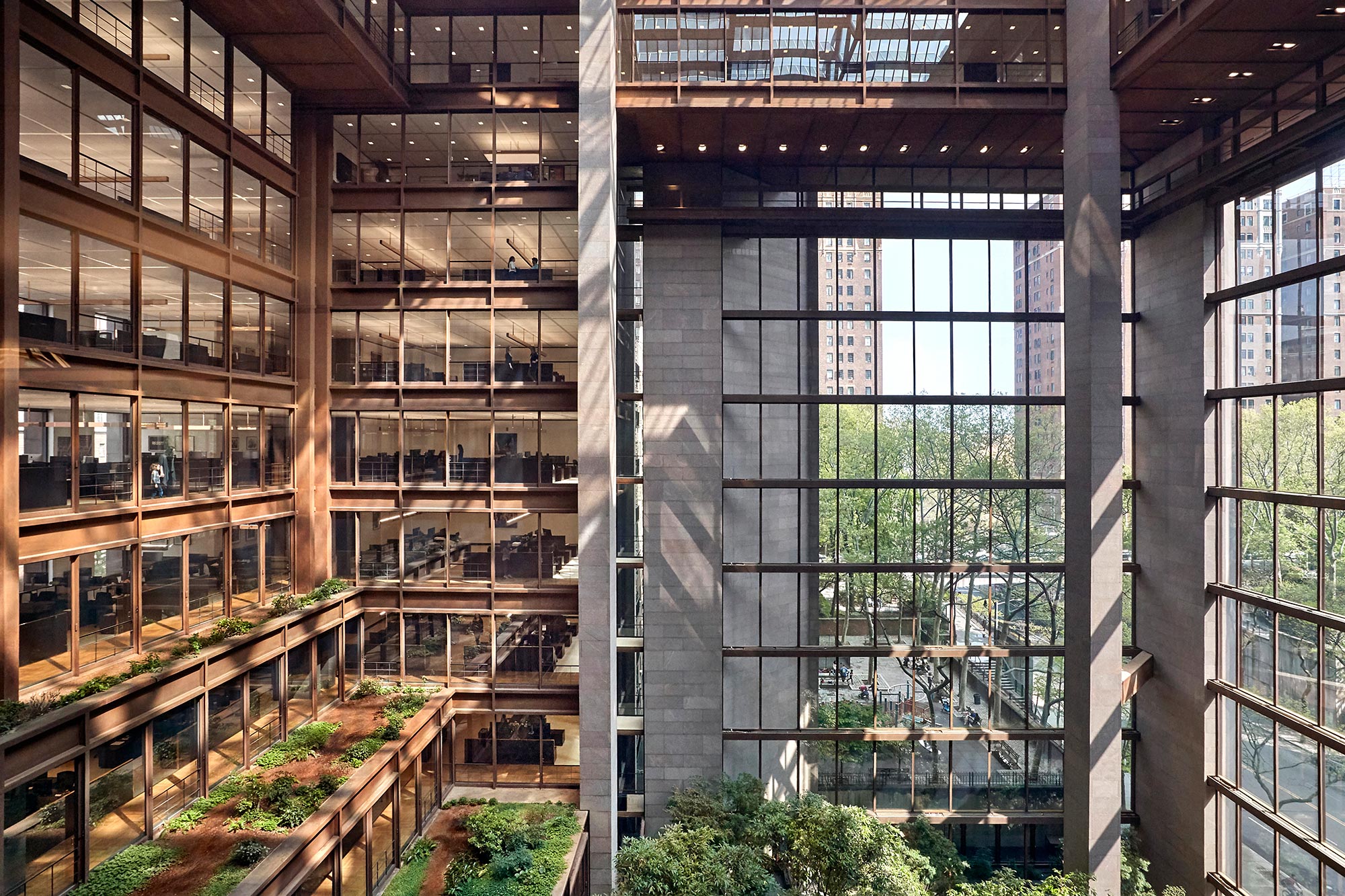 Etsy Headquarters
The 200,000-square-foot Etsy headquarters, located in a former printing press in Brooklyn was designed to celebrate the maker community, incorporate biophilic design principles, and maximize the long-term health of the company, its employees, the community, and the larger ecosystem. Following extensive sustainability efforts, the project ultimately achieved the Living Building Challenge (LBC) Petal Certification.
Gensler helped Etsy meet its ambitious sustainability goals both through intelligent design and thoughtful use of materials, which required the team to vet more than 1,500 design sources to ensure they did not contain harmful or toxic chemicals. Additionally, the space uses wood that was invasive, salvaged, reused, or sourced from responsibly managed forests.
Low flow and flush fixtures and a 3,500-gallon rainwater tank help support the building's extensive interior greenery program, which includes thousands of plants, three green walls, and three terraces of outdoor plants. High-efficiency light fixtures and daylight controls contribute to energy savings, and onsite and offsite solar arrays provide 100% of the building's power from renewable sources.
The project also fosters a connection with the surrounding Dumbo neighborhood and features over 750 pieces that were crafted by local makers and artists. Etsy's headquarters design pushes the envelope in terms of performance and aesthetic, using the power of design to celebrate the art of making, bring the brand's story to life, showcase sustainable, authentic, and locally sourced materials, and promote wellbeing and connectivity for employees and the community at large.
"Everything about the inhabitants, the building, and the use of the space are involved in the investment in sustainability as a way of life," the AIA COTE jury noted. "This project is a celebration of health and craft and takes an existing fabric and transforms it into something more rewarding."
As the largest Living Building Challenge Petal-Certified Building in New York City, Etsy's home sets a new standard for the company whose mission is to "keep commerce human."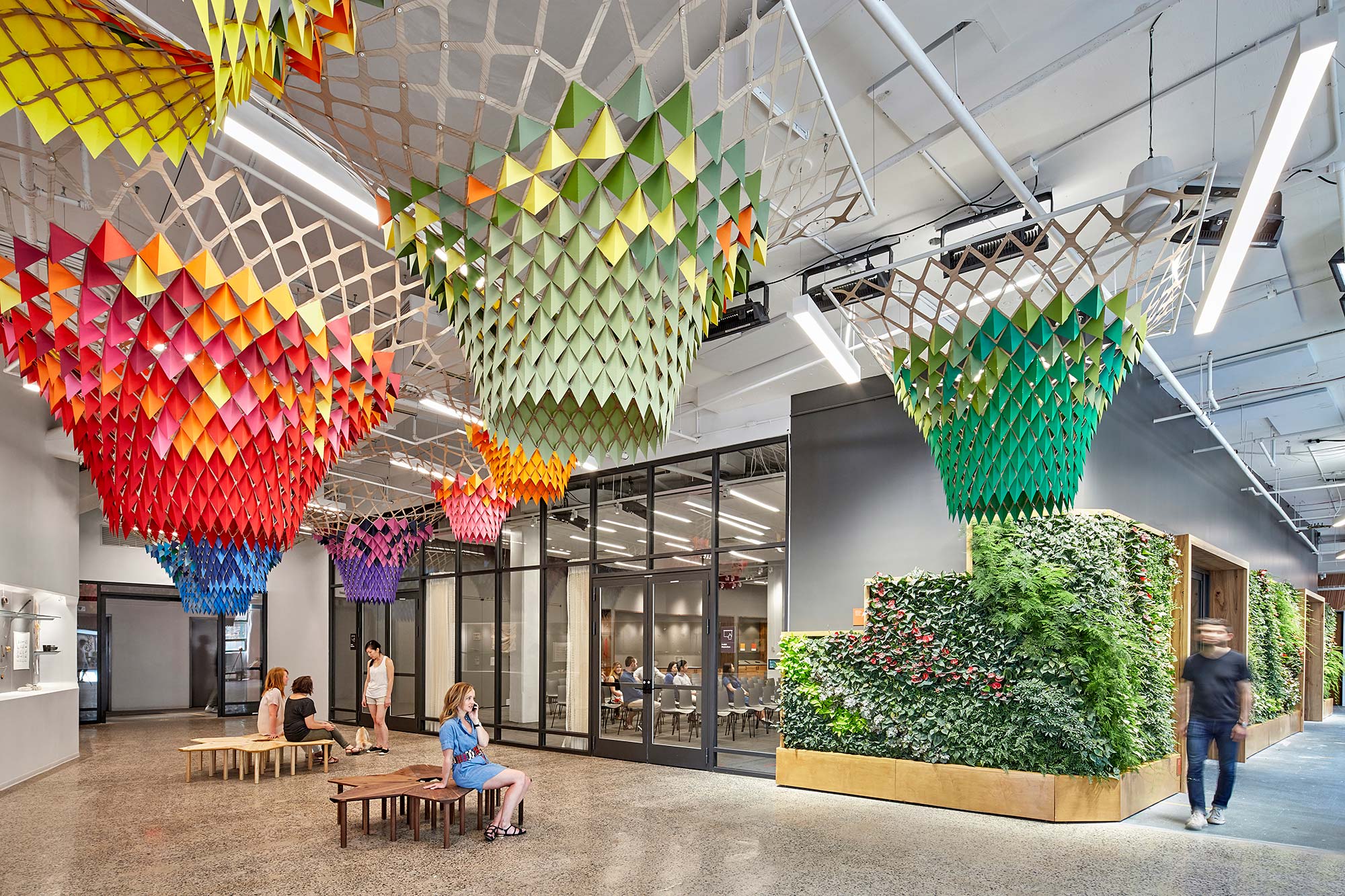 UPCycle
At UPCycle, Gensler transformed a former recycling center into a unique creative office building through a sustainable design approach that reused existing materials and incorporated local artwork that celebrates the East Austin community. Energy-efficient improvements included new skylights that warm the space with natural light, lowering the need for artificial lighting, new insulation, and a new ventilation system that reduces the use of air conditioning. The project prioritizes delivering natural light to occupants, a factor that can support mental wellbeing and productivity, by creating a regular rhythm of windows, glazed garage doors, skylights, and clerestory pop-ups along the central corridor — 91% of the floor area benefits from direct views to the outdoors.
Guided by the concept of "upcycling," a total of 95% of the existing warehouse space was reused — including its building skin which was turned inside-out to unveil its original metal finish, and industrial exhaust fans that were repurposed as decorative elements that add character. Any materials found on site that weren't used were saved for future projects — around 1,824 metric tons of CO2 were saved through the process of reusing and reclaiming existing materials.
"The design team here shows us how to make a great, healthy, sustainable, adaptive reuse project within a crazy tight budget," the jury noted.
The converted warehouse beautifies the neighborhood while retaining its original industrial character with a colorful twist in a light-filled workspace that is tailored to Austin's creative tech community. UPCycle features modern amenities, an expansive mezzanine, a series of large covered patios, residential-style porches, a repurposed train car that serves as an outdoor breakroom, and vibrant graffiti murals by local artists.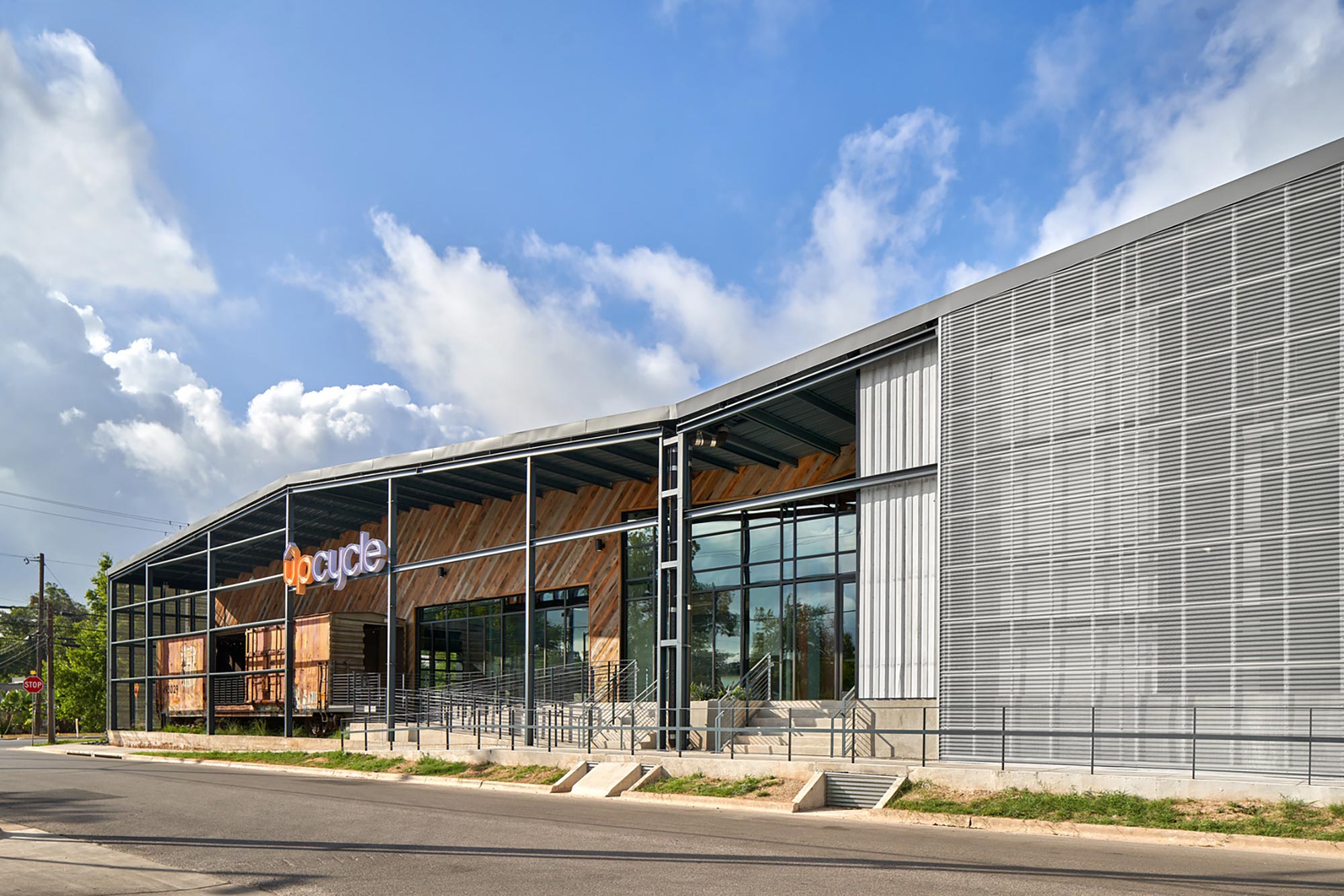 Design Has the Power to Enrich the Human Experience and Address Global Challenges


Gensler Co-CEO Diane Hoskins noted that the recognition of Gensler's record-setting wins at the 2020 COTE Top Ten Awards is "a direct result of Gensler's Cities Climate Challenge and our commitment to achieving carbon neutrality in all our work within a decade." She added, "It also is a rallying cry to our industry, our clients, and our colleagues that excellence in sustainability is achievable at scale."
"We aim to create places that both enrich the human experience and address the world's most urgent challenges," said Gensler Co-CEO Andy Cohen, adding, "the Top Ten Awards are an important validation of that effort, and we could not be prouder."
See all of this year's COTE Top Ten winning projects on AIA's website.
For media inquiries, email .