Converting a Parking Garage Roof Into a "People Deck" in San Jose
April 14, 2021 | By Peter Weingarten
As we emerge from the stresses of this pandemic, we have a greater appreciation for human contact, belonging, and community. In a post-pandemic landscape, cities must address this fundamental need for human reconnection. Using design as a means to achieve this goal, we're proposing to convert the roof of an underutilized parking garage in San Jose, California, into a "people deck," where people can gather, relax, socialize, learn, exercise, and enjoy genuine community building. At a time when connection to people and wellness are so valued, this type of urban gathering place seems all the more attractive — for cities, residents, developers, and local businesses.
A few years ago, we were invited to be part of the design and development of a small intervention in a city-owned parking structure adjacent to San Pedro Square in downtown San Jose. With a little façade and space planning revision, the project carved out some retail stalls along the street-front to help balance and activate that side of the market-facing pedestrian street. The project, called MOMENT, repurposed the ground floor of the parking structure to accommodate micro-retail spaces for local business owners, enliven the community, and encourage a renewed pedestrian experience.
This first intervention helped activate the pedestrian experience at the street, and now we are looking to elevate the urban experience up to the top deck for further enhancement and activation in this part of downtown.
Location & Context
2 IMAGES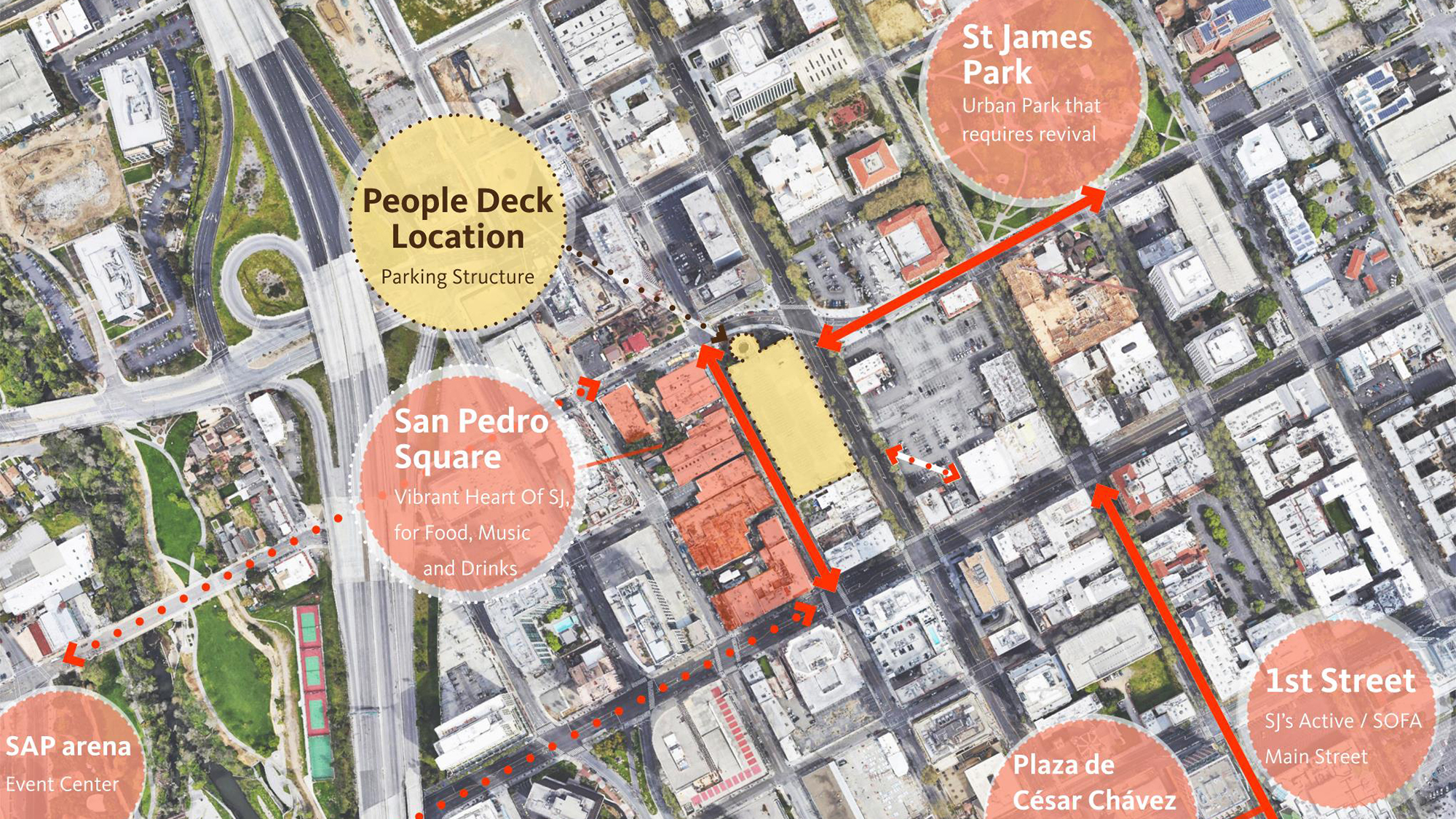 We believe in the value creation and return generated from investment in public spaces. Currently, there are many amazing destinations within San Jose's downtown core, but there are also uncomfortable gaps of inactivity between them. If we can fill in those gaps, we can knit together the downtown core and enable the community to enjoy a more continuous and activated experience.
The site of this parking structure is ripe for another round of intervention. With some targeted design proposals, we can extend, enhance, and revitalize the pedestrian experience along Market Street and have a better connection to Plaza de Caesar Chavez and St. James Park while bridging over an impediment to the connection to San Pedro Square behind.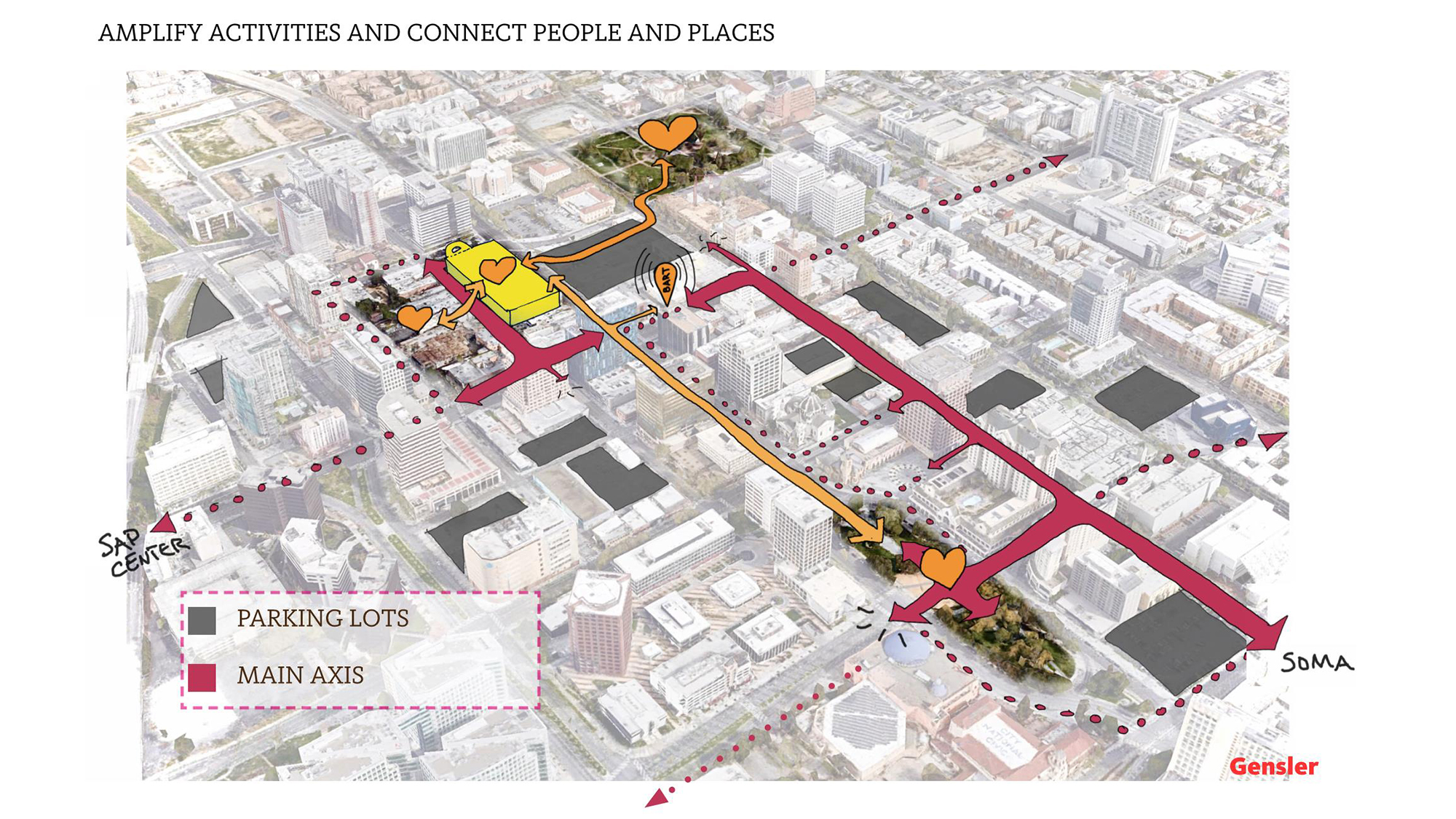 San Pedro is a citywide destination for social gathering that offers an attractive outdoor setting for food, drinks, and entertainment. It is also an important community gathering place for the adjacent residents. As the area around San Pedro Square grows with an increase in the number of residential units, this vital amenity will also need to increase capacity.
In its present day use, there is very little actual parking within the garage and the rooftop (save for the occasional Shark's game). However, it is seeing more activity for people. This in itself is a remarkable pull of human activity given the unhospitable state of what is essentially an asphalt deck with no shelter. Upon further discovery of the rooftop, one is taken immediately by the surrounding views of the mountains, and the tranquility of this perch above the (normally) busy San Pedro Market and Market Street below.
Inspiration
2 IMAGES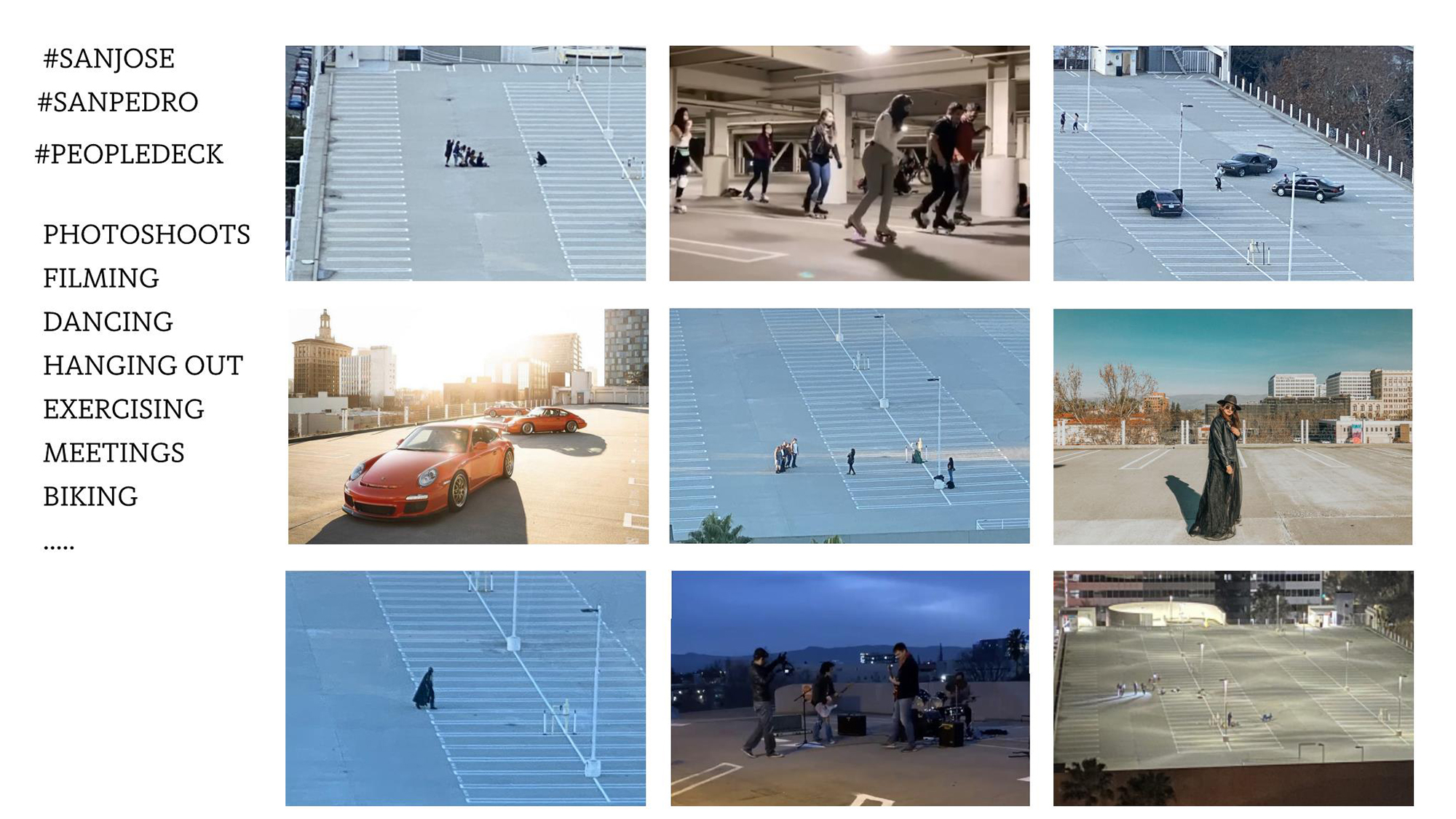 The seed of community has already been planted on this roof and we are simply proposing to cultivate it. There is untapped potential for this deck to elevate our enjoyment of coming together and to connect us not only to each other, but also to our natural context with access to views of the skyline, as well as the surroundings parks.
Opportunities for Urban Connection
2 IMAGES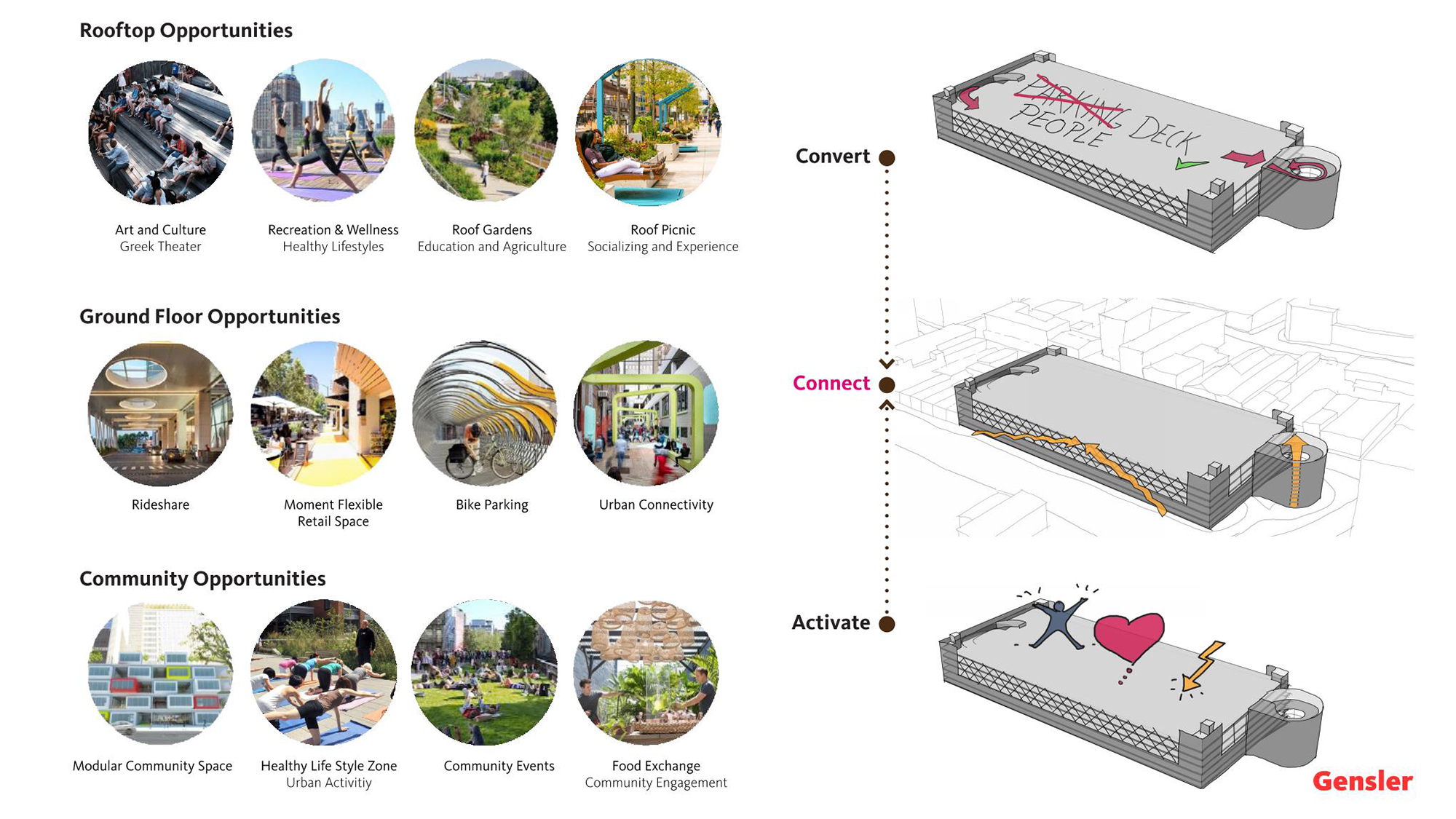 There is further potential to uplift spirits with meaningful connections to San Jose's art scene, murals, and sense of discovery. A fundamental principle for our effort is to ensure a sustained impact by allowing for adaptability, multimodal experiences over time, and leveraging digital and physical experiences and networks to inspire us.
Concept Illustrations
2 IMAGES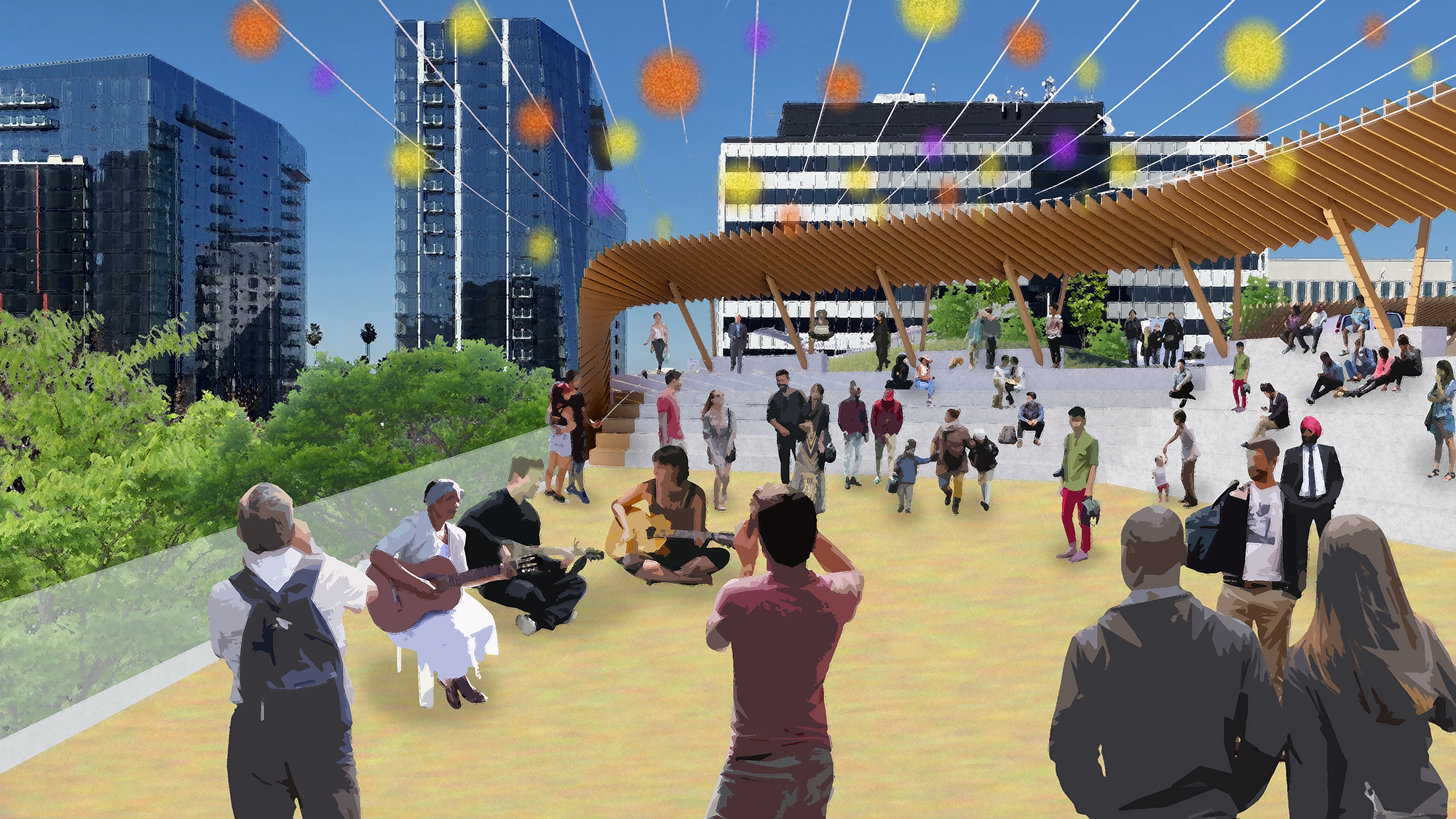 People, and their ability to connect, are at the center of life, innovation, growth, and prosperity. Creating a "people deck" (as now envisioned) is an exciting test of our abilities to design a meaningful experience that creates an enjoyable journey from the city streets below to the destination up high.
We envision the closing of a dedicated turn lane off Market Street to introduce new landscaping, reduce the intensity of vehicular activity, and allow enough room to create a series of ramps and perches that will take people to the people deck. At the far end of the garage, we propose to repurpose the drum of the parking ramp into a fanciful digital and vertical circulation experience with a new inviting lift inside. Both these routes and other paths of traversing the garage are envisioned to be accessible and provide some exercise, wellness, and discovery.
Aerial Renderings
2 IMAGES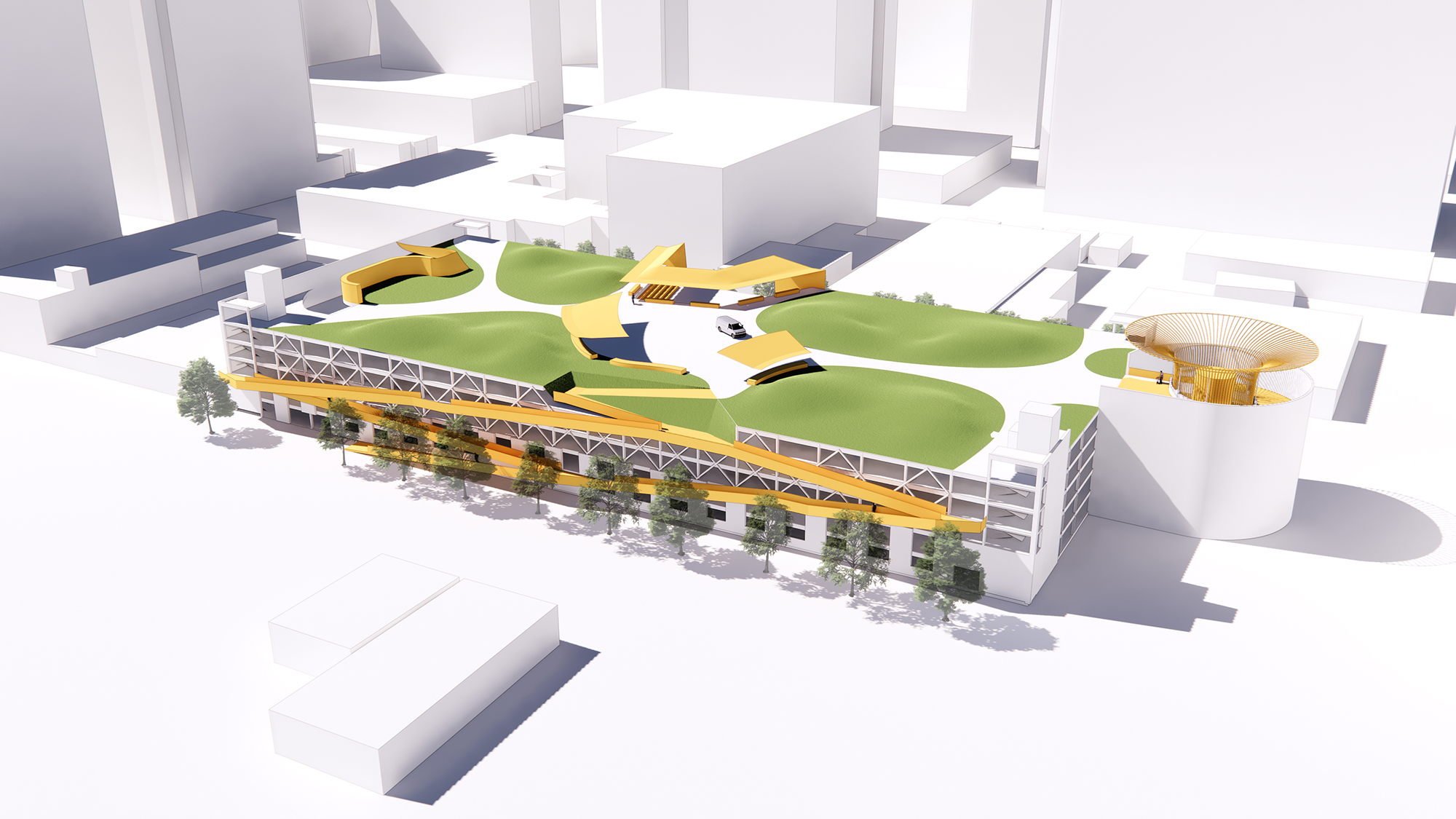 The big payoff is a diverse, urban, and elevated landscape that is intentionally conceived and programmed to attract a diverse demographic of visitors and support many different modes of user experience. We propose enough variety of activity and types of outdoor rooms to accommodate any number of needs — from active to passive, from loud to quiet, from solitude to shared community gatherings.
There should be a comfort one can experience in the space: that it is a safe place (naturally protected in its elevation), that it embodies the warmth of the community, and that it is a platform for viewing the natural and beautiful vistas of the surrounding hills. With an integrated digital experience, we can engage and delight visitors while also providing a beacon that will establish a visible marker for this destination between the freeway and the surrounding parks.
Digital Experience
2 IMAGES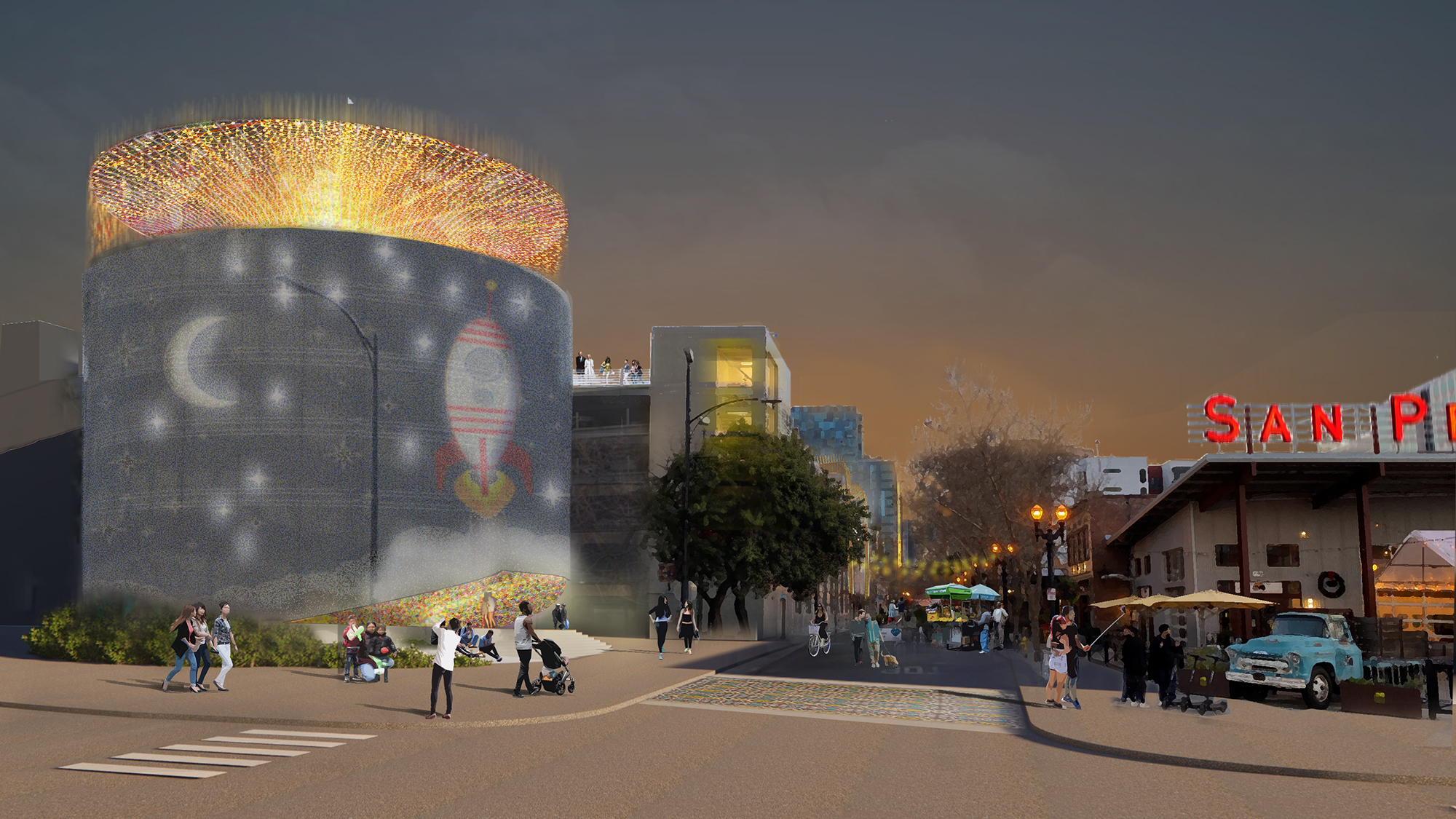 This people deck has the unique opportunity to literally bridge urban functions, break urban segregation, and to unite the downtown for everybody. By utilizing the existing structure, we can bridge the old and the new and extend the utility of the garage with invigorated purpose.
The project's impact will be felt in everyone's well-being and in the increase in the quality and value of downtown San Jose as the heart of Silicon Valley, with a renewed vitality and attraction for the whole of the Bay Area. We hope that our initial thoughts and ideas will stimulate further community dialogue and discussion, and that we may find partners to execute our collective vision.
For media inquiries, email .