Introducing the Gensler Product Sustainability Standards V1.0
August 21, 2023 | By David Briefel, Mallory Taub, Melissa Kelly, and Carey Gallagher
Editor's Note: This blog is part of a series on the new Gensler Product Sustainability (GPS) StandardsTM. Click here to read more about what the GPS Standards mean for the industry and for Gensler's sustainability mission.
A sustainable materials standard for our projects
As architects and designers, selecting more sustainable building materials is one of our most substantial opportunities for impact. Many of our greatest achievements to date have come from exemplary projects for which sustainable materials were a key project priority. However, as the Urban Land Institute recently noted, environmentally progressive organizations have begun to increase their impact beyond individual projects by using their purchasing power to require building materials comply with their rigorous material evaluation frameworks.
As the largest design firm in the industry, we have an opportunity to leverage our size to accelerate progress. We have a responsibility to define clear, impact-based priorities for sustainable materials, and a key step in this mission is publicly sharing a minimum sustainability standard for all our projects.
The Gensler Product Sustainability (GPS) StandardsTM aim to do just that by defining minimum sustainability criteria for high-volume, market-ready material categories used in our architecture and interior projects. They were developed to continually improve over time, provide clear and transparent direction to manufacturers, and align with the industry. We recognize the power of collective action and strive to use our influence responsibly by increasing demand for sustainable materials in the market.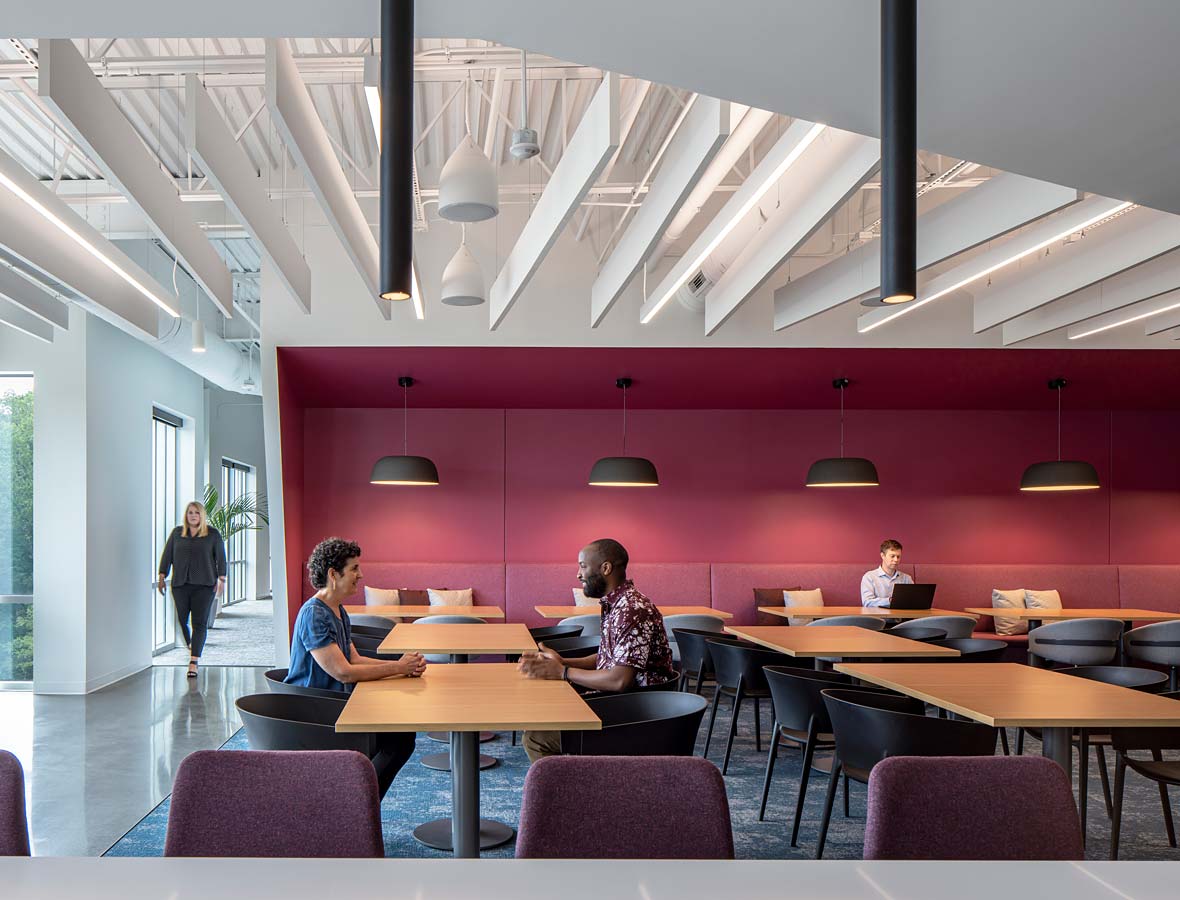 Gensler Product Sustainability Standards
Gensler has established sustainability performance criteria for the top 12 most commonly used, high-impact product categories selected for our architecture and interior projects.
Our Approach
With so many different approaches to defining sustainable material criteria in the industry, there have been a variety of internal efforts over the years to increase the use of sustainable materials in our projects. However, at COP26 in 2021, we committed to a more ambitious and comprehensive approach for the selection and specification of sustainable materials in our projects. It was there that our Co-CEO, Diane Hoskins announced Gensler's intent to publish a minimum sustainable materials standard for our projects, with the goal of changing the value chain and catalyzing innovation. Since then, a team of sustainability specialists, specification leaders, and technical directors from across the firm conducted a dedicated effort to rigorously research and define a clear set of criteria for the recently launched GPS Standards.
Our goal was to create a clear and consistent standard across our firm — one that was built on industry norms and established criteria for assessing sustainable materials performance. In order to align with industry standards and benchmarks, the development process included extensive outreach to manufacturers, contractors, and industry organizations; as well as a review of regulations, third-party building certifications, existing research, and public product databases. This process helped the team understand the level of sustainability performance that would push the industry forward, maintain competitive bidding, and limit challenges to project schedules and supply chains.
Focusing on High-Volume, Market-Ready Materials
In version 1.0, the GPS Standards define criteria for 12 product categories that have a substantial sustainability impact and already have sustainability disclosures from manufacturers available in today's market. The 12 product categories include: acoustic ceiling panels, tiles, and suspension grids; batt insulation; board insulation; carpet tile; decorative glass; glass demountable partitions; gypsum board; interior latex paint; non-structural metal framing; resilient flooring and base; systems furniture workstations; and task chairs.
Today, these 12 product categories have relatively mature, publicly available sustainability disclosures relating to manufacturer's organizational commitments, multi-attribute certifications, life cycle impacts, indoor air impacts, and material health and transparency. The focus on today's market-ready product categories is important to ensure enough GPS compliant products are available to maintain competitive bidding and avoid barriers for design and construction processes.
While we may include requirements for materials specified by our engineering consultants (such as concrete and steel) in the future, we felt it was important to start with the product categories where our architects and designers have immediate influence. We hope to add additional architectural product categories to future versions of our GPS Standards as their sustainability data becomes more widespread. Curtain wall assemblies, for example, are customized in nature making it a challenge to compare and standardize sustainability disclosures. Additionally, curtain walls have added complexity and need to balance trade offs between embodied and operation carbon performance.
Continually Improving Through an Evergreen Standard
We know the path ahead to implement GPS v1.0 will be challenging and there will be an initial learning curve. However, we believe that upskilling is within reach, the process for reviewing materials will become more streamlined, and the quality and availability of sustainable materials disclosures will increase over time. GPS is not a one-time effort, but rather an evergreen standard to continually improve the production and selection of more sustainable materials in the built environment.
For future updates, we plan to publicly release our new standards with a notice period before they go into effect. We plan to evolve these standards to include additional product types, identify more aggressive sustainability targets, and develop strategies for materials selected by our consultants. Additionally, we plan to evaluate sustainability standards for other regions where Gensler operates beyond the U.S., Canada, UK, and Europe, where GPS v1.0 is currently applicable.
Clear and Transparent Expectations for Manufacturers
Transparency and consistency will accelerate the collective impact of our project teams and manufacturers. By making the GPS Standards public, we aim to provide clarity on the criteria in our specifications to incentivize the development of more sustainable products.
The criteria in the GPS Standards are composed of two levels of performance: Gensler Standard and Market Differentiator. Gensler Standard criteria define our baseline requirements that will be required on all our projects starting in January 2024 in the U.S., Canada, UK, and Europe. Market Differentiator criteria represent current best-in-class sustainability attributes and reflect Gensler's aspirational goals. While both tiers will become more stringent in future versions, today's Market Differentiator criteria represent the future we want to see from manufacturers and indicate the level of performance that may become our standard.
Amplifying Our Impact in the Industry
The criteria were carefully selected to align with sustainable materials disclosures already prevalent in the market. In particular, the disclosures required by our criteria are consistent with the Common Material Framework created by mindful MATERIALS and show alignment with the AIA Materials Pledge. The criteria also reference aligned initiatives by industry organizations, regulatory standards, and third-party certifications such as Carbon Leadership Forum, REACH, ISO, BIFMA, LEED, BREEAM, and Living Building Challenge among others.
Our teams will be using publicly available materials databases to search for products that meet the GPS Standards. We are encouraging manufacturers to disclose the sustainability attributes of their products through product data sheets and their websites at a minimum, and where possible to report all disclosures to third-party product databases. By pointing manufacturers to existing, public materials databases and defining criteria based on industry norms, we hope our GPS Standards will have a cascading impact from which all can benefit.
Looking Ahead
These requirements will go into effect in January 2024. Prior to implementation, our focus will be on outreach, internal training, and specification editing. We plan to continue facilitating manufacturer and contractor roundtables both for feedback and to prepare for a smooth transition. Throughout this process, our intent is to keep an open dialogue with other architects, clients, manufacturers, and industry organizations. Partnerships and advocacy are key to surfacing potential opportunities for improvement as well as identifying impasses that must be surmounted. By working together collaboratively, transparently, and with consistency, we can achieve the monumental progress necessary for widespread adoption of lower carbon and healthier materials.
For media inquiries, email .