Revitalizing Stranded Assets to Build Vibrant Suburban Districts
June 14, 2022 | By Joseph Brancato
U.S. cities are struggling with population loss due to nearly 5 million Americans who have moved since 2020 because of remote work opportunities, cost of living, and a moment to reflect on individual geographic preferences. Initially, these moves were driven by health scares and safety. Even with so many people moving outside of big cities, many still look for the good aspects of an urban lifestyle. For years, we saw a trend toward megacities — a little over 50% of the world's population was living in cities prior to the pandemic. In 2019, it was projected that 70% of people would be living in cities by 2050. Since March 2020, we have seen the opposite happening as people moved to the suburbs.
With the recent population shift toward suburban areas, civic leaders and real estate developers have an opportunity to create synergistic communities beyond urban downtowns that offer places for people to live, work, and play. We need to integrate housing with existing uses, such as office complexes and retail malls, to activate and create dynamic neighborhoods.
Most cities' central business districts (CBDs) were built on a five day a week commuter model; however, remote work has changed user demands. After decades of dominance, real estate developers and urban planners are rethinking what these districts can offer. Older assets, like commercial office buildings, retail, and hospitality, are at a critical inflection point as uses evolve. Life science districts, innovation districts, and entertainment districts are beginning to fill the void and energize our cities.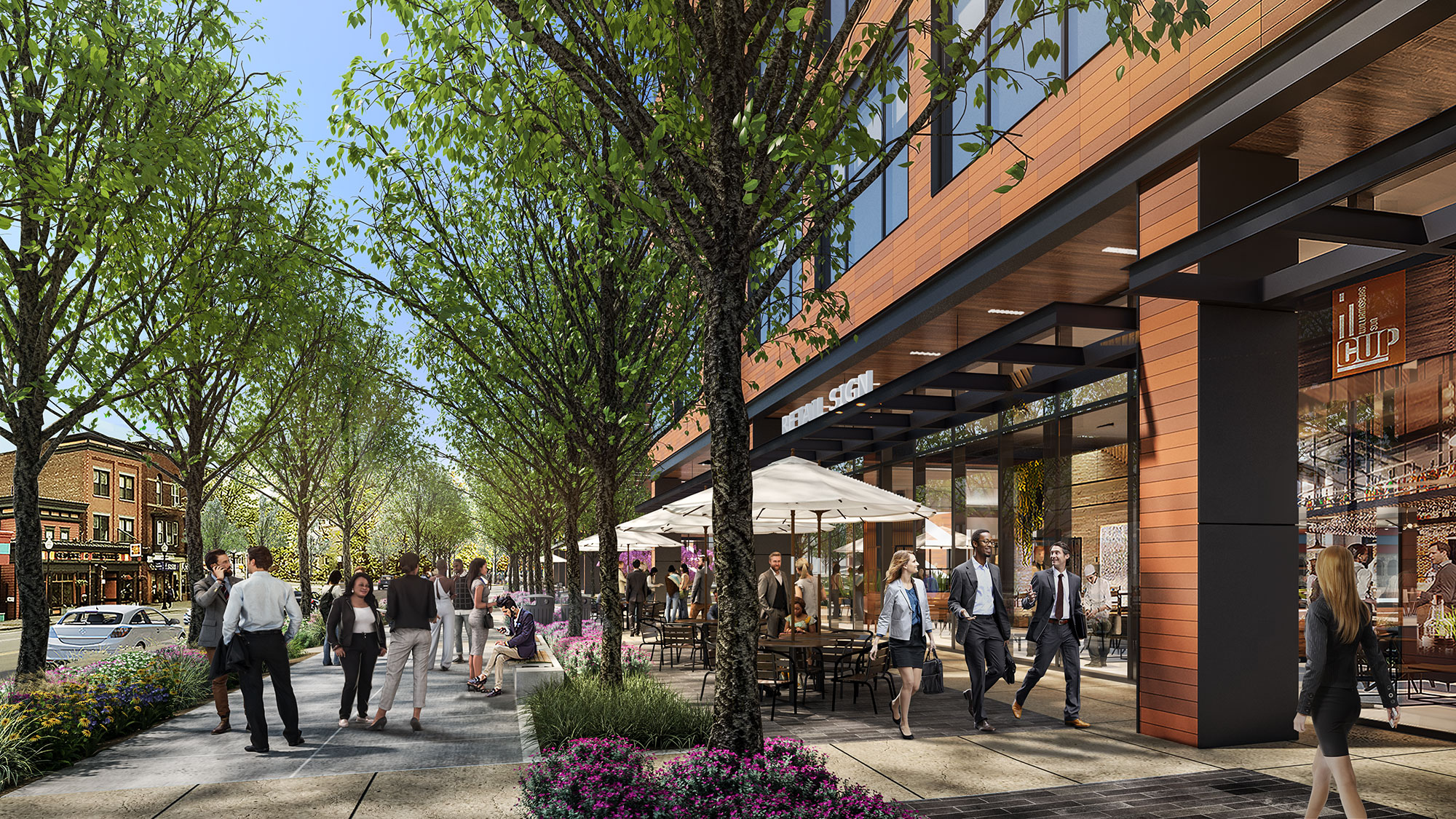 Urban Exodus
Over the past several decades, urban planners have seen cycles of migration to both our cities and suburbs, and moments where each have been more favorable. In 2020 and 2021, many cities saw residents move away as remote and hybrid work became more widely accepted. According to our latest City Pulse Survey research, 18% of survey respondents are interested in moving from cities to the suburbs, in addition to those who have already moved.
A desire for bigger living spaces, better school districts, and shorter commutes has led Gen X and Millennials to secondary cities and suburbs. As home values have risen exponentially in many hot suburban markets, many of these areas still lack the vibrance of city life.
While predictions of the decline of cities might never be realized, major metropolitan areas with a high cost of living and knowledge-based jobs that can now be done remotely will continue to impact urban life over the next several years. Cities will continue to navigate struggles with affordability, homelessness, and safety, but strategic design and development can help mitigate these issues. Talent will still be attracted to the dynamism and opportunities available in our cities.
Reenergizing the Suburbs
Today, when reenergizing suburbs, we are looking at already vibrant residential communities and imagining how we can positively add other experiences to a neighborhood. Outdated malls and corporate campuses provide the opportunity for mixed-use districts and can unlock latent value to meet residents' rapidly changing demands. Revitalizing stranded assets has the potential to transform single-use buildings and neighborhoods to create synergistic uses and strengthen ties to the surrounding community.
Creating new, walkable suburban districts that are close to mass transit are ideal for workers who are balancing a hybrid work model. As the 'hub and club' model emerges, we are seeing organizations experiment with satellite offices outside of cities, either by signing leases for workplaces with concierge services similar to an airport lounge to support employees or by taking on coworking space that allows for greater flexibility over time.
Building Success With Community Input
Civic leaders, real estate owners, and operators need to include the community in their visioning. Similarly, architects, designers, and planners need to meet the people who they are creating space for and understand residents' needs. By engaging the public early, we can build collective consensus, which delivers design that enhances the community.
Successful mixed-use communities will activate the spaces between buildings, embed technology, and integrate a variety of uses within a single destination that improves the quality of life for people. Adding mixed-use developments that could potentially include senior living, healthcare, grocery stores, shopping, restaurants, hotels, and entertainment will be the differentiator for municipalities looking for a strong rebound.
Last year, we had an opportunity to work with the New Jersey Economic Development Authority, looking at how civic leaders and property owners could reimagine their stranded real estate assets. Programs like these will improve opportunities for communities to leverage their infrastructure, attract people, and provide the possibility of mixed-use districts that allow people to live, work, and shop all within a walkable 20-minute radius rather than commute to the city five days a week.
Time for Transformation
Public and private sector must work together to transform empty and obsolete buildings and create more inclusive, sustainable, and resilient futures for their communities.
Climate change and resilience of our neighborhoods, as well as understanding the needs of real estate occupiers, are the key issues we need to solve for right now. The most sustainable building is one that is reused. Looking at the potential of outdated buildings will only strengthen and revitalize our communities outside of cities.
The shift that has been accelerated during the pandemic leaves us optimistic in our outlook for the transformation of CBDs in cities, as well as exposing/unleashing the value of stranded assets that provide elevated experiences in these new suburban districts.
For media inquiries, email .