A YMCA Facility Reconceptualized to Prioritize Wellness and Community
July 07, 2022 | By Tiger Lyon
If the unprecedented challenges of the past two years have revealed anything, it's that the spaces we design and occupy must foster health and well-being. An organization that exemplifies a commitment to building a healthy spirit, mind, and body for all is the YMCA. As a facility that had to be reconceptualized and designed during the pandemic, the Holcomb Family YMCA in Spring, Texas, is unlike any other of its kind. Envisioned as an inclusive destination where people can find hope, fellowship, and healing, the facility's innovative design provides its members with resources and opportunities that prioritize health, wellness, and a connected community.
Initially, the project was focused on a more traditional building approach; however, our design team was prompted to reconsider the project's phasing due to the global pandemic. To accommodate, we prioritized creating an indoor/outdoor experience so that members would have a space to gather and exercise in a safe and meaningful way.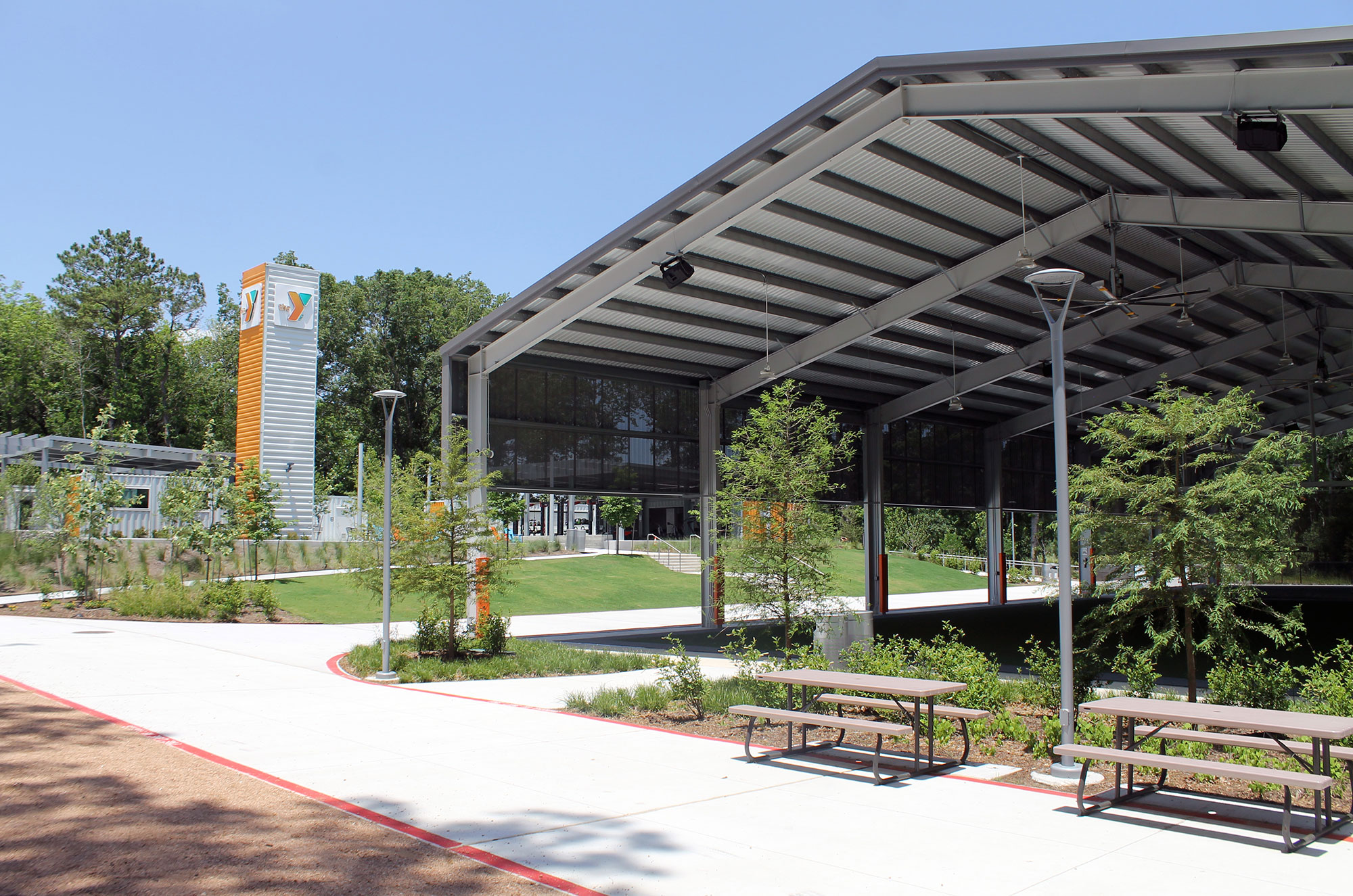 Ultimately, we were able to help the Holcomb Family YMCA become operational by using repurposed shipping containers. Due to the facility's location in a 100-year flood plain, the structures had to be raised on an artificial hill. The resulting design created a natural slope, with an amphitheater-like quality that allows spectators to socialize and watch the activity and excitement happening in the outdoor pavilion. The use of shipping containers allows the client to grow, adapt, and shift their offerings as their members' needs change.
To further its goal of promoting health and wellness to its members, the Holcomb Family YMCA features an outdoor fitness center with space for group exercise and other workouts, along with a large multi-purpose sports field for soccer, lacrosse, camps, and other programs designed to inspire youth to thrive. Additionally, the property is anchored by a 12,000-square-foot pavilion with turf and multi-purpose courts for basketball, pickleball and other sports.
To encourage alternative means of transportation, such as biking and walking, nature trails are woven into the fabric of the design and extend out around Lake Holcomb and into the surrounding neighborhoods. An area for picnic tables and food trucks is also available for social gatherings.
Although we were faced with an incredible challenge in redesigning the Holcomb Family YMCA during a global health crisis, today the campus ensures YMCA members have access to the opportunities and resources that are needed to learn and grow. As a result, the nonprofit is considering this innovative design concept for future projects and repositions within its current portfolio.
For media inquiries, email .