How an Iconic Houston Park Helped Spark the Development of Downtown
May 26, 2022 | By Maria Perez
Less than 30 years ago, Houston's urban core lacked green spaces and walkability. These areas were overrun with parking lots and offered limited access to proper shade. As a result, there was a general disinterest in spending significant time in these environments. However, the city evolved as attention was dedicated to creating inviting landscapes. The creation of parks and access to the outdoors has singlehandedly changed the way downtown Houston is accessed and utilized.
Initially, the development of Discovery Green altered the way that the public viewed downtown. The outdoor park was activated with movie nights, festivals, and exercise classes, bringing Houstonians of all ages to the east side of Main Street. Following the introduction of Discovery Green, the many parking lots that previously dotted the surrounding streets were replaced with office buildings and residential towers. Hess Tower, the city's first LEED Platinum certified project, was designed to maximize views and access to Discovery Green — an attractive selling point for potential tenants.
Additional development trends highlighted the incredible impact that the new green space, and the subsequent value placed on the outdoors, had on the surrounding community. Residential buildings were consistently leased, and mixed-use developments, like The Highlight at Houston Center, were repositioned and designed to expand upon Discovery Green, attracting crowds to the city's urban core.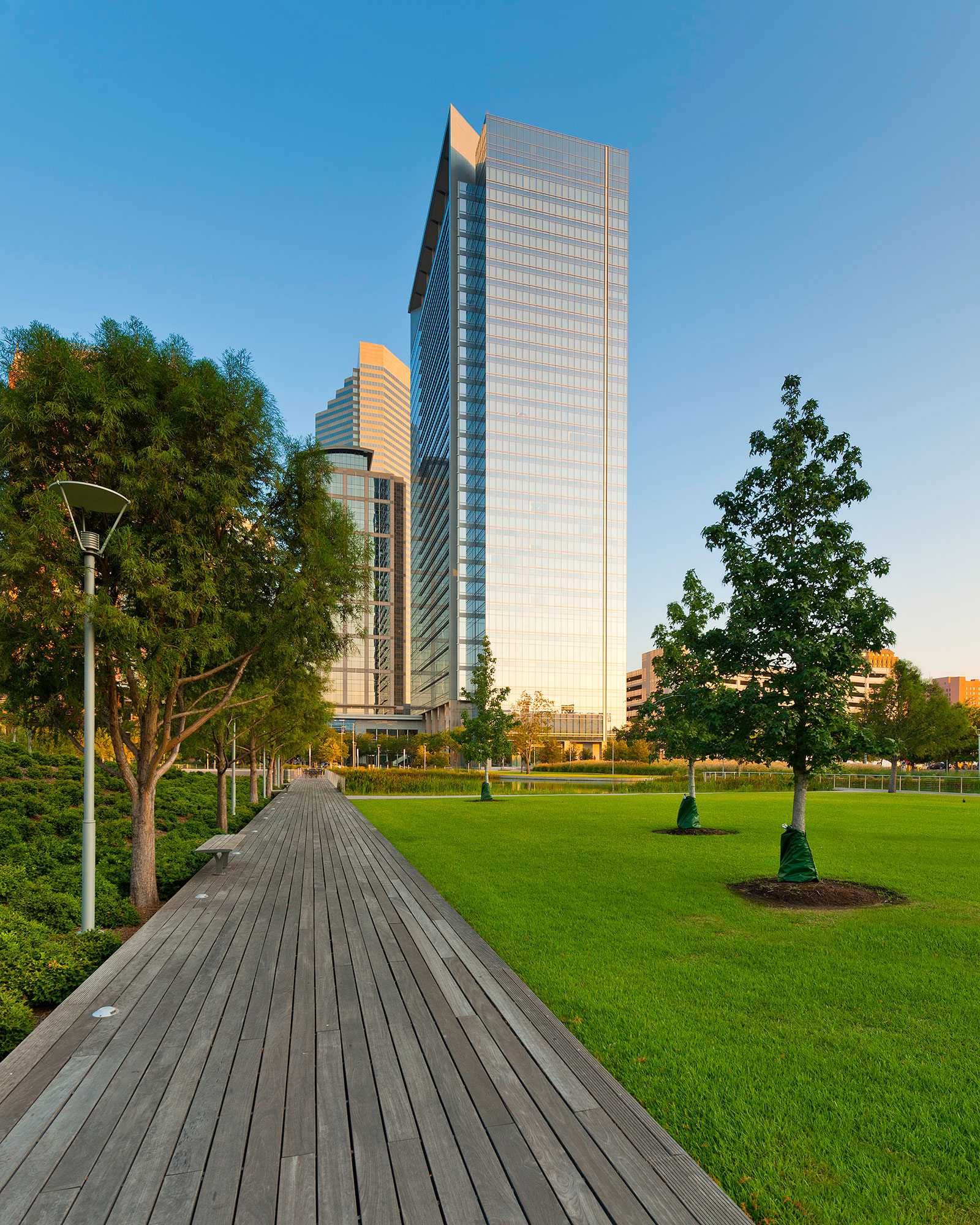 In a city that is so heavily dependent on cars, the repositioning of Houston's downtown developments also provides a great opportunity to create a 20-minute neighborhood. This idea informed Gensler Houston's recent decision to move its office to 2 Houston Center. When employees arrive in the morning, they have access to everything they need — coffee and lunch spots, an in-building fitness center, outdoor terraces, parks, nearby bars and restaurants, a grocery store, and more. Additionally, the office is nearby the METRORail, providing those in need with public transportation to areas of Houston such as the Texas Medical Center, the Museum District, Hermann Park, and more.
As the revitalization of downtown Houston continues, a renewed emphasis will be placed on access to the outdoors and overall walkability. Prioritizing micromobility will create a more sustainable urban core, and more land can be reclaimed for parks, outdoor dining, and more. Establishing this balance will offer residents of downtown Houston the opportunity to live, work, and play in their 20-minute community — resulting in a better living experience for all.
For media inquiries, email .