Understanding Changes in Project Costs Is Crucial to Designing Great Workplaces
March 09, 2022 | By Andrew Starr
Construction costs are rising at historic rates for office buildings and workplace interiors. Inflation, supply chain stress, and labor shortages are the main culprits, but those factors don't tell the deeper or whole story. The dynamic and evolving situation is more nuanced and complex. Examine and scrutinize the numbers underlying the building industry's cost conditions, and you'll find both challenges and opportunities for the design, construction, and delivery of great workplaces.
According to Gensler's 2022 U.S. Workplace Interiors Insights Report, there are several key headwinds facing workplace construction:
1. Within the building industry, costs are rising fastest for mechanical, electrical, and plumbing (MEP) elements and general conditions (GC).

2. Delays, precipitated by pandemic-related labor shortages and supply-chain breakdowns, are causing further price increases — particularly on larger projects, where delays are more pronounced.

3. Median hard construction costs per usable square foot (USF) have increased 8% annually since 2017 and 35% cumulatively between 2017 and 2021.

4. Hard construction costs vary significantly across industries and regions, with tech companies seeing the highest increase in buildout costs, and markets in the northeast and northwest remaining the most expensive places to build.
These challenges are triggering confusion in the building industry and causing many to ask how the evolving cost situation will impact the creation of effective and inspiring workplaces.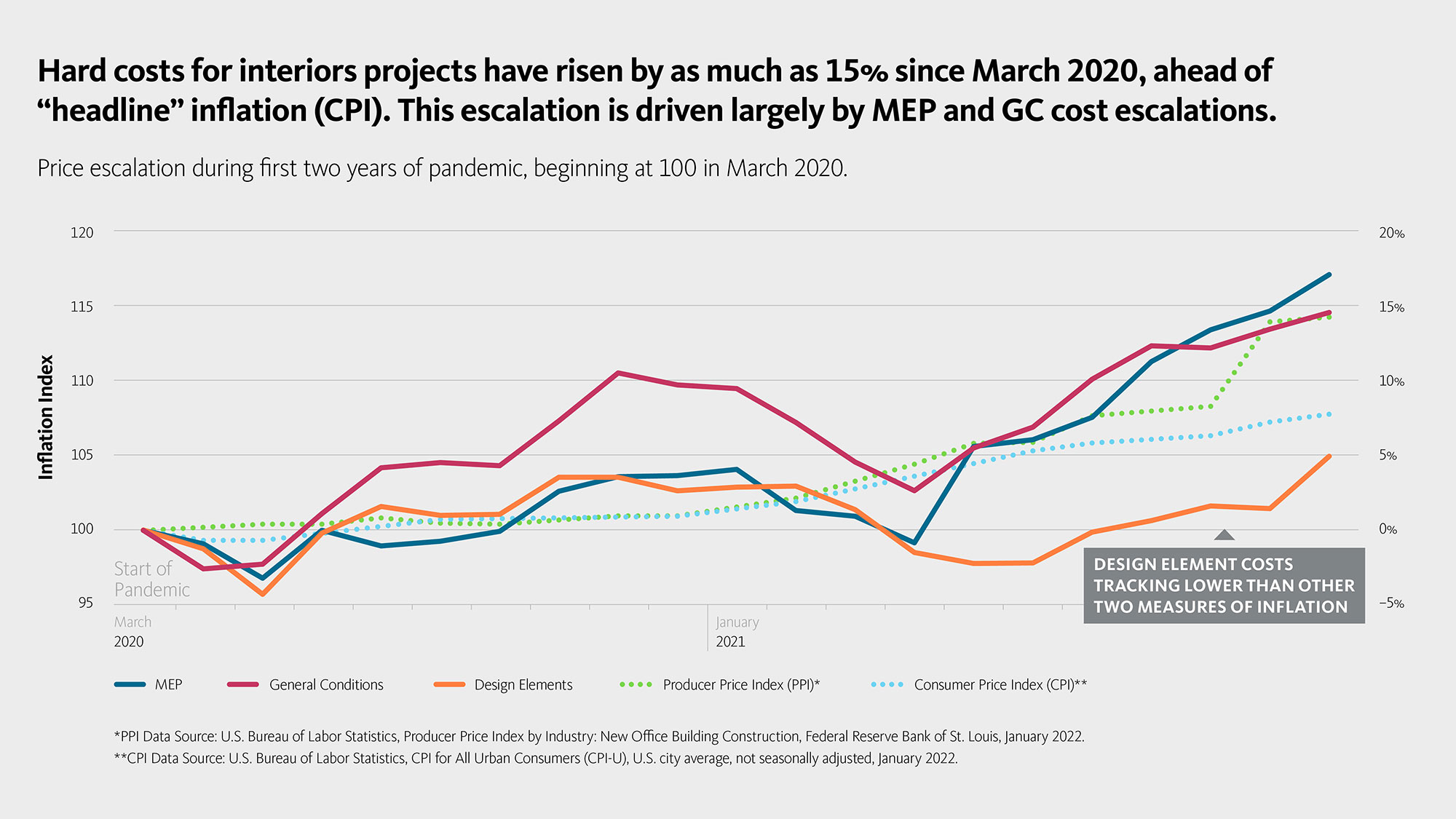 Searching for Clarity
For workplace developers, designers, and tenants who are now rethinking the office in response to pre- and post-pandemic influences on new ways of working, today's cost challenges are particularly acute.
Given the increase in hybrid work modes across the knowledge economy, many people won't be going into the office just to get work done. Today's workplace must be a destination that can inspire existing employees and attract new talent with connections, interactions, culture, and collaborative experiences they can get at the office that simply can't happen at home or in a remote working environment.
The challenges in costs and the rising importance of in-person collaboration and experience makes the creation of great workplaces more important than ever. It's also another reason why there are growing concerns around escalating construction costs. Are these rising costs squeezing budgets for the types of design elements that transform the workplace into an environment where people want to spend their days?
Creating Opportunities and Successful Outcomes
To answer that question, everyone involved in the planning and design of workplaces (real estate professionals, designers, building owners, and office tenants) would benefit enormously from greater clarity on today's dynamic cost conditions. Such transparency can help them establish budgets at the outset that are better tailored to their workplace strategy and more aligned with market realities. The 2022 U.S. Workplace Interiors Insights Report provides exactly that clarity by offering a deeper look into current cost conditions, specifics, and makeup, providing a path toward meaningful and actionable measures.
Powered by our new Cost Intelligence platform of construction data, analytics, and strategies, our report draws on a dataset of more than 40 million square feet of recent workplace projects and approximately seven billion dollars in hard construction costs. By offering more visibility into the costs of workplace interiors, these tools give us important context and nuance that can lead to better budgets and more strategic design choices.
For example, our research shows that hard costs for design elements such as materials and finishes are rising at a significantly slower rate than costs for MEP elements, which are tracking ahead of inflation, and general conditions costs, which are now in line with inflation. The takeaway, then, is that design expenditures have been available at a relative discount, but other costs are taking a larger share of the budget. Given our understanding of how design elements can drive experience, it's clear that focusing on them to deliver greater value and more effective workplaces will be an evermore important part of the design process.
By yielding such insights, the 2022 Workplace Interiors Insights Report, and the Cost Intelligence platform, can inform, inspire, and support more effective design and empower our designers and clients to have more informed and more realistic preliminary budget and program conversations.
However, given the dynamic, time sensitive, and context sensitive nature of cost, it should be noted that we will not act alone when it comes to providing cost insights. General contractors and cost estimators will remain vital partners in the design and construction journey, particularly in providing cost information for projects where the scope and function have been defined. In other words, their data can help to refine an understanding of costs once a set of basic parameters is in place. Our Cost Intelligence data, by contrast, is best used to help lay the budget and design groundwork in the early phases of a project, when designers and clients are in search of the information needed to make confident, well-informed, evidence-based, and value-based decisions.
Already, we've seen how the use of Cost Intelligence data can help clients make key preliminary decisions. For a building-supplies manufacturer, we helped them determine the extent to which they could renovate based on their budget. For a healthcare network, we helped them understand the cost differential between various open and closed typologies, create an appropriate cost range for their initial scope, and set a budget. And for a consulting client, we benchmarked them against various tech and professional services companies to provide an understanding of their costs relative to similar businesses.
All those exercises further cemented the notion that by serving up the right data at the right time, we can completely shift the nature of design choices for the better. That, in turn, will improve workplace experiences.
Download the 2022 U.S. Workplace Interiors Insights report, powered by Cost Intelligence.
For media inquiries, email .