5 Principles for Retail Center Repositioning
April 13, 2021 | By Michael Townsend
As we look ahead to a post-pandemic future, there's one market segment that's currently ripe for redevelopment and transformation: the traditional retail mall. With the massive transformation of real estate spurred by the pandemic, retail centers will emerge as one of the most valuable asset classes in a post-pandemic landscape, as building owners, investors, and developers look to reposition these aging, vacant, or underutilized properties — converting them into vibrant, mixed-use developments that will unlock latent value and meet consumers' rapidly changing demands.
CBRE Research predicts up to a 20% reduction in total U.S. retail real estate inventory by 2025, which will be largely triggered by large-scale adaptive reuse and conversion, particularly among Class B and C malls that have been the most impacted by declining categories such as department stores and apparel. According to CBRE, "Malls will require a strategic evaluation of the highest and best use of the underlying land and demand drivers for adaptive reuse and conversion."
We see a triple bottom line — with environmental, social, and economic benefits — in transforming existing retail centers into multiuse environments. First, the environmental benefits are clear: In the U.S., the building industry accounts for 49% of total energy consumption. One of the crucial ways to reduce carbon impact is to reuse existing building stock and thereby limit embodied carbon — the CO2 emissions associated with a building's creation. The low-rise nature of these centers also makes them perfect candidates for net-zero energy systems. Low window-wall ratio and large expanses of roof can make for an ideal canvas for energy savings AND production. The economic benefits are also self-evident: In addition to curbing emissions, repositioning existing structures can reduce energy consumption and curb construction and demolition waste, leading to large financial savings.
And then there are the cultural and social benefits of adaptive reuse. In suburban areas, former malls have an opportunity to provide an alternate to the central business district, providing flexible workspace environments much closer to our homes. At the height of its potential, a retail center can transform into a town center, providing cultural, civic, or other diverse entities that may be missing. In urban environments, many large, single-use assets provide unique opportunities to invigorate historic icons for the next generation.
We believe that single-purpose developments are no longer relevant in today's hybrid world, and that flexible, mixed-use developments are the building blocks for resilient, sustainable communities. With that in mind, here are five principles to reposition retail centers for a more resilient future:
1. Modify the anchors.
The traditional anchors are changing. Experience, culture, and open space are the new draws. These aspects are increasingly important in a post-COVID landscape as people are seeking to reconnect with each other and their communities. Anchor boxes can be repurposed for a variety of functions. From automotive service and storage, to entertainment, to workspace, these large floor plates with high floor-to-floor heights provide valuable and flexible space. The new anchors are communal and healthy: entertainment venues, elevated food and beverage, wellness facilities, and large outdoor social spaces.
2. Mix it up.
Resilient developments are diverse in use, providing an economic buffer, bringing a new diversity of users, and varied experiences to the centers. Educational institutions, medical offices, coworking spaces, assisted living communities, and fitness studios are all examples of new users looking for space in distributed suburban locations close to large residential populations.
3. Reimagine mobility.
Seek to connect existing networks and also accommodate increases in ride share and other forms of transportation and micro-mobility, including the critical last mile for transportation. As our communities continue to evolve to rely less on automobile ownership, our mixed-use environments must look to the future. In the short term, sites must accommodate much more ride share vehicles, both in queuing and incentivizing. Additionally, micro-mobility options such as bicycles, scooters, and shuttles can be a healthy way to bring people to the site and encourage active cross-pollination between uses.
4. Energize the soft spots.
Analyze the existing plan to prioritize the adjustment of "soft spots," or challenged retail spaces, and reexamine how to reposition them from a program perspective to potentially generate new revenue streams. Whether spaces in isolated interior areas or on levels above grade, retail that is set up to fail should be prioritized for change of use or reconfiguration. What are destination uses that could thrive without great sight lines? Would the space be better served flipping "inside out?" Outdoor space or dedicated exterior access might improve accessibility.
5. Activate landscapes.
Open spaces are no longer just an amenity, but are now an integral part of the value proposition for both new and repositioned buildings. Open, outdoor environments are crucial across all types of developments, especially as we emerge from the pandemic. Actively programmed, healthy, and equitable outdoor environments will be the "sticky" draw for many people that keeps them coming back to these environments.
Here are a few examples of how these design principles and strategies are playing out in our work: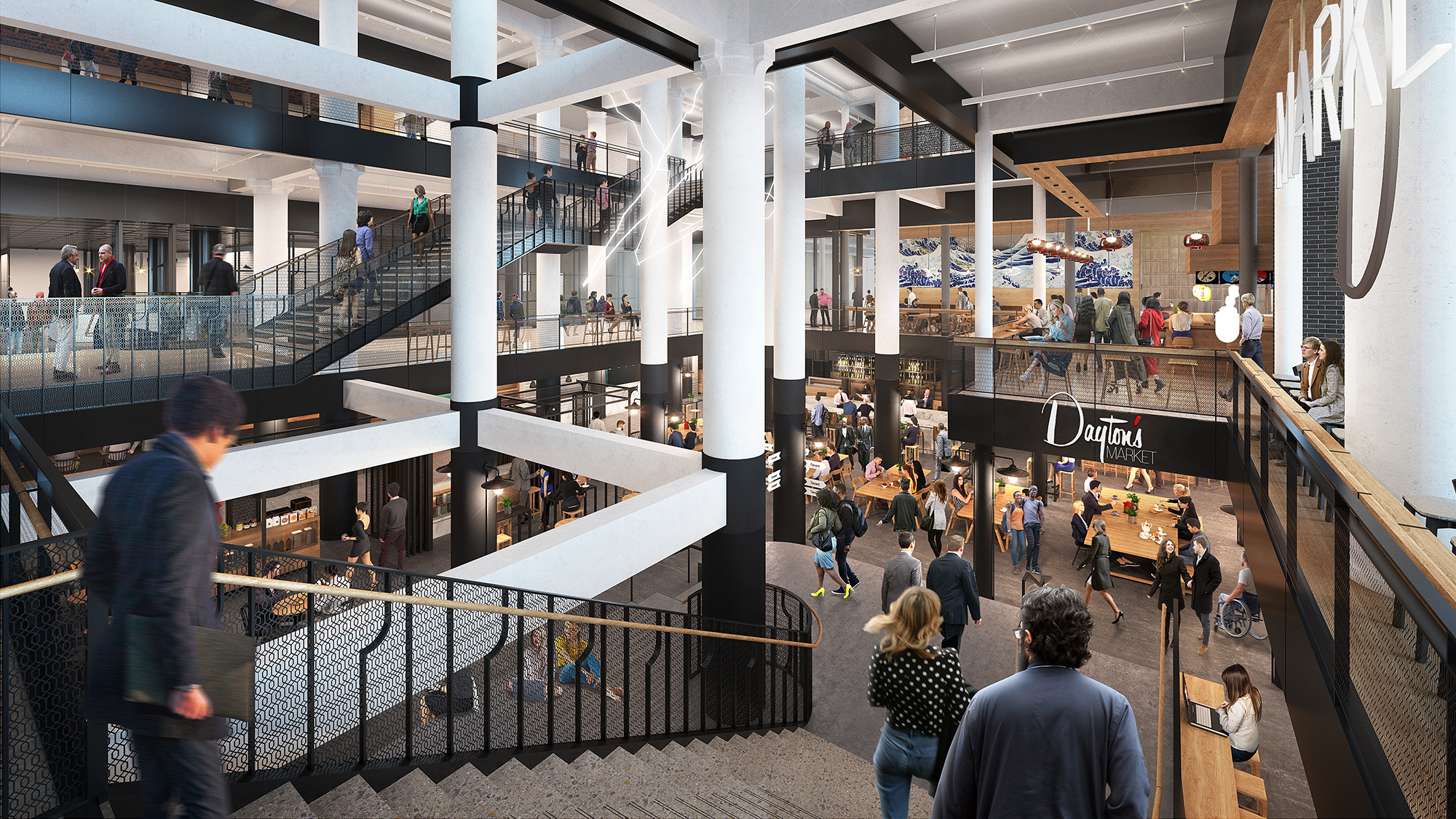 For the Dayton's project in Minneapolis, Gensler repositioned a historic department store into a mix of office and retail spaces by opening up floors vertically and activating new spaces to the public. The project honors Dayton's legacy, drawing people to downtown and transforming a single-use building into a transparent, open, and accessible multiuse destination. We converted underutilized or unused rooftops into vibrant outdoor space — a highly valuable amenity and a draw for tenants as we emerge from the pandemic.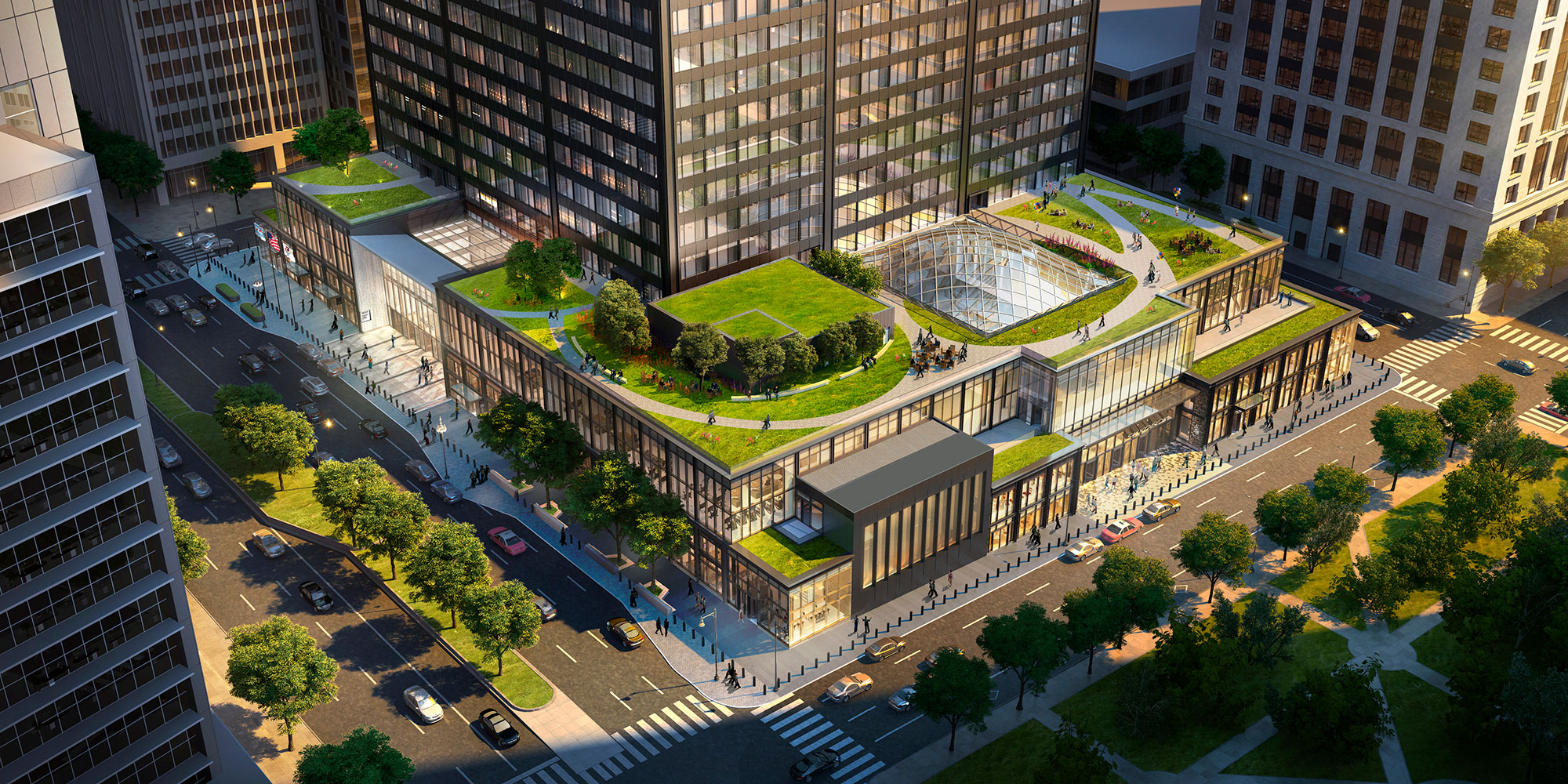 For Chicago's iconic Willis Tower, we set to transform people's experiences by developing a podium of diverse, interconnected programmatic elements that was welcoming to the building's 15,000 tenants, the millions of visitors, and the neighbors and residents in the surrounding community. We reimagined four levels above grade, and three levels below, to turn the building inside out. By integrating the streetscape, enhancing people's views of the tower through indoor gardens and skylights, and introducing large-scale works of public art to the podium, the project joins a legacy of public open spaces in Chicago's Loop. The project also minimized its environmental impact by reconfiguring 360,000 square feet of existing space and reusing existing foundations and structure, as well as covering the majority of roof spaces with vegetation.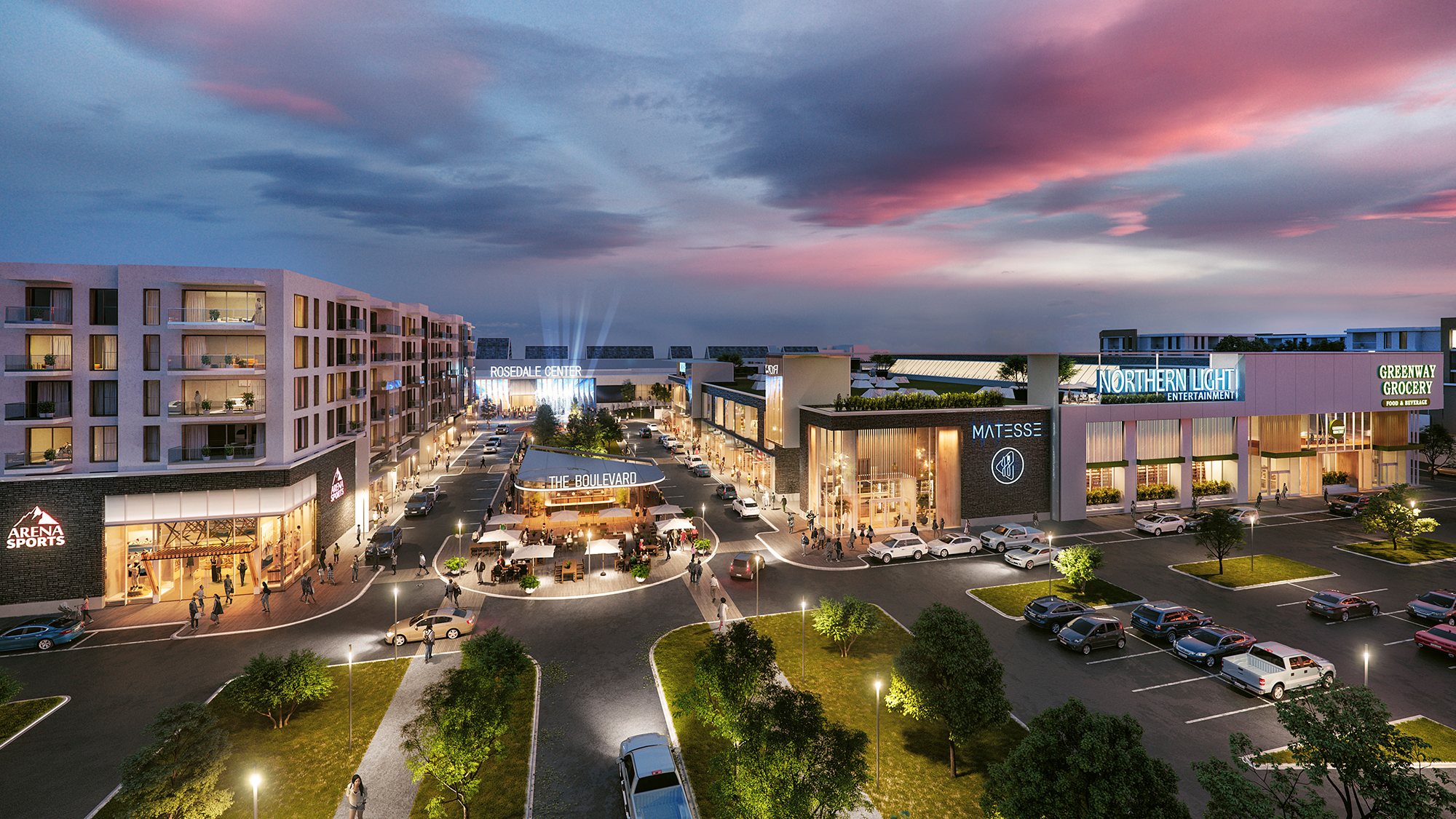 In Minnesota, Gensler worked with the ownership to create a master plan for a suburban mall, transforming the distressed asset into a town center by introducing a broad range of uses and community amenities. Our Analytics team performed multiple robust analyses to get an understanding of how the new lifestyle center could differentiate itself from other local offerings. We developed an ideal program mix based on community needs, and helped the client imagine an incremental phased evolution to introduce a mix of residential, office, retail, and entertainment options that will transform the mall into a vibrant, mixed-use hub over the next 10 years.
The power of repositioning is many-fold, and each retail center offers its own unique opportunities for change. Not only are these projects limiting their embodied carbon footprint, they're also celebrating existing legacies, providing healthy outdoor experiences, and reengaging the public in new ways. As we realign real estate with the human experience and consumers' needs, these developments will be of prime value coming out of the pandemic.
For media inquiries, email .