Design Forecast Toronto: The Future of Cities
By Filo Costa and Eric Ginsburg
Editor's note: This post is part of Gensler's Design Forecast Local, a series of hyper local conversations with our clients about the topics that matter most in our cities.
Toronto is on the precipice of change. Or, more accurately, it's on multiple precipices. Housing, retail, and transportation are among many factors of city life set to drastically transform as changes in tech, population, and climate necessitate new and innovative ideas. On Nov. 21, Gensler Toronto hosted "The Future of Cities," a series of short presentations in our office that showcased potential futures, near-term solutions, and precedents that demonstrate what can be achieved now.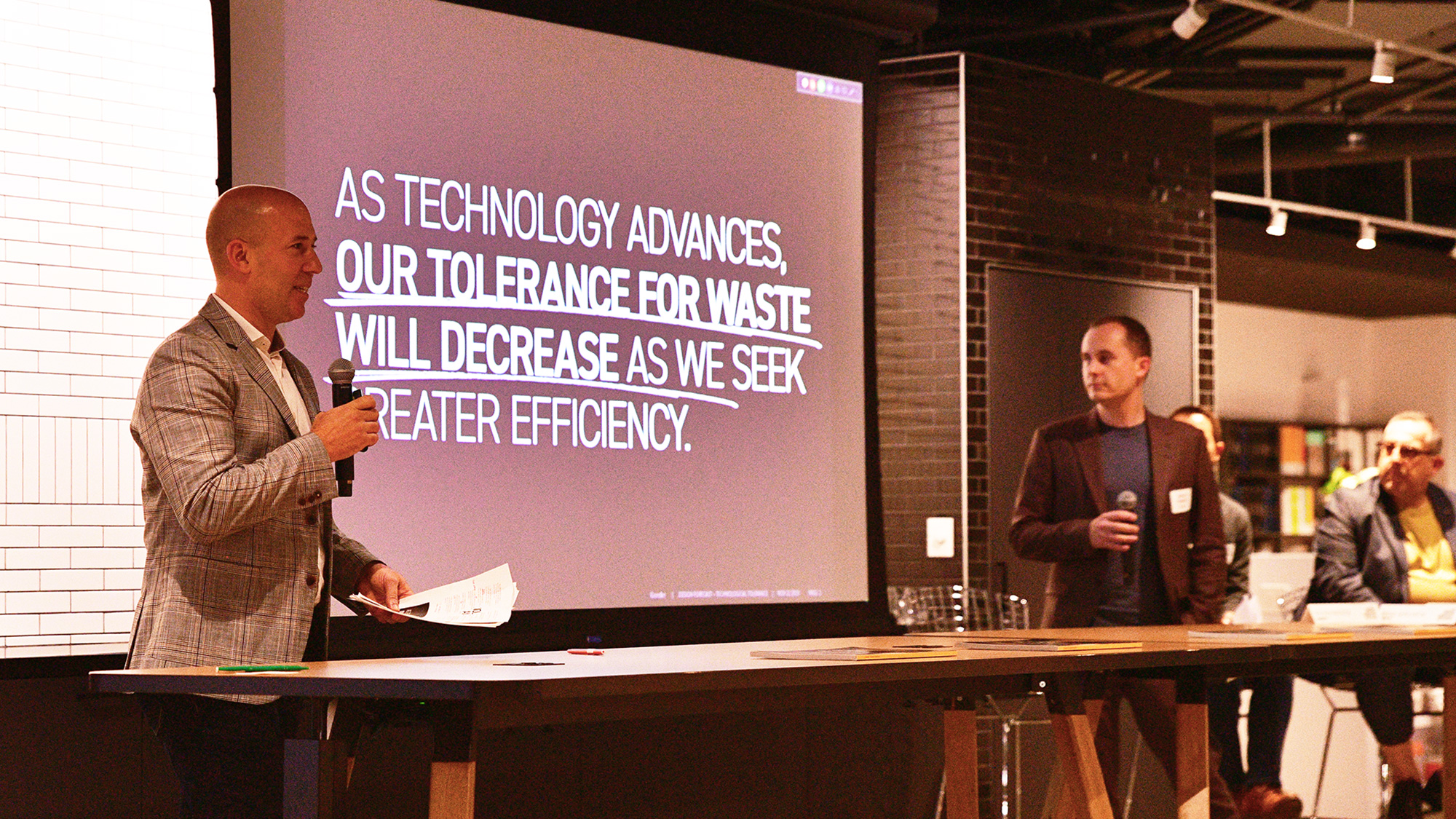 KEY TAKEAWAYS
FUTURE: We can leverage technology to ease friction in our lives.
Eric Ginsburg, co-managing director of Gensler Toronto, and Steven Paynter, studio director, kicked off the night with a presentation on the limits of patience. Specifically, they talked about how the increasing speed of technology has lessened our tolerance for delays and wasted time. Their presentation focused on controlling the flow of populations through a city by leveraging technology. Examples included: decreasing the need for commuter flights through the use of autonomous electric sleeper cars, enabling the ability to work from anywhere to reclaim the 31 days wasted per year on commuting and related activities, and programming "bee-hive like" buildings that provide different uses throughout the day (with multiple shifts of workers, or moving from commercial office during the day to retail at night).
As technology advances, our tolerance for waste will decrease as we seek greater efficiency.
— Steven Paynter, studio director, Gensler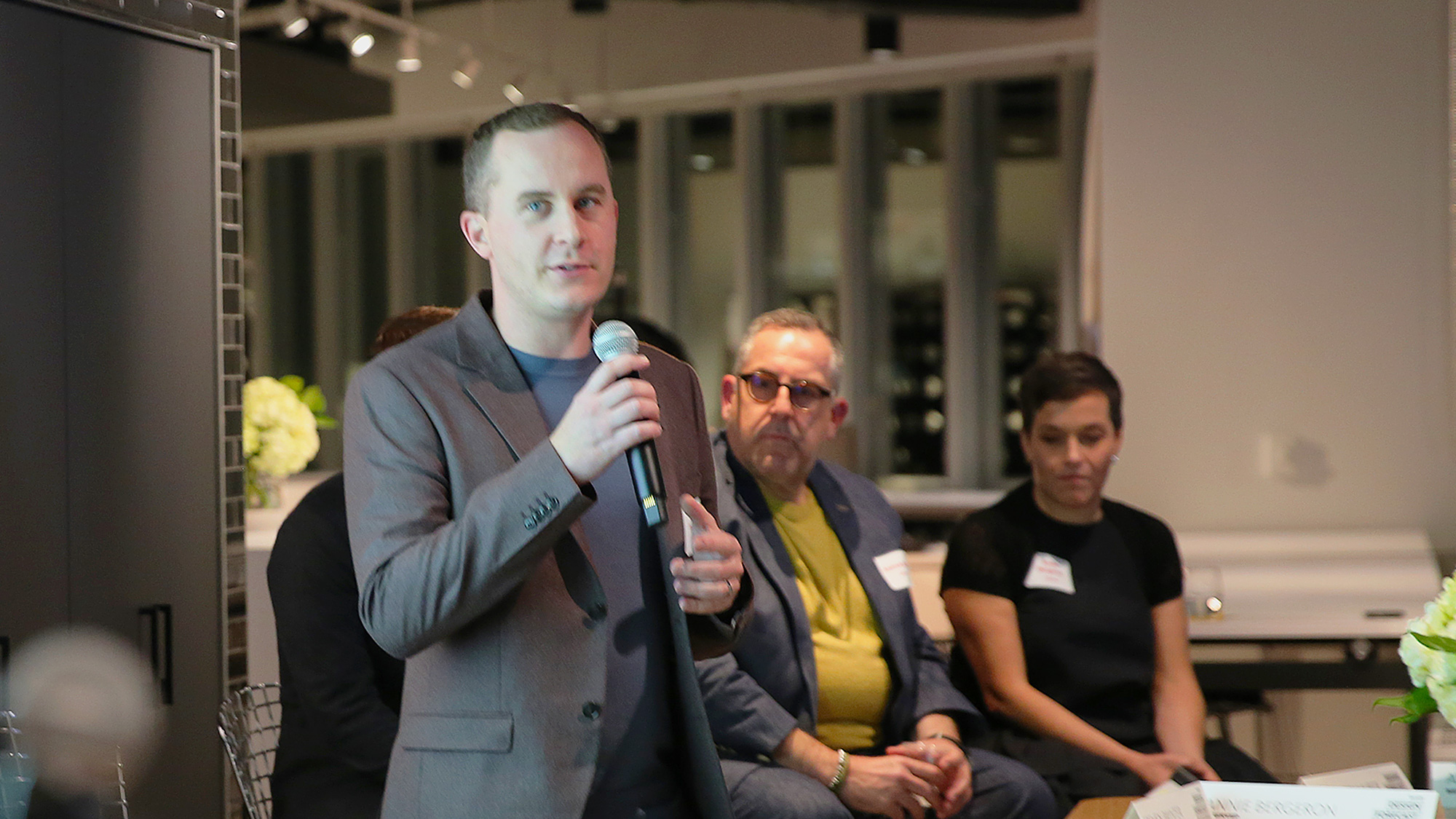 NEAR FUTURE: We must rethink the housing of tomorrow.
Following the presentation of speculative solutions to ease friction in our lives, Mark Bauernhuber, director, Buildings Innovation, Sidewalk Labs, presented on the more tactical approaches to housing that are being proposed for Toronto's Quayside. Tackling the ever-present challenges of unaffordable housing, longer commutes, extreme weather, and increased inequality, Bauernhuber presented Sidewalk Labs' Housing Affordability Toolkit (see the big picture here), which is built on innovation in the fields of construction, design, finance, and program.
NOW: Experience is essential in the new economy.
Annie Bergeron and Andrew Gallici, design directors in Gensler's Toronto office, demonstrated how in a time of fractured attention, brands and spaces can engage people through storytelling, connection, and memorable experiences. Examined through the lens of Gensler's Experience Index, the pair showed how three different environments were designed to withstand the challenges of disrupted industries and frenetic psychogeographies in order to deliver branded and impactful experiences.
Experience is the new cost of entry.
— Andrew Gallici, design director, Gensler
For example, Hyundai Card Music Library demonstrated the obsolescence of single use spaces. Part workspace, part library, part café, and part music venue, this project showcases how a varied experience can build user loyalty.
Their second example, San Francisco's Dandelion Chocolate Factory, exemplifies how a relatively simple act of consumption — the purchase of chocolate — can be augmented by the producer's craft and the built environment in which it is bought and consumed.
Finally, Cadillac House in New York illustrates the ephemeral nature of today's branded experiences; a space should be an experience in its own right, but also be capable of hosting substantial temporary events that generate excitement and buzz.