Future-Prepping Your Business in an Uncertain World
March 20, 2023 | By Carolyn Weiss
If the past three years have taught us anything, it's that the world is full of unknowns and uncertainty. With the rapid and dramatic pace of change and continued volatility, planning for "business as usual" or "incremental growth" can be risky, leaving your company vulnerable or exposed. While we will never be able to predict the future, considering and planning for several plausible future scenarios can be a useful strategic exercise that can help your team, organization, or business be better equipped to face whatever might be coming next.
There is no crystal ball
A trendy acronym in the business world is "VUCA" (short for volatility, uncertainty, complexity, and ambiguity) and certainly, the pandemic has amplified this in so many industries and aspects of life. Consider the possibility that you will never be able to control or de-risk everything in such a rapidly changing world. But the idea behind VUCA is that you can prepare for uncertainty depending on how much you know about a situation, and how well you feel you can predict what might happen as a result of your actions.
Futures (sometimes also called future-casting or strategic foresight) are another way to think about and plan for what might be coming next. As innovation strategists at Gensler, it's our job to use the tools of our imagination and the depth of our research to speculate about what could be rather than what will be. This helps us think strategically, actively shaping a future world that we want to inhabit. But unlike VUCA, Futures are about projection, rather than prediction.
To put this into context, an international aviation authority partnered with us to conduct a Futures exercise to address key questions to inform their strategic planning. To do this, our Strategy team first identified the megatrends shaping the future of the aviation industry and considered how they affected the organization's business challenges. Based on these insights, the team developed four future scenarios to explore speculative yet plausible future worlds, all taking place in the year 2035. These scenarios were used as provocations for discussion to explore possible business impacts and help guide strategic decisions. If you're curious, you can read more about how we approached and delivered this project.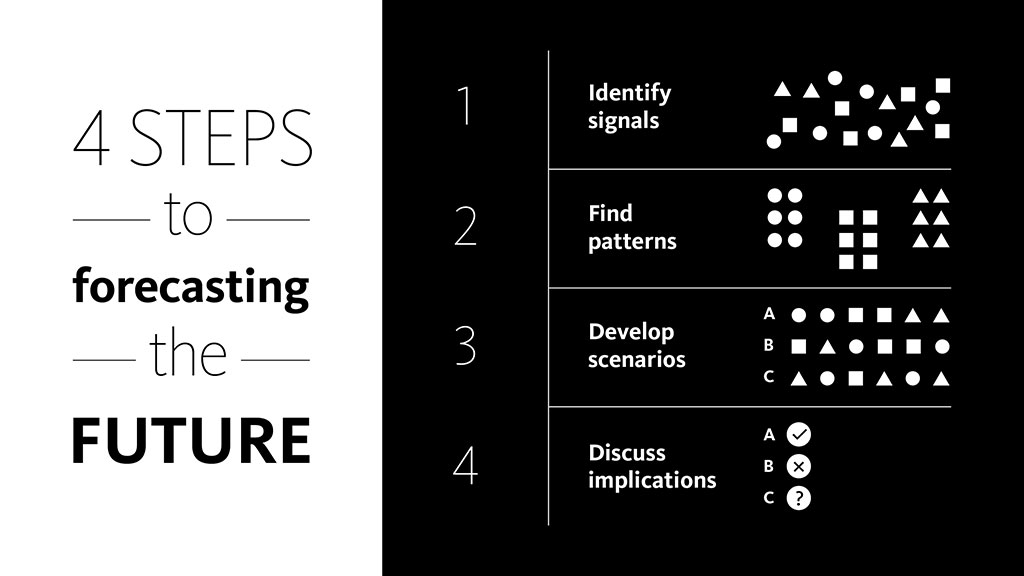 Finding clues about the future in the present
Generally, the way to approach any type of Futures project is to look at signals. A signal is an innovation or event we see in the world today that has the potential to influence the future in a meaningful way. Gather enough of these, and patterns begin to emerge, allowing for the crafting of "if-then" type projections. These scenarios can help businesses shine a light in the dark, leading to a more prepared, and less precarious future.
We call this exercise "Futures" because ideally, we are crafting several possible, plausible future scenarios — and figuring out how we'd handle those different sets of circumstances if they were to occur. We lead with imagination and possibilities, with evaluation and outcomes to follow (let's not get ahead of ourselves!).
Through Futures exercises, we can co-create with our clients a shared vision of what could be, allowing them to better prepare for, embrace, and tackle challenges as they come.
Contact us to begin a conversation about how these strategic services can support you now and into the future.
For media inquiries, email .