How Hospitality Can Revamp Financial Services and Professional Services Firms
December 07, 2021 | By Siobhan Barry, Anna Crittenden
For financial services and professional services firms, the changing role of the office as a destination has put a greater focus on amenity spaces that support collaboration, foster social interactions, and inspire community. Rather than solely looking at the real estate footprint to meet tenant needs and expectations, we must consider how to connect employees to a higher, more aspirational mode of engagement that ultimately strengthens company culture.
By infusing the future workplace with hospitality-inspired design, finishes, and services, firms can create a purpose-driven environment that empowers employees, nurtures client relationships, and provides a competitive edge for attracting talent.
To provide a holistic experience that prioritizes high-performing work, health and wellness, and human connection in an effective way, here are some considerations to keep in mind:
Apply a personalized approach
To pursue a deeper, richer workplace experience, we need to understand how employees will be using the office and look at their complete workweek journey. What does their commute look like? Which retail and food options are nearby? How often are they meeting with teams or clients? A journey map informs designers what types of amenities will enhance time spent in the office and help establish an overall approach to workplace hospitality. One size does not fit all, so deciding if a grab-n-go market is better suited than a full sit-down canteen or coffee lounge must be rooted in the context of the environment and who it serves.
Create opportunities for planned social interactions
Firms are future proofing their workplaces with mobility in mind. From integrating assigned and unassigned seating to supporting multiple working modes through formal and informal spaces, areas for focused work need to connect with amenity spaces for reach and ease of social interactions. Getting an employee to head 10 floors up for lunch and interact with coworkers along the way requires thoughtful journey mapping and materiality to provide visual wayfinding cues. In working with a global investment bank, for example, we achieved this by creating "destination" hubs of varying identities that connect to all floors.
Reinforcing these identities through branding or curated artwork can also strengthen the firm's culture. Whether it's a juice bar, library, wellness center, or the quintessential café, these hubs give valued staff the chance to get up and take a break with colleagues but are close enough to workstations or meeting rooms to function as alternative work settings. In addition to being creative with programming, be realistic about how these spaces can be set up and staffed. Amenities don't necessarily need to be permanent, so consider temporary pop-up spaces that can accommodate local vendors to add spontaneity in the workplace.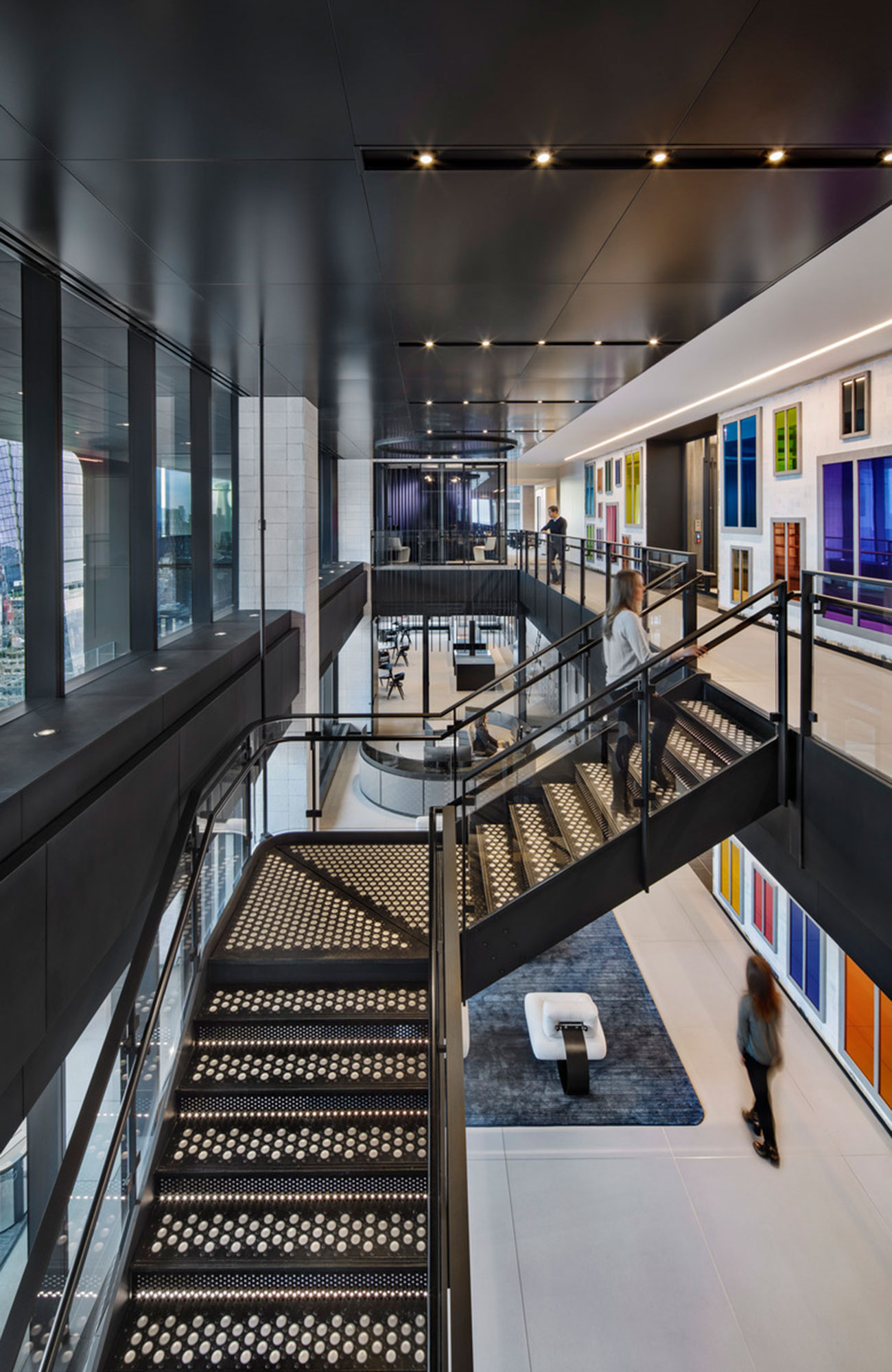 Deliver exceptional experiences
The office is a powerful extension of a company's culture and its hospitality should mimic visiting a hotel — from the welcome at reception to interacting with digital kiosks and how lunch is served during a meeting. As part of extending this hospitality to visitors, many of our projects are reallocating or creating new spaces to incorporate a flexible event space with enhanced audiovisual capabilities. A town hall can be adjacent to amenity spaces that provide a spillover pre-function area for executive client meetings or double as employee dining spaces. These amenity spaces can also allow both groups to overlap, directing guests from a conference room to a serviced barista coffee bar or an open kitchen concept area to enjoy self-serve refreshments while mingling with employees to feel the spirit of the workplace.
The shared hospitality concept is not purely about concierge, but it is an approach to creating a full 360-degree employee experience that includes wellness. Having a thorough understanding of a firm's professional environment and wellness needs can inform the journey map and physical design solutions for where an internal staircase can encourage movement or where to strategically place spaces that support prayer, meditation, fitness, and childcare while ensuring employee privacy.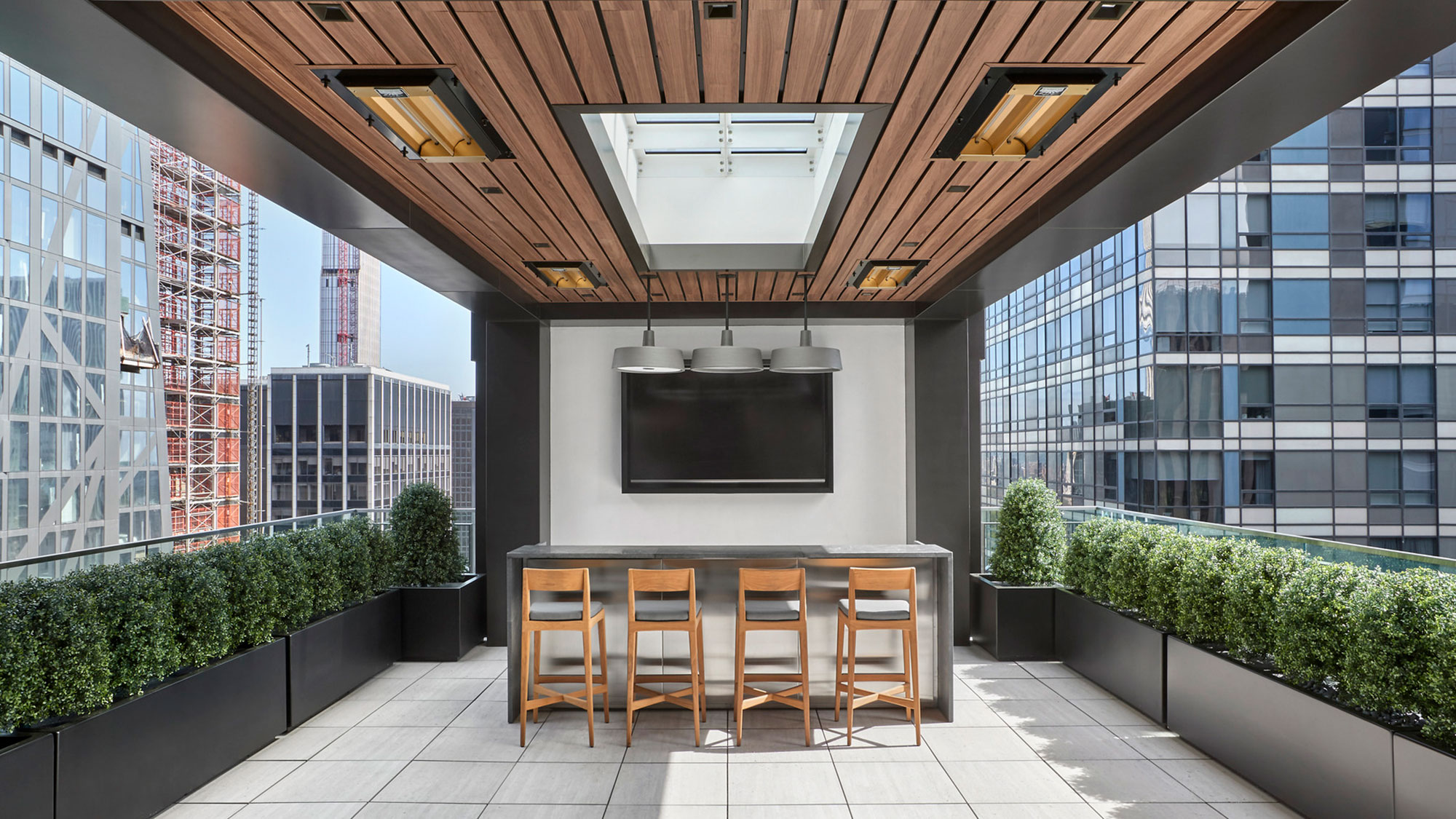 As designers, we are working closely with our clients to help them center the new workplace around bringing people together in a purpose-built environment. By taking a user-centered approach in how we journey map the workplace and position amenities, we can boost collaboration, strengthen culture, and addresses well-being in next-gen firms.