Resilient Cities Rely on Resilient Food Systems
May 15, 2020 | By Nayan Parekh, JinXi Ng
The coronavirus pandemic is disrupting already fragile food supply chains across the world, and our most vulnerable citizens — children, low-income families, and the elderly — are being impacted the most. Even before COVID-19, there was an urban food crisis in the world's cities. The pandemic is adding to the challenge.
The fact is, cities can only be resilient if they have resilient food systems. By 2050, two in three people in the world will be living in urban areas. This ongoing pattern of movement into cities has led to the loss of arable land, furthering reliance on imported food sources to support growing urban populations. As a city-state with 100% of its population living in urban areas, Singapore currently imports 90% of the food consumed. Its limited land area of approximately 720 square kilometers presents a challenge of access to space for agriculture and food production.
Today's health crisis has heightened the urgency to face these challenges, but it's also showing where the opportunities for improvement lay. We can strengthen access to alternate food sources by resourcefully using the built environment around us at every scale — from edible public park gardens, to rooftop urban farms, to green ceilings inside offices.
To ensure food security for the world's population, we can put intelligent design to work.
Rethinking urban agriculture
As more people migrate to dense cities, we need to consider how urban agriculture and food systems can be entwined with the built environment to efficiently increase local access and diversify sources.
Supporting regional horticulture and using smart distribution channels offers the added benefits of boosting the local urban economy while cutting transportation costs and associated greenhouse gases as we strive to achieve our net-zero energy goals.
As Singapore seeks greater food security and self-sufficiency, it is making concerted efforts to produce and store its own food. In April 2019, the Singapore Food Agency (SFA) was formed to focus solely on securing food security. To that effect, the Singapore government is actively supporting the research, development, and implementation of a new agrotechnology that aims to increase efficiency in food production in the city-state.
Agrotechnology applies technology to agriculture, horticulture, and aquaculture management in order to improve harvest yields, efficiency, and ultimately, profitability. There are a growing number of applications for agrotechnology products and applications including heat and light controls, biotech, IoT-based sensors, drones, phase tracking, software for weather pattern forecasting, soil management, pest control, and much more.
As urban sprawl drives tighter competition for space, agrotechnology is enabling the conversion of factories and warehouses for commercial indoor farming to produce vegetables, meat, and even milk. Activating vacant lots, rethinking underutilized spaces, and converting existing factories and designing urban food container units for mass production are early initiatives for improving urban food systems.
Today's pandemic is an opportune moment for architects, designers, and urban planners to more deeply examine creative ways to integrate food into building systems at all scales — including on facades, in public spaces, atriums, terraces, interior partition systems, and more, to increase local vegetation production and overall self-sufficiency.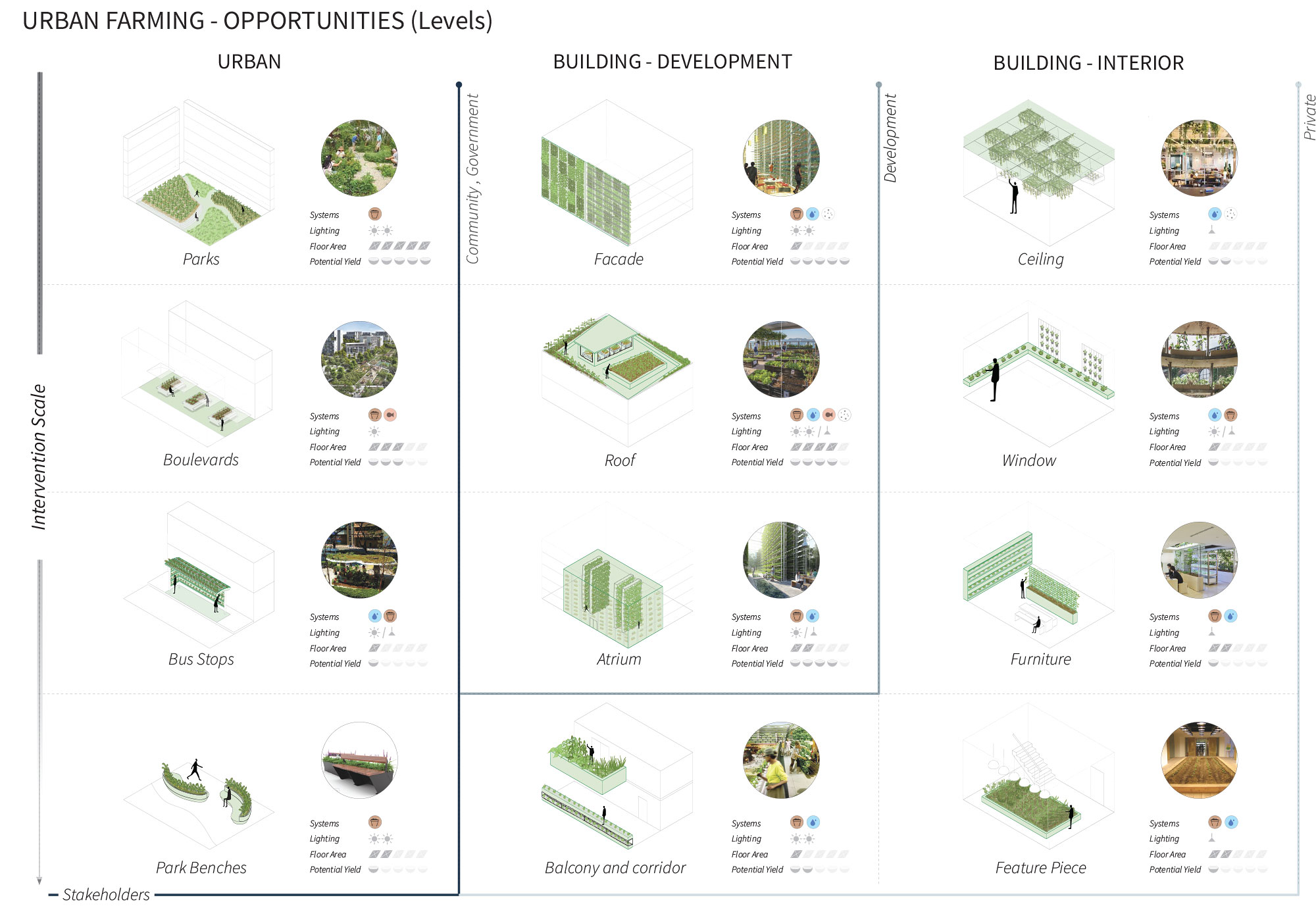 Ideas for urban farmification
At Gensler, we're working on a research project that explores integration of food systems into the built environment to create a more sustainable future. As a start, we've identified 16 potential interventions at various scales that can use different integrated farming systems and include a wide range of stakeholders. This research project focusses on building awareness and exploring real intervention ideas alongside industry partners in engineering and development and commercial urban farmers.
At the urban scale, for example, we're investigating how parks and bus stops with green overhangs and walls can support agriculture and water collection systems, taking into account access to natural and artificial light and measuring anticipated crop yields.
At the community-level, private and public offices and government buildings could consider incorporating green facades, roofs, balconies, and atriums, which could potentially produce a greater abundance of crops, given the large scale of city buildings, and thus, growing surfaces.
Inside residential, workplace, and mixed-use developments, ceilings, windowsills, and dividers could double as growing spaces.
These micro-scaled interventions could yield big results. A recent study by the University of Sheffield found that growing fruit and vegetables in just 10% of a city's gardens and other urban green spaces could actually provide 15% of the local population with five produce servings a day.
There are virtually endless possibilities to explore the coexistence of urban farmification and architecture to enhance the resiliency and food security of our cities across the globe. Please contact us to join us on this journey of exploring innovative new ways to integrate urban food systems within our built environments across cities.
For media inquiries, email .