Understanding the Modern Transit Passenger Experience
September 11, 2023 | By Jaymes Dunsmore
Across the U.S., public transit is in crisis. Transit ridership in America was in a decade-long decline before 2020 and this trend was accelerated by the COVID-19 pandemic. Despite performing a heroic service throughout the pandemic for essential workers, transit systems are now facing serious challenges. The loss of daily commuters is straining revenue, the open systems are witness to a rise in crime and anti-social behavior, and trains and stations are serving as temporary shelter for growing homeless populations in our cities.
Despite these challenges, Gensler's 2022 City Pulse survey and Urban Mobility Report found that most urban residents still value public transportation, with two out of three favoring new investments transit infrastructure over highway expansions. To dig deeper, the Gensler Mobility Lab conducted a series of focus groups in 2023 with riders in three American cities — Atlanta, Los Angeles, and Washington, D.C. — to understand first-hand how riders' experiences and needs are changing post-pandemic. We are using our findings to inform designs that aim to improve the experience of public transit to help attract riders back to the systems and the urban centers they serve.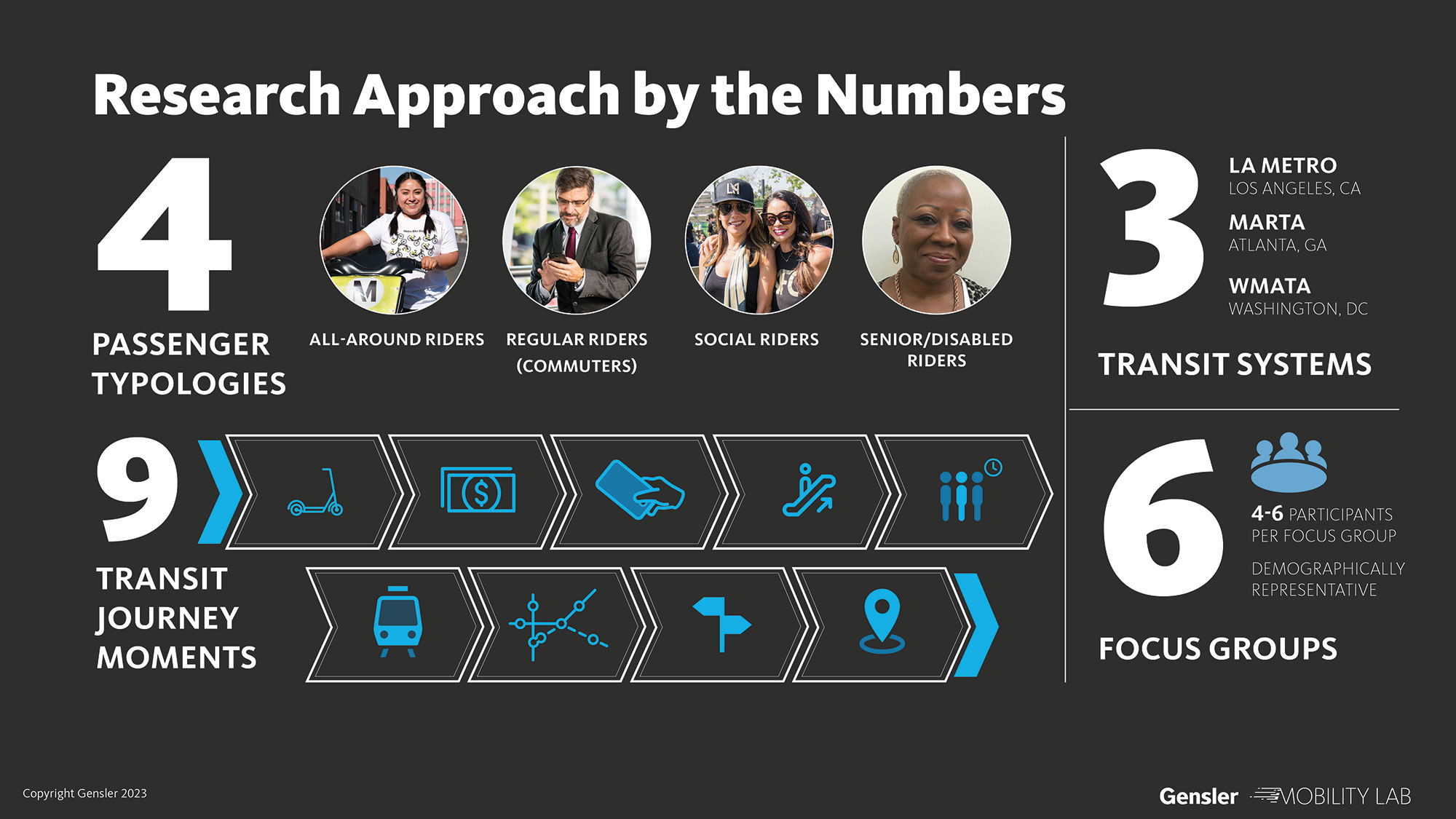 Gensler has been researching mobility and passenger experience for over a decade. Building on the framework of the Gensler Experience Index, our approach is based on an understanding of what makes each passenger's experience unique: passenger typologies and transit journey moments. Focus groups were demographically representative of each city and structured to include a variety of passenger types, including frequent, occasional, and former riders. Within each focus group, participants were asked to describe their experience at each stage of their transit journey, from getting to the station and waiting on the platform, to riding on the train and making connections, and finally to exiting the station and reaching their final destination.
Key Finding #1: Changing Passenger Types and Motivations
Hybrid and remote work have resulted in former regular riders using transit less, but transit remains popular for social riders as urban residents seek to reconnect to activities in their cities. This change was summed up by one transit rider from Atlanta, who said, "I used to use MARTA a lot when I used to work in the city, but now due to the pandemic, I'm a teleworker. I really don't have to go into the city as much anymore, so I just use MARTA for concerts and going out to eat." Providing high-quality transit is also essential as cities and employers seek to draw commuters back to downtown offices, with commute experience today remaining a barrier to return to office strategies.
Key Finding #2: Station Design Matters
In general, the on-board experience riding transit is better than the in-station experience. On all three systems, "Waiting on the Platform" and "Making Connections" were low points in the typical transit journey, which presents an opportunity to improve the in-station experience and wayfinding systems. This was summed up by one rider, who said, "The thing that keeps me from riding Metro everywhere is the confusing connections. If it was just one straight shot, I would love that — even if it takes longer. I just hate having to get on and off the train or multiple buses. It's just too complicated for me."
Key Finding #3: Diverse Passengers, Diverse Experiences
When it comes to the transit experience, the age, race, and gender of passengers all have an impact. For example, younger passengers (age 18-24) expressed high levels of satisfaction with buying tickets — a task most do using mobile devices — while older passengers expressed greater difficulty with the ticket buying process. Compared to other riders, Asian American and Pacific Islander (AAPI) passengers expressed greater satisfaction with ticket buying and paying fares, and the lowest level of satisfaction with the platforms, where well-publicized recent incidents of anti-Asian hate crimes contributed to concerns of violence. "I'm worried someone who is mentally unstable could push me onto the tracks," said one AAPI rider, "Police are few and far between." There is an opportunity here for cities, transit agencies, and designers to better engage a diverse and representative rider groups throughout the planning process, as cities like Chicago and New York are now doing.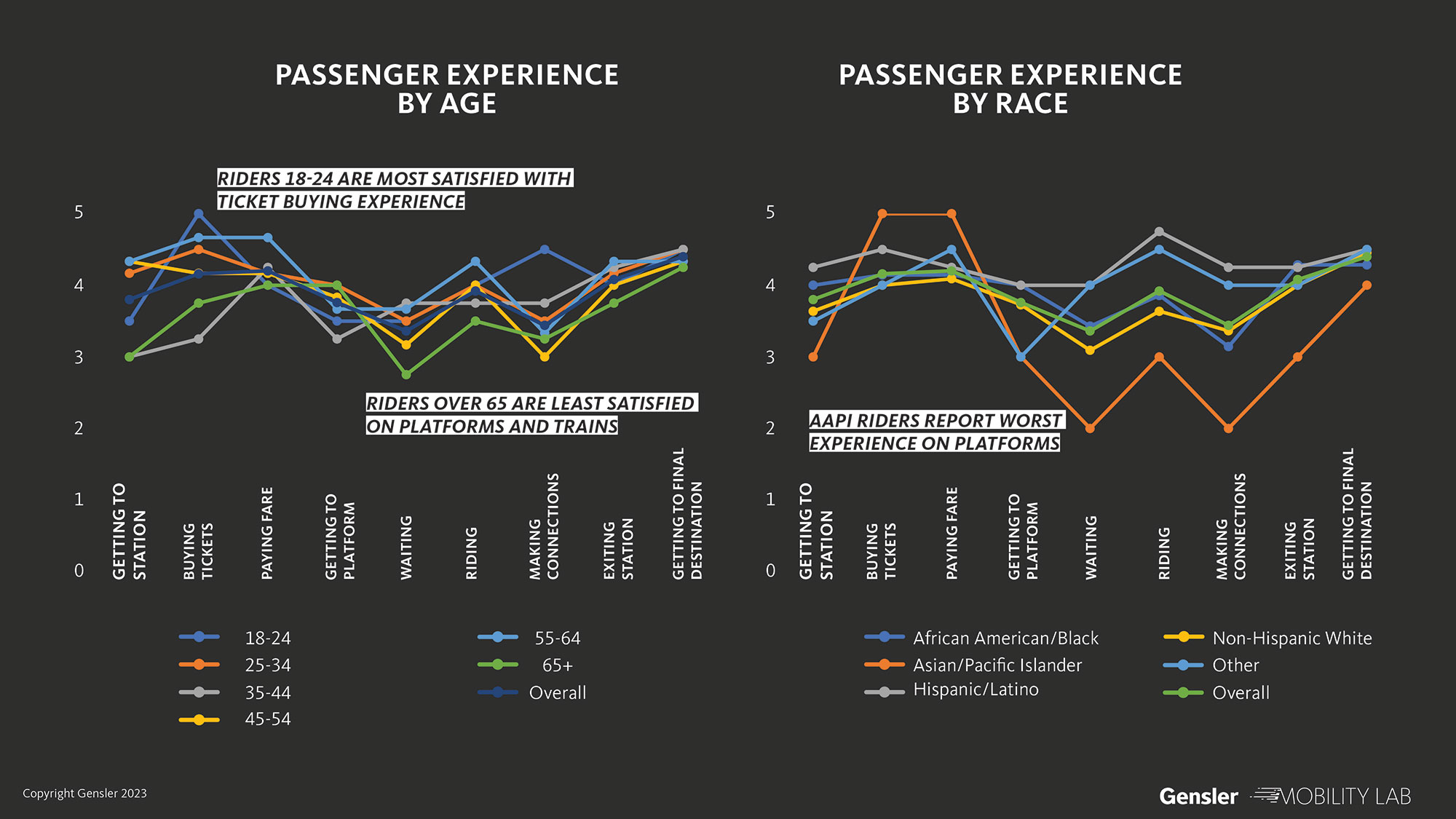 Passenger Experience Drivers
What makes a great (or not-so-great) transit experience? Synthesizing our findings across all systems, passenger typologies, and transit journey moments, we have identified five factors that drive passenger experience.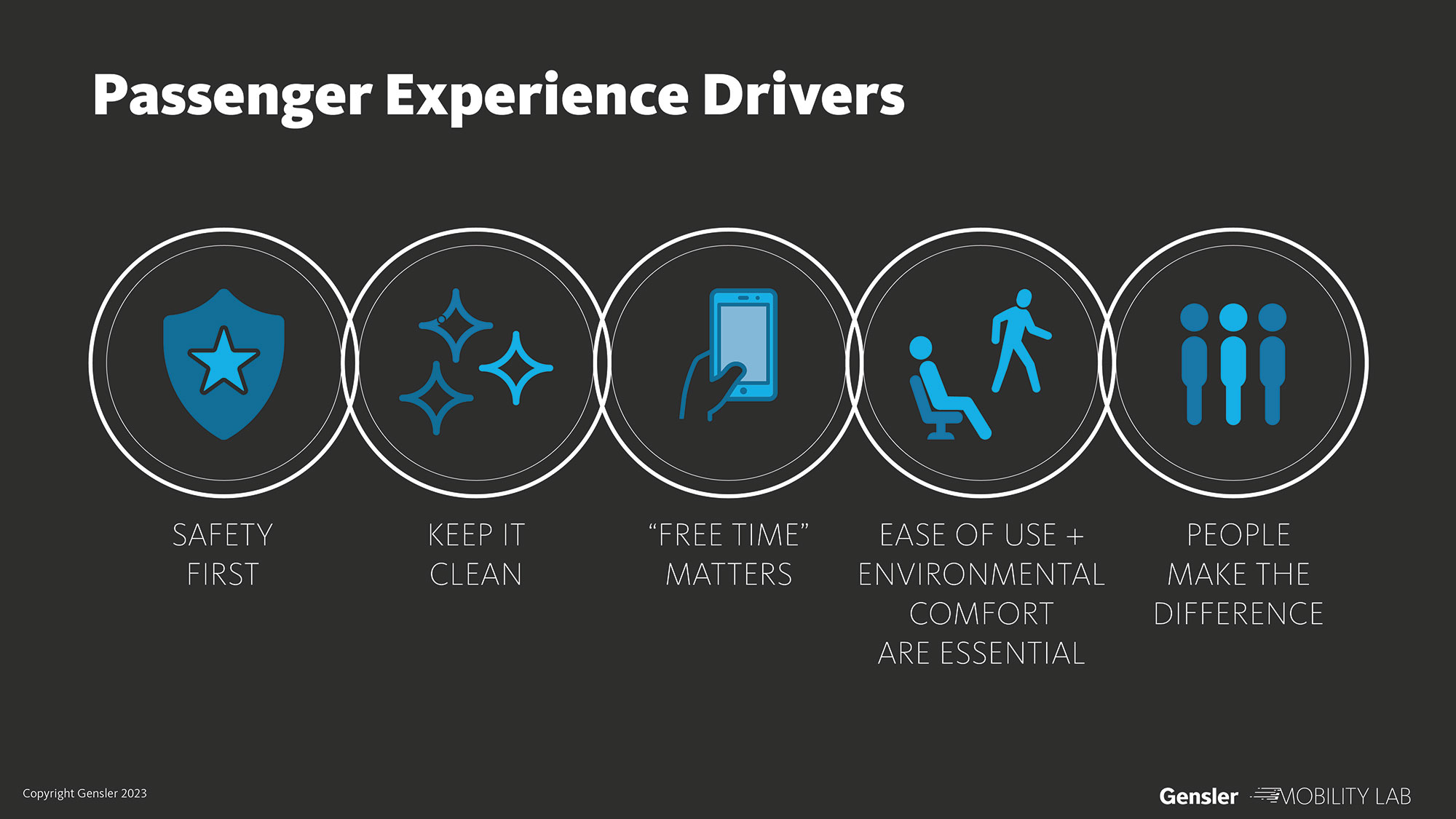 1. Safety first.
Safety is a top-of-mind consideration for passengers when making transportation choices. Concerns about safety and security on trains and at stations significantly impacts whether passengers will choose transit for a given trip. Decreased ridership can exacerbate concerns about safety, as many transit riders feel safer when the trains and stations are busier. Said one frequent transit rider: "After midnight there are almost no commuters… I don't feel comfortable with that. And there are no other solo girls my age to make eye contact with."
2. Keep it clean.
The cleanliness of stations and trains has a significant impact on riders' perception of transit. The design of station elements has a specific impact on the perceived cleanliness of trains and stations, with one rider saying "The material on the seats has to go. It's stained. No amount of cleaning will get that out."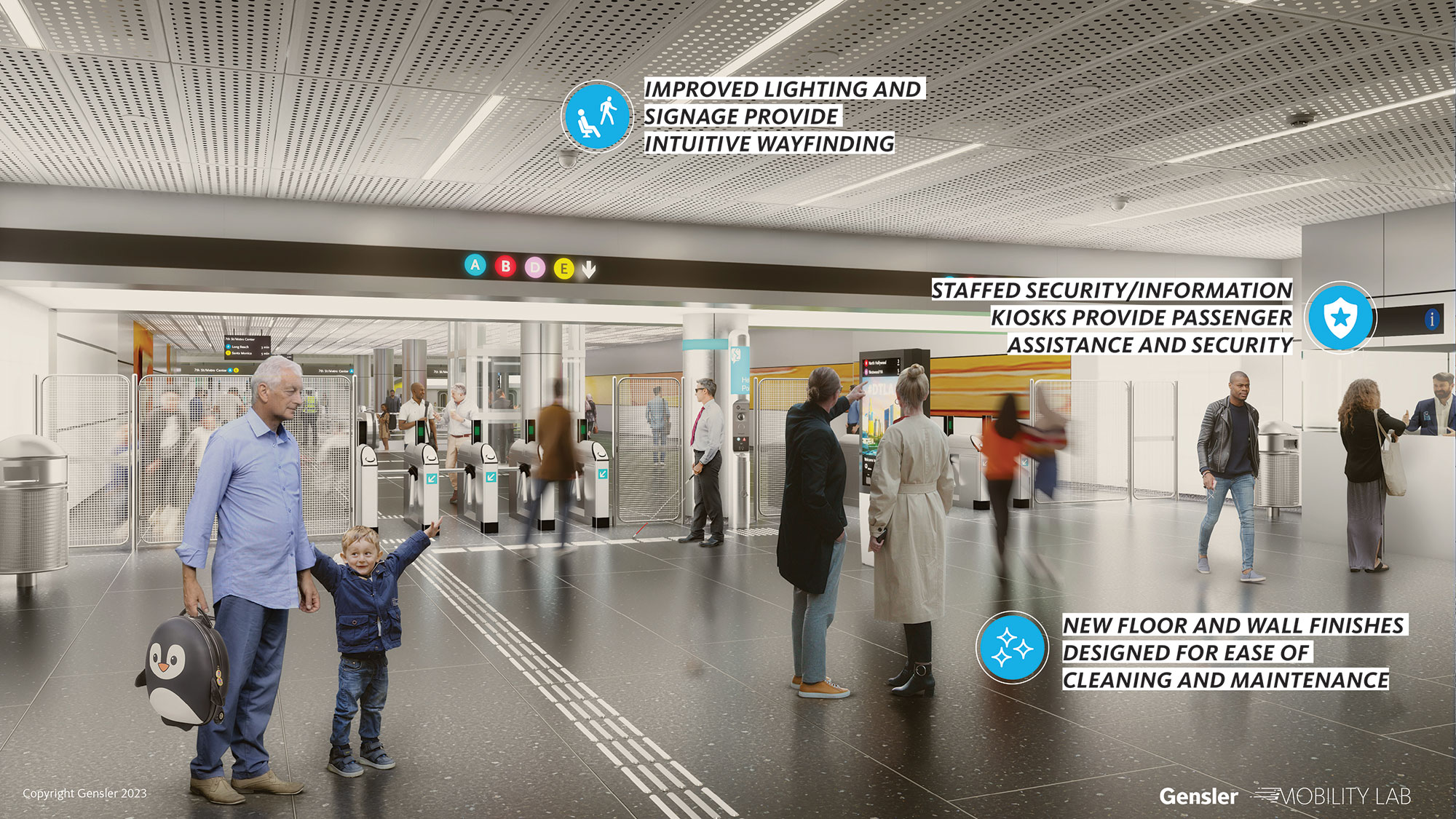 3. "Free-time" matters.
Riders value the time gained by riding transit, which they use for work, entertainment, or relaxation. As one frequent rider said, "I actually enjoy the ride because I can just read something or listen to podcasts while looking outside." Transit compares favorably with the experience of driving in major cities, which people describe as high stress and frustrating. "Metro is less stressful," said another rider, "because I can do other things and don't have to worry about parking."
4. Ease-of-use and environmental comfort are essential.
The ultimate purpose of transit is to connect people and places safely and efficiently and to do that, ease of use is essential. Environmental comfort, including access to light and air, noise mitigation, and thermal comfort, is equally important. Here again, design has an impact on experience, with stations that are too dark or noisy being more difficult to navigate. "Signage isn't well lit, and it's different on all the lines," said one passenger. Another noted: "You can't hear announcements at stations — they are too quiet or hard to hear."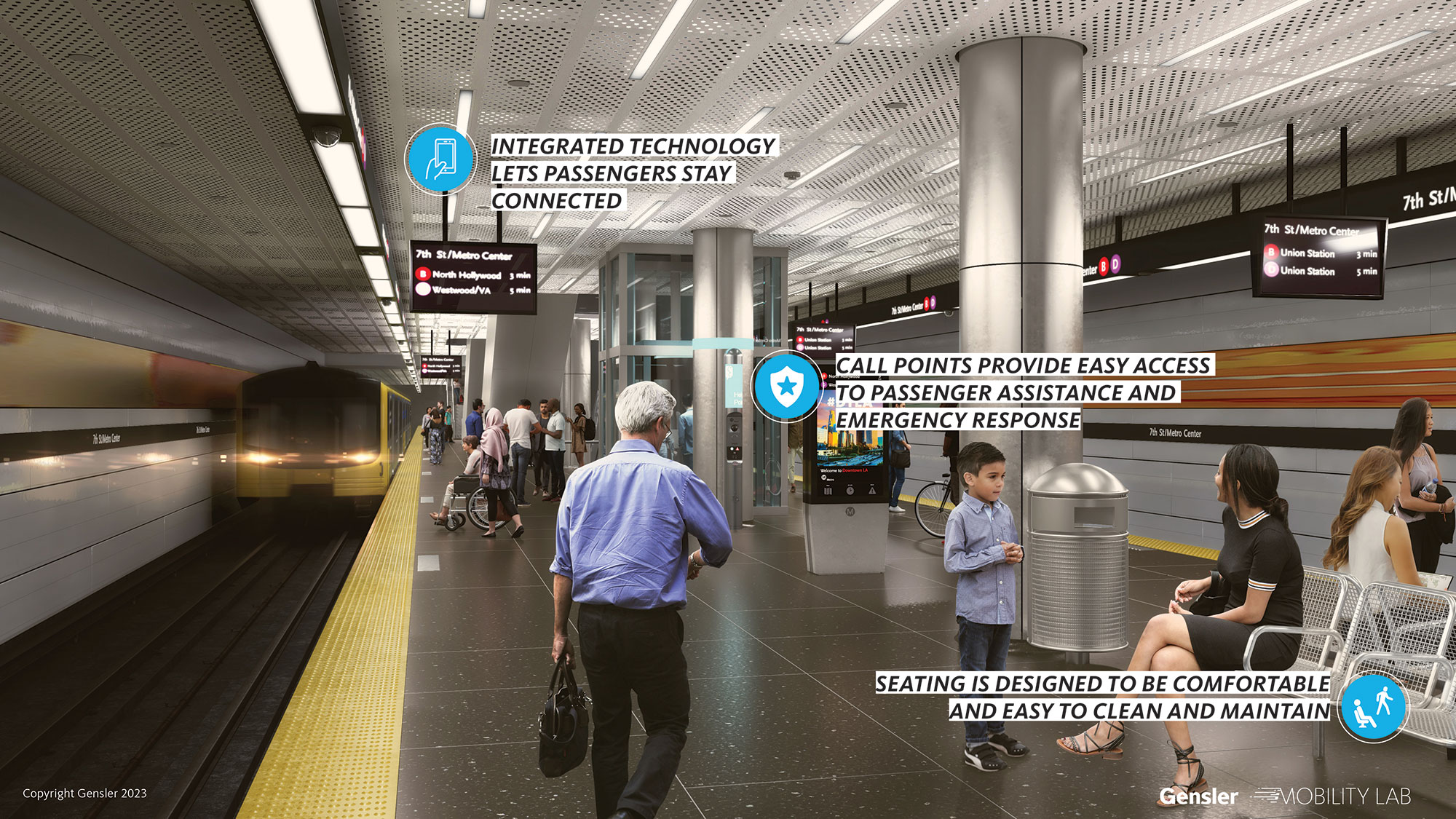 5. People make the difference.
At its best, transit can inspire civic pride and provide a sense of community. Passengers reported the highest satisfaction when riding with friends or as a group with other sports fans going to the same event. One frequent rider summed up their experience: "I have the best time when I ride with friends and we can sit together and talk."
As potential transit riders have more mobility choices than ever, experience matters more. For transit agencies seeking to improve rider experience and increase ridership, these five passenger experience drivers provide a roadmap. Ultimately, a great transit experience allows riders to focus on what matters to them: working, relaxing, or connecting with friends and family.
For media inquiries, email .