2018 Gensler Design Excellence Awards
Enriching Our Design Culture
Now in its 19th year, the Gensler Design Excellence Awards (GDEA) program sets a standard that all our design teams can aspire to. Within our global firm of more than 6,000 employees, the annual program is a purposeful tradition that nurtures and elevates our design culture.
"This year's theme for the GDEAs is about impacting the global community," said Jean Anderson and Jeff Barber, the firm's Design Experience Leaders and 2018 GDEA Committee Co-Chairs. "It can be a small-scale project like a soap dish we designed for Umbra, or it can be a really large-scale master plan that reimagines an entire community. No matter the scale, we are impacting people in our communities across the world every single day."
While the GDEA program celebrates the teams involved in creating accomplished work, it's also important to recognize the individual talent that breathes life into the projects we do, said Anderson. "This all starts with our core design culture. It's about inspiring those around us to think beyond tomorrow — to have a dialogue about design so that we continually learn from one another."
Each year, the projects selected for GDEA recognition pass through a rigorous review process. It starts with staff members gathering in each of the firm's 11 regions to critique projects from every region except their own. In some cases, these gatherings are social events where everyone comes together to review pin-ups of the entries and cast their votes for the top projects. This gets all of our people involved in the process and stimulates discussions among our designers all over the world.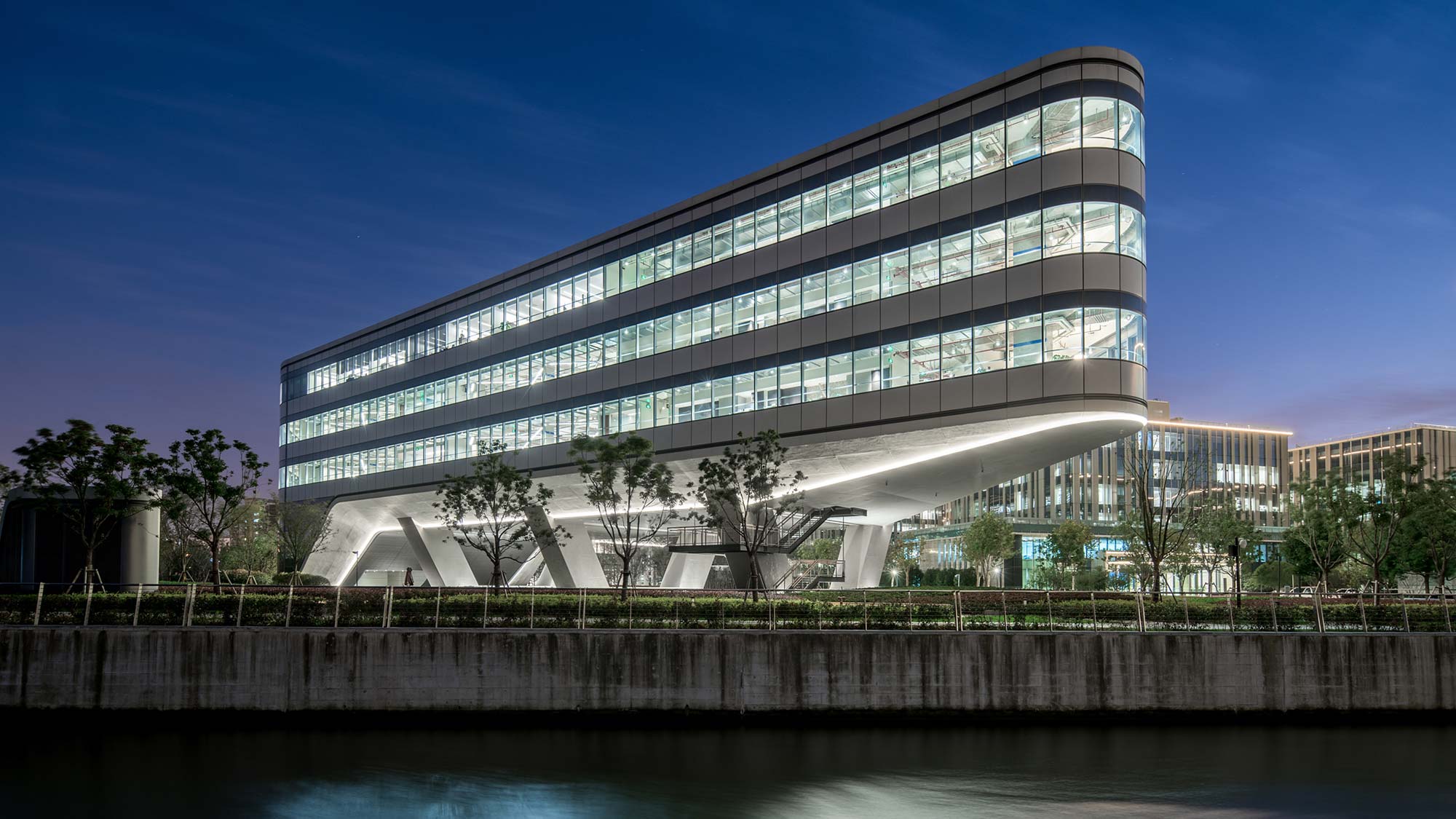 The projects come in many forms: architecture, interiors, product design, planning, brand design, and more. The regions' picks are vetted by the firm's design leaders. Then a shortlist of about 110 projects is critiqued by a jury of industry experts composed of architects, designers, entrepreneurs, developers, academics, brand leaders, and editors from outside the firm. They deliberate over which projects to recognize and then share their insights during a live broadcast to the entire firm.
In 2018, the pool of entries embodied the many ways that Gensler uses design to impact the global community. The entries were sorted into two categories — one that aligned with Gensler's workplace sector, and the other including projects from our community and lifestyle sectors. Within these categories, completed projects were reviewed separately from those that are not yet built.
The work they reviewed varied widely in location and scale, including the Embassy of the State of Kuwait, which synthesizes and reinterprets elements like the geometric patterns of Islamic design and the materiality of traditional Kuwaiti architecture; Johnson Controls Asia Pacific Headquarters, a living showcase of the company's building efficiency products and a catalyst for strengthening its corporate culture; and Plumbers Local 130 UA Training Center, a state-of-the-art training facility in Chicago that conveys pride in its people, its place, and its processes by highlighting the materials and tools of the trade.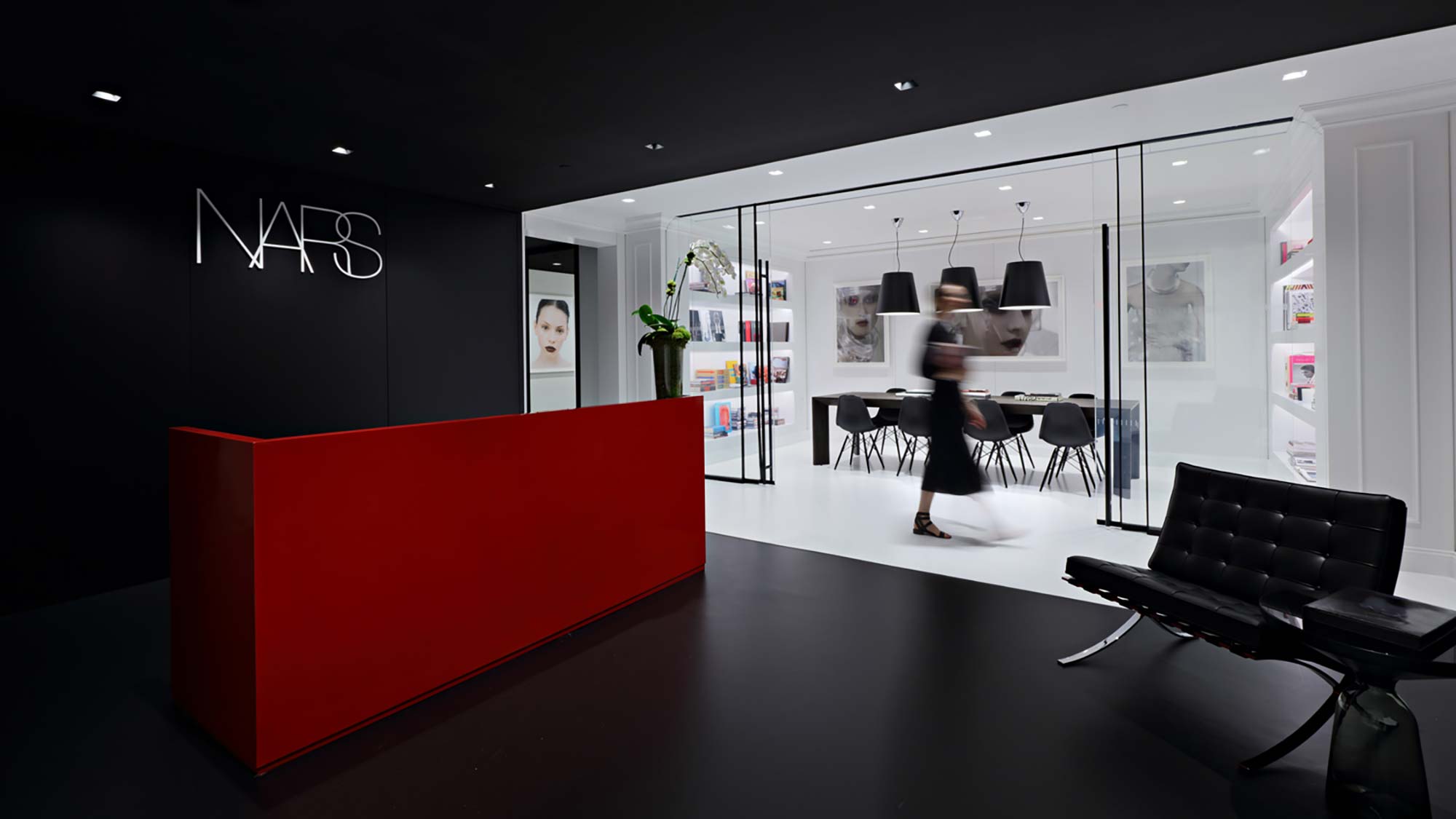 Fourteen other projects received awards, highlighting a broad cross-section of Gensler's work. These projects included NARS Cosmetics, a New York workplace that, through bold gestures and bespoke detailing, communicates the brand's identity in a compelling way; Signal House, a creative office building in Washington, D.C., that's deconstructed to provide each floor a unique connection to the outdoors; and Aparta Playa Hermosa, a residential project in Costa Rica that draws poetic inspiration from its densely vegetated site.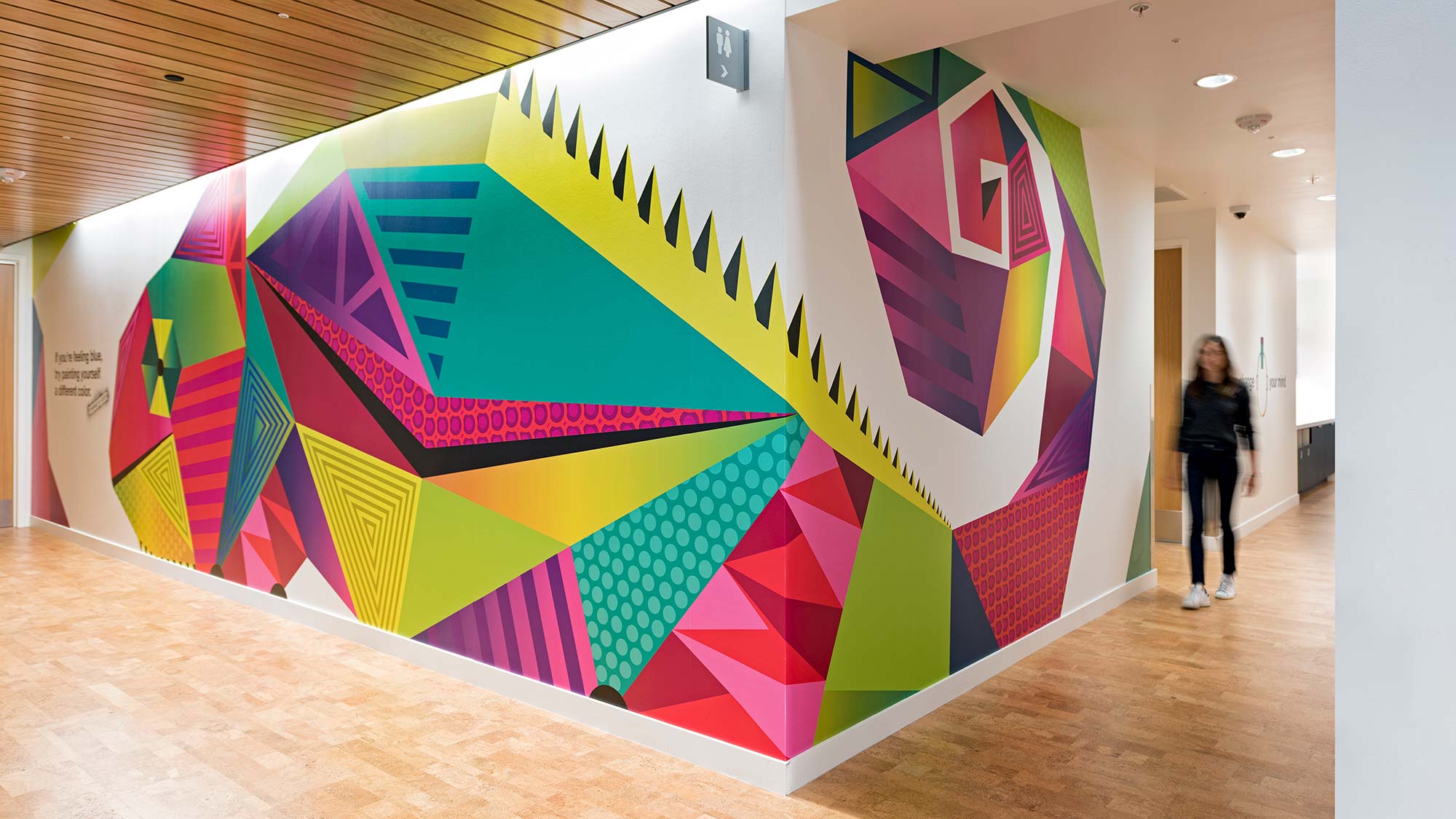 In addition, a new Alternative category — including projects in brand design, product design, and digital experience design — was introduced this year. The award in this category was presented to the playful Global Environmental Graphics program at LinkedIn. Using humor and wit, the program has produced interactive installations that inspire creativity in LinkedIn offices around the world while aligning a large workforce with the company's mission.
One of the lasting traditions of the GDEA program is a special category called the Margo Award, named for respected Gensler leader Margo Grant Walsh, who is now retired. The award recognizes projects that achieve design excellence through cost-effective solutions, often through the inventive use of off-the-shelf components.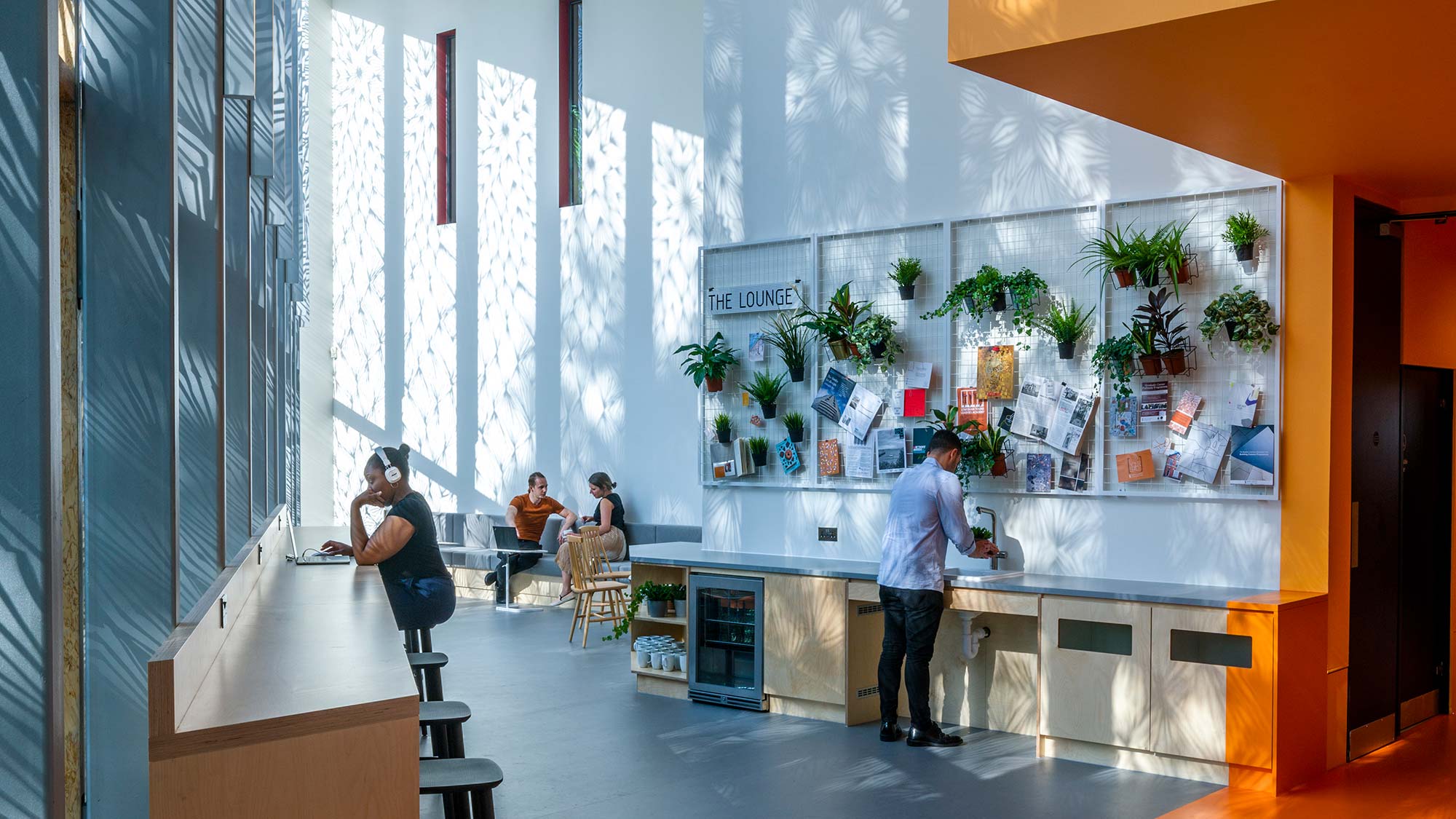 This year's Margo Award was given to Your Space, the new coworking environment at the Stephen Lawrence Centre in London. Designed to empower its users, the pro bono project demonstrates the power of our industry coming together to make a difference in people's lives. The space strives to advance the mission of the Stephen Lawrence Charitable Trust by providing emerging architects, designers, and creatives with affordable spaces to network and develop ideas.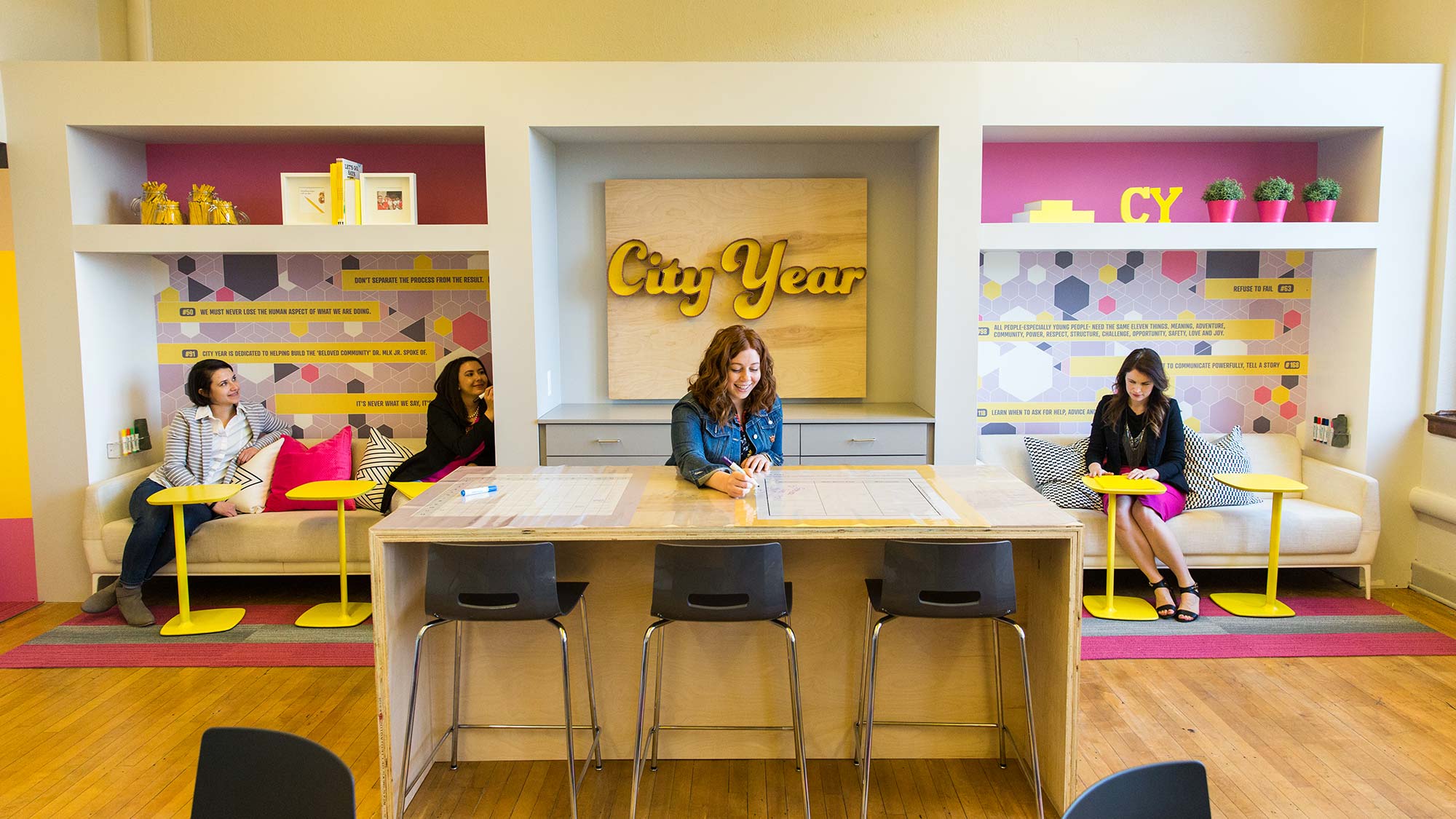 A Detroit public school was selected to receive the Social Impact Award, which celebrates design excellence for projects that give back to our communities. The award recognized a mentoring room at Bethune Elementary-Middle School. Created in partnership with the nonprofit City Year, the room is based on a concept that uses the pencil — a symbol for learning and a tool with limitless potential — as its departure point. Like the pencil, the room provides tools to empower students to share ideas and impact their world. The pencil idea inspired the room's concept and color, and provided building blocks for design elements.
In summarizing the GDEA program during the awards ceremony, Barber noted that "it takes a day like today to step back and gain some perspective. We are making a huge impact already, and we have an amazingly proud legacy. We've gained the trust of our clients. We've gained the esteem of the design world. That is enough to embolden us to push design farther with confidence."
Credits
Story
Vernon Mays, Gensler Firmwide Marketing
2018 Firmwide Design Experience Leaders
Jean Anderson, Gensler New York:
Jeff Barber, Gensler Washington DC:
2018 GDEA Committee
Janice Cavaliere, Gensler San Francisco
Benjy Ward, Gensler Chicago
Alison Carr, Gensler San Francisco
Valeria Segovia Trigueros, Gensler London
Laurent Lisimachio, Gensler New York