Design Forecast Charlotte: Designing for the Displaced
By Brad Brogdon
Editor's note: This post is part of Gensler's Design Forecast Local, a series of hyper local conversations with our clients about the topics that matter most in our cities.
On Oct. 24, 2019, Gensler Charlotte hosted a panel discussion, "Designing for the Displaced," the second in a series of Design Forecast Local events in Charlotte to host hyperlocal conversations with our clients about what matters most in our cities. The first event in August focused on strategies for recruiting, retaining, and developing the right talent. Shifting next to social impact, Designing for the Displaced discussed the critical issues of affordable housing and homelessness facing our community. A panel of local business, not-for-profit, and city leaders took part in the discussion, which was moderated by Roger Sherman, a Cities & Urban Design leader based in Gensler's Los Angeles office. The panel was followed by a brief workshop, where attendees examined the problem through the lens of their own experiences.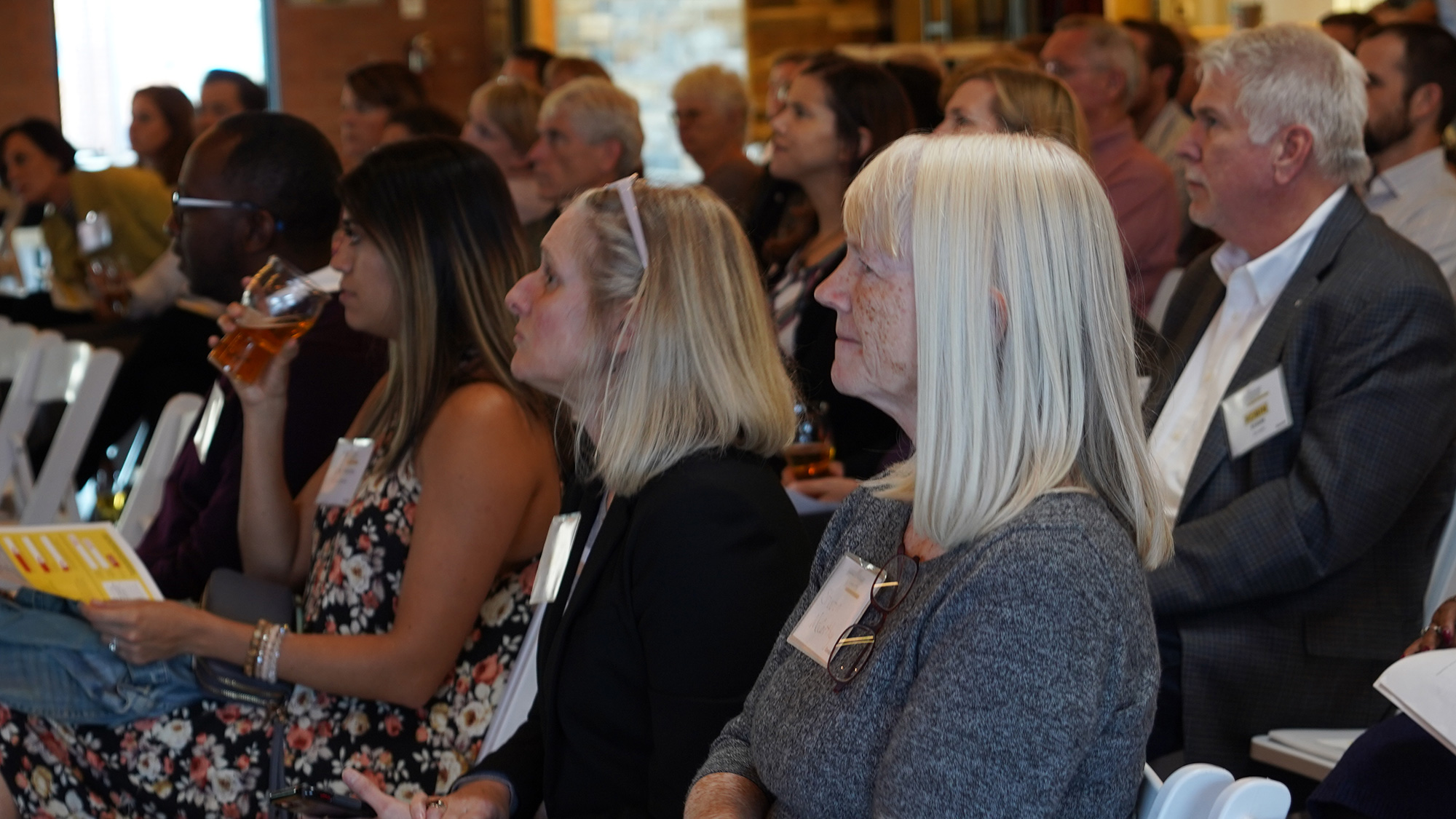 KEY TAKEAWAYS
Safe and secure housing is a human right that should be afforded to all.
The housing crisis continues to plague some of our most vulnerable communities, including the elderly, those who require affordable housing, and those living in overheated markets. Panelists discussed how the rising cost of living in Charlotte has contributed to short-term and long-term homelessness within the city. According to the 2019 Charlotte-Mecklenburg State of Housing Instability & Homelessness report, more than 2,000 individuals are actively homeless, and there's a shortage of about 27,000 affordable housing units available to the county's extremely low-income population. Liz Clasen-Kelly, CEO of the newly merged Urban Ministry and Men's Shelter of Charlotte, discussed the city's emergency shelter system and its current inability to meet demand. Her views regarding more permanent solutions to house the chronically homeless were echoed by other panelists, who emphasized that permanent supportive housing does not represent a "handout" so much as a vehicle through which the homeless can build both social and economic capital for a defined period of time with public guidance.
Mark Ethridge, a partner with Ascent Real Estate Capital, said that the public sector has a responsibility to care for our citizens, but there is substantial burden on the private sector as well to serve as steward and provider of affordable housing opportunities to make the target goals feasible. Charlotte City Council member Justin Harlow articulated some of the challenges of serving as a bridge between the public and private sector from both a financial and planning standpoint. He explained how improvements to Charlotte's Public transportation system could help alleviate pressure on concentrating affordable housing in the uptown Charlotte area.
We must create communities of change.
Bringing life back to our streets improves the health and wellness of our communities. The panel discussed how the design industry can contribute to conversations and drive solutions around homelessness, including minimizing the stigma associated with affordable housing. To combat homelessness, we must take much deeper actions than simply providing shelter: we must also provide adjacency to community centers and public agencies, healthy food, and public transportation. These and other basic supports will aid those in low-income circumstances to save both money and time while growing self-sufficient in place.
Liz Clasen-Kelly spoke about the experiential change elicited by a simple, light-touch renovation in the Charlotte Men's Shelter. She noted evident behavioral differences that can be chalked up to feelings of pride-in-place, and the development of self-respect in elevated conditions. Using this case study, Mark Ethridge and Robert Sherman discussed the benefits of mixed-income housing that is not only affordable, but also attractive and supportive of community-building behaviors. Creation of a long-term resilient community of people with mixed incomes and abilities must be the goal.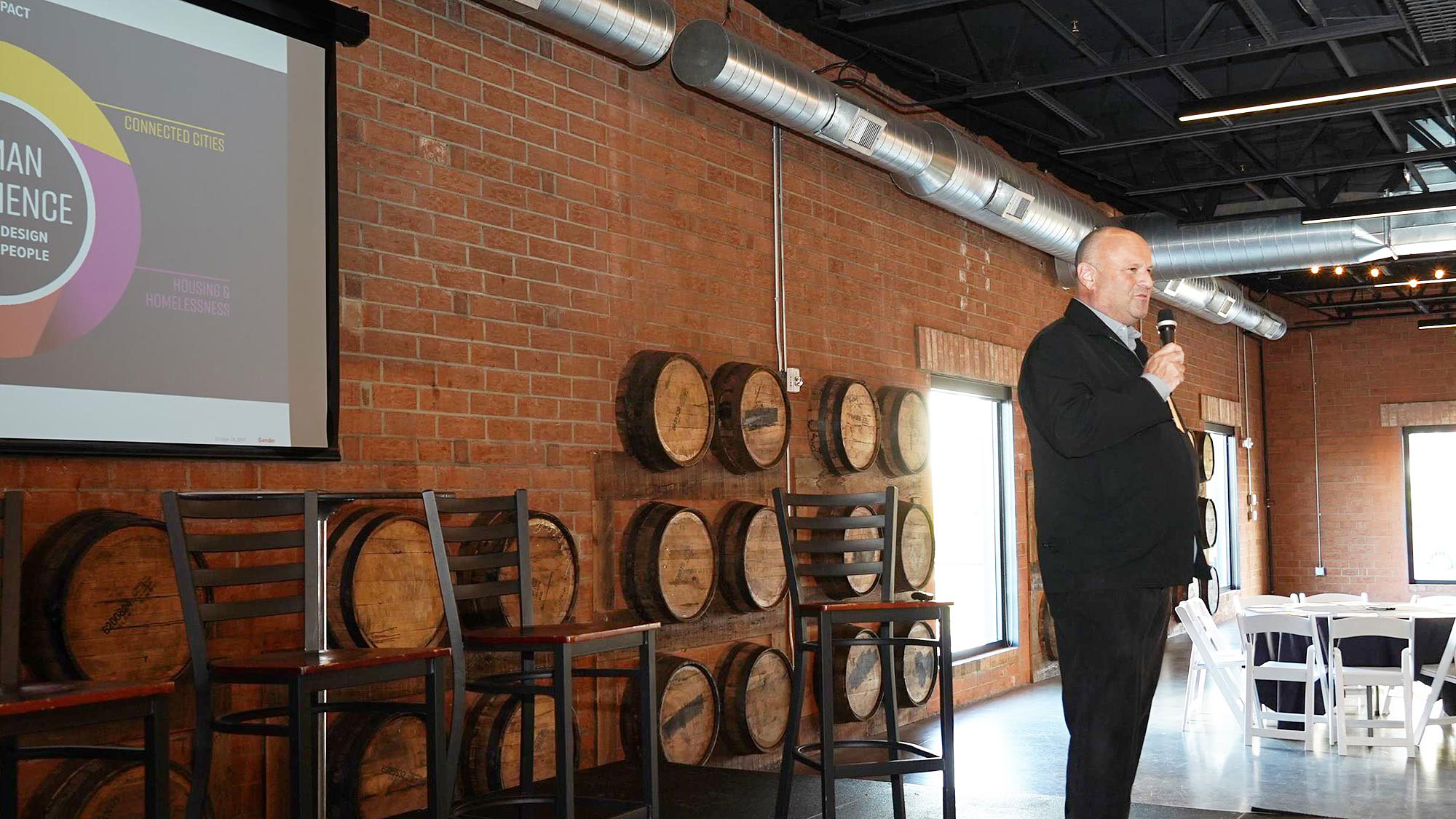 Preparing future generations is paramount to creating resilient communities.
The panel discussed the role that early childhood development plays in community building. By fostering the well-being of children, supporting education, and on-going training for the post-high school workforce, we can create resilient communities. Todd Tibbits, CEO of the YMCA of Greater Charlotte, explored the benefits of early childhood intervention in setting the tone for building adult social capital. He noted a critical need for social and emotional learning within economically challenged families in order to break the cycle of violence. We must learn from other cities to address the housing crisis.
Across the U.S., major cities have implemented various jobs or housing programs to address chronic homelessness. In Los Angeles, for example, Gensler has examined how pre-fabricated modular units can make the construction of permanent supportive housing more efficient and cost effective. The panel discussed how the city of Charlotte might follow suit, examining how solutions prompted by other locales might inform local efforts. In turn, local efforts to challenge this crisis in our city could lead to larger resolution elsewhere.

Sherman spoke about the current strategies that the city of Los Angeles is implementing to begin turning the tide on its crisis of displacement. The Charlotte panelists provided anecdotes on the success they have witnessed in both permanent supportive and subsidized mixed-income housing. In a city of rapid growth, we have an opportunity to be a model for new and strategic approaches to housing and homelessness. If we don't take proactive action towards solutions, gentrification will continue to squeeze out those who are most vulnerable. Without a plan that addresses both the physical need of housing, and the sociological need to denounce stigma and empower all citizens, we run the risk of remaining a "worst in class" city for those seeking upward mobility.

Clearly, there is no magic bullet for this issue. The event was framed not as a one-time conversation, but as a preamble for what we hope will be an ongoing dialogue about how to better shape the future of our city.

Special thanks to Gensler Charlotte's gConnect class for their commitment to this event and contribution to this blog post.