Microsoft's New U.K. Flagship: A Vibrant Community Hub
By Aaron Birney and Lara Marrero
Situated at the junction of London's two busiest shopping streets — Regent Street and Oxford Street — Microsoft's new London flagship store provides prime access to the 86 million people who pass through Oxford Circus every year. With 4K video walls, Surface devices, HoloLens mixed-reality headsets, and a swanky McLaren Senna equipped with simulation technology on the ground floor, the 22,000 square foot, three-story flagship has plenty of glitz and charm. But the company's first European flagship is more than just a place to shop or demo products — it's a destination to engage with the local community and connect with all types of people — from gamers and students, to educators, families, and businesses. With free access to resources for every customer, the flagship embodies Microsoft's mission: "to empower every person and organization on the planet to achieve more."
The design also follows a larger trend: in a digital age, where people feel increasingly isolated, they're craving a sense of community and belonging. To thrive, retailers are no longer focusing solely on transactions and foot traffic; they're bringing people together in new and meaningful ways to cultivate a communal experience. The store finds new ways to bring people together by anticipating time-starved consumers' rapidly evolving needs. A variety of spaces allow people to toggle between different modes — from the "task" mode of purchasing, to more relaxed social, discovery, entertainment, or aspirational modes.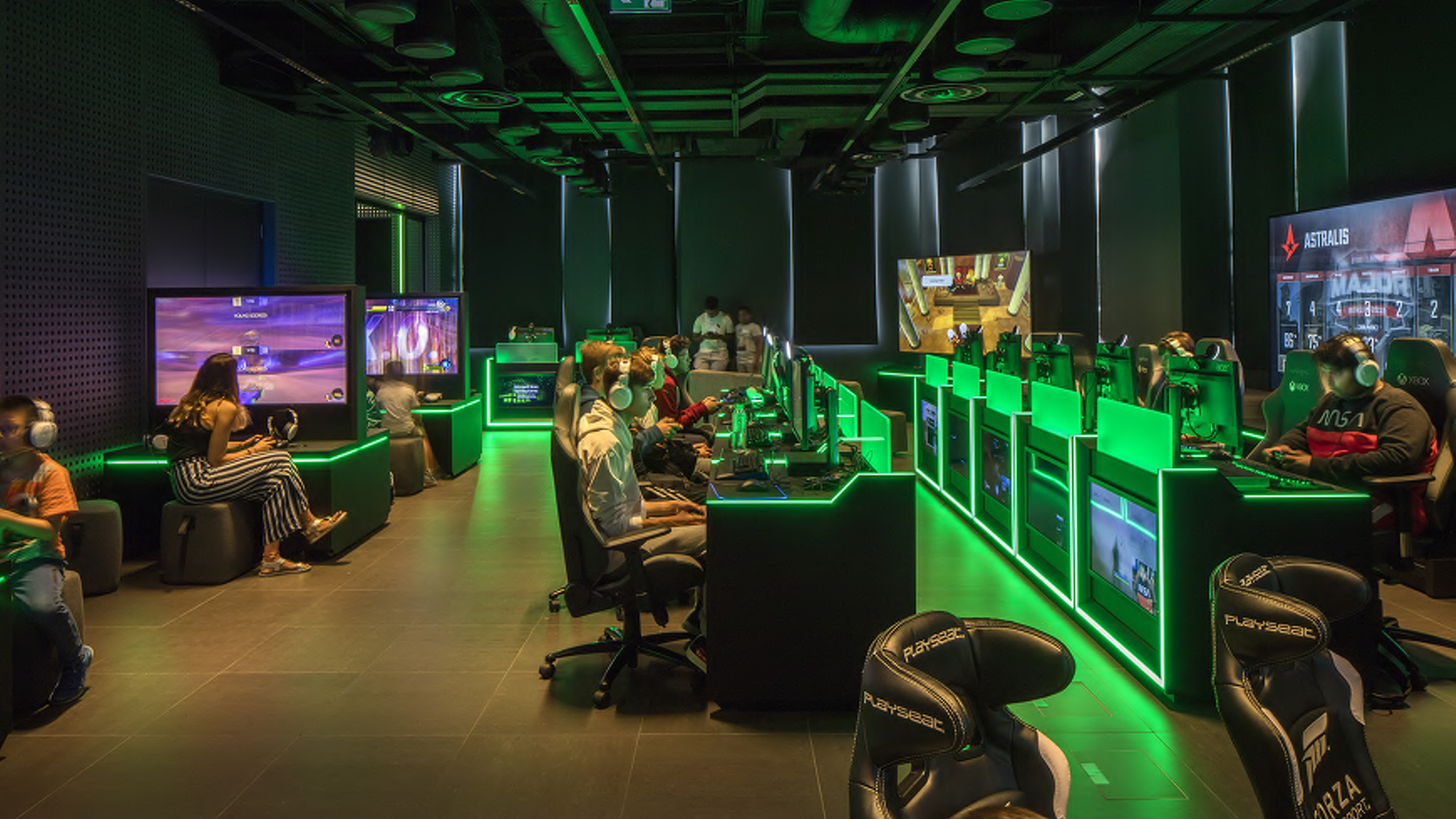 While some people might stop by to trial Microsoft's devices or get troubleshooting help, there's something here for everyone. Students and educators can learn new digital skills in the community theatre, gamers can compete or connect with each other in person or online through live streaming events and e-gaming tournaments in the gaming lounge, and startups can explore solutions to grow their business in the enterprise hub. There are different types of community engagement for different types of users, without being prescriptive about who belongs in what space. The store is also accessible to people with all types of abilities, with buttons to open doors, lower height desks for those in wheelchairs, and adaptive controllers in the gaming lounge for those with restricted movement.
Another critical aspect of the design is its flexibility, with multipurpose spaces that can be converted for events and other uses. Additionally, the renovation of the historic Grade II building preserved many of the original features, while reimagining it as a platform for the digital age. The existing structural system has been transformed to accommodate transparency and visibility, allowing the space to be more agile while providing opportunities for smart building upgrades to mechanical, lighting, and digital solutions. Those upgrades will allow the store's environment to shift as technology and consumers' needs evolve.
Ultimately, the brand aims to forge long-term relationships with the community through these retail stores to meet customers wherever they are, and deepen connections with them. As Cindy Rose, UK CEO of Microsoft U.K. attests, "We won't measure the success of this flagship by sales alone. It really is about the unique experience we provide to our customers... But also the way that we engage with the community."