Great retail experiences begin with an understanding of what drives customers to visit a store or website. Armed with this knowledge, retailers can devise strategies that unite their brands with communities of shoppers. Knowing when people are visiting to get something done, to connect, or simply to have fun allows brands to deliver experiences that cultivate loyalty and improve the business.
Retailers must adopt a mindset of 'never being done': format redesign should be an ongoing process of implementing solutions quickly and refining them constantly, with retailers keeping their fingers on the consumer pulse and adapting store formats to respond to evolving consumer needs.
—The ever-changing store: Taking an agile, customer-centric approach to format redesign, McKinsey
THE FAST & SLOW OF RETAIL
There's a growing population of consumers who need quick and frictionless transactions even though they don't have time to shop. On top of that, these same people are unwilling to sacrifice human connection and quality service. It all adds up to a situation that requires brands to balance the perks of fast retail (giving consumers what they want exactly when they want it) with the benefits of slow retail (providing deeply engaging experiences in virtual and physical environments).
AN OPERATING SYSTEM APPROACH TO RETAIL
Online shopping and the evolution of malls and high streets are creating a new form for brand engagement. Retailers who are thriving are doing so by taking an "operating system" approach to the design of their environments, considering the role that space, service, visual merchandising, brand messaging, digital, sensory, and activation strategies play in offering customers immersive and unparalleled experiences that respond to their ever-changing wants and needs.
CYCLES OF DISRUPTION
Retail has been through disruptive periods before. But where previous disruptions were about efficiency or experience, we're now entering an era that's all about belonging. Consumers who have grown tired of chasing down experiences for that "Instagrammable moment" are seeking more meaningful and authentic opportunities to connect and co-create with a brand and its community. Brands that embrace this movement and offer a sense of purpose and partnership will be well equipped to navigate today's retail environment.
Insights and Industry Trends by Expertise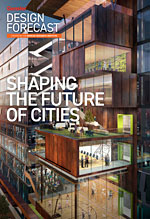 GENSLER RESEARCH INSTITUTE
SHAPING THE FUTURE OF CITIES
Fill out the form below to download Design Forecast (PDF).