No matter what far-flung destinations people venture to, they have a genuine desire to connect with local places and spaces. Hospitality companies — hotels, restaurants, and gaming venues — can foster those connections through the curation of unique programming, design, architecture, technology, and entertainment. When executed effectively, the resulting guest experiences will resonate in an increasingly competitive marketplace.
"We're seeing much more flexible, interactive use of what is traditionally a hotel lobby. It's breakfast space in the morning, it's lunch space in the afternoon, it's coworking space."
—Menno Hilberts, citizenM
USING BRAND TO BUILD THE HUMAN CONNECTION
Social media, online advertising, and our 24/7 information culture have bombarded consumers with messaging, causing them to reflexively tune out brands. Hospitality companies can cut through the noise by focusing on hyperpersonalized brand experiences that demonstrate an understanding of their audience's values, aspirations, and passions. Such experiences ultimately drive emotional engagement and generate human connections.
VIRTUAL REALITY LEADS TO REAL-WORLD EXPERIENCES
Advances in virtual reality (VR) now allow people to indulge in travel fantasies without leaving home. But rather than serving as fully satisfying experiences, virtual trips function as more of a taste of the real thing, ultimately leading people to plan real-world trips. As part of the booking process, some hospitality companies are leveraging VR to let guests experience a hotel or resort before deciding if it's right for them.
THE FULL POTENTIAL OF 3D PRINTING
Already a common model-making tool used by architects, 3D printing has even greater potential during the construction process. We're close to the point where hospitality organizations — which bear considerable real estate costs due to their large portfolios — will be able to realize significant cost savings by mass-producing components of their properties off-site. When paired with modular construction techniques and the lower labor costs involved, 3D printing has the potential for big savings.
THE SKY BECOMES THE NEW FREEWAY
Population shifts continue to overwhelm traditional urban infrastructure, spurring some municipalities to consider new modes of transportation. Aerial ride-share is one option that's gaining traction. Private companies are now investing in aerial transit technologies that have the potential to radically reshape travel throughout — and in some cases between — cities. With that effort comes aerial urban mobility hubs, which can be designed as mixed-used destinations ideally suited for hospitality venues.
Insights and Industry Trends by Expertise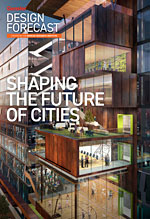 GENSLER RESEARCH INSTITUTE
SHAPING THE FUTURE OF CITIES
Fill out the form below to download Design Forecast (PDF).