We help our clients solve their most complex challenges and gain a competitive advantage through a fusion of research, strategy, and design. This approach is predicated on a keen understanding of operations, process, technology, and physical space, while putting people's well-being at the center.
Innovation is not a slide in someone's office, a part of someone's title, or a top-down initiative. Innovation is experiential, cultural, and most of all, it takes practice.
—Amanda Ramos, Gensler Innovation Director
AI AND OFFICE DESIGN: TEST AND LEARN
Advances in sensor technology, cloud computing, bandwidth, and storage have opened the door for office spaces that learn and adapt. These intelligent buildings appeal to companies with large real estate portfolios that are already in frequent test-and-learn feedback loops. Through an evidence-based approach that integrates data, AI, and intelligent building systems, the next generation of office buildings will empower people to do their best work.
NEW JOBS WILL REQUIRE NEW SKILLS
By 2022, more than half (54%) of all employees will require significant reskilling and upskilling, according to the World Economic Forum. Of these, more than one-third are expected to require additional training of up to six months, and the focus of the training is likely to be on skills like technology design and programming. At the same time, human skills such as creativity, critical thinking, persuasion, and negotiation will maintain or increase their value.
CREATING WORKPLACES THAT SPUR INNOVATION
Organizations continue to be obsessed with innovation — that special sauce that gets companies ahead of the curve on the newest technologies and market opportunities. But companies are increasingly realizing that the path to innovation is not about creating a SWAT team of innovators or establishing some kind of innovation lab. It must be a daily part of the culture and the workplace. That means creating workplaces that encourage collaboration and chance encounters, and a culture that prioritizes teamwork and diverse opinions.
COWORKING HAS ITS LIMITS
There's a fast-rising contingent of "enterprise" users of coworking spaces — people who use coworking space through an agreement with their employer and a third-party coworking company. However, according to Gensler's 2019 U.S. Workplace Survey, while most people still find coworking spaces valuable, they are only using those spaces for less than one day per week. This reinforces the trend that a variety of spaces in the office is the best environment for getting the most productive work done.
CREATE PEOPLE-TO-PEOPLE CONNECTIONS
Designing an effective workplace requires an in-depth understanding of how workers use a space, and in many cases, the performance of people outweighs the performance of the building. Designers are thinking beyond the desk, conference room, and call booth, focusing more on the dynamic connections that link spaces and people and allow for more collaboration. Companies want to dissolve silos and create environments that connect people to people.
Insights and Industry Trends by Expertise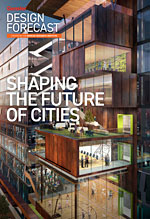 GENSLER RESEARCH INSTITUTE
SHAPING THE FUTURE OF CITIES
Fill out the form below to download Design Forecast (PDF).