The most compelling brands are those that are able to connect with people through great storytelling. Brands must communicate on every dimension and speak to diverse audiences in the most authentic way possible. The measure of success is an experience that is uniquely ownable and highly shareable.
64% of consumers say that shared values help them build trust with a brand.
—Forbes
EACH GENERATION ACCELERATES A NEW SET OF EXPECTATIONS
As the next generation entering the workforce and the marketplace, Gen Z is quick to adopt new communication channels and favors real-time, visually rich content. This socially and environmentally conscious, always connected cohort prioritizes honest, transparent, and authentic messaging from friends, leaders, employers, and brands. Gen Z's relationship with technology will re-wire how they show up as workers and consumers.
EXPERIENCE WILL BE THE REASON PEOPLE COME TO THE OFFICE
Our tech-enabled, always connected society means we can theoretically work from anywhere. So why go into the office? Simply put, we go for unique experiences. When an organization sets expectations about its culture and then delivers on them through its brand experience, workers feel a stronger connection. Keys to that experiential aspect include a sense of place, authenticity, and the legacy narrative that makes each organization unique.
CONSUMERS CONTINUE TO SHAPE BRANDS' IDENTITIES
The societal shifts brought on by social media have transformed brands' conversations with consumers from one-way to two-way. It's a development that ultimately helps brands better reflect current styles and adapt for future ones. When these conversations are at their most successful, brands become iconic and spur powerful emotional reactions from consumers. But once a brand's reputation is set, it's difficult to change public opinion.
THE POWER OF DIVERSITY GIVES CITIES VITALITY
Few forces add as much richness to a city's brand as diversity. It gives rise to unique experiences, signals inclusion, and empowers communities by creating a sense of identity, pride, and celebration. The result is a distinctly authentic sense of place that can attract people, business, and civic investment.
Insights and Industry Trends by Expertise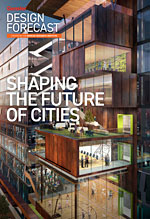 GENSLER RESEARCH INSTITUTE
SHAPING THE FUTURE OF CITIES
Fill out the form below to download Design Forecast (PDF).