At the center of every professional services firm are people, regardless of whether the firm specializes in law, consulting, engineering, or other offerings. They leverage space as a primary tool for engaging people and sparking emotional connections through one-of-a-kind experiences. When designed with an understanding of human needs, the workplace becomes a magnet that attracts and energizes people.
Among young attorneys, 72% said they preferred to collaborate with colleagues in buzzy, informal spaces rather than silent, formal settings.
—Gensler survey of millennial attorneys from Am Law Top 100 firms
CURATING MEMORABLE EXPERIENCES
Fundamental expectations about the professional services workplace are shifting. At the office, people now seek the kinds of experiential moments that were previously reserved for other arenas of life. Now, workplace zones that have distinct atmospheres dedicated to reflecting, communing, or energizing the people who work there can help organizations win the war for talent and provide clients with rich and memorable experiences that forge strong relationships and entice them to come back.
TELLING THE STORY THROUGH BRAND INTEGRATION
Having a highly functional office space is good. But integrating that space with a firm's ethos is better, even transformational. Every organization has its own unique identity that can pay dividends when it comes to employee and client engagement. To spotlight that identity, firms are integrating branded elements that provide a sense of place, establish differentiation, and evoke emotion.
ENGAGEMENT THROUGH VARIETY AND CHOICE
Professionals — particularly younger professionals — are looking for variety and choice in the workplace. In Gensler's own survey of millennial attorneys from Am Law Top 100 firms, 62% of respondents said that having a choice in different kinds of workspaces would support productivity. Providing different environments for different modes of work yields a more effective and engaging work experience.
THE RESILIENT WORKPLACE: SEEKING ADAPTABILTY AND FLEXIBILITY
In today's professional settings, the frequency of change, and the uncertainty that goes with it, means firms will need flexible and adaptable workplaces. Progressive workplace strategies, flexible furnishings, demountable partitions, and open plans have all found their way into pioneering organizations that have set themselves apart on this front. It's all part of a strategy to keep employees happy and productive — and keep real estate costs in check.
Insights and Industry Trends by Expertise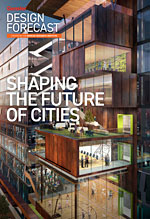 GENSLER RESEARCH INSTITUTE
SHAPING THE FUTURE OF CITIES
Fill out the form below to download Design Forecast (PDF).