Shaping cities for the people who live, work, and play in them is the core of Gensler's design approach, and this is especially pronounced in the work we do for the media and consumer goods industry. Fueled by major advancements in digital technology, this industry shapes consumer behaviors more than most by driving people to specific content, products, and services. We help media and consumer goods companies create powerful narratives in their physical spaces that, in turn, shape the human experience of our cities.
Many [entertainment and media] segments are at a tipping point... new distribution models are forcing companies to revisit their approach to mix to reach fans where they are.
—PwC, Global Media & Entertainment Outlook, 2017–2021
CONNECT SPACE TO PERSONAL IDENTITY
In an era of constant change and content saturation, consumers and workplace talent are craving authenticity. Companies can use the workplace as a tool to connect people to their personal identities, create a sense of commitment and belonging, and remain authentic in the face of change. Designing the workplace as the physical embodiment of the brand enhances engagement and cultivates innovation. Ultimately, the most successful workplaces connect workers with their consumers.
PEOPLE WANT MULTIMODAL SPACES
Recognizing that traditional uses of spaces are blurring, consumer goods and media companies are embracing places designed to accommodate multiple activities of different types at the same time. According to the Gensler Experience Index, spaces that support multiple "modes" are more likely to create great experiences. As single-use spaces become obsolete, places that are activated from day to night, such as workplaces that function as a coworking space during the day that become event venues at night, are driving ancillary revenue and creating multifaceted experiences.
CROSSING BARRIERS BETWEEN PUBLIC AND PRIVATE
Consumer goods and media companies thrive when they break barriers between consumers and brands, between private and public. Social media has amplified the power of brands and consumers. As a result, these companies have become highly responsive to what consumers want. As these barriers dissolve, it's crucial that companies engage directly with users. They're inviting the public in, using the workplace not only as a place for business, but also a place for consumers to experience a brand, to test and prototype products, and provide direct feedback.
BALANCE LEGACY AND INNOVATION
To evolve and keep up with changing consumer expectations, brands must strike a balance between showcasing their heritage and accomplishments while telling a story of their future. A clear, purposeful celebration and expression of brand legacy in the workplace can be powerful for talent and for consumers and clients. At the same time, companies must use the workplace to keep the best talent and recruit new people, which they can do by expressing a clear purpose and narrative for the future in their space.
Insights and Industry Trends by Expertise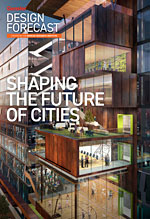 GENSLER RESEARCH INSTITUTE
SHAPING THE FUTURE OF CITIES
Fill out the form below to download Design Forecast (PDF).