Recruiting Robotics Against Climate Change
January 05, 2022 | By Anirudh Dhawan and Alfonso Hernandez
The headline from the United Nations' 2021 Climate Report says it all: "Code red for humanity." One of many alarms calling for our collective urgency on climate change. Signaling the need for an 'all-hands-on-deck' approach - that every tool be used to its greatest carbon-reducing potential.
It is with that urgency that a research group at Gensler is identifying and consulting novel technologies in the construction industry. And it's why we've teamed up with roboticists and builders to contribute to the U.S. Department of Energy, Office of Energy Efficiency & Renewable Resources', E-ROBOT initiative.
E-ROBOT is short for Envelope Retrofit Opportunities for Building Optimization Technologies. The initiative seeks to fast-track collaborative robotics towards the goal of improving existing building energy performance. It's a tall order, and true multidisciplinary effort, with Gensler contributing building design and sustainability expertise to our team of roboticists at FLX Solutions and contractors at Skyline Capital builders.
The E-ROBOT initiative is important because we know that building smarter (often by building less) is a critical component for more resilient cities. The more we can reuse and optimize an existing building, the greater our impact. The initiative is also important as a conversation about a more-streamlined construction future. It's a fairly stagnate industry, with big advancements on the horizon. We need to be ready to shape a whole new way of designing and delivering inspired, sustainable environments.
With these themes at the forefront of our minds, we have approached the Department of Energy's challenge with two different focuses.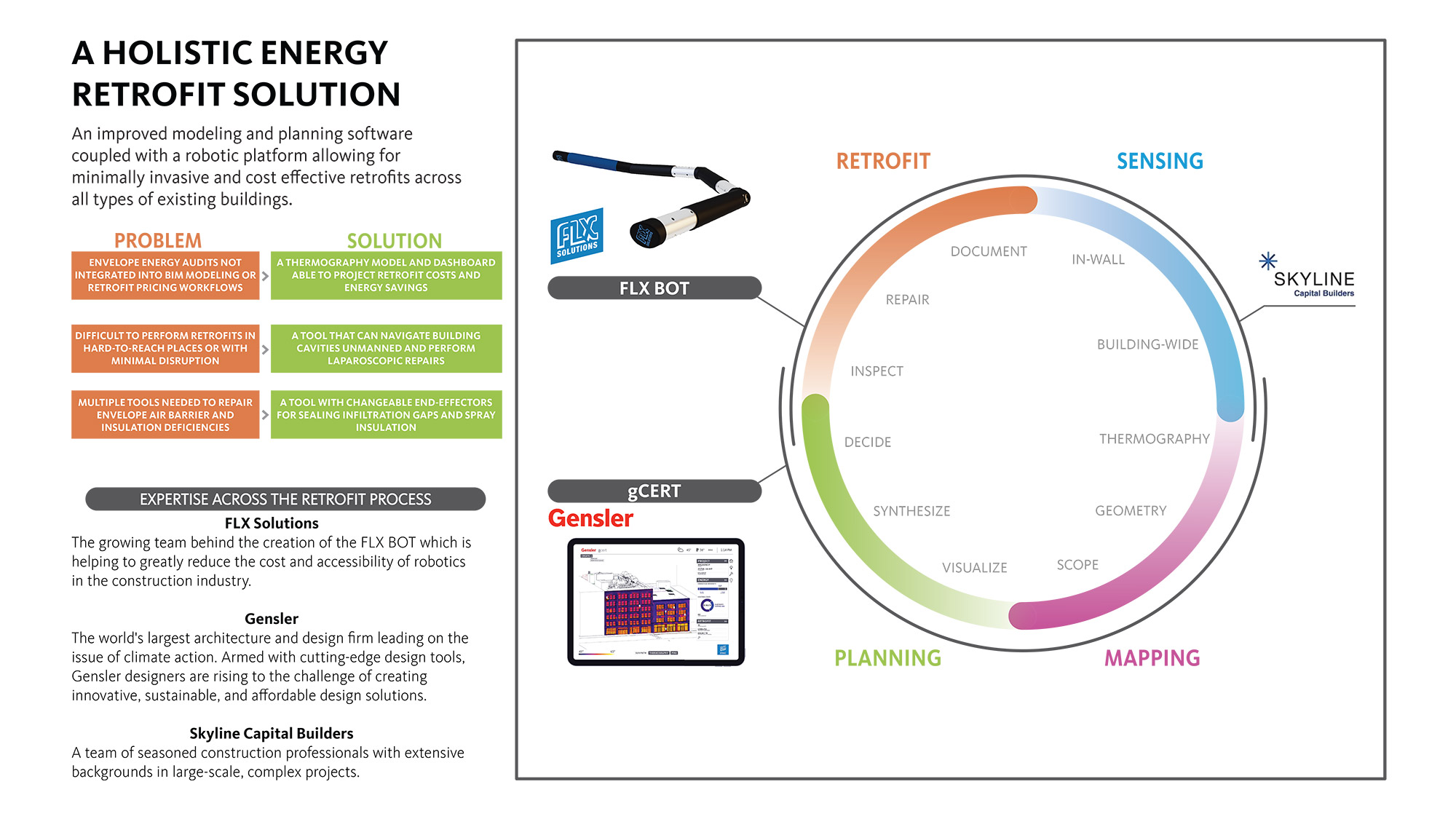 Holistic Decision-Making Tools
Advanced construction robotics only realize their full potential when paired with sophisticated design and stakeholder decision-making tools. Our team is researching how layers of information like spatial geometry, façade thermography, and building energy use can be overlapped on each other to properly map, estimate and sign-off remediation opportunities. Inspiration has come from lots of sources, including mining and agriculture industries, where advancements in sensor technology has led to easier ways of identifying and mapping irregularities, as well as laparoscopic surgery with its optimized and minimally invasive deployments.
These developed tools could even see potential in new construction by providing quality control or supplementing design research of newly built structures and their energy performance.
Informed, Collaborative Robotics
Developing energy retrofit robotics requires a deep knowledge of the many different types of building facades and the nuances that local climate has on the design and performance of those structures. Our team's architects, sustainability experts, roboticists and contractors are working together to inform, develop and test technology that can provide comprehensive retrofits in a minimally invasive way.
For a retrofit tool to be powerful, it needs to solve multiple problems. Required tasks for improving energy performance could range from the addition of insulation to stop heat loss to the repair of the air barrier that keeps a building tight. All are seemingly modest tasks. But when efficiently remediated across dozens of instances in countless existing buildings, a collaborative robotic tool can become a powerful way to realize the full energy-saving potential of our cities.
Phase Two
Our team's solution was selected by the Department of Energy as one of the Phase One winners of the E-ROBOT prize. In the second phase, we've added a new technology partner LAMARR.AI that will increase our capabilities to analyze existing buildings. As part of this phase, we'll be able to deploy aerial drones to both map the building and look for heat leaks.
We're excited about the opportunities to come in Phase Two, and we welcome this new recruit in the fight against climate change.
Team F.G.S. key project members:
FLX Solutions:
Matt Bilsky, PhD, PE
Marc de Vinck
Jason Glickman
Jill Berman
Gensler:
David Bradshaw, AIA, LEED AP BD+C
Alfonso Hernandez, AIA, NCARB, LEED AP BD+C
Douglas Zucker, AIA, IIDA, LEED AP BD+C
Gail Napell, AIA, LEED AP BD+C
Skyline Capital Builders: