What Gensler's Middle East Workplace Survey Uncovers About How to Attract Talent Back to the Office
May 02, 2023 | By Shantam Sharma
It's been over two years since the World Health Organization declared COVID-19 a "global pandemic." Since then, a lot has changed.
Some companies found remote working to be a highly successful solution during the pandemic. Decreased time spent during commute, socializing with colleagues, and prolonged in-person meetings meant that some people were able to be more focused at work. Additionally, some people had more leisure time available with flexible and hybrid work. Meanwhile, other industries were hindered by this new way of working, with decreased client and team interactions. Many felt disconnected from their work, colleagues, and the social and collaborative aspects of their work.
Despite these differences, as we enter the first quarter of 2023 with the pandemic waning and normalcy setting back in, we ask ourselves; what's next?
In Gensler's latest Middle East Workplace Survey 2023 research, we look at the latest workplace findings within the region as we enter a post-pandemic world. Using our latest research insights, we looked at three ways organizations can attract talent back to the office.
People spend most of their time working together
Attracting people to the office first requires understanding where people are working and how they are spending their time working. It also requires understanding the diversity of experiences among office workers and acknowledging the shifts in how people work now, compared to before the pandemic. Compared to the Middle East Workplace Survey 2020, conducted pre-pandemic, we see a significant decrease in time spent working alone (39% in 2020 compared to 28% 2023). Additionally, we found that time spent working with others in-person or virtually has increased from 51% (2020) to 58% in 2023.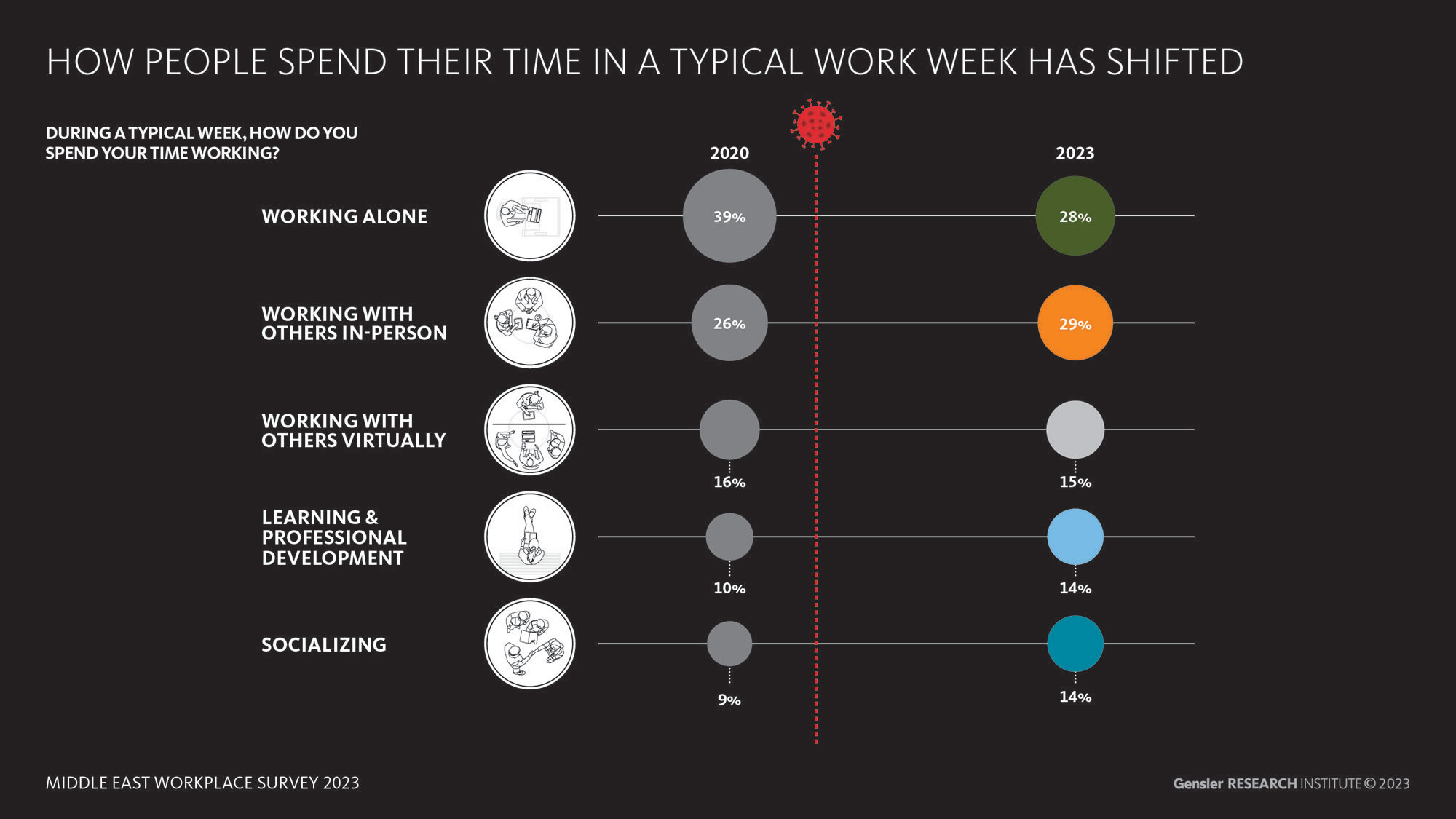 As we redesign the post-pandemic workplace, understanding this fundamental shift is critical for understanding the role of the office. Working alone and focused task work is something that most people report being successful at remotely. However, as we see the trend shifting towards increased collaborative work, it's important to bring people together with the right tools and space types within the office space.
While people spend more time working alone, they also see the office as a place to focus on their work. In fact, "to focus on my work" was the top-ranked reason to come into the office, with "professional development/coaching" and "access to technology" ranking in the top three. This highlights the need for office space to provide access for critical work activities, such as focused work and collaboration.
Within the Middle East, social and collaborative spaces to connect and recharge are plentiful within most offices. These spaces include cafeterias (81%), break rooms (76%), and work cafes (75%) located with their office space. These are highly effective alternative work points for people working both individually and — as shown by the earlier data — increasingly working together.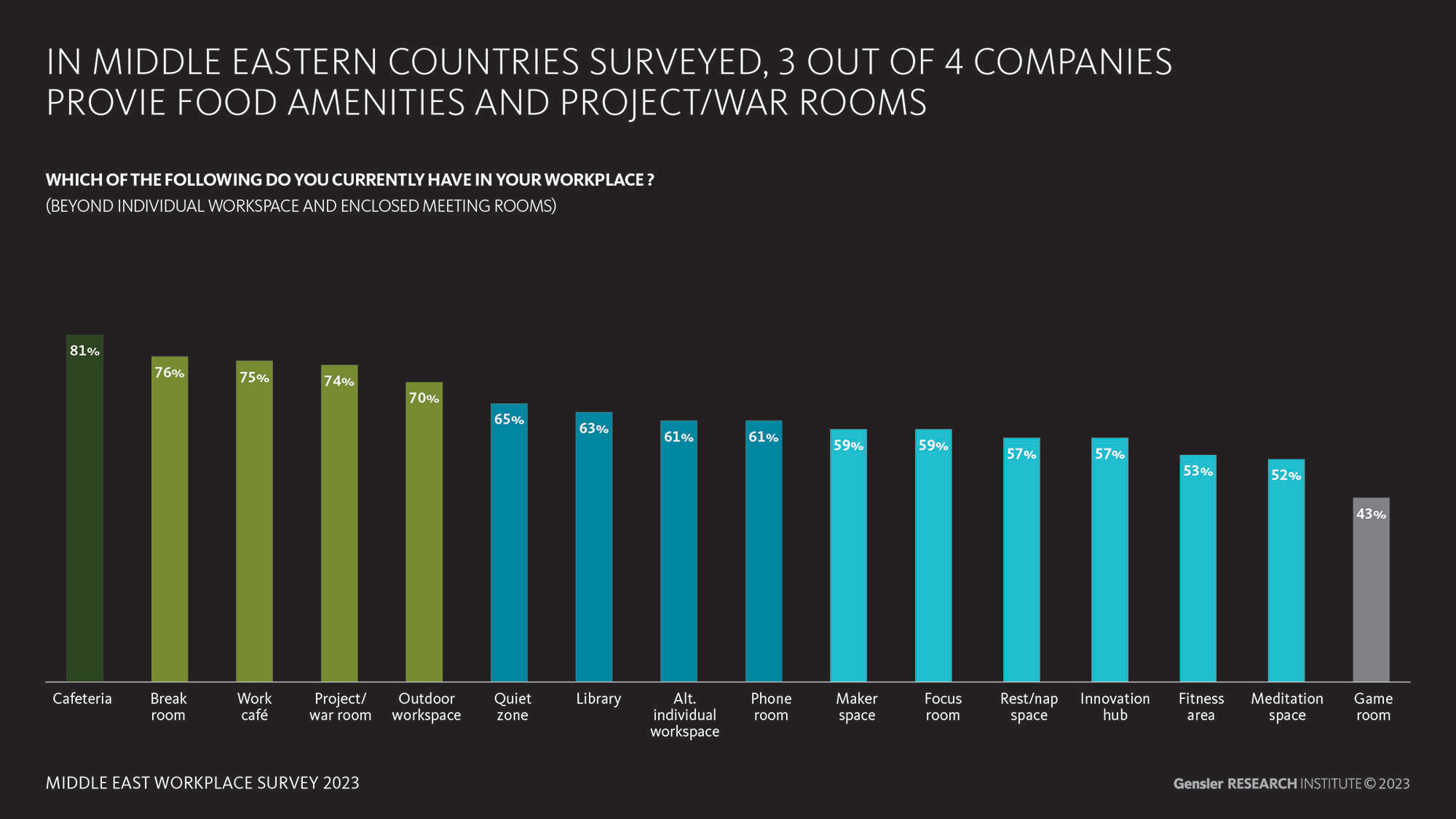 There isn't a "one-size-fits-all" solution
Demographics play an important role when understanding the needs, wants, and desires of different groups within the office space. Younger workers, Millennials and Gen Z, currently account for more than half of the workforce population within the Middle East. As these new generations embed themselves within the physical realm of the office space, it's important to look at differences in how people work. Younger generations prefer a much more flexible workweek when looking at the types of spaces where they spend time working. Compared to Gen Z and Baby Boomers, who spend 51% of their workweek in the office, Millennials currently spend 47% and Gen Z spend 45% of their week within the office space.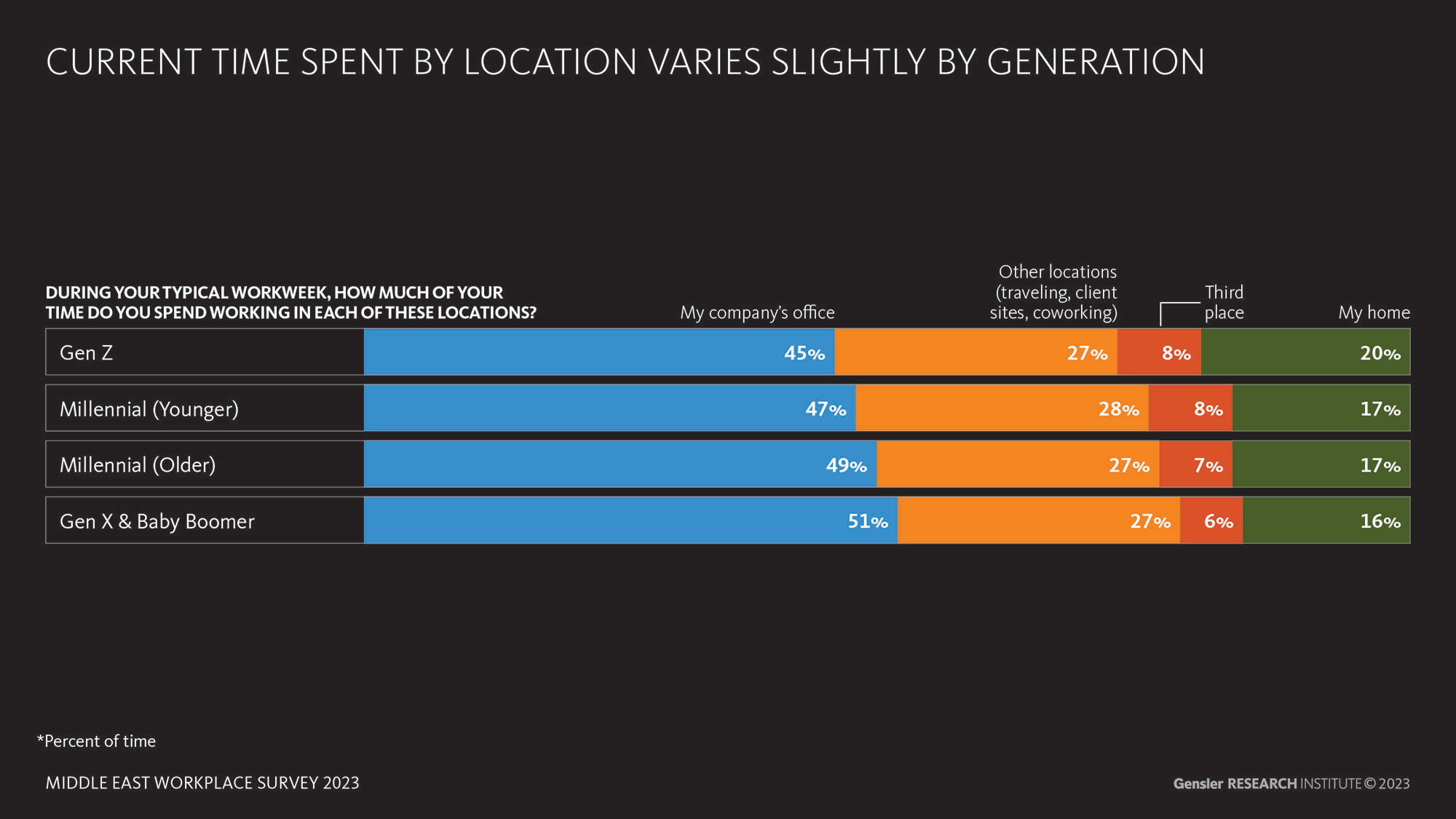 It is critical to design a workplace that's productive and cohesive for all generations by providing a mix of different experiences. By bridging the gap between the office space and "third spaces," such as cafés and coworking spaces, offices can attract younger generations back to the office. It's also important to provide a mix of focus workspaces within the office to give younger workers the choice of alternative seating and increased agility.
When workplaces are equipped with what workers described as their "ideal mix of experiences," Gen Z workers reported that they would be 47% more likely to come to the office one additional day a week. Although older generations are more willing to return to the office, even Gen X and Baby Boomers reported that they would be 38% more willing to come to the office one additional day a week given the right work experience mix.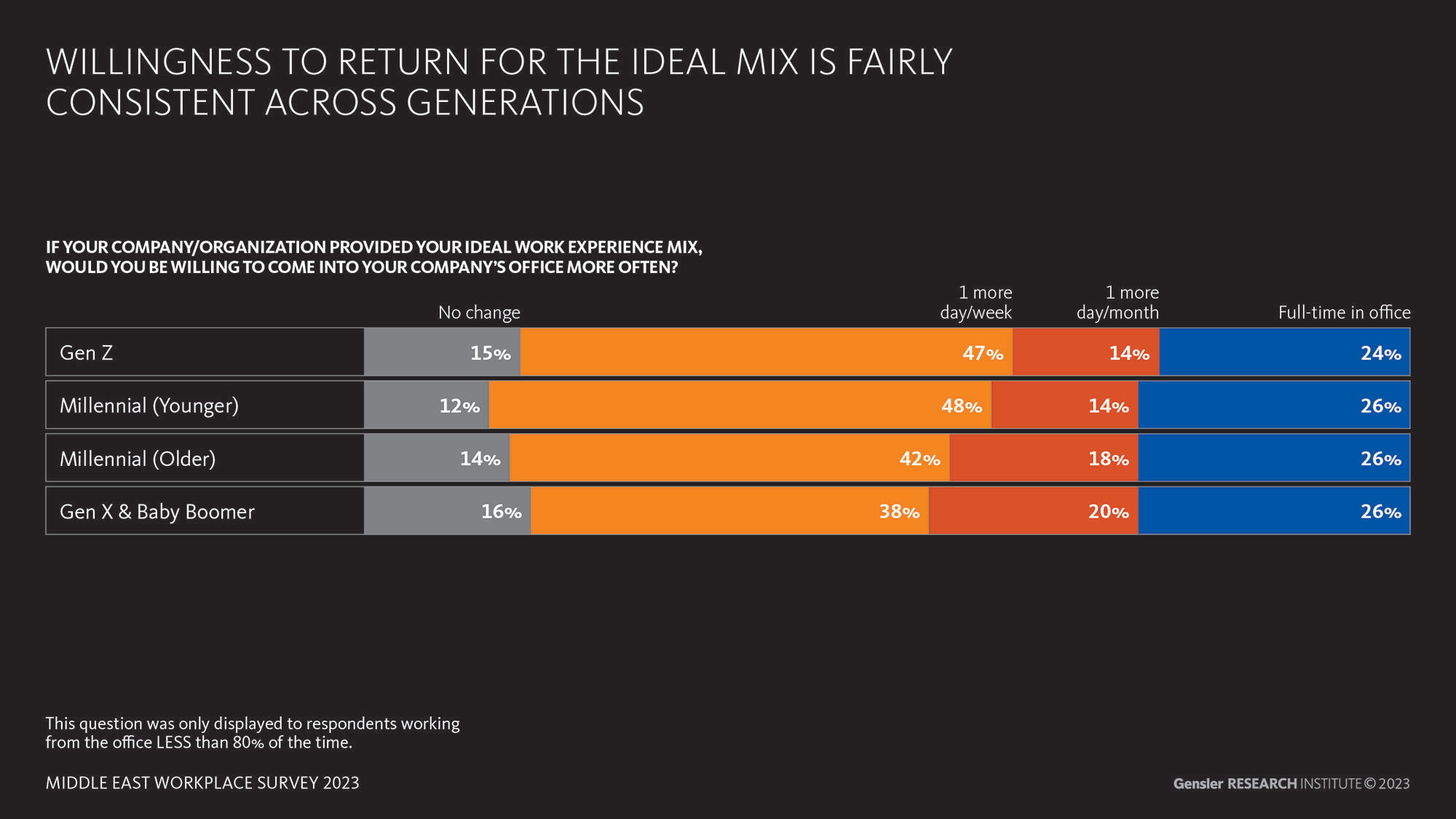 Effectiveness and experience go hand in hand
High-performing companies provide their employees with a variety of focus spaces, informal and formal collaborative spaces, and dedicated hospitality-centered social spaces. In combination with equipping users with the latest technological tools along with a healthy work culture, this leads to some companies operating at a much higher level than others. When looking at spaces that drive workplace effectiveness and great experience scores (comparing scores for people who have and don't have the spaces within their companies' workplaces), spaces for creative group work, quiet work, and outdoor spaces were the differentiators.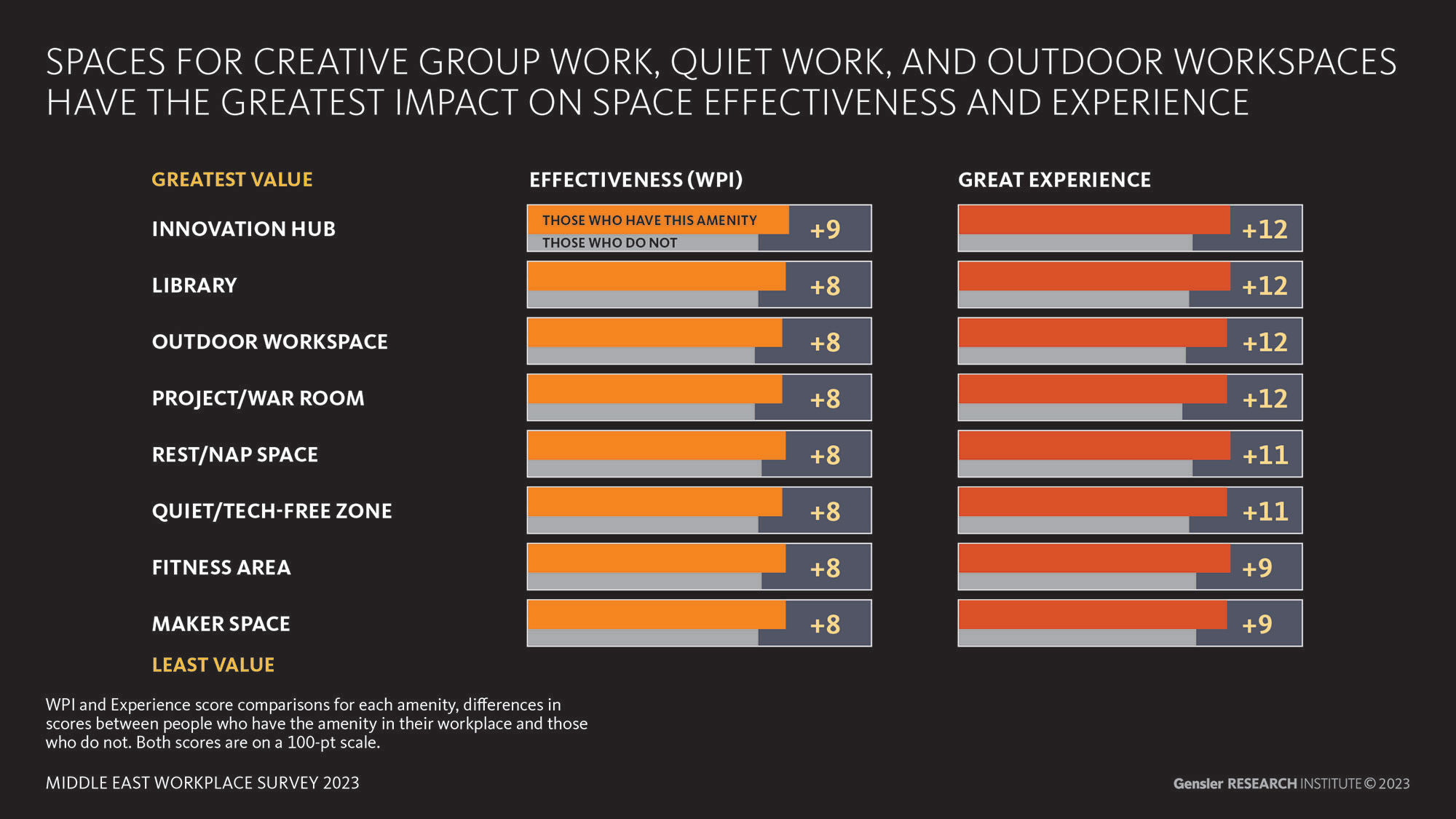 Companies that provide a highly effective workplace and a great workplace experience also tend to be in neighborhoods with more of these amenities/services on-site or near the office. These adjacent spaces around the building also help provide workers with the best experience. Nearly 90% of workers in highly effective workplaces that also offer a great experience are in areas close to food and dining related amenities such as cafeterias (90%), coffee shops (89%), and grocery stores (89%).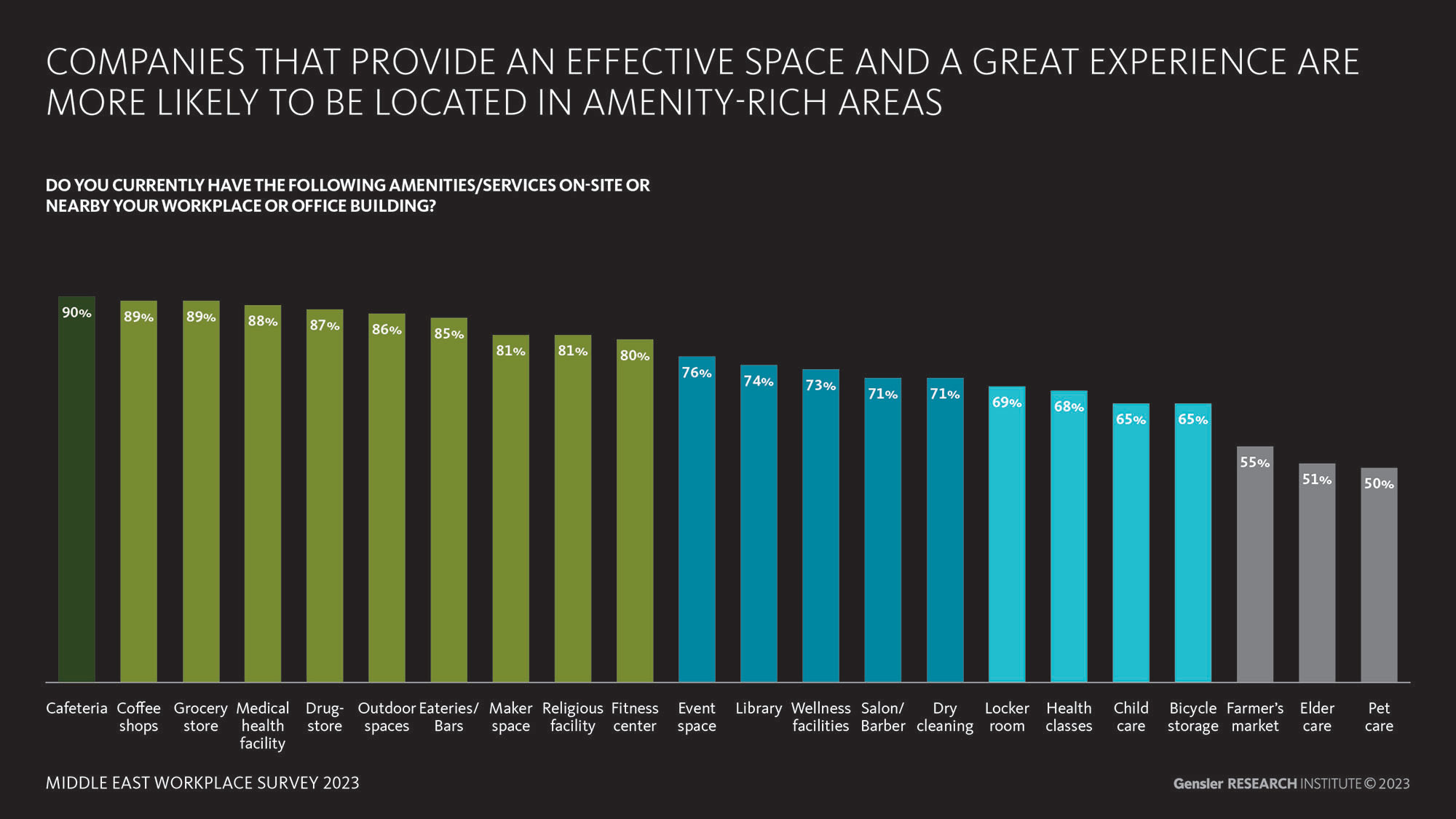 Post-pandemic, the workplace as a tool will need to adapt to attract talent back to the office. First, it's important to understand the ways in which people spend time within the workplace to better understand their needs. Secondly, providing varied experiences helps cater to an ever-changing demographic population within the workplace. Lastly, providing people with effective and experiential spaces encourages more people to physically connect within the office.
Download the full Middle East Workplace Survey 2023 to explore more insights. Stay tuned for additional blogs in the series.
For media inquiries, email .