How Companies Are Using the Office to Transition to the New Reality
November 05, 2021 | By Robin Klehr Avia
Our shared experience of the past 20 months has forever changed the fabric of our society, including the attitudes, practices, and environments attached to the way we work. While 2020's overnight shift to remote work underscored the importance of a physical, shared workplace, it also exhibited our unimaginable resilience and aptitude for change. More importantly, it taught us how to listen. As colleagues, leaders, and a population, we've become more vulnerable, empathetic, and aware of each other's needs — both in and out of the office — and are better equipped to respond to them to benefit our employees, clients, and communities.
Create space for shifting priorities
There's no question that we do need offices, but do we need them the way they were? Now that we are transitioning back after many months apart from our colleagues, it is more obvious than ever that collaboration, mentorship, group innovation, and other critical interactions are hard to replicate at home. There is simply no replacement for being in a room with your team. Since redefining the office's primary purpose, we are now better able to design incredible shared environments that foster those connections we can't recreate from our living rooms.
Several years ago, a good office building was measured in terms of density and efficiency, but now we are looking at the quality of employee experience. In light of the pandemic, an emphasis on personal health and wellness has led companies to add more terraces, clinics, decompression rooms, and workout areas in their offices. Because of this collective shift in priorities, many companies are reallocating square footage by deemphasizing desks and replacing them with multiple seating options — such as café seating, huddle rooms, or terraces — giving employees a newfound sense of autonomy in the workplace. Others, especially in financial services, are repurposing private offices as enclosed team rooms, adding more shared amenities, and grouping work zones by team size and task. It will take time to unlearn some of the work habits we've acquired over the past 20 months, but this freedom of choice can help to slowly acclimate employees back to a shared office setting and encourage social interactions that allow innovation to flourish.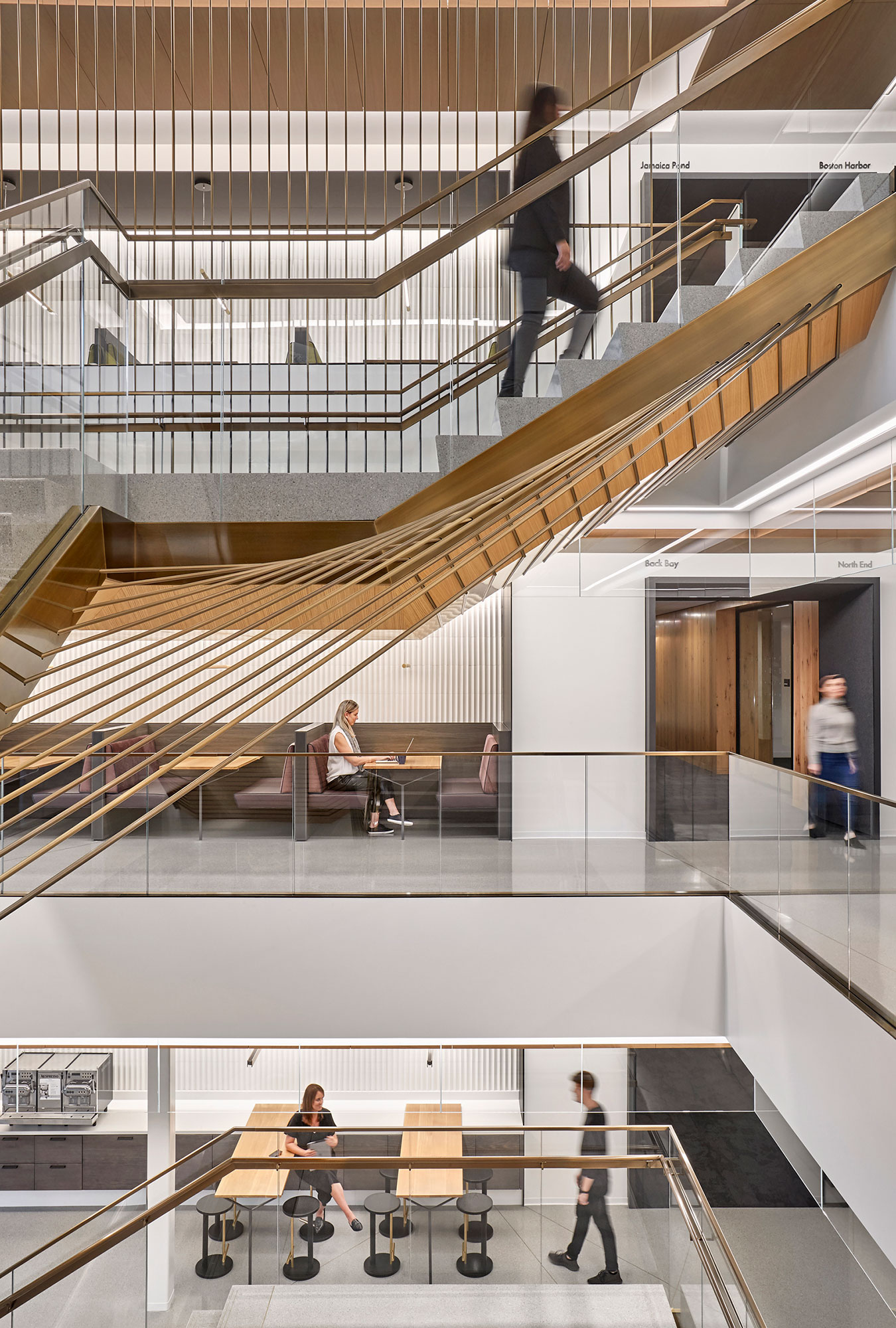 Adapt to evolve, then adapt again
If there's anything we've learned since the onset of the pandemic, it's that change is the only constant. As businesses return to the office, timelines continue to shift, and so do the physical environments they plan to return to. This is further incentive for leadership to provide employees with more amenities that can double as workstations, as needed. A kit-of-parts model can enable not one, but multiple futures by configuring offices with more multiuse (and, for landlords, multi-tenant) spaces for training, town halls, or other in-person scenarios.
In the same way, companies can also integrate technology into their spaces to readily adapt to multiple futures. Technology has bridged the physical gap between us throughout this pandemic, so designing offices primed to use technological tools will continue to be crucial. For example, some of our clients are adding rooms for video calls with optimal lighting, acoustics, and individual cameras and microphones for all participants to improve this transition period until offices are full again. Studio production support spaces will further enable teams to connect with their colleagues and clients internationally. The end goal should no longer be one static, permanent design, but a workplace that can continue to quickly adapt and succeed in any circumstance.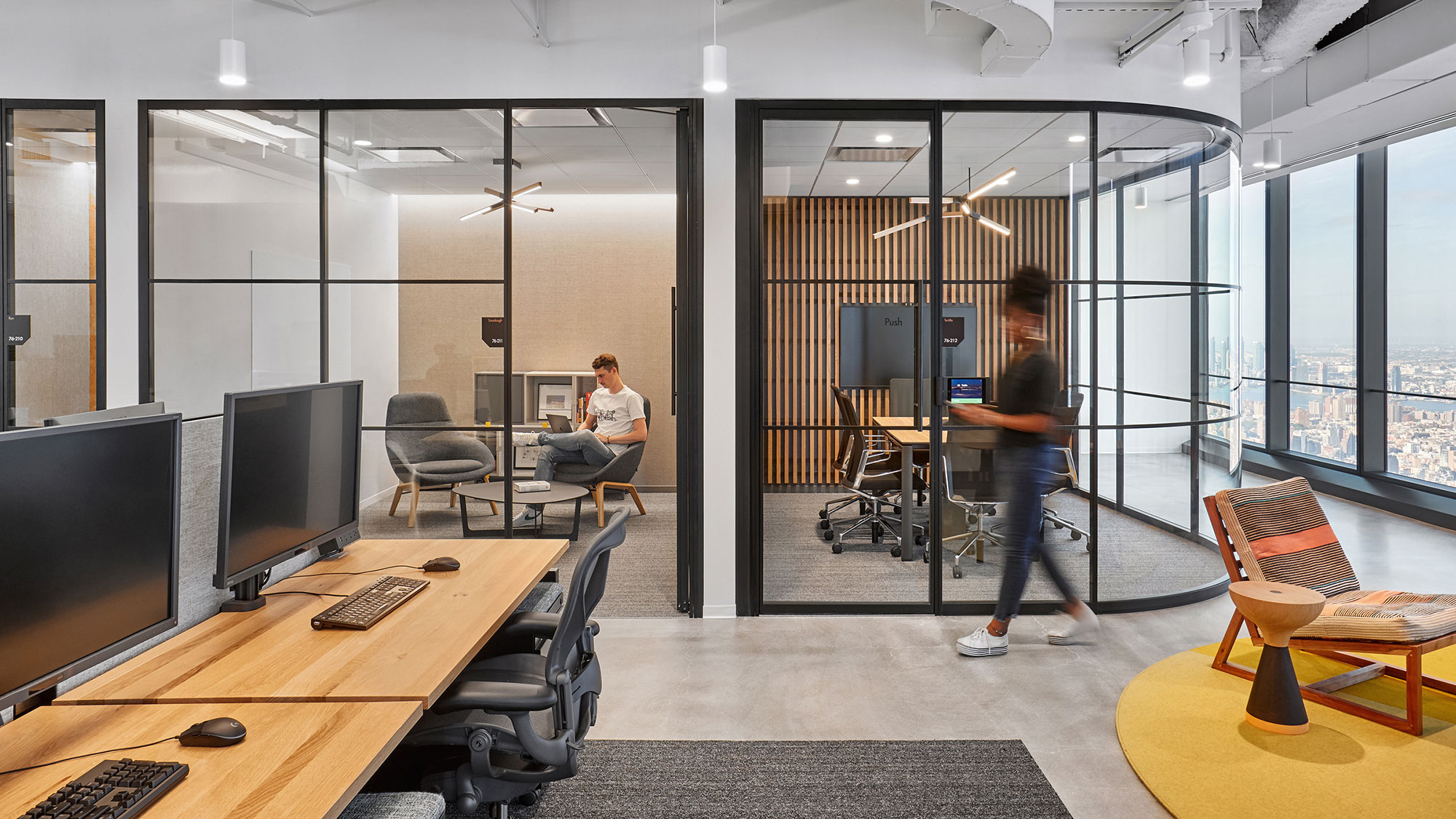 Engage your employee base
The best leaders understand two things: the one-size-fits-all mentality of planning is outdated, and there is value in listening to their employees. For the first time, many employers are now asking employees when and where and how they work best, enabling a unique, persona-driven experience. In years past, employees' workstations were entirely dictated by role, but now they are being asked what they need to harness their professional strengths. Some require well-equipped desks near their team, while others do their best work in cross-functional settings throughout the day.
Now more than ever, leadership from multiple sectors are engaging their team members through roundtables and surveys to gather these insights, prioritize their workers' needs, and attract and retain the best talent. Though decisions will ultimately be made to benefit both the business and its employees, including everyone in the solution will allow leadership to earn trust and gain valuable insights that vary from person to person.
There will be more challenges ahead — if not the continuation of COVID, the climate crisis or the next pandemic will introduce new habits — but by giving employees the power to tailor their own experience, we can create an office that's ready for multiple futures. The most important thing is that the office environment continues to evolve as priorities align with workers' needs and shifting strategic business goals.