3 Steps for Setting the Stage for a Successful Hybrid Meeting
June 23, 2022 | By Bonnie Reese
Hybrid work is now a fixture of our professional lives, which means there are people working outside the office at any given time, resulting in meetings where a roomful of people is engaging with an array of individuals who are dialing in to connect. We need to think differently about these "hybrid meetings" and how to set them up for success. How do we create a shared experience for all the players so everyone is plugged in, and no one is unintentionally left out? How do we ensure that the space, technology, and our behaviors are set up to minimize barriers to and maximize connection?
Given these realities and questions, many of our clients are asking for new meeting room designs and technology solutions that facilitate a more seamless hybrid meeting experience. They're experimenting with new room layouts and integrated technologies to identify solutions that address the challenges.
While we wait for solutions to mature, what can we do today to create a better hybrid meeting experience? To answer that question, we asked and gathered input from our colleagues and clients' projects, resulting in the best practices below. Here are the top takeaways, and three steps for creating effective hybrid meetings:
Step 1: Outline expectations before the meeting.
Think of the meeting invite as the roadmap for the meeting with all the relevant information so everyone has it one place and can refer back, if needed. Remember to include:
Meeting agenda, which states the goals of the meeting.
Links to any technology tools (video conference and other collaboration tools) that will be used (especially if you have individuals who may or may not have used these tools before).
Rules of participation, which set expectations about how you want people to engage ("be prepared to be on camera," etc.).
Be thoughtful and proactive about assigning meeting roles.

Identify who will facilitate, present, and take notes.
Consider new roles, such as owner for room and tech set up and/or chat monitor.
Select the appropriate meeting materials.

Identify formats that will work for virtual and in room attendees.
Consider whether a custom virtual background might create a more unified experience.
Step 2: Set up the room to support the goals of meeting.
Book a conference room that can comfortably accommodate all the in-room attendees, but not too large, to ensure everyone can be visible on camera. Remove all chairs that will not be on-camera so no one can sit there.
For collaborative meetings, use a digital collaboration platform, rather than in-room whiteboards, which are difficult to see for remote attendees.
Arrange the tables and seating in a wide half-circle for the best visibility, both in-room and on camera. Position the host or presenter at the center of the room.
Place snacks outside the meeting room. Avoid options that come in crinkly packaging because the noise they make is often picked up by in-room microphones.
If possible, position cameras above the screen to capture broader views of the people in room.
Ask in-room attendees to bring their laptops and login to the meeting directly to create more equity in how participants view all attendees (and remind them to mute on their local laptops).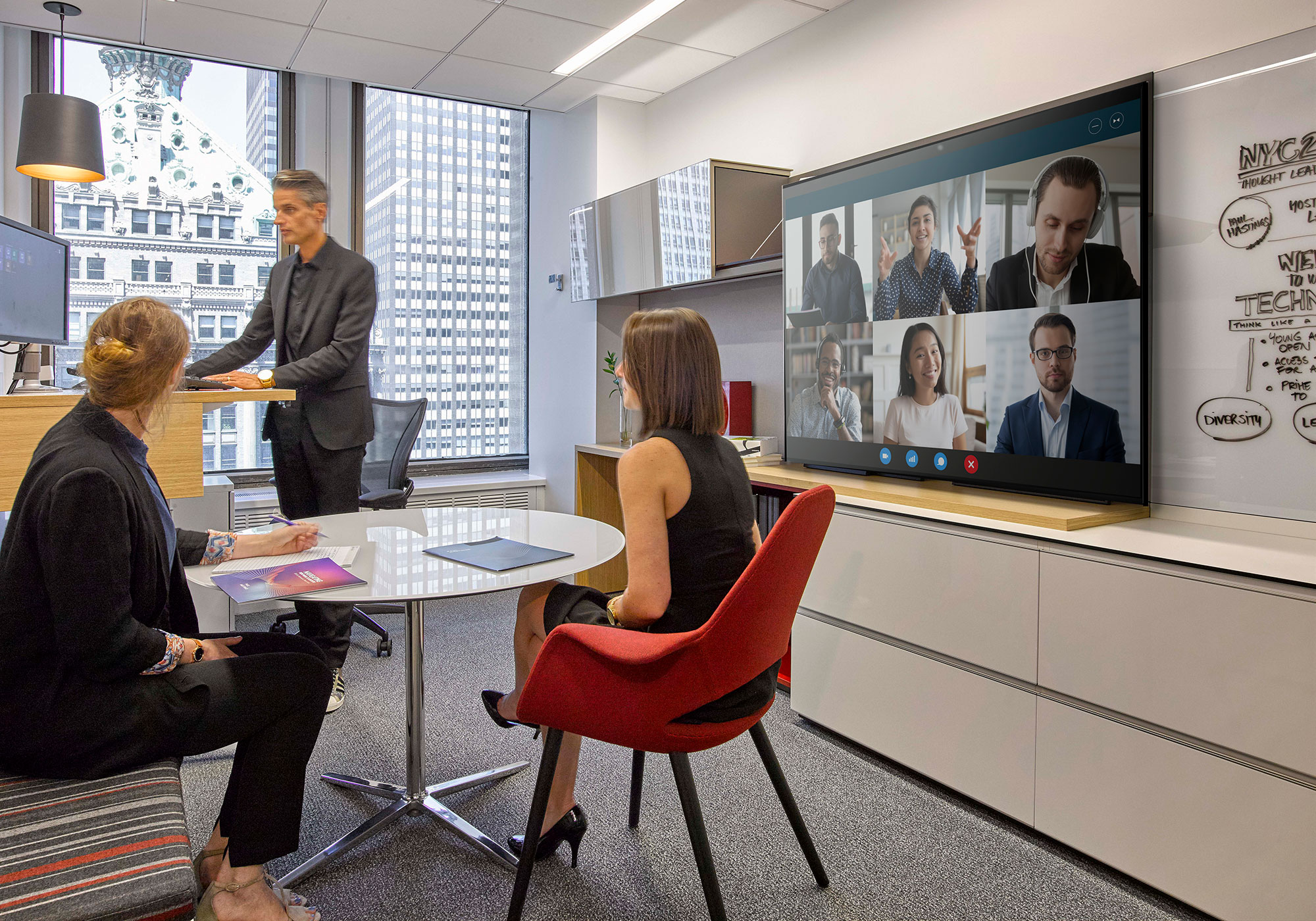 Step 3: Communicate with intention during the meeting.
The meeting host should log into the meeting five minutes before the start time so remote attendees can join in the pre-meeting chatter.
Use the chat to ask a lighthearted, virtual icebreaker question, giving remote attendees time to connect as people filter into the room.
Have the host turn on closed captioning to make it easier for remote attendees to keep track of the conversation.
For introductions, ask remote attendees to go first or alternate between in-room and remote attendees. Identify someone to call out who should go next.
When the meeting kicks off, the host should go over the meeting agenda and rules for engagement for both remote and in-person attendees.
Should they have their cameras on throughout the meeting or only while speaking/asking a question?
How should they ask questions, i.e., should they use a "raise hand" feature or drop them in the chat?
Is there a single notetaker on the collaborative platform or are individuals expected to write their own thoughts on virtual stickies?
Finally, if the meeting calls for breakout sessions, group the remote participants together for ease of conversation and note-taking.
As we undergo this massive rethinking of the physical workplace, it's important to recognize that technology and design can only go so far. Ultimately, it is people's behaviors that will have the biggest immediate impact on balancing the needs of in-person and remote employees. It's a time of great experimentation, and our hope is that it ultimately leads to a more accessible and equitable workplace experience for everyone.
For media inquiries, email .