Financial Firms' Shifting Priorities: Investing in People and Purpose Through ESG Commitments
November 23, 2022 | By Anna Crittenden, Brett Perl
With the global climate crisis reaching a zenith and matters of equity and inclusion at the forefront of social discourse, many companies are publishing sustainability reports and implementing environmental, social, and governance (ESG) frameworks to not only attract top talent, but also to protect their bottom line. For financial services firms in particular, it is critical to consider the market impacts of corporate decision-making, and ESG is beginning to look like a good bet, especially when it comes to the future of workplace design.
According to research published by Bloomberg Professional Services, "companies that perform well on ESG issues financially material for their business tend to outperform the market. Funds investing in these companies also tend to outperform." This type of investing has proven to have real financial impacts, most notably as financial companies assess how risk associated with climate change leads to financial risks.
Then there is the obvious battle for talent that influences companies to enact more robust ESG policies to attract and retain Millennials and Gen Z employees. Gallup reported that employee engagement fell for the first time in a decade in 2021, with only one-third of respondents feeling invested in their job. This left many firms looking for ways to reengage their employees — and attract new ones — in a meaningful and fulfilling way. Forbes recently explored ways in which ESG programs can help boost employee engagement by making ESG inclusive of all stakeholders, investing in initiatives that align with the company's core expertise, and creating internal ambassadors to promote sustainability.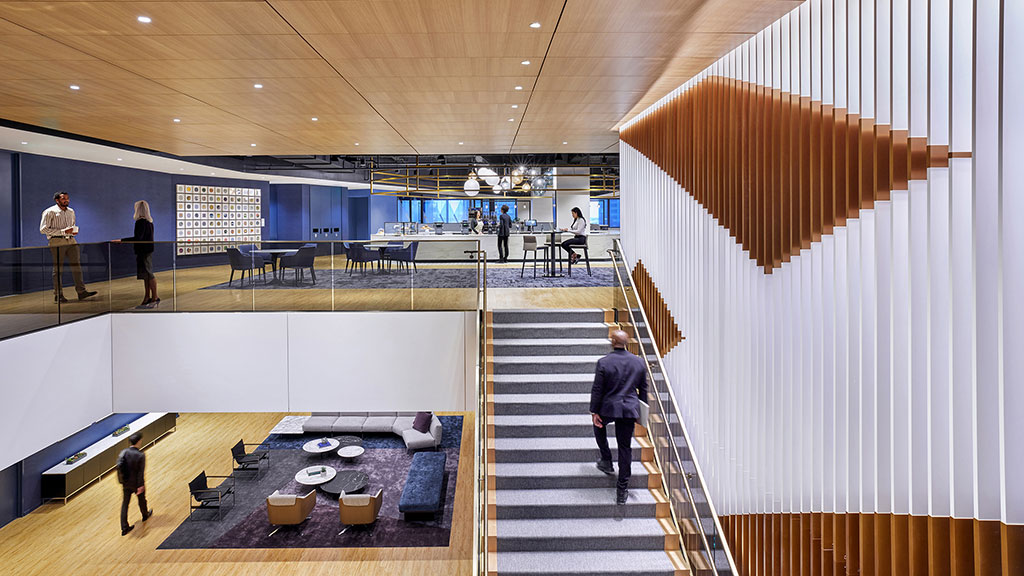 Many of our clients, including a number of financial firms, are making bigger commitments to climate action and social equity policies in the design of their workplace. For instance, one of our global investment banking clients is dedicated to weaving ESG factors into their corporate purpose and performance because they will be able to deliver greater value to their investors, their portfolio companies, and the communities they serve.
The commitments of our clients align with Gensler's own mission to transform the built environment for a sustainable and equitable future with every project, in every location, and for every person. Through the Gensler Cities Climate Challenge (GC3), our Green Materials Initiative, and Inclusive Design strategies, we are working with our clients to bring these commitments front and center in the design of their workplaces and help them align their ESG goals with the investment they are already making in their physical workspace.
Here are three ways we are helping clients put environmental and social commitments front and center in their workplaces:
#1 Financial firms are building out new features and amenities to attract talent from all backgrounds.
While amenities like work cafes and phone rooms have become common place in most workplaces, many of our financial services clients are asking for unique amenity experiences that draw in a diverse talent pool. These include barista service, associates lounges, mothers' rooms, wellness centers for physical therapy and mental health support, and fitness centers and daycare facilities to provide flexibility in employees' schedules.
Financial firms are working more closely with local food purveyors in their hospitality programs. We are also enhancing architectural elements in the workplace with features like interconnecting staircases to encourage movement and employee connections and terraces to provide a connection to the outdoors.
We are also are integrating inclusive design strategies, such as fully accessible entrances and accommodations for individuals who are d/Deaf or hard of hearing, to create a work environment that's comfortable and flexible for all. Additionally, we are working with our clients to create spaces with expanded technology to support digital collaboration as firms are realizing the opportunity to reduce travel.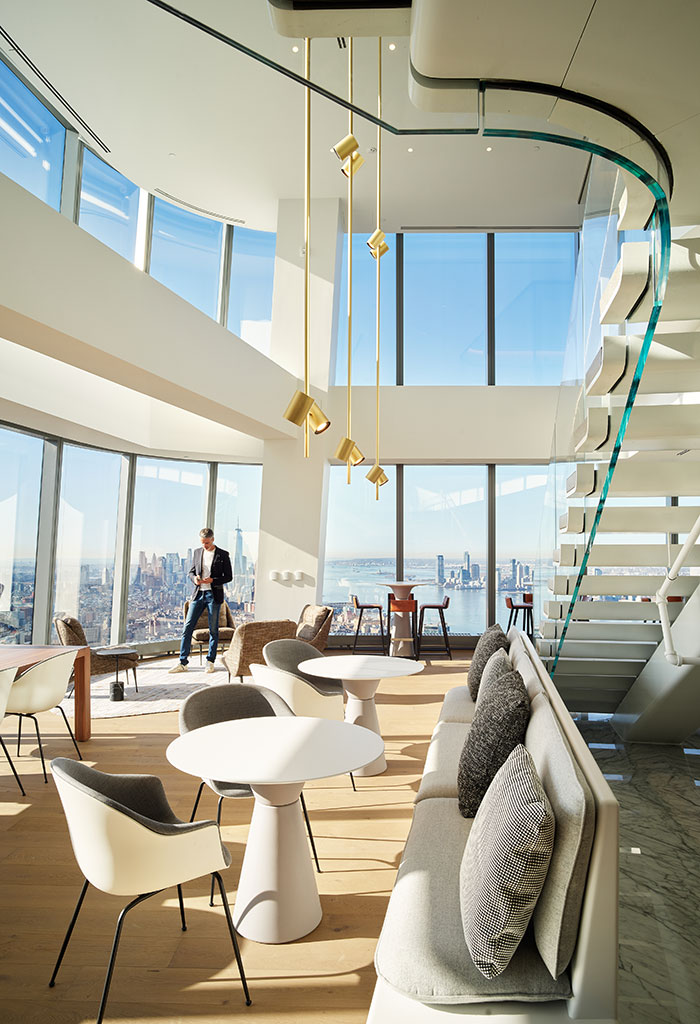 #2 Engage with the supply chain and be intentional about how to reduce carbon footprint through the entire design process.
Financial firms often appreciate authentic and timeless materials. We work closely with our financial services clients to take that appreciation to the next level to set sustainability and resiliency goals from the very start of a project, allowing our teams to strategically identify every opportunity for waste reduction and divert as much construction waste as possible from landfills.
Mallory Taub, a sustainability director in Gensler's New York office, commented that "for workplace design projects, materials selection represents a substantial opportunity to drive down carbon. Our life cycle analysis service provides project teams with opportunities during design to understand the embodied carbon reduction of specific materials and identifies opportunities to drive down reductions through alternative materials, assemblies, and/or broader design decisions."
In addition to recycling unused materials, we strive to reduce the embodied carbon on every project with strategies like reducing the total amount of material by designing open ceilings, using either reclaimed or Forest Stewardship Council (FSC) certified wood, or selecting low embodied carbon carpets, which are widely available and a significant opportunity for interiors projects. Gensler has revamped the resource libraries in our offices to include more sustainable and locally made materials, making it easier for our designers to choose these sustainable materials.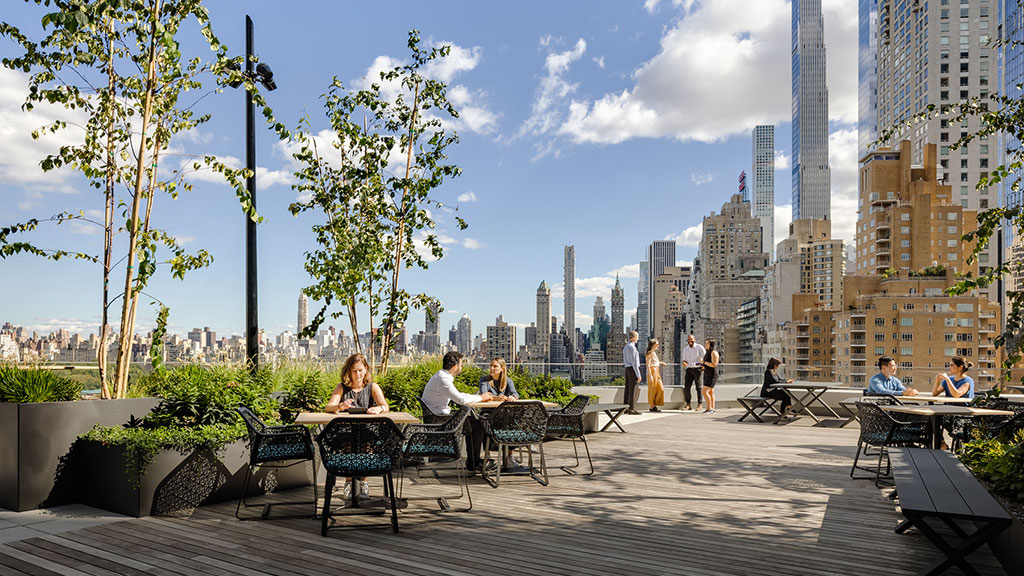 #3 Financial firms are creating greater employee engagement by aligning their workplace with their values.
Many employees are searching for purpose-driven work cultures that align with their values. As a result, many of our financial services clients are investing in robust sustainability and corporate responsibility initiatives to attract top talent. To help our clients achieve their broader sustainability and wellness goals within the workplace environment, our designers strive to source local, natural, and renewable materials, and to highlight these in the space so our clients can share their own sustainability stories.
Troy Grichuk, a design principal in our New York office who focuses on interiors for financial services firms, noted that "we try to engage with our clients to understand what is really important to them. One recent client was really interested in collecting art for their workplace, so we suggested they procure vintage furniture pieces and restore them, instead of buying new furniture. For another client, we evaluated which pieces of furniture had meaning and value to the client, and suggested reconditioning and reusing furniture to reduce waste."
Our clients are looking to us for help realizing their sustainability and inclusivity strategies through their work environment to attract like-minded clients and employees and to create a workplace with lasting value. While solutions need to be tailored to each client's goals and values, Gensler is able to leverage our global reach to shape a positive future, and we are committed to implementing a holistic approach to design resiliency and equity on every single project.
For media inquiries, email .