Torre Judicial
San José, Costa Rica
A New Model for Sustainable Government Workplaces
A new government workplace building designed to maximize energy efficiency, performance, and occupant well-being while enhancing community health.
Through a new 14-story office building in San José, Costa Rica, Torre Judicial takes a transformational approach to a government workplace to deliver innovation, flexibility, and agility. The design fosters an open, collaborative, and sustainable experience for government employees, partners, and citizens alike. The building will be part of a group of historical buildings adjacent to the Supreme Court of Justice. Torre Judicial's new workplace is a platform for creativity and performance, with design principles like balance, flexibility, and human experience at its core.
PROJECTED OUTCOMES
LEED Silver
37% reduction in water usage
28% Lighting Power Density reduction over baseline
77% Energy Use Intensity reduction over baseline
Improved wheelchair access by 100%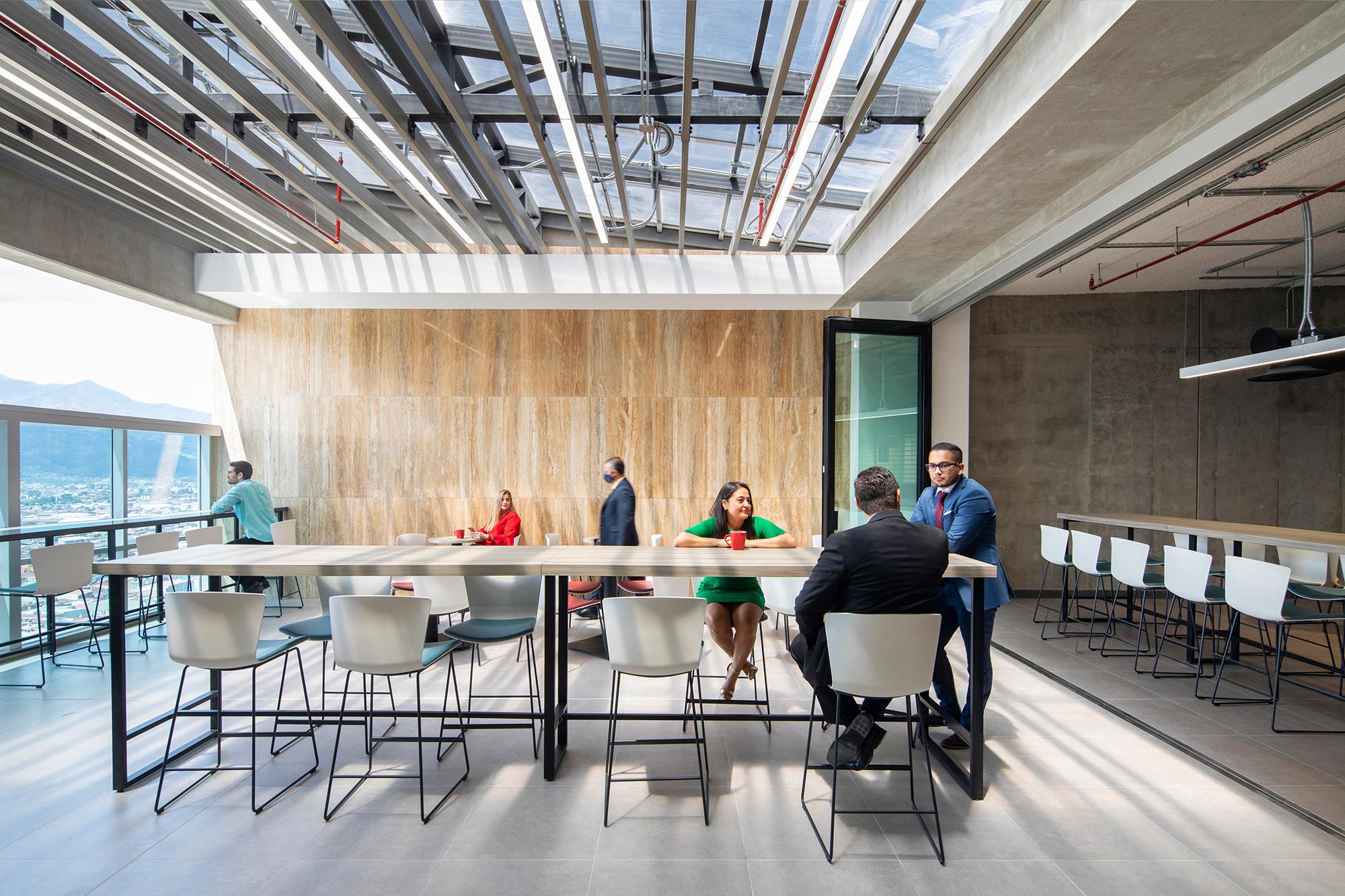 CHALLENGE
Gensler worked with Torre Judicial to design a resilient facility that puts health and wellness, sustainability, inclusivity, and technological advancement at the forefront. As a civic building, it was critical that the design align with Costa Rica's wider decarbonization goals, which include a comprehensive plan to be one of the world's first carbon-neutral countries by 2050. And while the aesthetics of the building needed to merge seamlessly with the surrounding historical buildings, new ways of thinking about climate-positive design strategies met the client's desire to be one of the first government buildings in Costa Rica to achieve LEED certification.
SOLUTION
An intensive, interactive design process between the client and consultants resulted in a civic building that sets a high standard in environmental and energy sustainability. From the project's inception, we knew that we would use exterior stone with a similar look and feel to the surrounding historical buildings. However, deeper considerations were needed to figure out how to merge other aspects of the past and present in a modern, sustainable way.
SUSTAINABLE DESIGN STRATEGIES
Flexible Design Solutions
The government office building's offset core allows for maximum space planning flexibility and efficiency, while also offering more collaborative workspaces with access to daylight and scenic views. The cafeteria, the epicenter of the employee experience, was designed as a flexible space that can transform into a training room, an enclosed meeting space, or a large gathering area for events. All spaces were designed with future growth in mind, with a flexible building module that allows Torre Judicial to adapt to the evolving needs of its community.
Prioritizing Sustainable Commutes
The project is strategically located at the heart of an intercity communication point where train, bus, bicycle, and pedestrian routes converge. To support this interconnectivity and encourage the use of alternative, energy-efficient forms of transportation, the building provides dedicated spaces for bike storage, locker rooms, and electric vehicle (EV) charging stations. Such multimodal, sustainable public transportation is a key feature of tomorrow's livable cities initiative.
Water Efficiency
We achieved a 37% reduction in water consumption in interior spaces through efficient toilets, faucets, showers, and dry urinals. All water subsystems within the building are metered, allowing the replacement of the chilled water system and cooling tower to be controlled. Outdoors, water consumption is reduced by 45% (compared to a baseline structure) through reduced irrigation due to the implementation of native landscape.
High-Performance Facade
Our design solution democratizes daylight allowing staff and users to benefit from its natural health benefits. We conducted an extensive solar analysis to maximize natural light and create efficient lighting patterns within the building. Louvers and high-performance glass optimize the facade's performance and energy use efficiency. The varying density of the louvers allow the lower levels of the building (where the courtrooms are housed) to have more privacy and security. Louvers on higher floors where employees work are less dense, providing more daylight and a view of the mountain range.
Total Accessibility
Textured brick pathways and expanded entrances to the building improved wheelchair access by 100% and increased accessibility well beyond local code requirements. Additionally, we created an access plaza by retracting the prominent east corner of the building away from the sidewalk, returning space to the community and providing a welcoming area for employees and visitors to the building.