The Resilient Workplace is Purposeful, Inclusive, and Collaborative
September 19, 2022 | By Kerri Henderson
A resilient workplace is more than just a sustainable or environmentally friendly workplace. It is one that is purposefully designed for hybrid working and supports diversity and inclusion through both the physical space and organizational policies.
As we emerge from the pandemic, it's clear that hybrid working as part of typical office work culture is here to stay. Office work companies across the globe have implemented flexible working, and while leaders many be considering the ideal balance of time split between the office and working from home, most continue to offer work-from-home flexibility. As we look to the future, companies and employees alike are concerned about what hybrid working means for them.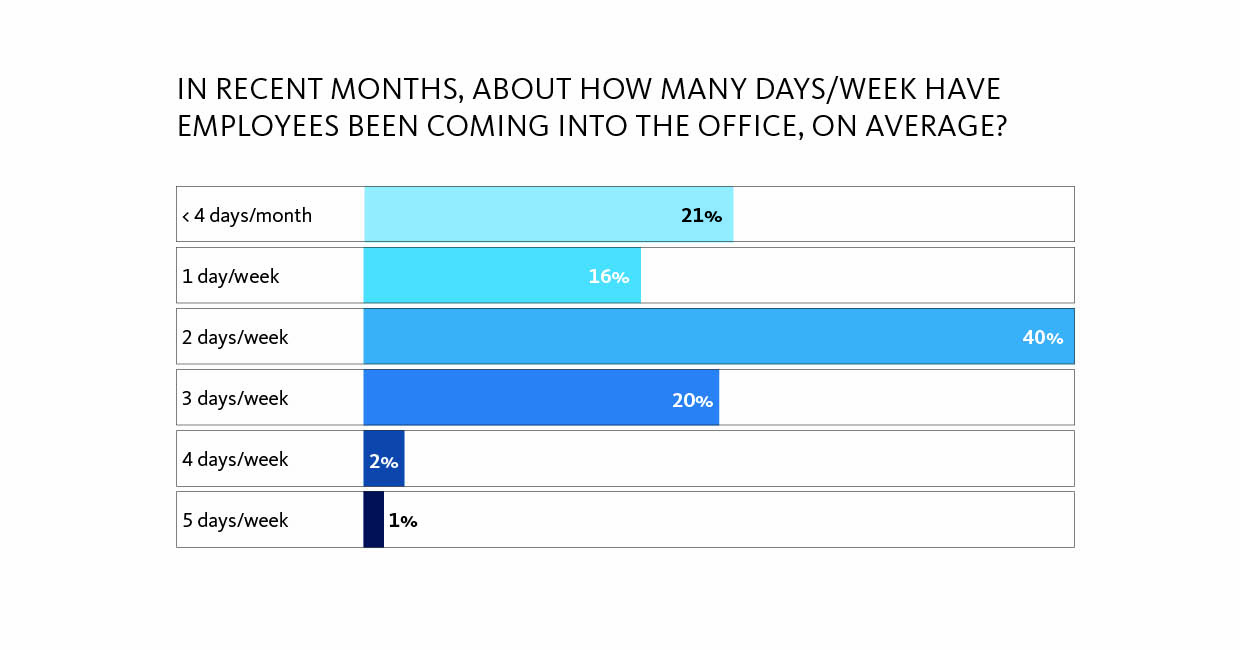 We polled CoreNet Global members around the world and respondents told us that the number one priority of their organization was attracting employees back to the office. At Gensler, we often talk to organizational leaders about the future of work and how it affects their workplace. Leaders have consistently told us that it's important to attract employees back to the workplace to support their work culture. Having a strong work culture is linked to increased business performance and talent retention. But is increased on-site presence the current missing link to building a strong work culture and 'bouncing back'?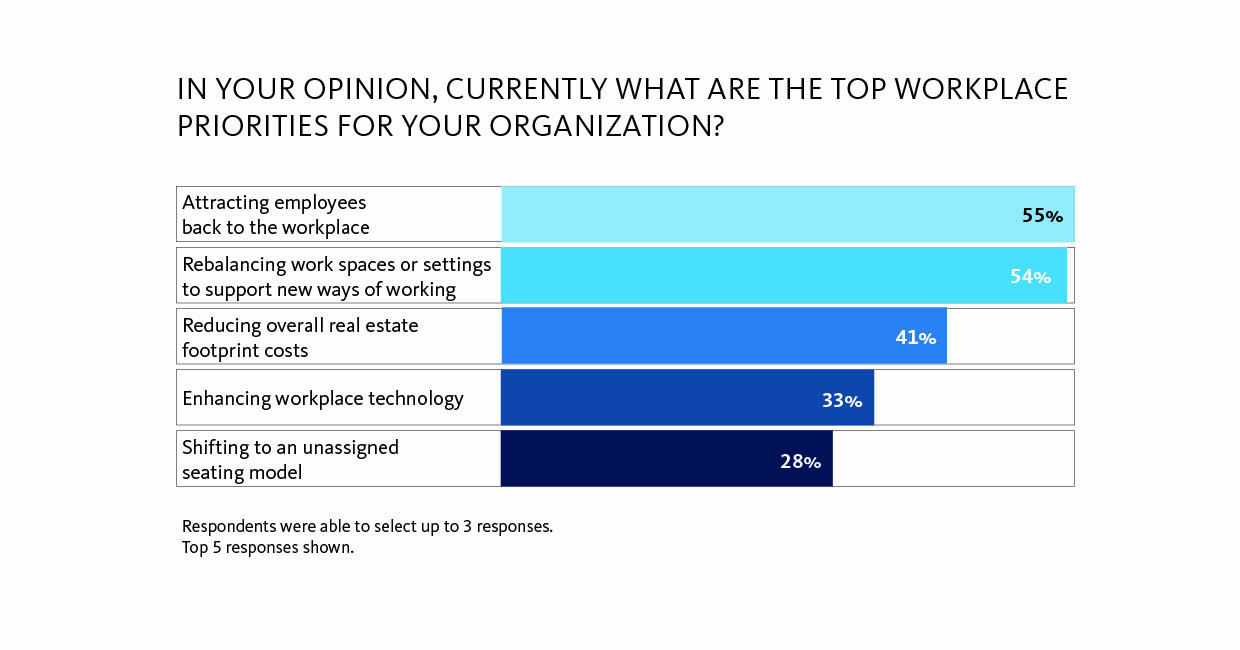 In order to attract employees back to workplaces, organizations have implemented upgraded workplace technology (42%), are offering more flexible daily work hours to avoid peak commute times (46%), and are programming on-site social events (39%) to bolster connection. Many have also implemented policies encouraging or requiring employees to be on-site a minimum 3 days/week.
Employees agree that being together on-site is important, but being on-site to meet a recommended presence quota doesn't resonate. When we asked employees "what is the most important purpose of the workplace?" overwhelmingly 87% responded that collaborating with their teams in-person was paramount. Connecting with each other socially is important to employees, through less so than when working from home was in full swing. Today less than half (39%) prioritized social connection as a most important reason to be on-site.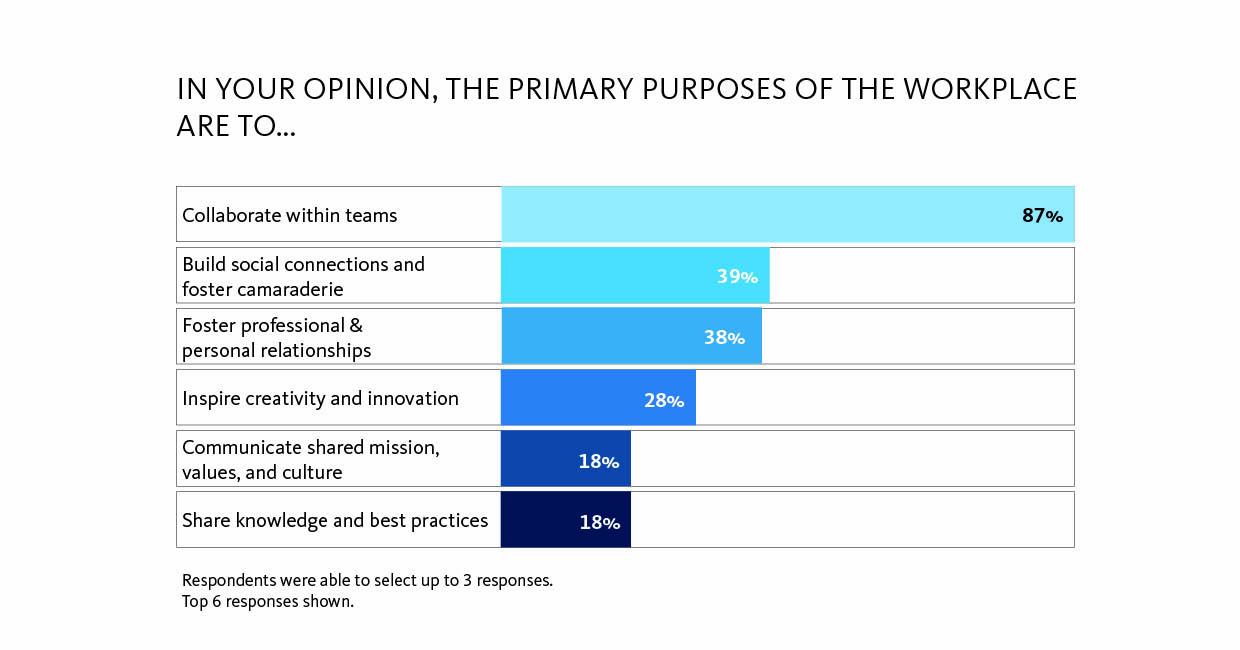 Similarly, what attracts employees to an employer or workplace has shifted. Large, on-site wellbeing amenities, particularly dedicated fitness or gym amenities are less of a draw today than they were pre-pandemic, when working on-site 5 days per week was the norm. Our understanding of employee wellbeing is evolving to be more holistic and inclusive. 86% of survey respondents shared that from their organizations view employee wellbeing is a shared responsibility between the individual employees and the organization. Increasingly, this means not only providing wellbeing spaces, but purposeful workspaces, and flexible and inclusive policies to support a diversity of employee needs and preferences.
From a spatial perspective, providing a diversity of workspace types and settings (65%) and a diversity of seating options to support different body shapes and sizes (66%) top the list of inclusive design strategies that organizations currently include or are looking to include in the near future. Providing the best balance of work settings to support teamwork, like collaboration spaces, project rooms, and meeting rooms, aligns with why employees want to come into the office – to work together in-person. It also tells us that for employees, returning to the workplace is highly intentional. What people really want is the ability to use their time in a purposeful way.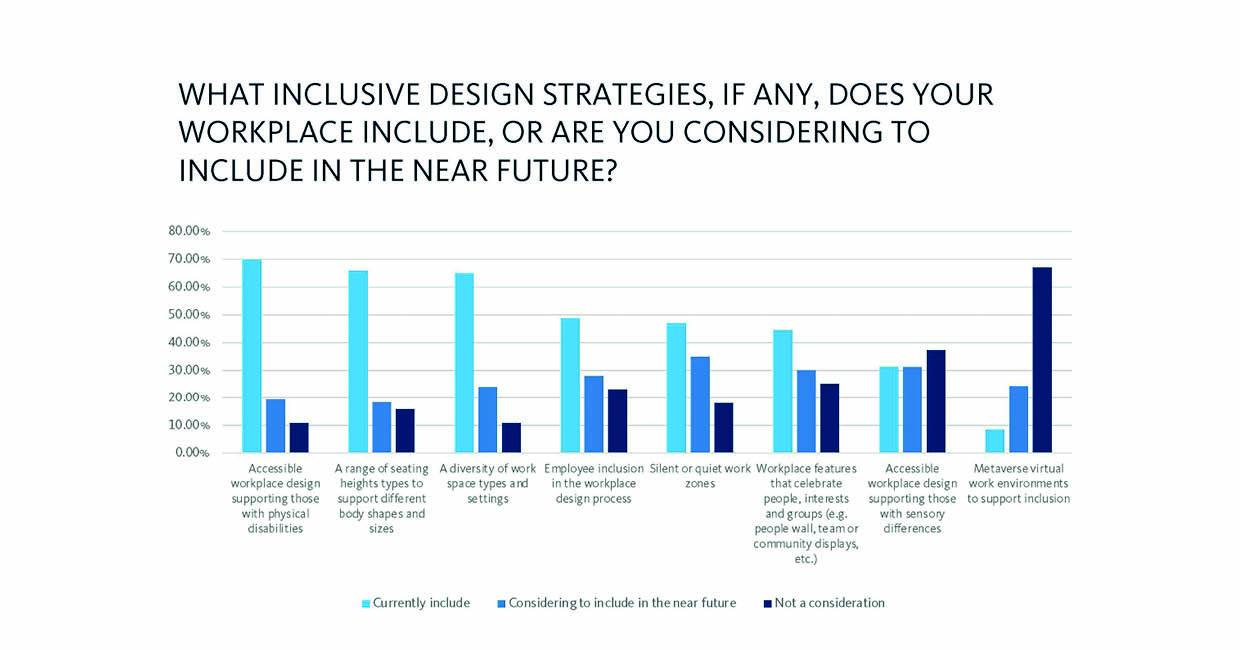 From a policy perspective, just over half of respondents shared that their company has an enterprise-wide policy or recommendation outlining how often employees should work at the office, as compared with location, department, team, or individual-driven policies and recommendations. 42% of organizations are currently mandating specific days/times employees should work in the office.
Working together in-person on set days, as was more the norm pre-pandemic, is a convincing and familiar strategy for building work culture. But what if building a strong work culture could also be achieved through efforts to be more inclusive of employee needs and preferences?
Giving people the choice freedom to work flexibly and the office spaces to work collaboratively and purposefully may be the best way to foster a strong work culture; one that supports inclusivity because it enables individuals to work in the way that is best for them.
In order to draw employees back to the workplace, it must be designed first and foremost to support working together in-person. Without great spaces to facilitate collaborative work, working from home may continue to feel more like a more productive use of time.
For media inquiries, email .