100 New Bridge Street
London, England
Repositioning and Materials Reuse Transform a Central London Office Building
A central London structure, repositioned with a strong commitment to material reuse that maximizes the building's sustainability, wellness, and ESG credentials.
Despite its central location, 100 New Bridge Street had not undergone any substantial refurbishment since it was completed in 1992. Going on 30 years old, it has become outdated because of the lack of views, access to fresh air, amenities, and other features that today's tenants are looking for.
Our proposed design seeks to redefine 100 New Bridge Street as a contemporary, Grade A office building, which will operate to the highest standards of sustainability. By refurbishing the existing building, the project will require significantly less resources than a new build scheme. The office building repositioning presents an opportunity to boldly rethink the property's use of materials, and to reimagine the future of New Bridge Street.
PROJECTED OUTCOMES
BREEAM Outstanding
NABERS 5.5 Star Rating
WELL Platinum Enabled
WiredScore Enabled
95% target for reuse, recovery, and recycling of construction waste
85% average floor plate efficiency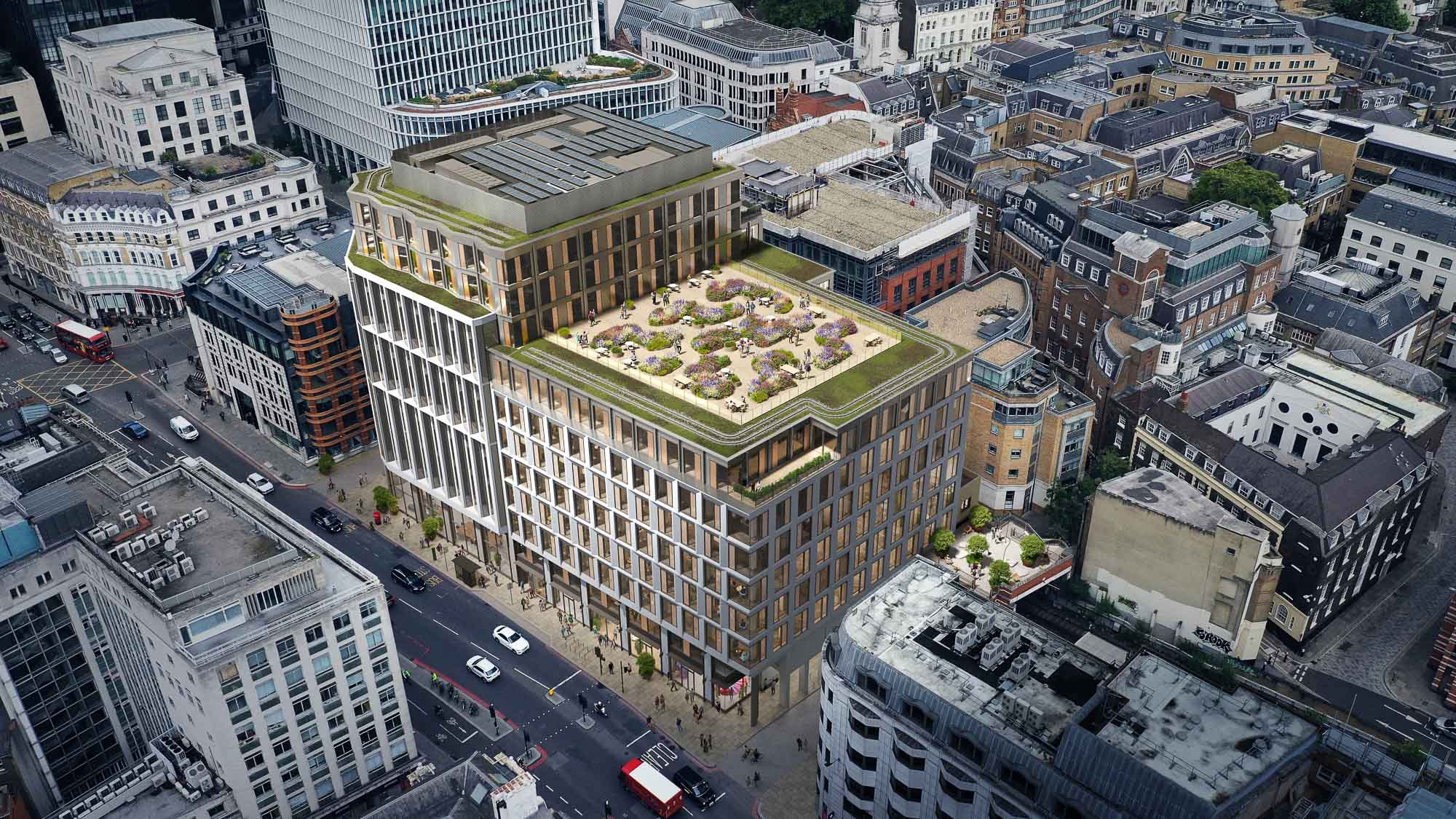 CHALLENGE
The client, Helical, has a reputation of delivering sustainable, best-in-class office buildings, so they sought out partners that could transform 100 New Bridge into a premium workplace that was also a model of sustainability.
Out of the gate, we knew the design had to address several ambitious sustainable goals. The client wanted the building to be certified BREEAM Outstanding and target a NABERS 5.5 Star Rating with the aim of achieving zero carbon in operation. The base build design also had to be WELL Platinum and WiredScore enabled. Implementing recognized design standards and maximizing the building's sustainability, wellness, and ESG credentials help to inform a more attractive offering to attract tenants and retain a highly skilled workforce.
SOLUTION
To address these goals, we developed a proposal to conserve, upgrade, and enhance the existing structure, and we made a commitment to reuse as many materials as possible to lower the building's initial embodied carbon footprint.
A site visit early in the design process helped identify potential items for reuse within the existing building. After that, we were able to incorporate reused items into the proposed design with a goal of reducing the total waste directed off-site. This effort, combined with a material specification strategy that prioritizes products with recycled components and Environmental Product Declarations (EPDs), will significantly reduce the project's overall carbon impact. This adaptive reuse strategy became the foundation for the overall performance of the building, and it sets the stage for future adaptation, reuse, and disassembly.
SUSTAINABLE DESIGN STRATEGIES
Enhanced Facade Performance
The project includes a full facade replacement to three elevations. The new facades are designed to reduce solar exposure with serrated modules and chamfered elements to the west and south, as well as fritted glass to reduce glare and cooling costs. The facade has enough solidity to mediate between views, solar gain, and good quality lighting to create a healthy work environment. Operable windows allow fresh air and tenant flexibility to adjust the mechanical, electrical, and plumbing engineering (MEP) systems. This high-performance new facade enhances views from multiple points on the inside and outside while respecting the surrounding area's historical heritage.
Modular Prefabrication
The design team introduced prefabricated modular elements into the project to maximize efficiency and minimize waste. We used a prefabricated unitized facade approach — where components are bought together as a single unit from the factory and installed on-site — to help streamline construction schedules, reduce construction costs, and improve assembly quality. By prefabricating modular components off-site, the team reduced the amount of material waste that occurs through inefficient material cutting on-site.
Enhancing the Neighborhood
The project will undertake significant improvements for the neighborhood around the site, including upgraded hardscaping, improved lighting, and urban greening. The roof will be converted into a tenant terrace, and greenery will be added to all horizontal surfaces, providing a healthy outdoor environment for tenants and visitors. By reorienting the building and giving it a clear entrance, the project will increase pedestrian flow and views toward neighboring St. Paul's Cathedral. These enhancements will improve community engagement, enhance tenants' and visitors' access to plants and trees, and activate the ground plane.
Minimizing Waste to Landfill
We established a 95% target for reuse, recovery, and recycling of construction waste. Waste is being treated as a material resource, carefully managed by the design team to ensure that the minimal amount is sent to landfill, and the maximum amount is reused, such as granite panels from the existing facade repurposed as part of the building's interior fit out. Waste streams from construction will be directed to recycling plants, waste materials that can be reused will be redistributed to other industry material needs, and only unrecoverable materials will be sent to landfill.
The Building as a Material Bank
The circular economy strategy gave our designers the idea of positioning the building as a material bank — a repository for the preservation of existing materials, many of which are in good enough condition to form part of the new construction. Some of the materials identified for reuse include nearly 4,000 square meters of metal ceiling tiles that will be repurposed into new ceiling rafts and more than 180 square meters of stone roof ballast that will be repurposed as a fireproof perimeter to the façade. Additionally, approximately 81% of steelwork in the building is existing, and the project is retaining 91% of reinforced concrete lift cores, 85% of reinforced concrete walls, and 90% of the composite metal deck floors.
Low-Carbon New Materials
The project's material needs won't be met by reuse alone, so we came up with a plan to identify low-carbon new materials. During the early design stages, we conducted comparative embodied carbon studies to inform the material selection process. Cross-laminated timber (CLT), a low-carbon alternative to steel, has been specified for structural interventions wherever structurally feasible. Additionally, locally sourced materials and products with recycled components and Environmental Product Declarations (EPDs) are prioritized and specified to minimize the carbon impact of new materials.
Circular Economy Strategy
The decision to prioritize material reuse was as much a business strategy as it was an environmental goal. When considering the thousands of square meters of ceiling tiles, raised access floor tiles, mosaic tiles, granite cladding panels, and other existing materials within the building, the team first determined how much of this material could be reused in situ to reduce the financial and environmental cost of using virgin materials. Reuse also expedites the demolition phase and overall construction program.