The Case for Mass Timber: How First United Bank Is Creating a More Sustainable Future
April 26, 2022 | By Taylor Coleman
People often ask, "why mass timber?" The better question is, why not? As we lead our industry towards more sustainable solutions, we need to focus on goals and specifics, or risk getting lost in the noise.
The challenge with sustainability is that it can be interpreted as a broad term that covers a variety of topics and strategies. This can result in an overgeneralization, making it challenging for a design team to focus on specific goals. A sustainable approach can mean anything from material selection to passive design strategies. So, what does sustainability really mean and why are we focusing on it? The integration of sustainable design strategies is to take positive steps toward a healthier future. While the statement is simple, it can prove to be more difficult to execute. So how can we achieve this? It begins with clearly identifying a goal that can be shared between the client and design team.
When First United Bank first approached Gensler, they came prepared to challenge the team with specific goals: Create something that is timeless, is a market differentiator, and that would have sustainability integrated in every aspect of the project. The client didn't prioritize traditional green certifications such as LEED. Instead, they wanted the building itself to integrate and showcase sustainable strategies — all with the intention to inspire and display how these principles could be replicated in their clients' lives. Sounds easy, right?
As our team began designing solutions to these challenges, we quickly turned away from traditional ways of thinking and began embracing unknown challenges, including the idea of using mass timber.
When we presented the idea of mass timber to First United Bank, the inherit beauty, renewable aspect, and uniqueness of the system resonated with them and their vision. Emboldened by the positive response, we discovered the structural solutions that mass timber offered, and were able achieve the vision shared with the client.
The two directional strength we found in cross-laminated timber (CLT) allowed us to design the structure and cantilevered roofs that would become synonymous with the First United Bank projects. The objective was simple: if you are going to use CLT, then do it in a way that best uses the system's strengths.
We focused on column bay layouts that maximized the strengths of CLT, which allowed the need for structural beams going only one direction. This effectively reduced the number of beams needed in a typical structure by half. It also lowered the number of connections, the material, and reduced labor time for install. We used this as a starting point and have carried it through to the approximately 40,000-square-foot office buildings Gensler is now designing for First United Bank.
Mass timber in practice
First United Bank in Fredericksburg, Texas, is Gensler's first realized mass timber project, and the first full mass timber project in Texas.
Unlike most projects, the design team had no internal precedent to rely on, so we educated ourselves on everything necessary to become industry experts to best serve the client. While the process of building with wood has an intuitive simplicity, we had to learn the intricacies of mass timber construction by revisiting design principles of the past — a process that paralleled the client's values.
Sustainable practices are shown throughout, with a focus on cost-effective passive design strategies. For the timber selection, southern yellow pine makes up the CLT panels, glulam beams, and columns that are exposed in the lobby, community rooms, office space, and exterior overhead.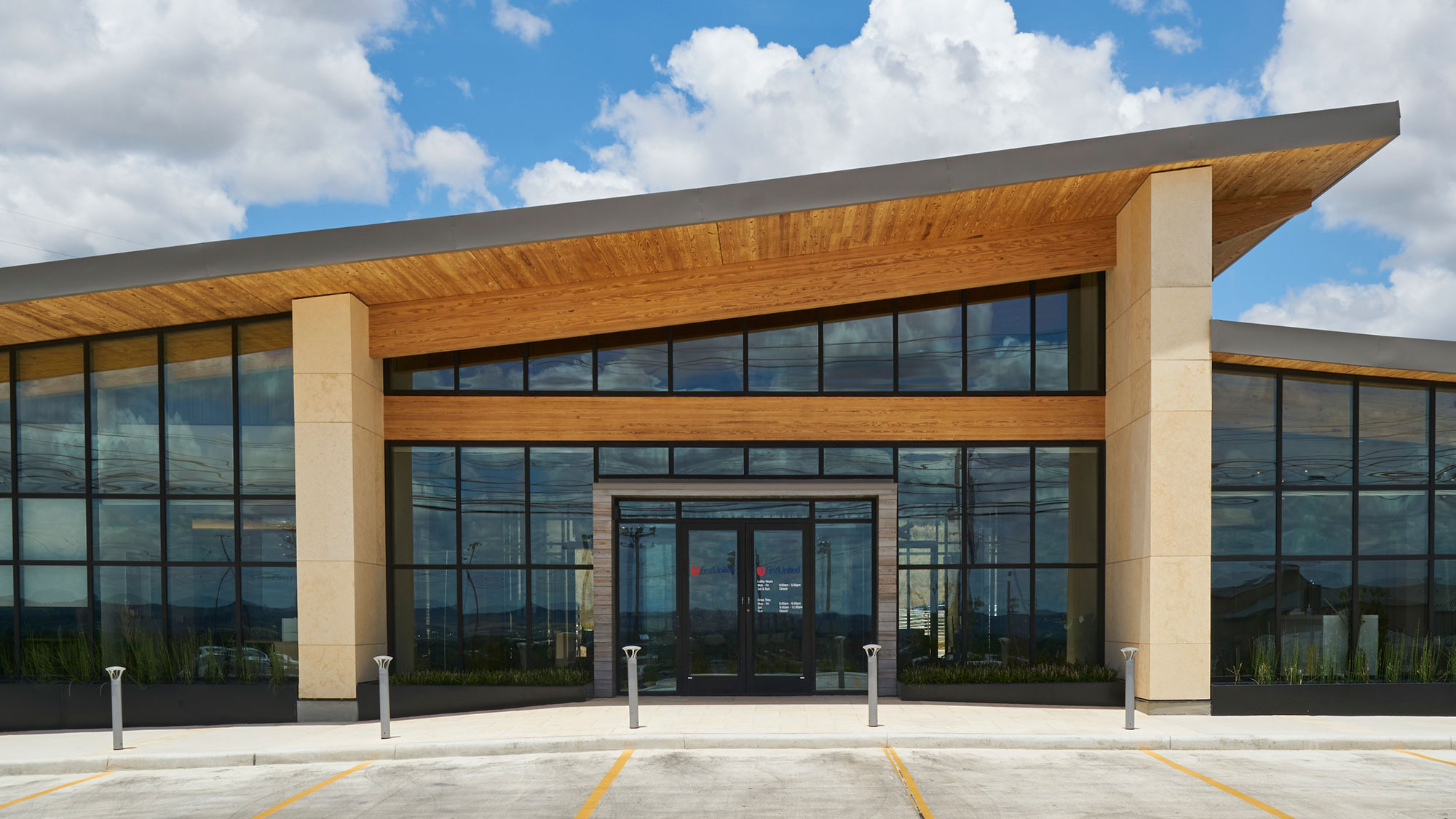 In Sherman, Texas, we set out to design the bank's regional headquarters to serve the community and attract and retain top talent in the area. This design creates an environment representative of the community while placing a heavy emphasis on renewable materials.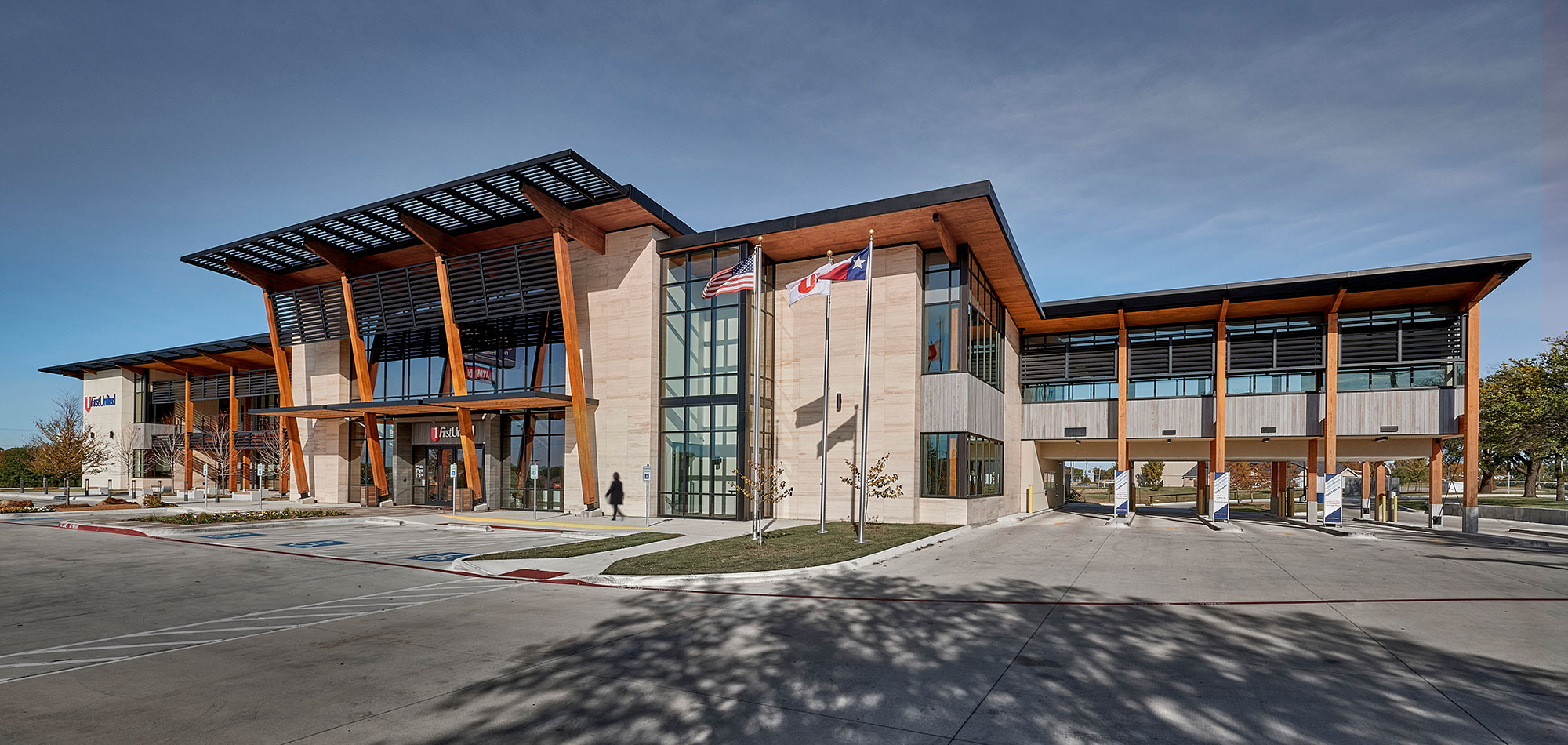 In Shawnee, Oklahoma, First United Bank sought to create an open, inviting environment that serves the community and features a design that is sustainable and timeless.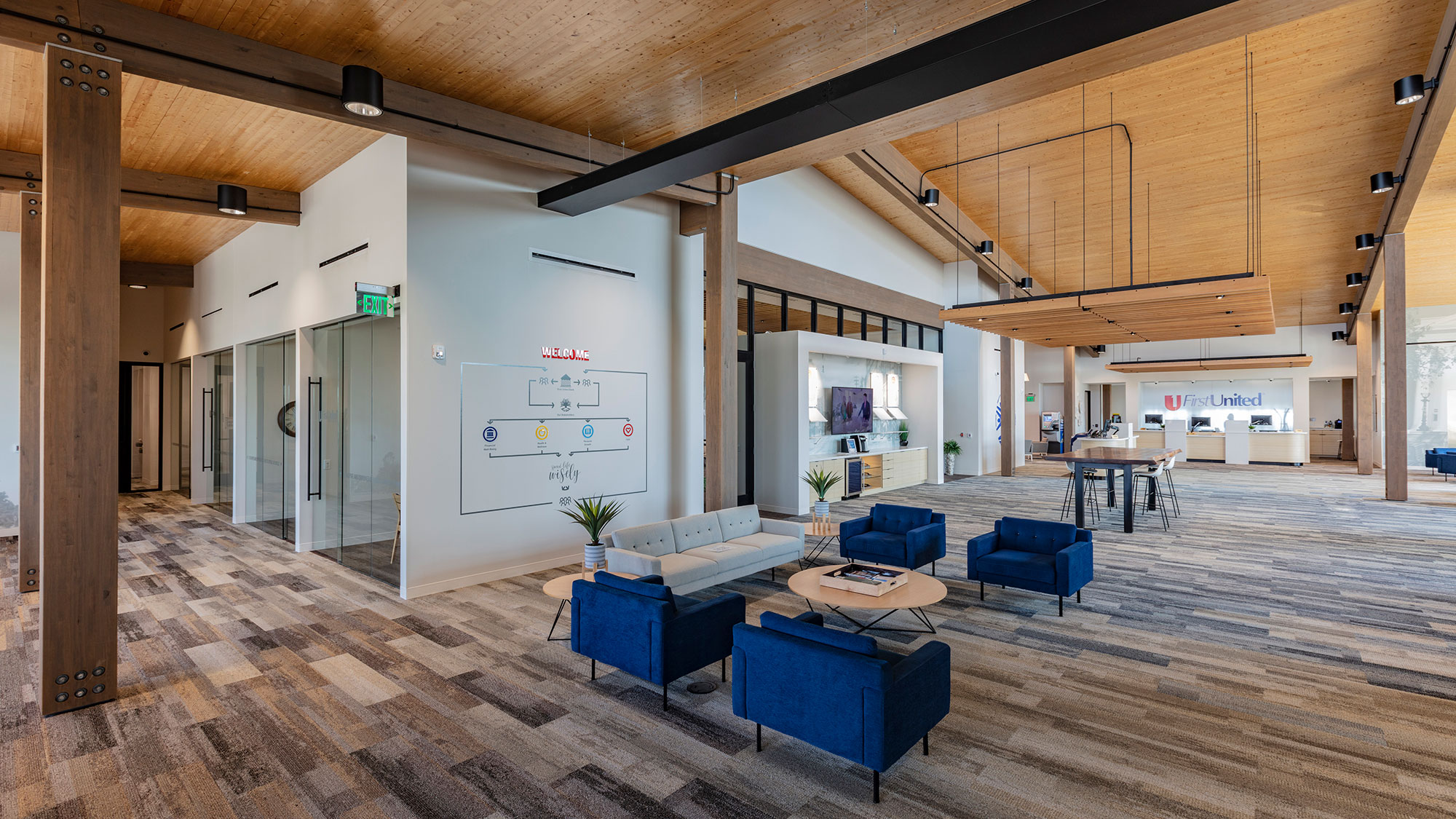 The benefits of mass timber are historically overruled by the higher upfront cost, uncertainty, and lack of experience from an estimating team. This results in mass timber projects often stopping before they can get started. This is an unfortunate reality that many of our markets face, and it puts a much heavier burden on the owner to take a leap of faith. My recommendation to anyone pursuing this project type is to get a qualified General Contractor (GC) and Engineer of Record (EOR) on board early and start diving into the project details.
Mass timber will not always pencil out, but with the right knowledge, planning, and dedication, it will always be competitive. To that effect, an additional amount of effort is required from a design team to utilize this construction typology to its maximum potential and help the client realize the benefits.
For media inquiries, email .