Revitalizing, Reinventing & Rethinking Downtown San Francisco: A Conversation With Mayor London Breed
February 27, 2023 | By Amy Campbell, Doug Zucker, Holly Arnold
This is the third in a blog series to explore ways to reimagine the future of downtown San Francisco. Read Part 1 here and Part 2 here.
With office vacancies in the downtown core reaching record highs, San Francisco is an extreme example of the post-pandemic challenges that other major cities are going through right now. While there's no single solution to bring cities back, if there's one thing that developers, tenants, and city planners all agree upon, it's that cities like San Francisco are poised for reinvention.
On Feb. 15, San Francisco Mayor London Breed joined us in our San Francisco office for a discussion on "Revitalizing, Reinventing & Rethinking Downtown San Francisco" to share her vision for downtown San Francisco's future and discuss how we will revitalize a major part of our city, including bringing in more businesses.
"We're not going to be what we were before the pandemic, but I truly believe we can become something better," Mayor Breed said.
In addition to Scott Dunlap, Regional Managing Principal for Gensler's Northwest region, who conducted the interview with Mayor Breed, the event included insights from panelists Carl Shannon, senior managing director, Tishman Speyer; Gina Fromer, CEO, Children's Council; Giselle Bonilla, director of Global Real Estate & Capital Projects, Zendesk; Rhiannon Bailard, COO, UC Law SF; and Mike Huaco, SVP, Global Workplace Resources, Synopsys. The panel was moderated by Marquard Anderson, Principal, Avison Young.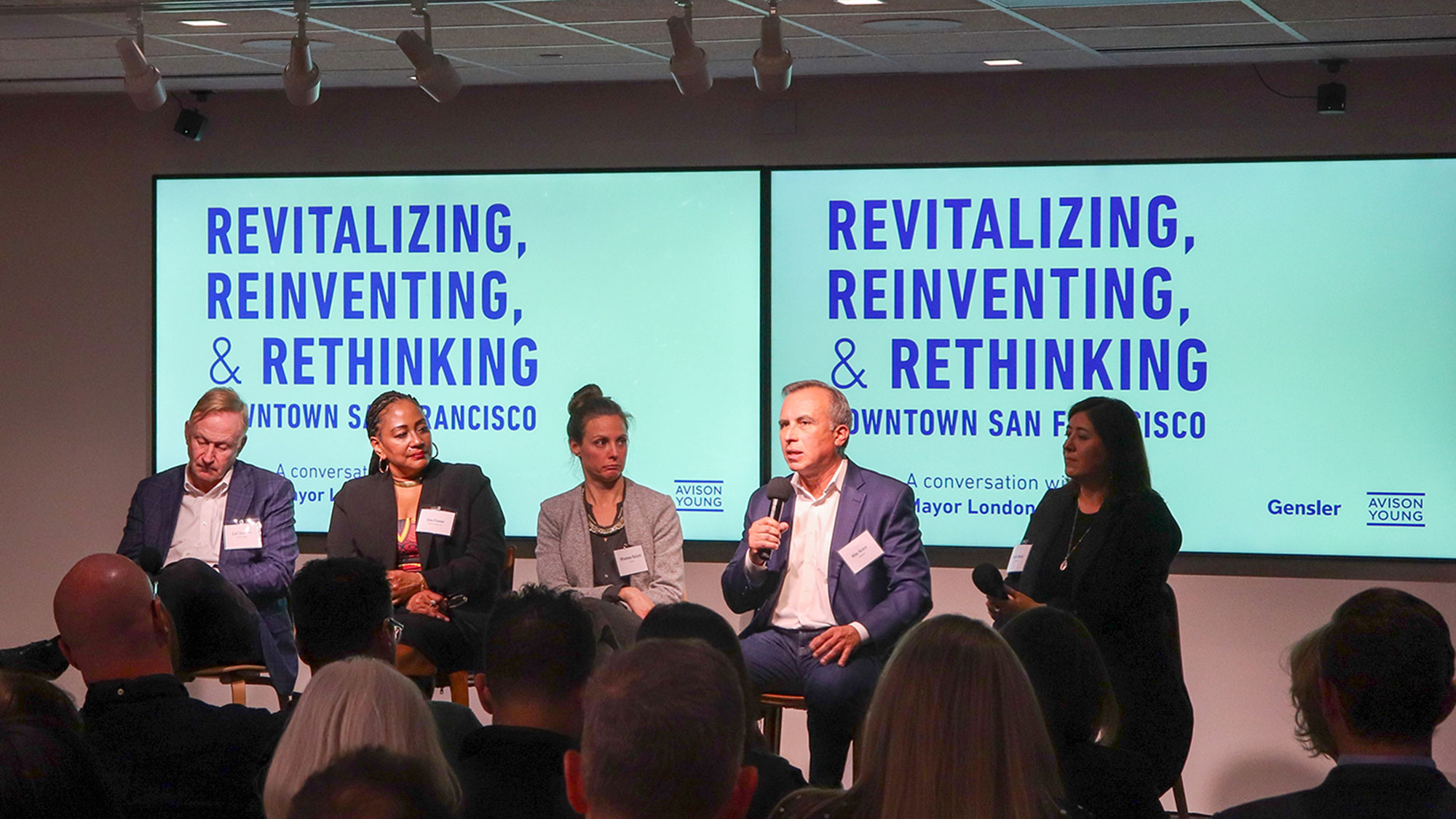 KEY TAKEAWAYS
We need to be creative about transforming the spaces we already have.
Mayor Breed called for an increase in conversions of office space to residential, manufacturing, and science/biotech/lab space as opportunities to revive downtown San Francisco. While San Francisco has a 25% vacancy rate for office space, the vacancy rate for life sciences is under 5%. Diversifying a central business district that has historically been primary office requires creative solutions, such as diversifying industries, creating tax incentives, and rezoning to make it easier for conversion.
"My hope is that we start thinking differently and more creatively about all kinds of space that exists across the city and transform those spaces to become great places to eat and gather."
—San Francisco Mayor London Breed
The Mayor cited San Francisco's Shared Spaces program, a new program for more flexible use of sidewalks, streets, and other outdoor spaces, as an example of successful reinvention. "Between shared spaces, new rooftop locations, new parks, and open space — all those things play into making San Francisco a better experience and a more beautiful city," Mayor Breed said.
Affordable housing, childcare, and food security can help bring workers back.
To bring workers back and give families the support they need, cities and businesses need to find creative ways to support critical social infrastructure — from housing, to childcare, to food security. That includes offering different types of programs and benefits to support women in the workforce. According to McKinsey, about 2.5 million women in the U.S. either lost their jobs or dropped out of the workforce during the pandemic. And, according to a study by ReadyNation, the lack of adequate childcare is now estimated to cost the U.S. $122 billion annually in lost earnings, productivity, and revenue.
"The pandemic destabilized our infrastructure. Getting these women back to work is important. We want San Francisco to be a family-friendly city — childcare is at the heart of that, and making it affordable."
—Gina Fromer, CEO, Children's Council
Multi-use, multi-purpose buildings are the future.
Multi-use, multi-purpose buildings are key to reinvigorating vacant downtowns. This is evident in the neighborhoods with 24/7 lifestyles, which thrived throughout the pandemic with a rich mix of services, hospitality, amenities, and activation. To revive office-centric downtowns, empty buildings could be transformed for community uses, such as childcare. For example, San Francisco's 100 Stockton used to be a single-use property — a former Macy's that Gensler is now repositioning as a mixed-use development for multi-tenant retail, workplace, and rooftop hospitality.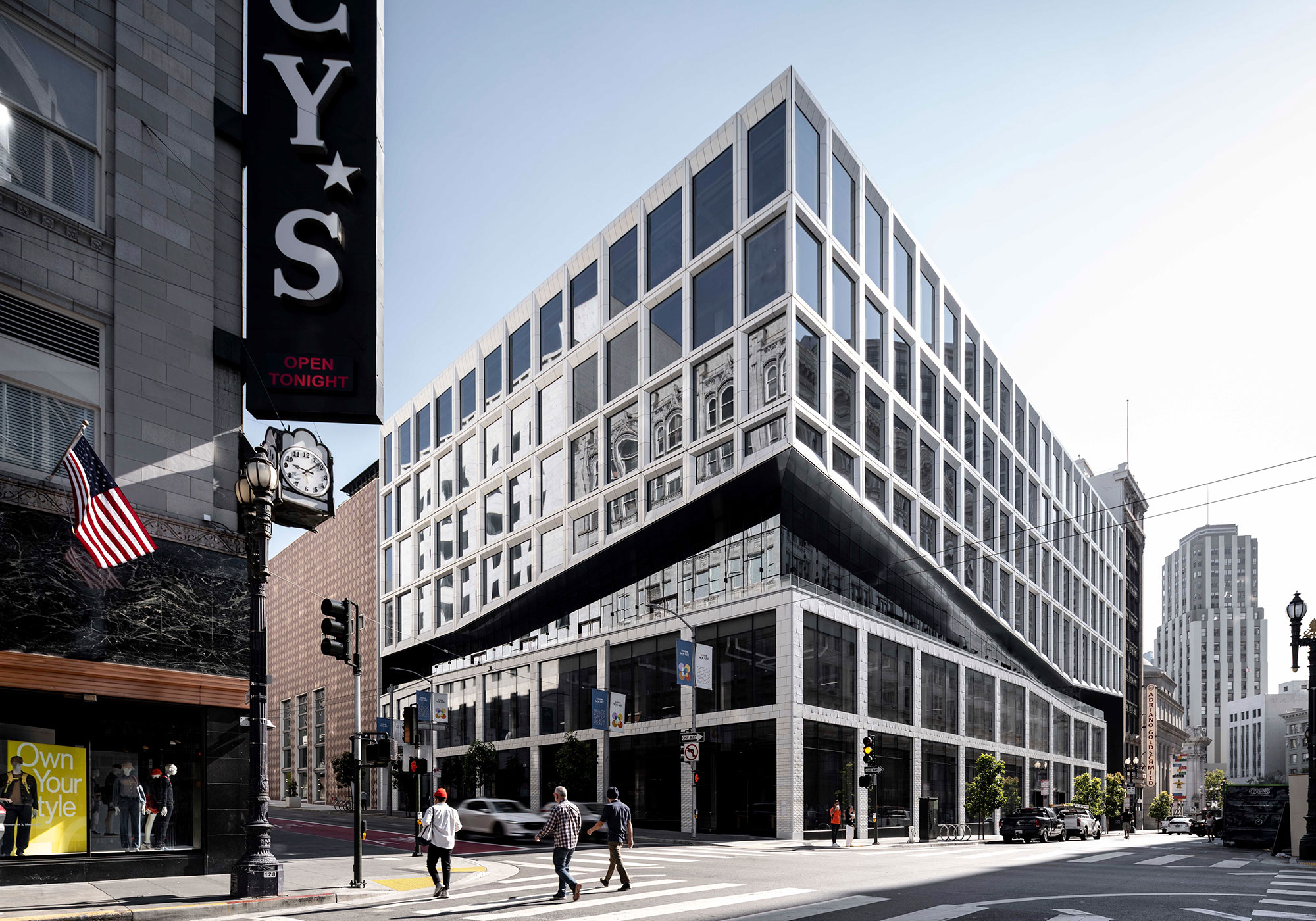 Another example is UC Law SF's Academic Village, a bold initiative to transform the existing campus into a vibrant, multidisciplinary academic village. Besides academic facilities, the campus will house almost 1,000 students from UC Law SF, UCSF, and other partner institutions — all without displacing any residents of the adjacent communities.
"It's critical that we have that positive activation — that people come back to work and people are living in San Francisco. We're doing that on a really big scale."
—Rhiannon Bailard, COO, UC Law SF
Going back to the basics: clean streets, safety, reliable transportation.
Mayor Breed talked about how the city must "get back to basics," including clean streets, safety, and a decent transportation system. According to Gensler's City Pulse Survey 2022: Urban Mobility Report, safety challenges in our cities are a barrier to public transit ridership. Cities that prioritize measures that make passengers feel safe and comfortable can close the ridership gap, ultimately allowing them to recover more quickly from the challenges of the pandemic. For example, the city of San Francisco is exploring how to use data to make informed decisions around transit options, especially during peak hours.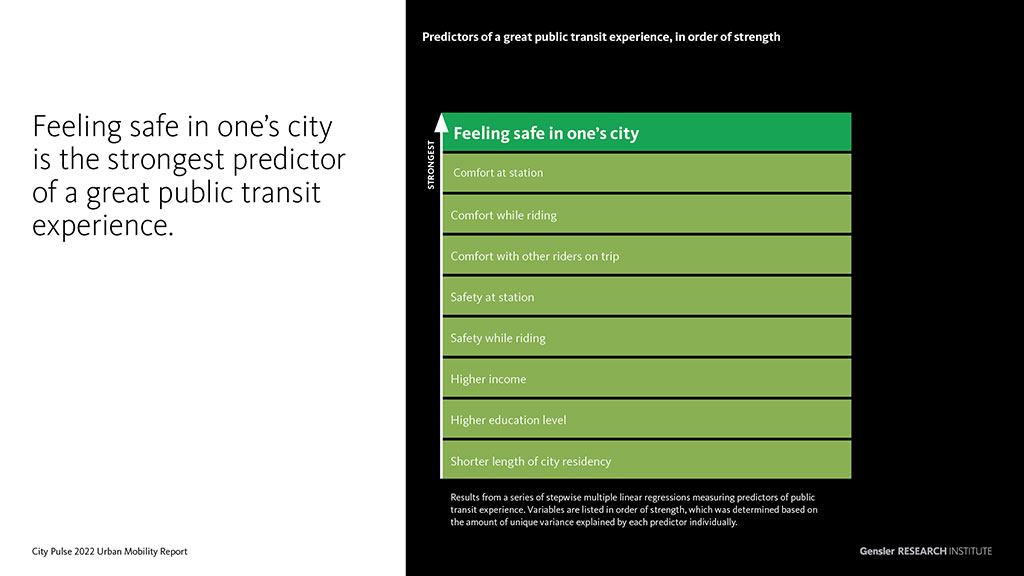 The private sector must lean into the public sector in order to help solve critical challenges.
In cities like San Francisco, many businesses and organizations tend to operate on their own. In order to address the city's challenges, these organizations need to come together to drive a unified program that meets residents' needs. To achieve real progress, the public and private sectors must continue to work in partnership to achieve those goals.
"As a business community, we have to come together and be unified behind these organizations, and the organizations need to work together to help the business community in San Francisco."
—Carl Shannon, senior managing director, Tishman Speyer
Innovation will always be a draw and fundamental to San Francisco's economy.
While some companies are moving their headquarters or parts of their operations to other cities like Austin, Nashville, and Miami, San Francisco remains a hub for companies to grow. To retain these employers and their talent, the city needs to focus on its fundamental strength as a hotbed for creativity and innovation by creating more spaces for R&D, lab space, and product development.
"You're not going to compete with those cities in those markets for big companies. But you can focus on what you're good at. This is a great place for innovation. That's not going to change; if anything, it's going to accelerate."
—Mike Huaco, SVP, Global Workplace Resources, Synopsys
Re-envisioning the city of tomorrow
In closing, the panelists were asked: If time and money were no object, what is the one thing you'd change about the city tomorrow? From childcare infrastructure for every family to bringing more housing to the downtown core to focusing on safety, the panelists all agreed that by coming together, the public and private sectors have an opportunity to create a safer, cleaner, and once again, a thriving city.
For media inquiries, email .