As businesses continue to search for creative work environments that can foster ideas and innovation through a strong sense of community, architects and designers are playing an increasingly important role.
According to data and insights uncovered by the Gensler Research Institute, people are more creative and productive when they have better physical connections with coworkers and more opportunities for chance encounters. That's where building design comes in. By providing things like large open floor plates, indoor-outdoor transitions, and sightlines and bridges between floors, designers can create connected experiences that encourage new ideas.
FACE-TO-FACE MATTERS
What we've realized is that, given the ever-increasing role of digital technology in the workplace through email, Skype meetings, teleconferences, and instant messaging, the need for businesses to encourage more human encounters and face-to-face communication is becoming more pressing. Proximity is the key. In fact, according to Thomas J. Allen of MIT's Sloan School of Management, people have a 95% likelihood of a chance encounter with a colleague if they're located on the same floor. That number drops to 5% if they're separated by floors. As Allen said, it's almost like being on a different planet.
DATA: TALENT NEEDS CONNECTIVITY
Talent needs connectivity — and the probability of knowledge exchange is related to the proximity of workers. There's a 5% probability of chance meetings when workers are separated by floors. There's a 95% probability of chance meetings when workers share the same floor. (Source: Allen & Henn, 2007)
Connecting face-to-face isn't only about building good relationships. We know that proximity between people at work speeds the flow of ideas, breaks down silos by raising awareness between departments, and encourages active information sharing. That's why many organizations are opting for bigger and bigger floor plates. In our headquarters design for NVIDIA, Gensler sought to locate every worker within a two-minute walk of each other. The building has two floors of 250,000 square feet each, which help to promote flat hierarchy and typically have no private offices or window seats based on tenure or rank. The space is more equitable, meaning everyone has a choice of where to work, depending on the type of activity they're engaged in.
STAIRS AND BRIDGES AS CONNECTIVE TISSUE
Of course, it's not always possible to have everybody on one floor in a mega–floor plate building. But that's not the only way to provide connectivity. Many offices are creating transparent sightlines across atriums or using interconnecting open stairways to link up with different parts of the office. Our design for the Mercedes-Benz USA headquarters in suburban Atlanta is a great example. A three-story atrium at the heart of the building provides sightlines from floor to floor, with an adjacent coffee bar, cafe, and casual seating areas that allow for impromptu meetings.
We're finding opportunities to expand the function of stairways beyond the pragmatic need to move from floor to floor.
Bridges can serve the same function as stairs, but they connect spaces horizontally rather than vertically. They can link separate buildings or span across atriums, making it easier to move from place to place.
STAIRS ALSO HAVE VALUE AS SOCIAL CENTERS, MEETING PLACES, AND CONVERSATION NOOKS.
IN TABLEAU SOFTWARE'S NEW SEATTLE OFFICE, FOR EXAMPLE, A CENTRAL COMMUNICATING STAIR IS THE LIFELINE THAT CONNECTS SHARED SPACES, INCLUDING A COOKING HUB AND OTHER KEY GATHERING AREAS.
BRINGING PEOPLE TOGETHER
We're also finding that providing large assembly areas is another important feature for today's companies. Roof decks and outdoor terraces, in particular, are gaining popularity. And there's an added incentive for building owners to create these spaces due to new industry standards that allow owners to measure and lease them. People enjoy having a seamless indoor-outdoor connection. These spaces serve as third places where work happens outdoors.
While we're planning for the occupancy of these facilities, we're also looking at ways of breaking down the building core so that elements like the elevators and stairs that provide inter-floor connectivity can be located near the office spaces, while service lifts and mechanical runs can be placed out of the way.
We also try to limit the width of the core, so it doesn't form a barrier in the center of the building. When examining the placement of the core elements in relation to the building's overall floor plan, the best solution is sometimes an offset, partially offset, or split core that frees up square footage for a larger, more flexible office space on each floor, allowing for more daylight and higher density of people. In the case of larger floor plates, we're creating dual cores for even better connectivity and flexibility.
"There's increasing demand for exterior amenities like balconies and finished rooftop terraces... a clear representation of how tenants are actually using space."

— Rob Brierley, CEO, Building Owners and Managers Association (BOMA) International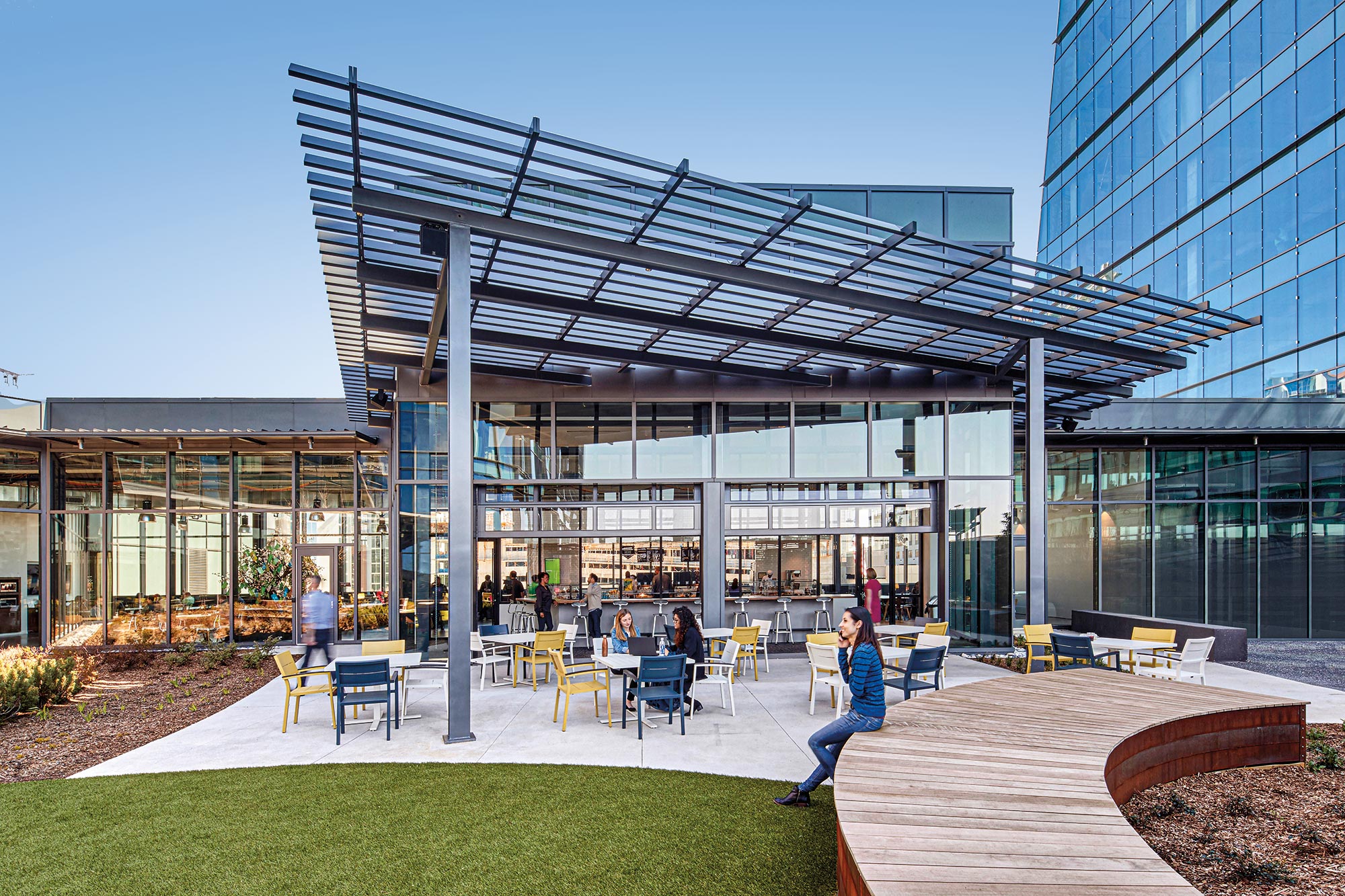 CONNECTING TO THE CITY
We're also mindful of the importance of connecting office buildings to the context of the cities and regions where they exist. The rules are changing with the fast adoption of ride-sharing services and the emergence of autonomous vehicles. This is having an immediate impact on office buildings, where we are providing wider driving lanes at the entrances for pickup and drop-off. Building entrances will also require longer lanes for driverless cars to queue up without blocking city traffic.
Even the entrances to buildings are becoming more complex, with growing demand for multiple "front doors." Creative companies, for example, want direct access to their office with a front door that reflects their brand. No one wants to be hidden on a lobby directory and located "down the hall." This can be accomplished with a ground-floor storefront entrance or, in the case of the i|o at Playa Vista office building repositioned by Gensler, by adding an external stair that connects to tenant spaces on levels above.
ENHANCED VALUE FOR TENANTS
None of these improvements are added to building plans without considering their cost, but we think they're a smart investment. Typically, real estate and operating costs are about 20% of the cost of running a company, while the investment in staff salaries is about 80%. Since even a small increase in real estate costs can yield measurable improvements in productivity and innovation from your most valuable asset — your people — then the potential payback is enormous.
Stated another way, all these things — promoting collaboration, fostering community, and producing a connected workplace environment — promise the kind of long-term returns that tenants demand.