Chinese workers are back at the office — and the workplace is still the primary anchor of the workweek.
Chinese workers have returned to the office at levels unparalleled in the rest of the world. Gensler's China Workplace Survey of over 3,000 office workers found that 99% are either at the workplace full time or working in a hybrid model, splitting their time between the workplace and various alternative locations.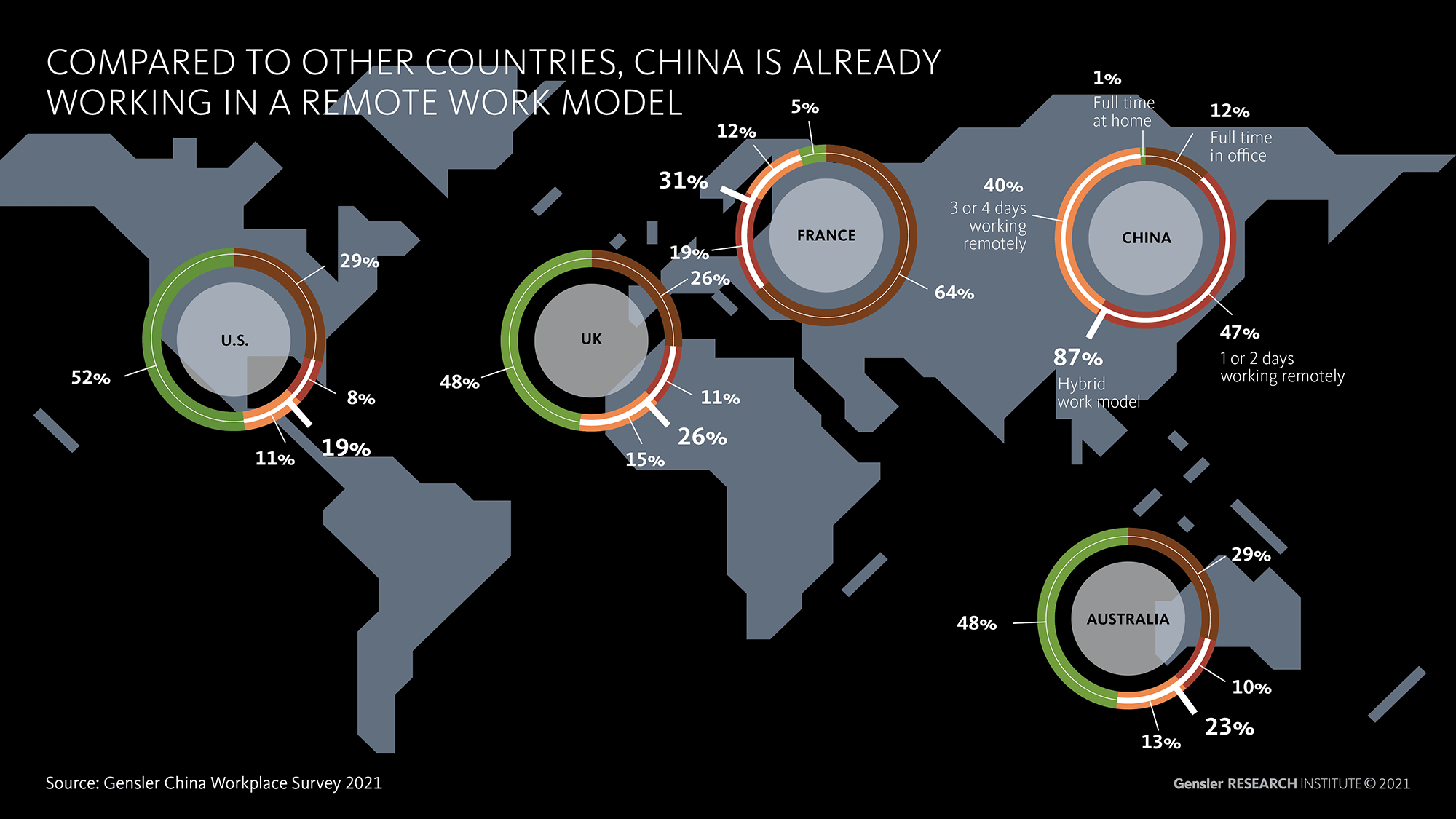 China is a leading indicator in adopting the hybrid work model.
Many employees worldwide are already in a hybrid work model, working partially from the office and partially remotely or from home. In China, where the pandemic has eased and restrictions are largely gone, this way of working is the norm today. In fact, nearly 9 in 10 office workers in China are already working in a hybrid model.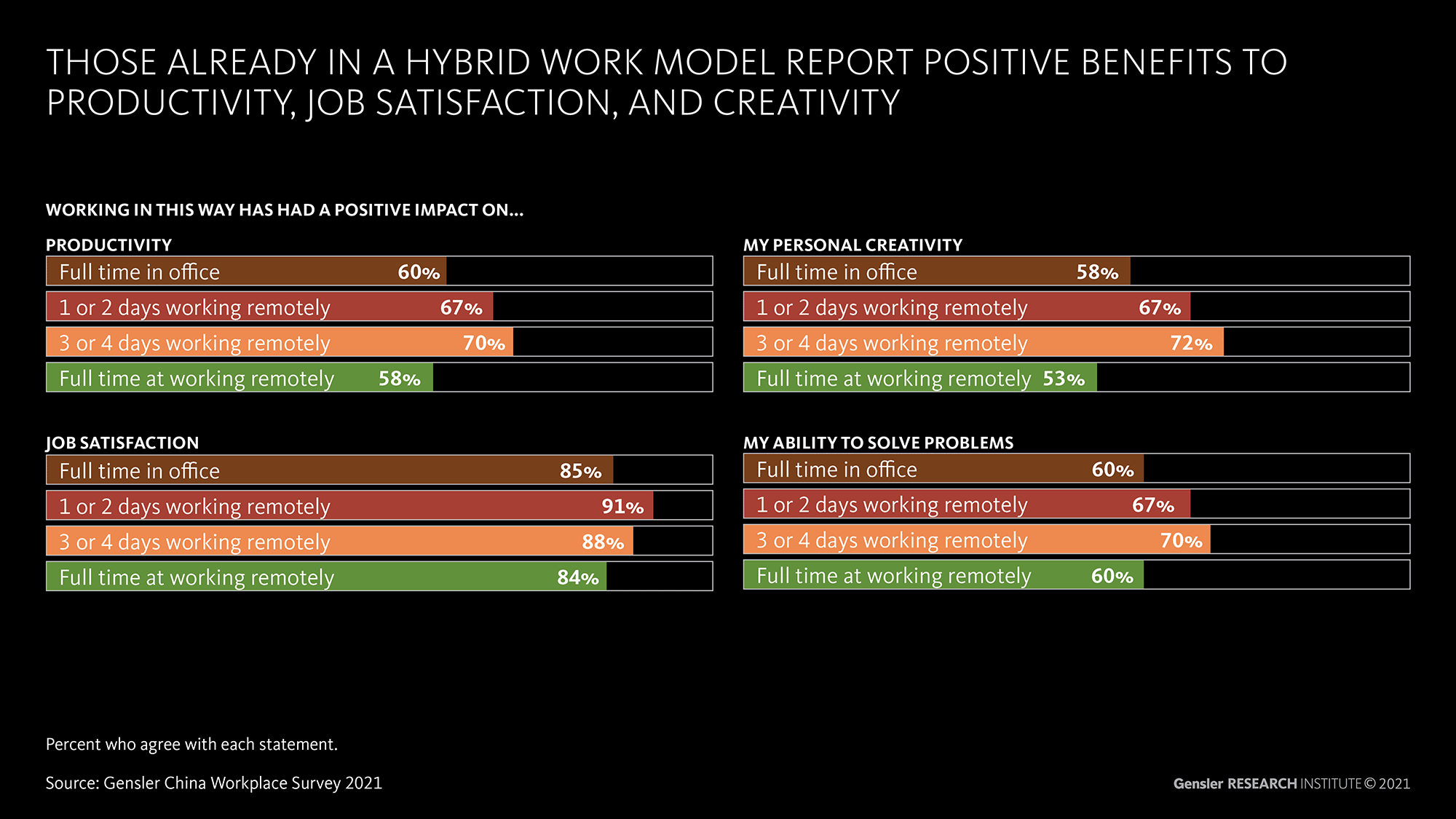 Chinese office workers want hybrid work to continue — and they're feeling the benefits.
Employees across the world see the upsides of the ability to work both at the office and remotely. The majority of workers in every country Gensler surveyed say they would prefer a hybrid work model in the future. Findings from our China Workplace Survey show how this way of working combines the best elements of mobility with the benefits of working in person with colleagues at the office.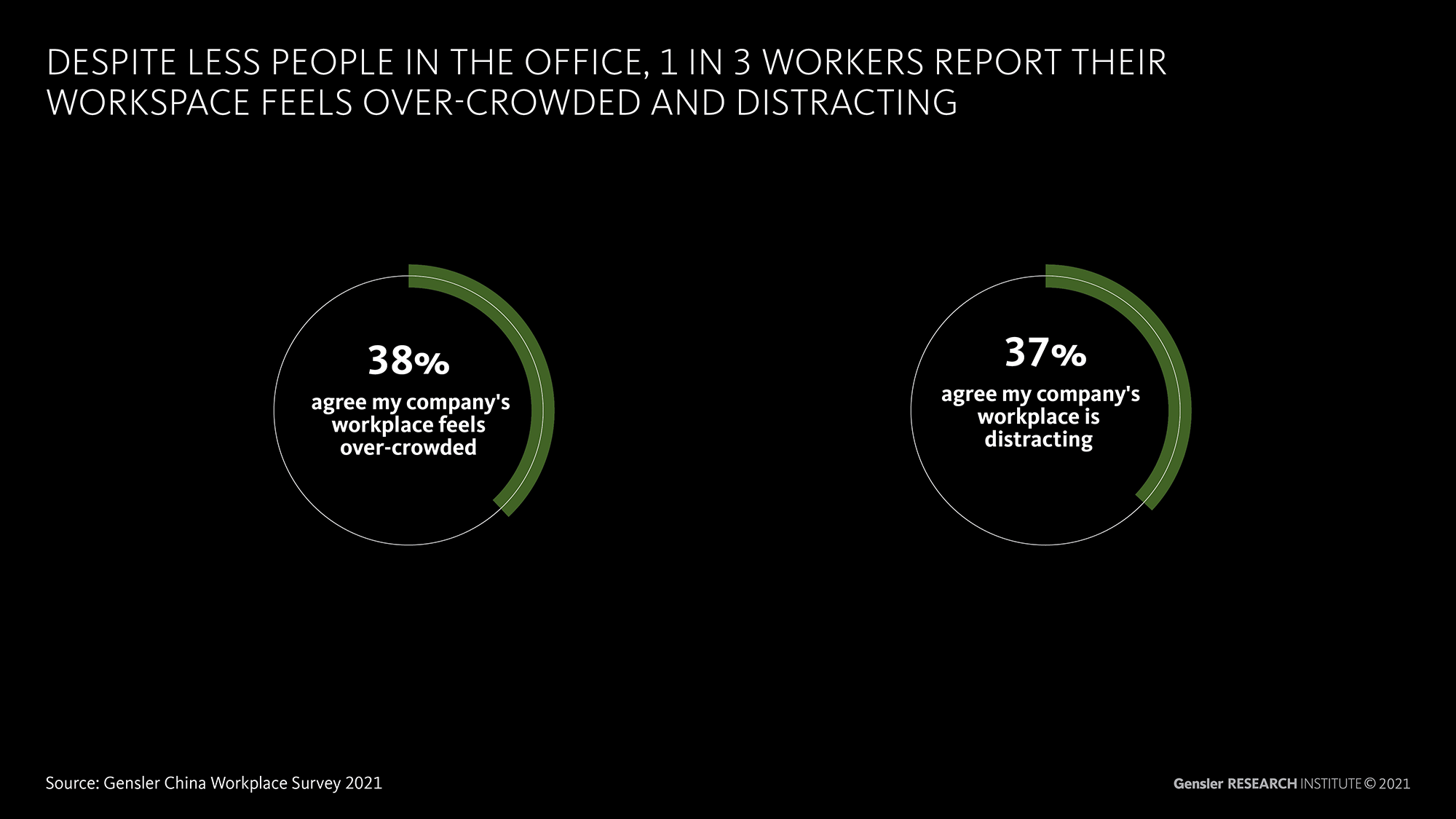 Workers bring new expectations from their experience working from home.
The workplace quickly and dramatically regained its prominence as the key location for professional work in China. But the experience of working from home during the pandemic did uncover problems that already existed with the physical office. Namely, working in isolation at home is great for focus work. According to Gensler's China Workplace Survey, one in three workers in China who returned to the office now say their workplace feels overcrowded and distracting.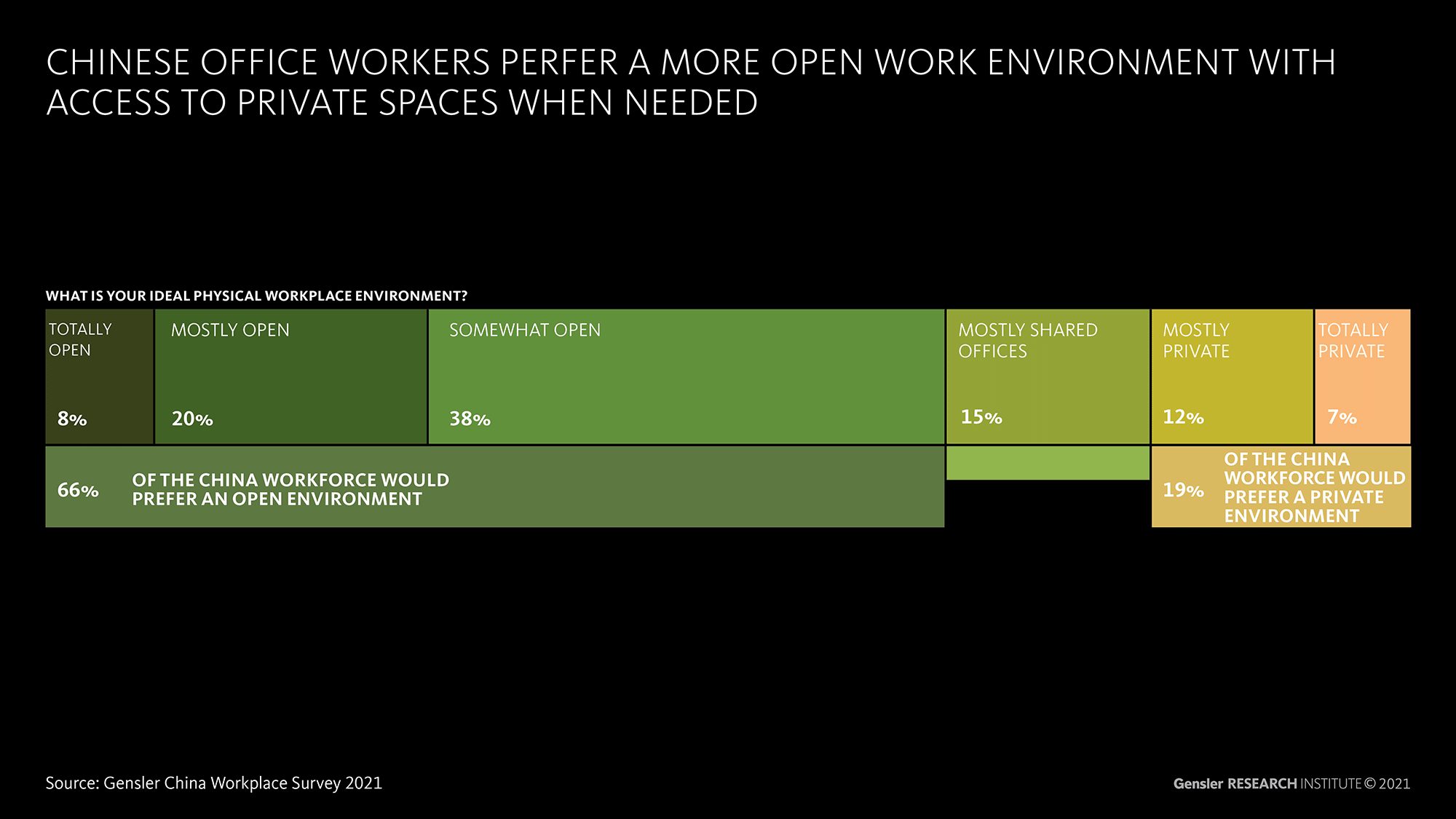 Despite challenges, two-thirds of office workers in China prefer open work environments.
In fact, less than one in five office workers say they'd prefer a private work environment. Open environments are not without their drawbacks, however. In the hybrid work mode, workers will also be tasked with coordinating virtually with teams and clients who are off-site. This ideal workplace type may be the best complement to the future of work — supporting collaboration, innovation, and a kinetic energy between teams and departments.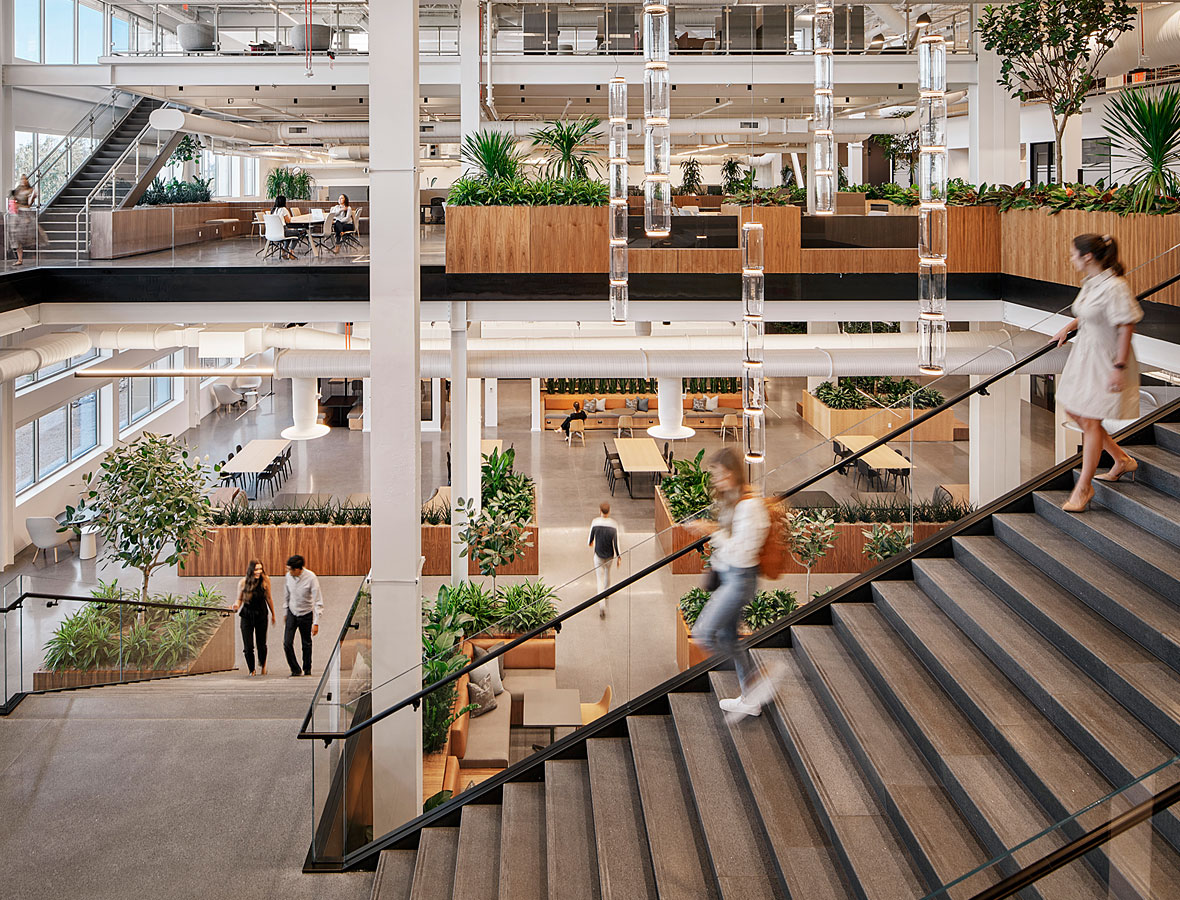 Workplace Performance Index
Interested in learning how your workplace is supporting workers and driving your business outcomes? Discover more with our WPIx.
China Workplace Survey Methodology
This survey of 3,130 Chinese office workers was conducted online via an anonymous, panel-based survey from January 13 to February 1, 2021. Respondents were required to be working full time for a company, organization, or firm of 100 or more people, and to have worked in an office environment prior to the COVID-19 pandemic. At the time of data collection, respondents worked in a variety of scenarios: full time from home, part time in the office (hybrid work model), and full time in the office. Respondents were evenly distributed across seven industries and represent a wide range of seniority levels, roles, ages, and geographies across China. For reference, respondents were categorized into the following generational cohorts: Generation Z and Millennials (18–39 years old), Generation X (40–54), Baby Boomers (55 and older).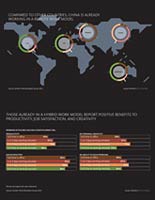 CHINA WORKPLACE SURVEY 2021
GENSLER RESEARCH INSTITUTE
DOWNLOAD AS PDF
Download the full Gensler China Workplace Survey 2021 Report to explore China's return to the office. Our data shows that Chinese workers have accomplished an unparalleled return to the office. Employees now have expectations that the future office should embrace the best aspects of the home and remote work.