Office workers in Mexico spend the majority of time working with others. As they return to the office, the emphasis is on scheduled, purposeful interactions.
One of the central tenets of Mexican business culture is the importance of interpersonal relationships. Gensler's inaugural Mexico Workplace Survey reinforces the important role the office plays in building these relationships by facilitating in-person meetings with colleagues and clients. The findings from the survey highlight that the workplace already effectively supports activities that involve working together in-person, but there is still significant opportunity to support the entire ecosystem of work modes in the office.
Our data seeks to explore how employees are working, what spaces are most effective, and what types of spaces and work experiences might create a more compelling office. The findings suggest that a combination of new workplace experiences and spaces can encourage employees to return to the office more often.
This data is collected from an anonymous, panel-based online survey of more than 2,000 Mexico-based office workers conducted between June 23, 2022 and July 28, 2022.
Learn more about our methods.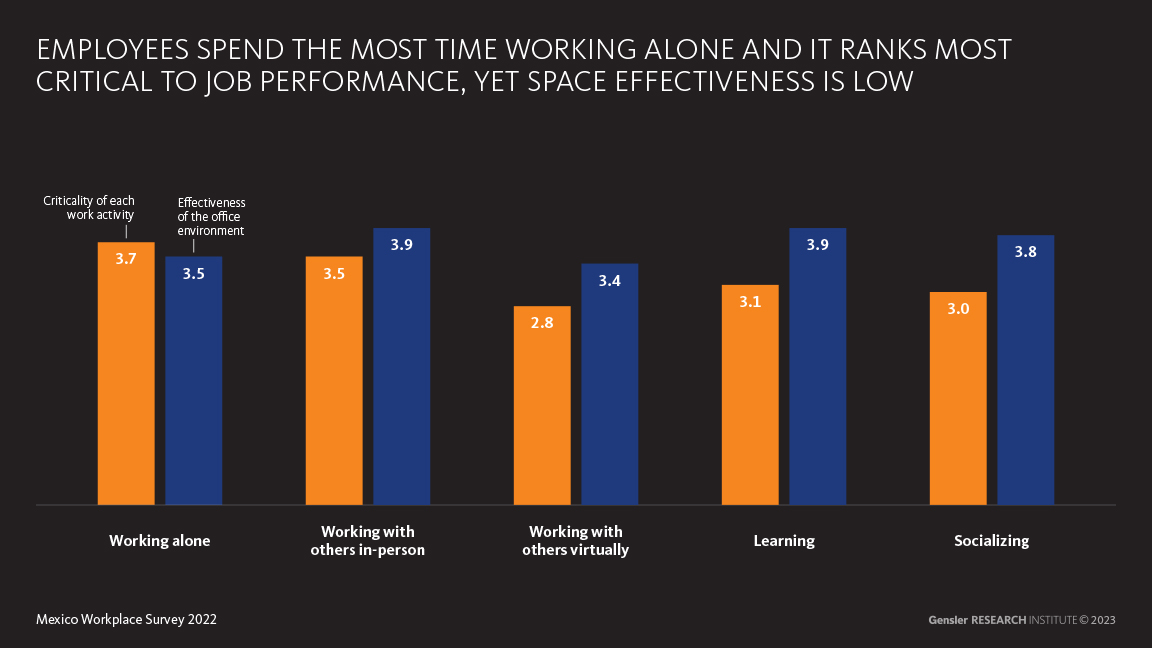 There is an opportunity for the workplace to better support individual work alongside working with others in-person.
During a typical work week, Mexico-based office workers spend almost half of their time working with others — 32% of that time is spent in-person and 13% is virtual. They also spend 36% of their time working alone — and they rate this activity as the most critical for job performance. While today's workplace effectively supports working together in-person, it is less effective in supporting working alone and working together virtually. This is an opportunity to offer a range of workspaces that better support working alone while maintaining the strength of collaboration and social spaces.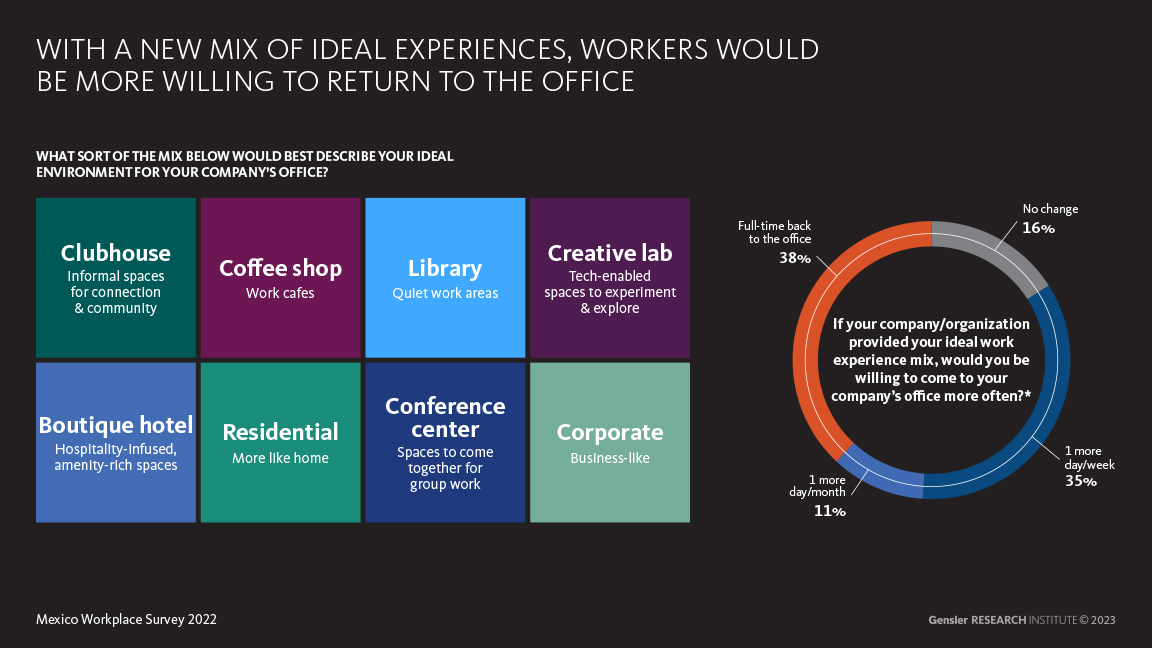 Adopting elements of a coffee shop experience could bring more employees back to the office more regularly.
There is a clear preference among workers in Mexico for office space to include a coffee shop experience. Survey respondents across all generations and industries ranked this preference first. They also highly ranked informal meeting spaces among their top workplace preferences, emphasizing the desire for experiences that facilitate connection and community. If companies provided the ideal mix of experiences, 73% of employees that are not already in the office full-time say they would return to the office at least one more day per week, and 38% of workers say they would return full-time.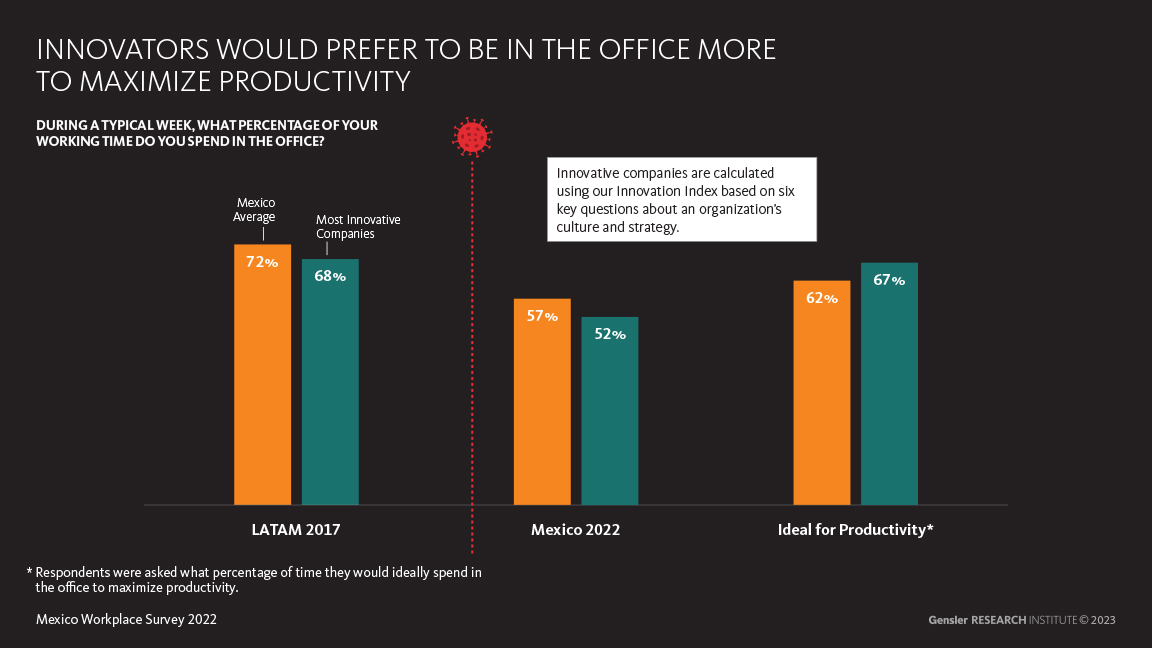 Employees are working across different locations, but the office remains an important place to maximize productivity.
On average, office workers spend one-quarter of their time working outside of their homes and offices, opting instead to work in locations such as coffee shops, libraries, client sites, and coworking locations. The amount of time spent working outside of the office and home increases with seniority with almost one-third of senior leadership working in alternative locations. Still, the office still holds an important role to harness productivity. Employees working at the most innovative companies report that they would ideally need to be in the office 67% of the time to maximize their productivity — that is 15% more time than they are currently spending in the office during a typical week.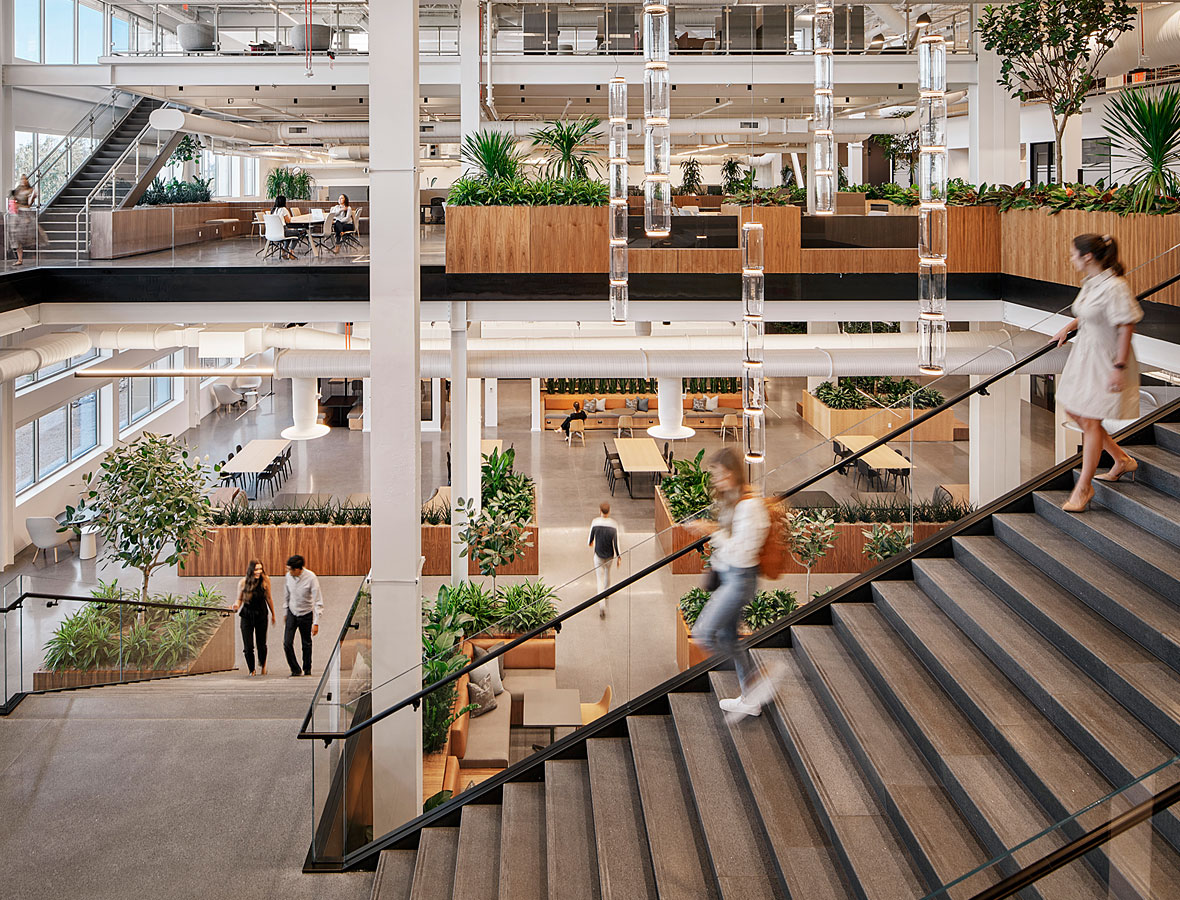 Workplace Performance Index
Interested in learning how your workplace is supporting workers and driving your business outcomes? Discover more with our WPIx.
Mexico Workplace Survey 2022 Methodology
The Gensler Research Institute conducted an anonymous, panel-based survey of 2022 Mexico-based office workers between June 23, 2022 and July 28, 2022, using a third-party panel provider. At the time of the data collection, respondents were required to be working from the office at least some of the time, excluding fully remote workers and workers who had not returned to the office since the start of the pandemic. Respondents are distributed across nine client industries and represent a broad cross section of demographics, including job role, company size, age, commuting distances, and geographies across Mexico.
Download the full Mexico Workplace Survey 2022 to explore how the workplace can offer experiences and spaces that respond to the needs and desires of Mexico-based office workers. Our data provides key insights into where design interventions can be made to improve the overall effectiveness and experience of the modern office.