3 Key Ingredients to Creating a Competitive Advantage in the Future of Work
May 02, 2023 | By Janice Cavaliere
As Stanford economist Paul Romer quipped in 2004, "a crisis is a terrible thing to waste," but that may be just what the corporate world is doing right now. As companies struggle to "solve" the future of work, they often misplace their efforts with too much focus in a singular area, such as the office space or amenities. A more balanced approach is needed if companies want to attract and retain the best employees and position themselves for long-term advantage, and that approach means breaking down historical walls between the silos of HR, Corporate Real Estate (CRE), and Brand.
In the past year-plus of employees returning to offices, we've seen companies navigating their way through a bevy of changes intended to redesign the work experience: enticing amenities and greater variety of work environments, emergent HR policies about home technology budgets for still-evolving hybrid arrangements, and corporate messages about the importance of "our people" that are often at odds with actual feedback from those same people. There have been plenty of disconnects like this in the past, of course — picture Successories posters of "Teamwork" and "Imagination" placed above row upon row of soul-crushing cubicles seemingly designed to divide teams and crush imagination. Fortunately, there's a paradigm shift going on that is opening new possibilities.
The concept of the "whole self" has long existed in the personal realm, but industry leaders are increasingly embracing a "whole employee" perspective. It's about more than just altruism; when employees feel supported, they perform better, too. In the well-titled article "Companies with happier employees outperform their peers," Fortune noted that:
In a recent study ranking companies by measures of workforce well-being, the companies in the highest 10% reported a 27.2% increase in return on equity and a 24.8% gain in EBITDA, substantially higher than their Fortune 500 peers. (Source: FORTUNE Thrive XM Index, surveying 20,000 full-time U.S. employees from over 900 companies)
True success in creating a sustained competitive advantage around talent means offering a holistic experience for employees that recognizes their needs around the company culture (the people, usually HR's purview), the spaces in which they work (the place, usually CRE's focus), and their connection with the company's brand promise (the purpose of the work, typically communicated by Brand and Marketing). To have real impact, what have been traditionally independent functions must now come together to rethink how they best serve employees and business goals. A thriving future of work requires a holistic look at people, place, and purpose.
PEOPLE: A strong culture is built intentionally and authentically.
While a culture will certainly grow organically (think petri dishes), a positive culture is the result of an intentional combination of factors, including design, communication, HR policies, environmental cues, demonstrated leadership principles, and behaviors, right on down to the "small" details like whether the snack choices reflect the company's values and employees' tastes.
A study by the Institute for Corporate Productivity found that "a culture grounded in the right values is vital to empowering agility." The findings identified five key values that provide the right environment to thrive as Innovation, Transparency, Creativity, Diversity, and Collaboration.
"82% of respondents from high-performance organizations indicated that their employees share the organization's values, compared to only 45% of those from lower performers." (Source: Institute for Corporate Productivity)
For a more integrated mindset around people, ask yourself, are you designing a culture that ripples in ways that are intentional, or are you allowing it to evolve on its own and perhaps in ways that have unintended consequences? Are you involving employees in the creation of that culture, not just giving lip-service to that idea by simply hosting town halls and employee focus groups?
Don't: Assume that formal policies and procedures automatically "make" a culture.
Do: Assess whether the values you are defining in your internal brand are woven throughout company policies, support mechanisms, and communication channels.
Do: Engage employees in the creation and evolution of their place and purpose, too.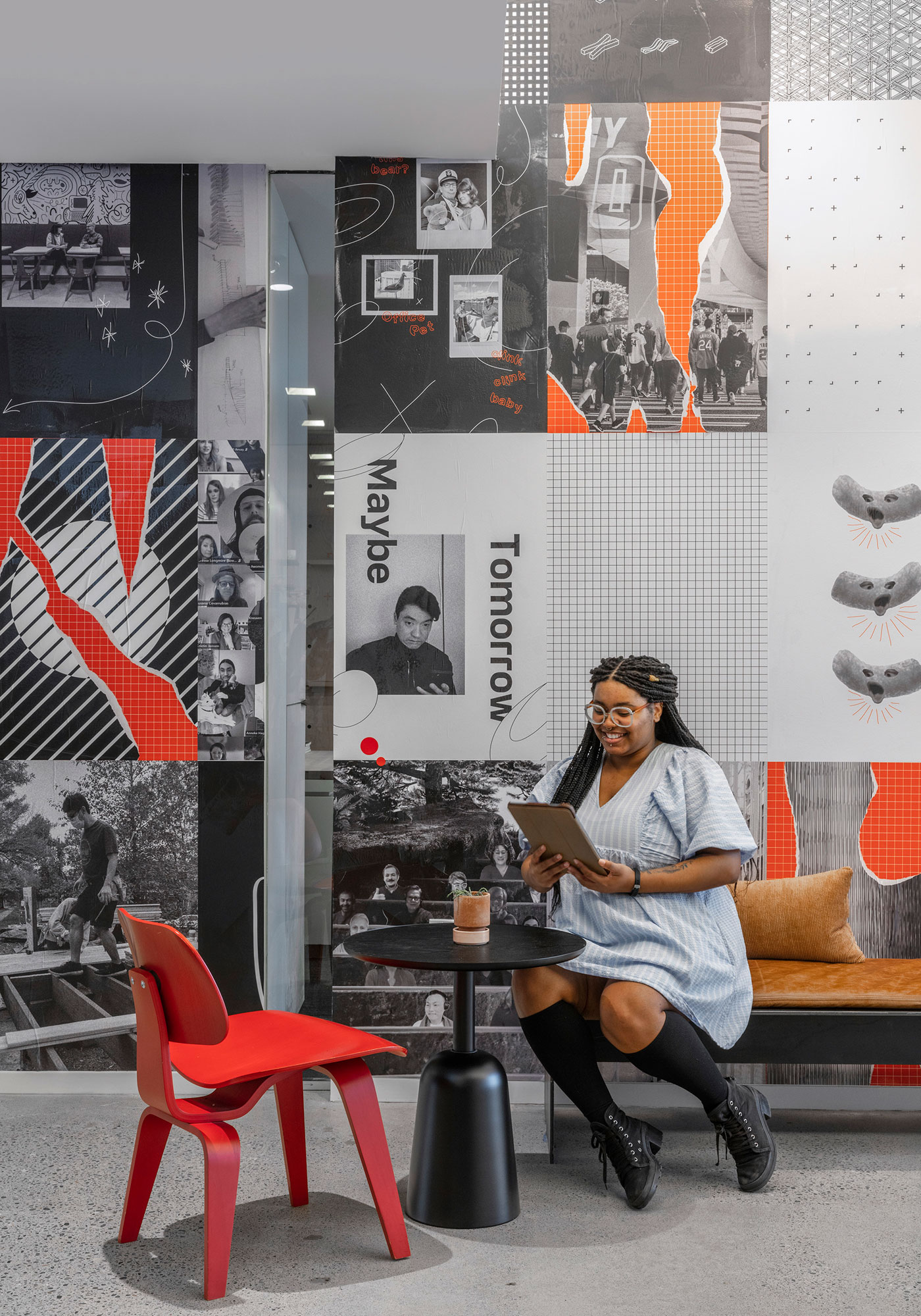 PLACE: A sense of place is fostered well beyond the built environment.
As the landscape of work rapidly changes, CRE is scrambling to find the magic formula that will fill up their offices. Gensler's own Workplace Survey research found that people actually DO want to return to work, but they are demanding more from their work experience than ever before. The need for collaboration with colleagues remains the highest driver to coming into the office, but other top reasons include the need for other spaces that enable quiet, heads-down work; privacy; connections to nature; and accommodations for neurodiversity. Gensler has actually delineated the "10 Spaces That Are No Longer Optional to Create a Great Workplace Experience." Ignoring them means risking irrelevance to today's talent pool. As with the value of culture, the value of a well-designed office is compelling, too:
High-performing workplaces are highly correlated with better individual, team, and organizational outcomes. Office workers in high-performing workplaces are almost twice as likely to report that the office positively contributes to their personal well-being, career advancement, and job satisfaction. (Source: Gensler Workplace Survey 2022)
For a more integrated mindset around place, ask yourself, do your values and intentions find tangible expression in the workplace and the tools and policies governing how you use it? Are you fostering the human connections that are the primary driver to working in person, not only in collaborative spaces but in your culture, too?
Don't: Assume that an enticing workplace is simply about amenities like snacks, more plants, or onsite meals.
Do: Create a differentiated working environment that represents and propels your values and aspirations. What does it mean for office designs when you say you value diversity, equity, and inclusion? Or a culture of critique? How are those qualities rendered tangible in the workplace?
PURPOSE: A purpose-driven company is a relevant company.
Brand investments continue to increase when it comes to reputation-building — externally. But it's critical that the same thinking and investment is applied to the other huge audience that is key to reputation — the internal one. If we recognize the need for caring about the person and the environment that make up an employee experience, we also need to have a handle on what we, as leaders, would define as our "employer brand." That means taking a good hard look in the mirror to determine whether what we espouse is what we're delivering to our people. At the heart of a brand is a defined purpose and mission that is both meaningful to the market and relevant to employees.
Building conviction with your employees regarding your "why" isn't just a nice-to-have. As Nike's Chief Social and Community Impact Officer, Jorge Casimiro, observed:
"If your employees don't understand and buy into your purpose, it's going to be very difficult for your consumers to do it." (Source: Forbes)
For a more integrated mindset around purpose, ask yourself, how do you want to be seen by the people who work for your company? Does their perception align with the external brand message? Are you employing the same horsepower to define and implement your employer brand as you are your external one? Are you involving employees in the creation and championing of that purpose? Why not?
Don't: Assume that the way senior management sees the company's purpose is the same as how recruits see the company. New recruits can be an incredible mirror.
Do: Perform the same hard work to understand your employer brand as you do your corporate brand — through immersive and collaborative design research with the target market you are trying to attract, ensuring your posture and messages are attractive.
Finally, are you tackling all three of these, but in siloes? It's more critical than ever to ensure that the employee experience isn't a fragmented one that is created through disparate, disjointed lenses. This requires an openness to new things — in this case, exploration, collaboration, and prototyping around what is most important to employees and their experiences within our organizations.
Ultimately, the functions of HR, Real Estate, and Brand need to come together around people, place, and purpose if they want to learn from this crisis and build a sustainable foundation for competitive advantage.
For media inquiries, email .