How Office-to-Residential Conversions Could Revitalize Downtown San Francisco
February 16, 2023 | By Amy Campbell, Holly Arnold, Doug Zucker
This is the second in a blog series to explore ways to reimagine the future of downtown San Francisco. Read Part 1 here and Part 3 here.
Perhaps no other U.S. city's downtown core is grappling with post-pandemic disruption more than downtown San Francisco, which The New York Times podcast "The Daily" recently called "The Most Empty Downtown in America." San Francisco Mayor London Breed recognized these challenges during a client panel event on Feb. 15 in Gensler's San Francisco office where she shared her vision for downtown San Francisco's future. "We're not going to be what we were before the pandemic, but I truly believe we can become something better," Mayor Breed said. "My hope is that we start thinking differently and more creatively about all kinds of spaces that exists across the city and transform those spaces to become great places to eat and gather."
In Part 1 of this blog series, we investigated the lack of vibrancy and diversity present in most downtown financial districts and how small adjustments to them are not going to create the change necessary to make them vibrant 24/7 neighborhoods. Although they are, for the most part, the most transit connected areas of a city or region, they lack adequate diversity of use. One of the easiest ways to create diversity in an area that is primarily office use is to look at transforming office buildings into housing and other uses.
Gensler is leading the conversation on office-to-residential conversions. We are actively overseeing research and conversion of underperforming assets across North America and have successfully completed conversion projects in both New York and Philadelphia. We're also partnering with municipal agencies, such as Calgary's Economic Development group and San Francisco Bay Area Planning and Urban Research Association (SPUR), to consult on ways downtown vacancy rates could be turned into a catalyst of positive change.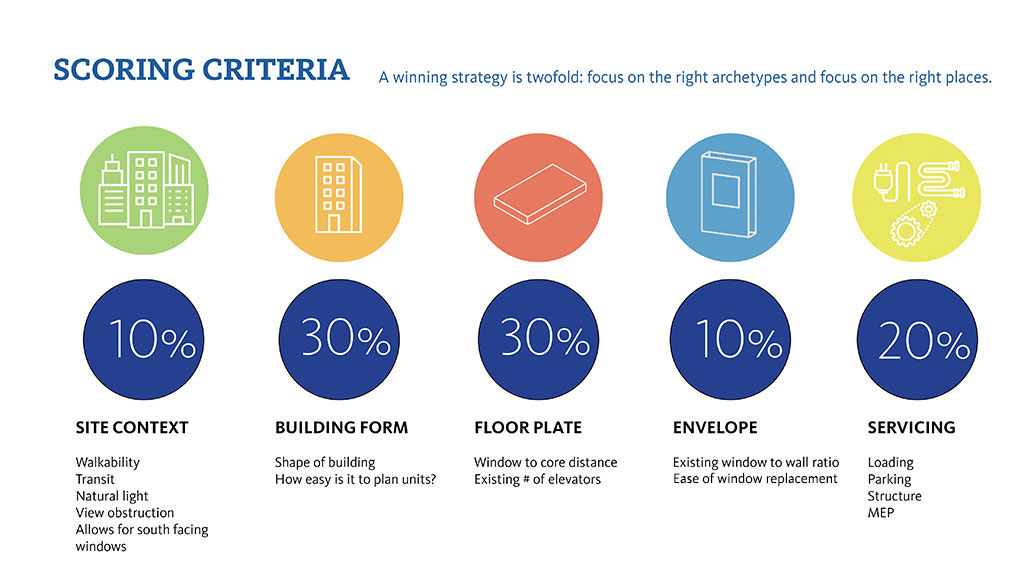 Gensler has developed a proprietary building rating system and cost model to assess vacant office building compatibility for adaptive reuse, conversion, and redevelopment. To date, Gensler has assessed over 15 million square feet of downtown office space in more than 300 buildings in 25 different cities across North America.
With increasing vacancies in office buildings, Gensler worked with developers and city planners to create a tool that can quickly review existing office buildings and determine if they are compatible with multifamily conversions. The tool's multiple criteria include site context, building form, floor plate, building envelope, and servicing. We can evaluate assets quickly and draw rapid conclusions about the initial suitability of transforming office buildings into housing. The system has been developed to align with a developer's pro-forma or business model for a project.
Elements of the existing building that would increase construction costs are weighted heavily, but so are elements that would increase the rental or sale value, such as well-balanced unit proportions and access to natural light.
San Francisco Study
In the summer of 2022, Gensler selected 36 buildings in downtown San Francisco representing a range of architectural styles and locations. We analyzed these buildings and found 12 candidates that rated well for conversion. Interestingly, this ratio of buildings to possible candidates has been consistent with most of our studies in different cities.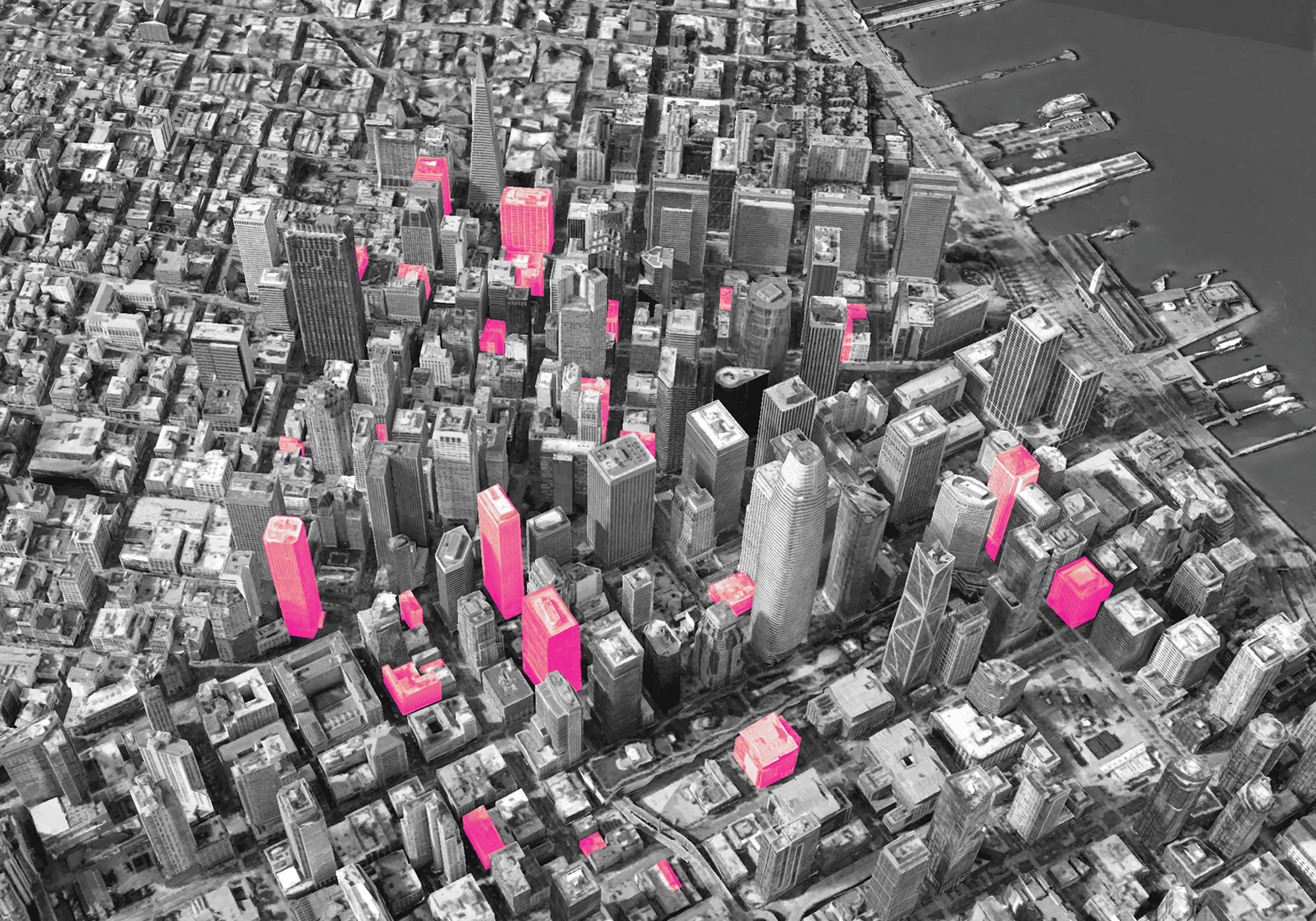 Downtown Mid-block Case Study
One downtown candidate, which scored well in our feasibility analysis, is a 1978 mid-block tower. (Incidentally, this era of building seems to make excellent candidates for conversion.) To convert this existing office building, its conversion features include: a center core, good floor depths, ribbon windows, symmetrical form, and almost 13-foot floor-to-floor heights. Units lay out efficiently with a well-proportioned column grid and ribbon windows that can receive demising partitions, accommodating a range of one, two, and three-bedroom units, plus a few units with extra dens.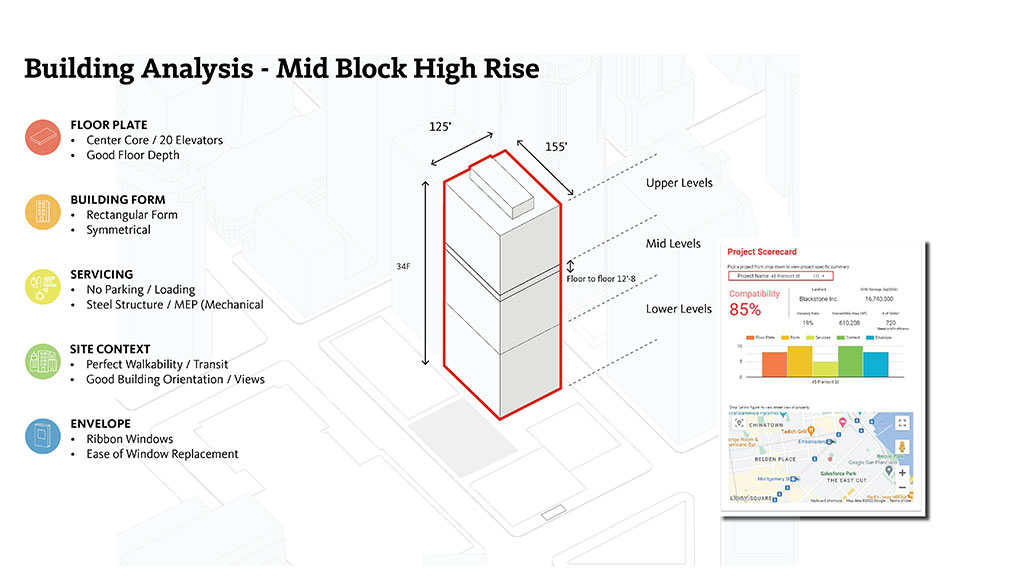 Façade modifications could have the potential to bring the outside in and create new common spaces for a residential building. Recessing the glazing line on the building could also create private balconies for the units. Larger scale modifications to the façade, coupled with removing parts of the floor plate, could carve out outdoor terraces for the building residents to enjoy the connection to the outdoors, recreation space, and gardens.
At the ground level, a recent lobby renovation already provides a welcoming and accessible front porch to the community with retail offerings, inviting lounge settings, and a public courtyard with outdoor seating. Separate building entrances could provide dedicated lobbies for residential and office users.
Transforming office buildings into housing provides more than just places to live. These conversions would have a positive downstream effect in the coming years, including increased demand for groceries, healthcare, services, and dining. Converting existing office buildings into residential buildings would also provide a synergistic benefit to the remaining office destinations to reinforce the life, work, play balance. There is evidence that office with adjacent residential within mixed-use projects has a spillover benefit on increasing the value of the office buildings. We envision that a diverse downtown would create that value on a citywide scale.
Making It Pencil Through Policy
Converting offices to residential is achievable, but no small task. Building in the Bay Area is challenged with its exorbitantly high construction costs. There's also a tremendous burden put on California, and specifically San Francisco, housing projects in the form of fees, inclusionary requirements, and the California Environmental Quality Act (CEQA) processes that translate to extensive money and time.
Modifications to a building for a successful conversion vary greatly from building to building; however, upgrades to mechanical, plumbing, electrical systems, and vertical circulation are necessities. In some cases, the conversion might trigger a seismic upgrade of the structure or even façade modifications, which only add to the cost. Emptying a building of tenants can also be a barrier. While office-to-residential conversion makes logical sense, it does not always pencil for developers.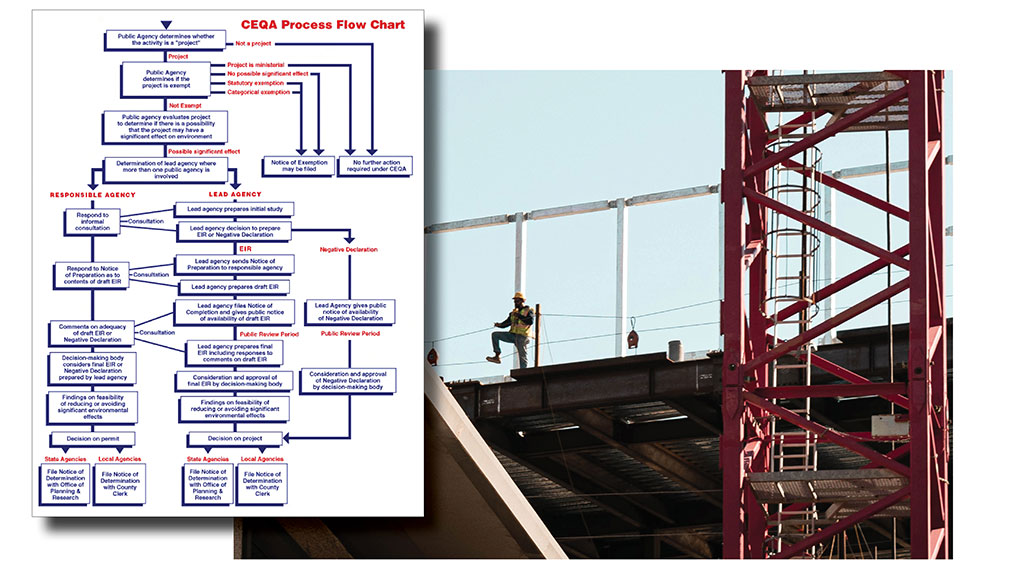 In some cases, the cost may be too high to convert, but for cities, the cost may be too high not to take some action. In the next few years, buildings with declining occupancy and a high level of debt may not be refinanceable and will eventually have to be written down or returned to the bank. That leaves building owners with narrowing options. In order to put conversions within financial reach even on a reduced basis, developers may need additional assistance through government subsidies, tax breaks, and incentive programs.
These conversion incentives may also be the only way to help San Francisco meet its own important Housing Element State Law deadline of building 82,000 new units of housing by 2031 (10,000 units per year). Historically, San Francisco hasn't even built 5,000 new units of housing per year. Therefore, we will need every option possible to reach the Housing Element goals. If San Francisco falls out of compliance with the state's housing requirements, the city could lose funding from the state that supports affordable housing and infrastructure and also lose control of its own local zoning (aka "Builder's Remedy"). It will also decrease the annual allotment of space allocated for office development under Prop M.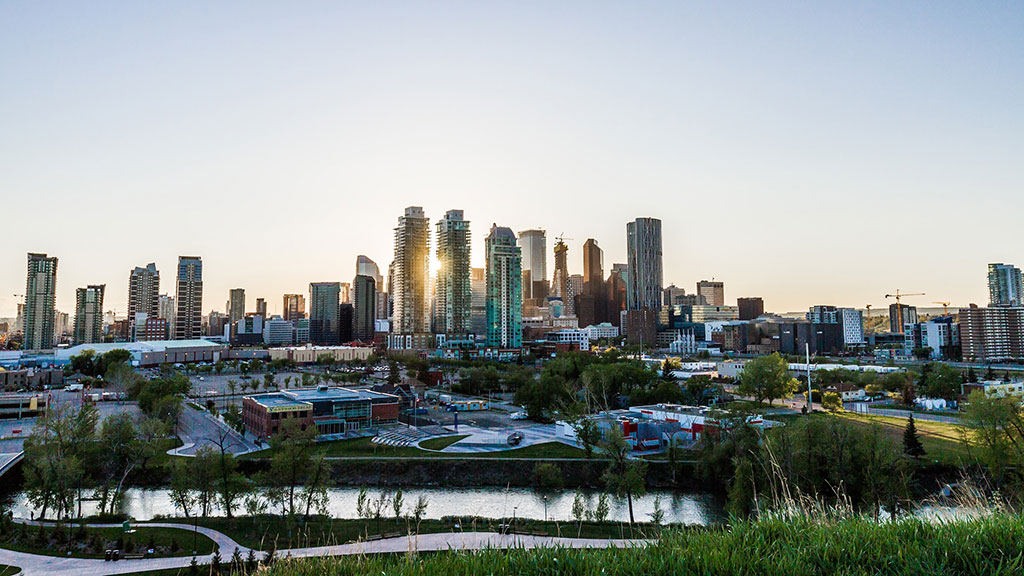 If Calgary Can, So Can We....
We worked with the City of Calgary to analyze this issue and they have had success in encouraging conversions and creating more balance in uses in the city's downtown core. The Downtown Calgary Development Incentive Program was formed to support building owners in converting vacant office spaces into residential uses.
Part of Calgary's success in the implementation of office-to-residential conversions has been the city's action on streamlining policy (planning approvals in as little as 30 days) and providing financial incentives to developers (approximately U.S. $50/sf) to convert offices to residential buildings.
San Francisco could offer its own type of incentive program to make conversions a more attractive proposition to developers. Here are some possibilities:
Streamlining CEQA process for repositioning office-to-residential in existing downtown buildings, embracing and encouraging developer use of AB 2011/ Affordable Housing and High Road Act of 2022
Deferring/waiving/reducing impact fees on office-to-residential development
Deferring/waiving/reducing open space requirements for existing office building conversions
Finding state-allocated money to offer financial incentives to help offset costly building improvements like seismic upgrades and façade improvements. California Governor Gavin Newsom spoke of money for office-to-residential conversions in summer of 2022. In Canada, it was called economic disaster relief. Could San Francisco do the same?
Monetizing the Prop M office allocation that becomes available when converting office to residential (allocation that could be purchased from the residential conversion developer by an office building developer in the future)
Temporarily waiving inclusionary housing requirements on conversions, although a recent study showed that this will not be enough by itself
Reallocating federal, state, and city funds dedicated for permanent supportive housing to developers pursuing conversion projects
Linking office development approvals to residential construction targets once office demand/development comes back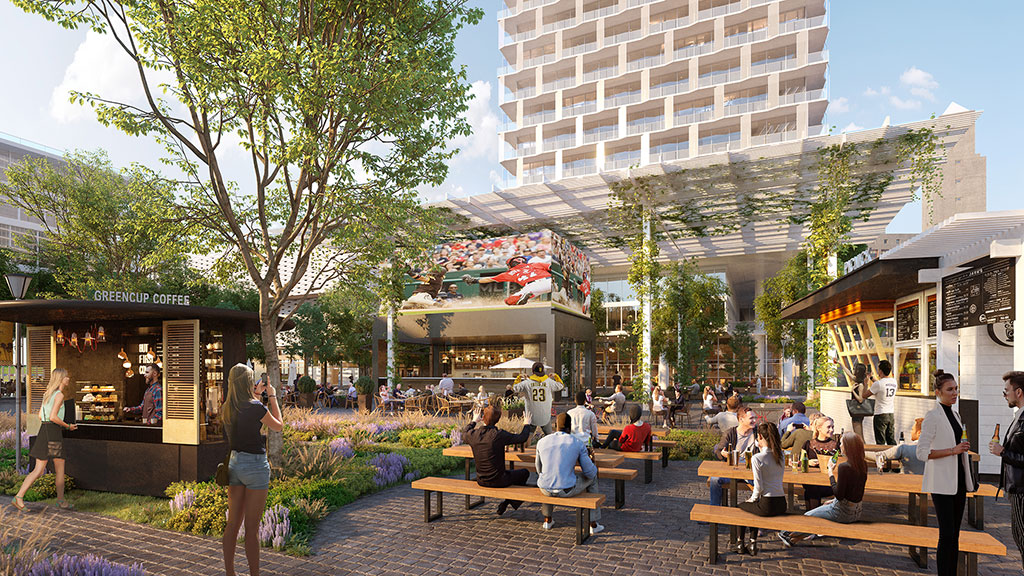 San Francisco's Next Chapter
While the pandemic challenged us in too many ways to count, it also accelerated and inspired a lot of exciting changes worth celebrating. In San Francisco, these positive outcomes can be seen throughout the city, such as the attractions and amenities on the now car-free JFK Boulevard in Golden Gate Park. Our slow streets became a safe pass-through for pedestrians traveling on foot or bikes and creating gathering space for community, events and music. San Francisco's parklet program allowed our small businesses to flourish and expand their businesses while also prioritizing pedestrians over cars. Our neighborhoods across the city were reenergized as people rekindled their commitment to their local small businesses, restaurants, and watering holes. Let's leverage this momentum to implement more radical change downtown.
Downtown San Francisco was a great place. The pandemic can be the catalyst to make it even better: a place that is vibrant, diverse, and resilient. For what is arguably thought of as one of the most progressive large cities in the nation, it is time for San Francisco to think, work and act progressively to use this moment to revision our downtown, while helping to solve our housing and homeless issues.
For media inquiries, email .