How TK Elevator's New Workplace Spurs Connectivity Through Experiential Design
March 15, 2022 | By Debora Novarini, Jerry Alexander
Rising to a lofty height of 420-feet, TK Elevator's new test tower — the tallest in North America — features an engaging 24/7 light display that illuminates Atlanta's city skyline. The 11,000 square foot LED mesh screen — the largest of its kind on any U.S. building — is a digital canvas for sparking community engagement and connectivity. It's also illustrative of a broader trend: As society emerges from a period of isolation, corporations are recognizing a need for unified, collaborative experiences that people are craving, and they are seeking out solutions to better connect with the communities they operate in.
In 2017, TK Elevator sought to establish a new research, qualifications, and innovation facility in a rural or suburban location in the southeast U.S. Shortly after, Gensler joined the project. During initial discussions, TK Elevator recognized the opportunity to better invest in the local community by shifting the development to a more urban site.
Conveniently located in the bustling Cumberland area, The Battery Atlanta™ proved to be the perfect destination for TK Elevator's evolving workplace. The 2-million-square-foot mixed-use destination, anchored by Truist Park, home of the Atlanta Braves, accommodates over 50 million visitors annually and can be seen by almost 500,000 cars utilizing I-75 and 1-285 daily. Taking advantage of its new location, TK Elevator's recently completed North America Regional Business Support Center merges experiential design with interactive spaces to achieve heightened brand awareness and amplify its connection with its neighbors.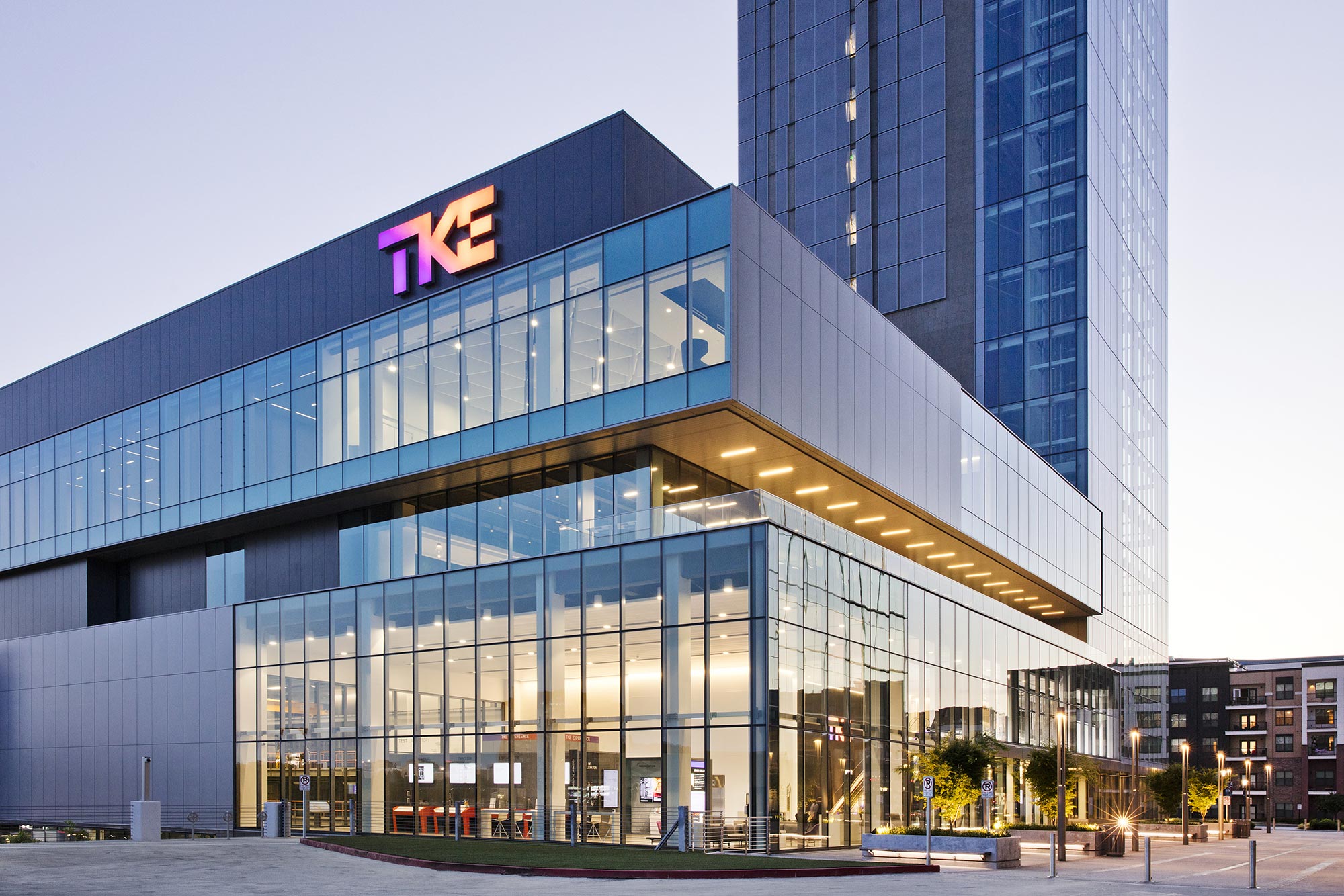 Conversations began centering around how to best introduce the brand to the public, and then evolved into how to best connect with the public. To achieve the desired communication goals, the project includes more than 700,000 individual RGB LEDs to create display animations featuring a dynamic TKE word mark, on-brand messaging, and an array of colors for public enjoyment. During the company's grand opening, TK Elevator chose to greet their new city with a salutation of "Hi Atlanta!" which sparked immediate conversations in national and local media publications, in addition to social media.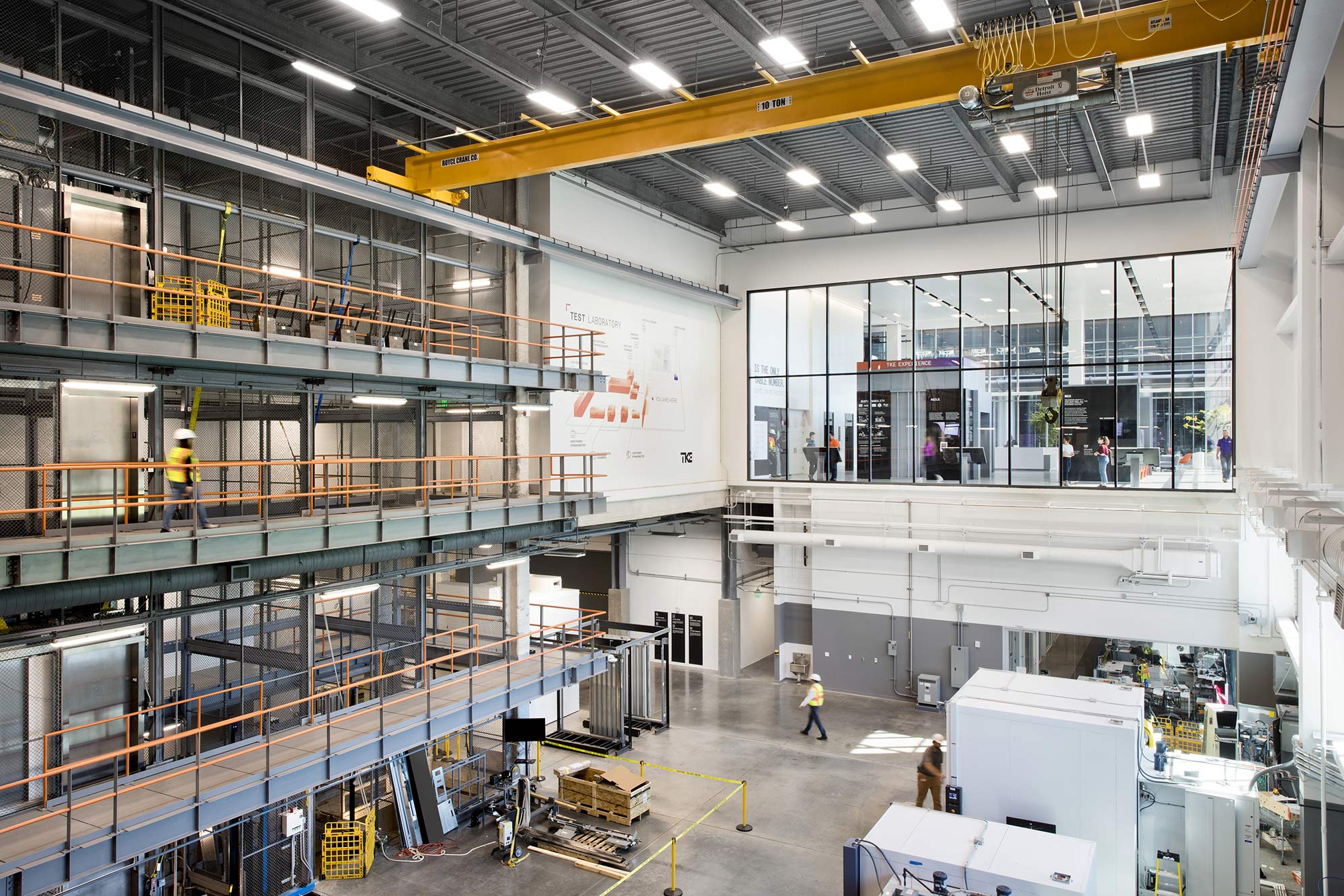 TK Elevator continues to prioritize connection to the community through its visitor center and showroom, located within The Innovation and Qualification Center (The IQC). Sheathed in glass, the two-story showroom offers an immersive look into the research being conducted within the adjacent qualifications lab. By putting R&D efforts and smart technologies on full display, the company reflects a broader trend of brands increasing transparency by giving consumers a behind-the-scenes look at how products are made, and cultivating trust from the communities they serve. Patrons can engage with 20 different touchpoints, all providing interactive experiences for elevator safety, sustainability, and innovation.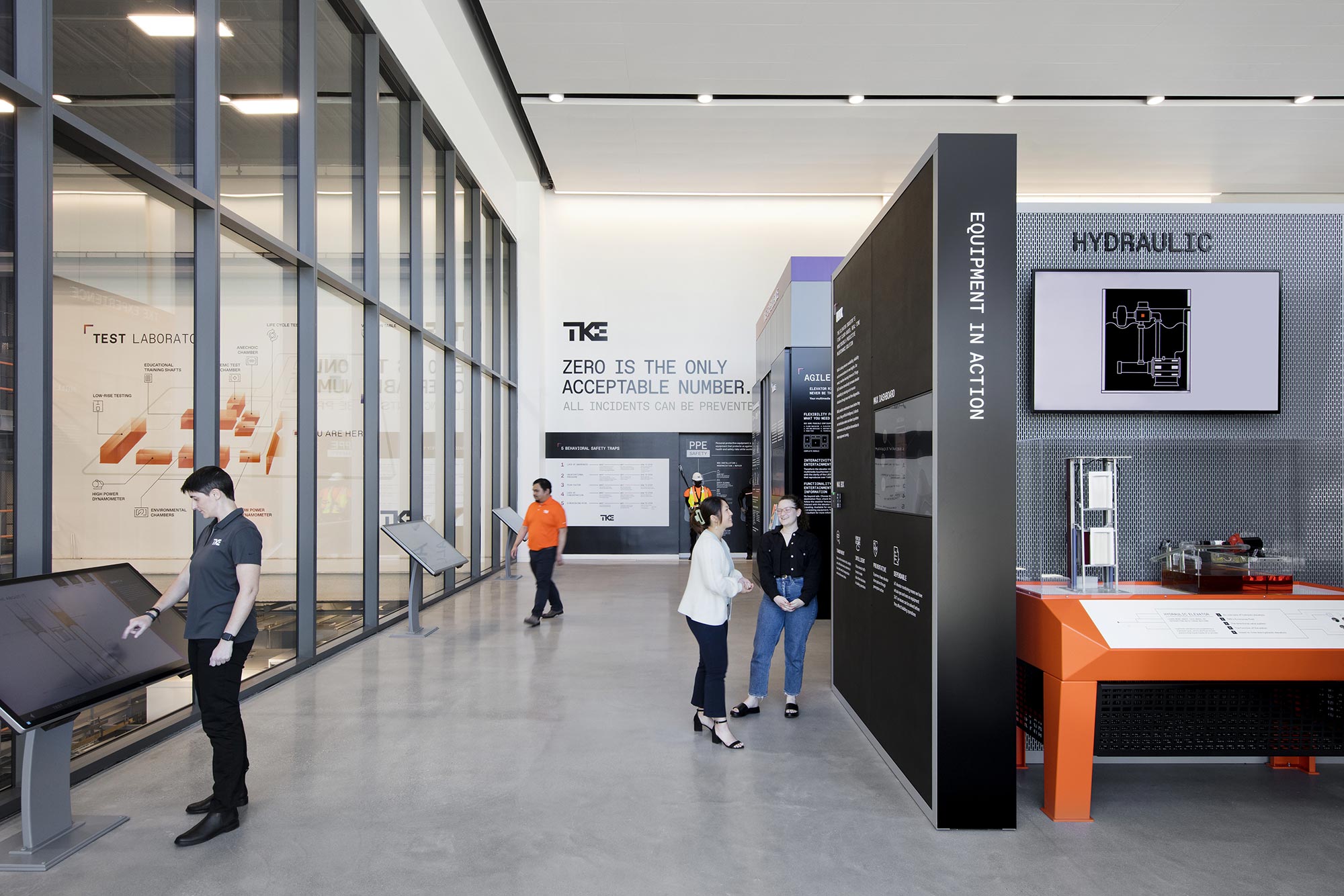 To further engagement, the design team partnered with Atlanta artists to infuse the showroom with a local flair. One of the stand-out installations includes a custom piece created by Tiny Doors ATL. This one-of-a-kind project brings big wonder to tiny spaces by designing interactive 7-inch doors inspired by the spirit, architecture, and other unique elements of the surrounding community. Followers of Tiny Doors ATL enjoy scouring the city for these small wonders, spurring additional opportunity for TK Elevator to engage with showroom visitors.
By prioritizing immersive experiences and interactive design, TK Elevator North America Regional Business Support Center demonstrates how historically private companies can effectively open their doors to the community to create connection and spark innovation. It is a trend we expect to continue as companies prioritize embracing the people and communities they are immersed in.
For media inquiries, email .