In a nod to hospitality, airport lounges are offering seamless amenities to put passengers at ease in a secure environment.
By SARAH AMELAR
---
That heightened hospitality vibe is permeating the entire arc of the traveler's journey, from airports to destination hotels. Let's look at how it's playing out.
Easing the stress of air travel
San Francisco International Airport, or SFO, has been treating ordinary travelers to spatial sequences and amenities designed to bring back a sense of comfort, ease, and fun. Gensler has completed a series of pivotal projects, beginning with its renovation, expansion, and interiors for Terminal 2 (T2), serving American and Virgin America airlines (completed in 2011). For the firm's latest SFO projects at United Airlines in Terminal 3 (T3), Gensler's Melissa Mizell and Jeff Henry have expanded on the successes and lessons learned from the design of T2. "We learn so much from the things that get photographed and posted a lot on the web and Instagram," says Mizell. Among the top hits were T2's and T3's yoga room, as well as gate-side 'hydration stations,' where anyone can refill a bottle with filtered water free of charge.
"To elevate the experience for everyone," explains Mizell, "we've tried to anticipate millions of people's different needs." Unlike the rigidly conjoined seating in conventional gate lounges, T2 and T3 address a range of traveler scenarios with playful, varied, and comfortable high-design furnishings. In the general-boarding areas, Mad Men–sleek Arne Jacobsen Egg Chairs provide for a relaxing, cocooning experience, while low-slung benches or living-room seating have become group perches. Inventive kid play areas, window-side café tables, and quiet zones with fully wired work stations meet other passenger needs.
"We took as our model the ways best-brand hotels create an integrated food and beverage experience," says Henry. "So, instead of a separate food court or corridor away from the gates, we exploded and embedded those opportunities throughout the holding areas, so you can grab a sandwich or an extra cup of coffee or a glass of wine—and keep an eye on whether there's a plane docking at your bridge." These smoothly integrated, stress-easing conveniences serve both passengers and tenants.
It's an experience enhanced by daylighting, airfield views, and such mood-influencing features as an innovative ventilation system and, at T3, circadian-rhythm illumination. "People actually show up at the airport early—or even stay after landing," says Mizell, "just to hang out, feast on some mostly local food, or get some work done."

The joys of flying are often eclipsed by 21st-century hassles, particularly when airport security is involved. But there's a movement now to bring Hospitality—with a capital H—back into air traveler's experience.
Elite lounges step up their game
As airports begin to upgrade the experience for everyone, there's pressure on elite lounges to surpass their traditional offerings for business- and first-class passengers. "Airlines are really spending to make sure they're stepping up their game, and they're competing with each other," says Gensler's Ashley Dowell, whose interiors work has included lounges for Air New Zealand. Her team worked with the airline to create its flagship lounge in Auckland, plus new facilities for international airports at Sydney and Brisbane. The team also established the design standard for the airline's lounges in the region.
The design concept for these lounges focused on creating havens embodying New Zealand's "on-the-edge-of-the-world" character. That translated into an experience beginning with an elegant but discreet lounge façade with the cachet of a "secret entry," followed by a "hero" moment: a feature wine wall showcasing New Zealand wine.
The Auckland and Sydney facilities each feature a live chef offering cuisine on demand, bringing, as Dowell puts it, "the idea of entertainment, or theater, into the space." The culinary focus is "tastes of New Zealand," but the visual focus also takes in dramatic airfield views and large-screen video displays, presenting Kiwi landscapes. Other amenities include quiet nooks, shower facilities, and children's play areas. Auckland's lounge also features an outdoor terrace and a "green wall."
"It's not just about making a pretty and gracious hospitality space," Dowell says, pointing out that hotels don't handle the complex airport functions or daily (even hourly) guest traffic these lounges see. "This is a hotel-style environment that needs to be secure, extremely robust, and easy to maintain, while still feeling luxurious." A key goal is to make the experience fluid and effortless: "At the lounge, all the details are handled for you to give you a seamless journey."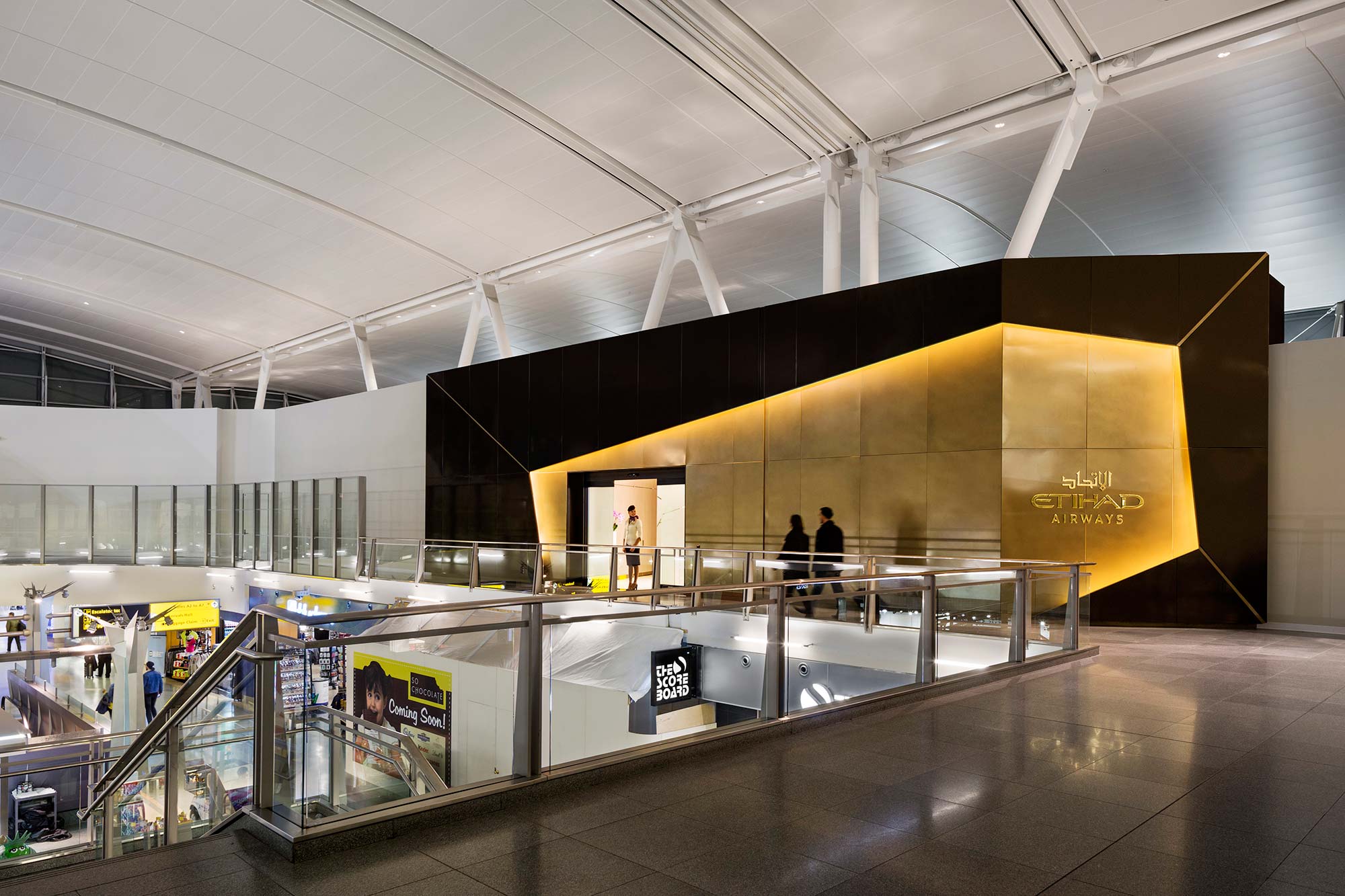 Embracing local culture and heritage
Much the way Kiwi character imbues Air New Zealand's elite lounges, the Etihad Airways counterpart at New York's JFK International Airport draws on the airline's home country and its distinctive culture. "How can we bring a little bit of Abu Dhabi to the world and share its historic culture, as well as its 21st-century modernity and progressiveness?" was a key question the Gensler design team tackled, recalls Matthew Johnson, who oversaw the project, along with the development of a design standard for Etihad's guest facilities in airports around the world.
Inspiration came from the airline's "facets of Abu Dhabi" brand concept—drawing on that country's architectural heritage, with geometric patterns and light-filtering screens, as well as its hospitality traditions. Faceting is a recurrent theme in this lounge, shaping its entry façade, custom furniture and fixtures, and the view-capturing screen in its dining-and-bar area. The array of spaces—unified, yet varied—includes a serene prayer room with an ablutionary antechamber, and for passengers flying Etihad's "The Residence" (a personal apartment, with its own bathroom and shower, on board the Airbus A380), there's a private, deluxe VVIP suite for preflight relaxation. "What we set out to achieve for the whole venue," says Johnson, "was more like a five-star hotel."

Airports are creating an experience—getting you to spend more time there shopping, dining, and even entertaining family, friends, and colleagues.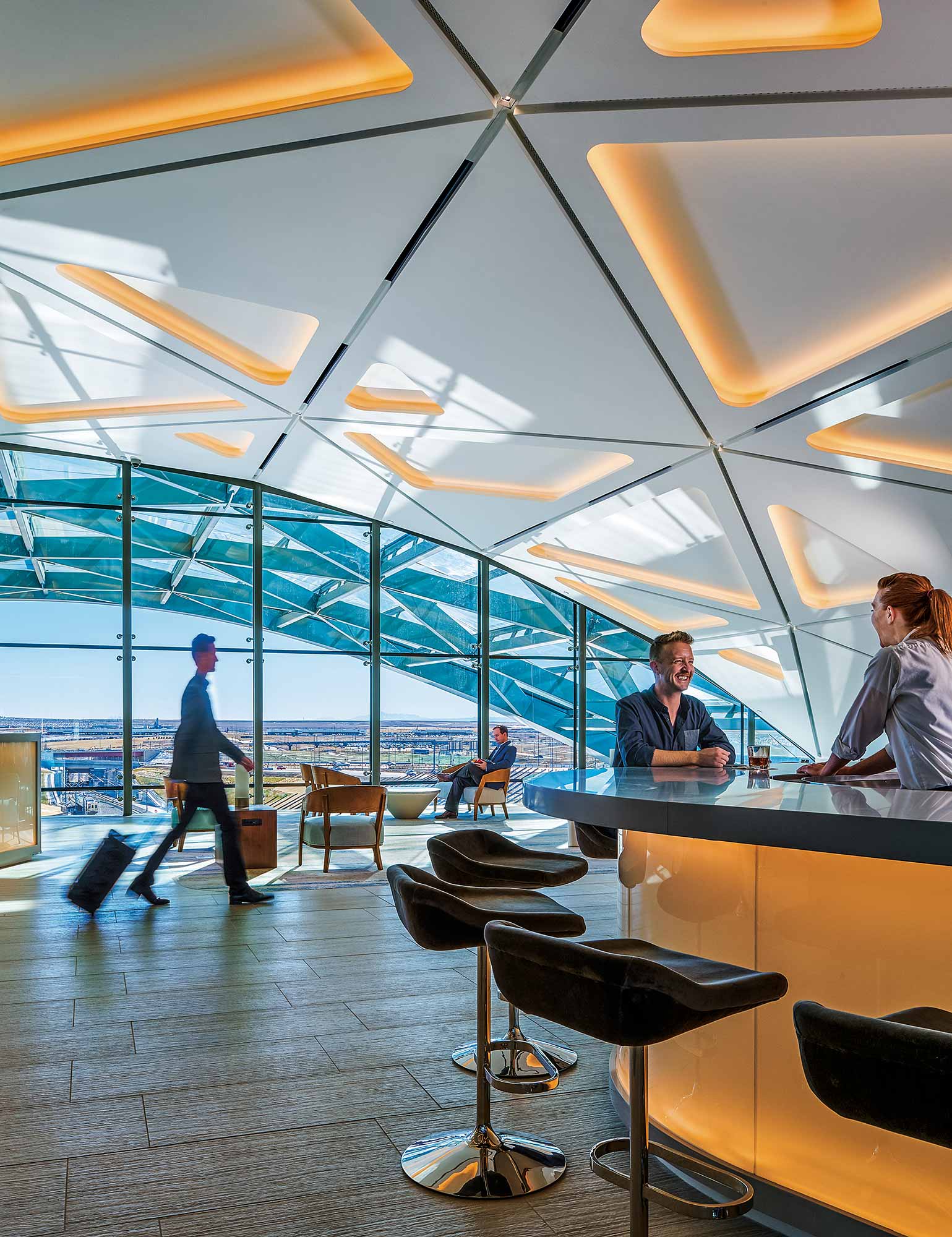 A destination for locals and travelers
"Airports are no longer just about flight," says Gensler's Kap Malik."They'e creating an experience—getting you to spend time there shopping, dining, even entertaining family, friends, and colleagues." And that, he observes, is part of a growing trend: the emergence of "airport cities," vital urban nodes that are transforming the once-drab, fringe territory around air hubs.
A forerunner in the development of airport cities is Denver International Airport, where Gensler has done three independent, interrelated projects: the 519-key Westin hotel and conference facility, a transit center with a rail station, and a civic plaza. (The hotel and plaza were completed in November 2015, and the transit center is slated to open in 2016.)
With rapid rail connections to downtown Denver, mountain and urban-skyline views, public art, and food and beverage venues, the complex was designed as a magnet for locals and air travelers. The grand plaza is a communal gathering space, poised to host such year-round activities as outdoor concerts, festivals, and theatrical or sports events. The complex, says Malik, provides "seamless connections—horizontally and vertically—between the hotel, transit center, civic plaza, and the existing airport." The airport's people mover system connecting its concourses will eventually continue through the hotel and transit center and link to a future terminal, all interfacing with the baggage, ticketing, and security systems.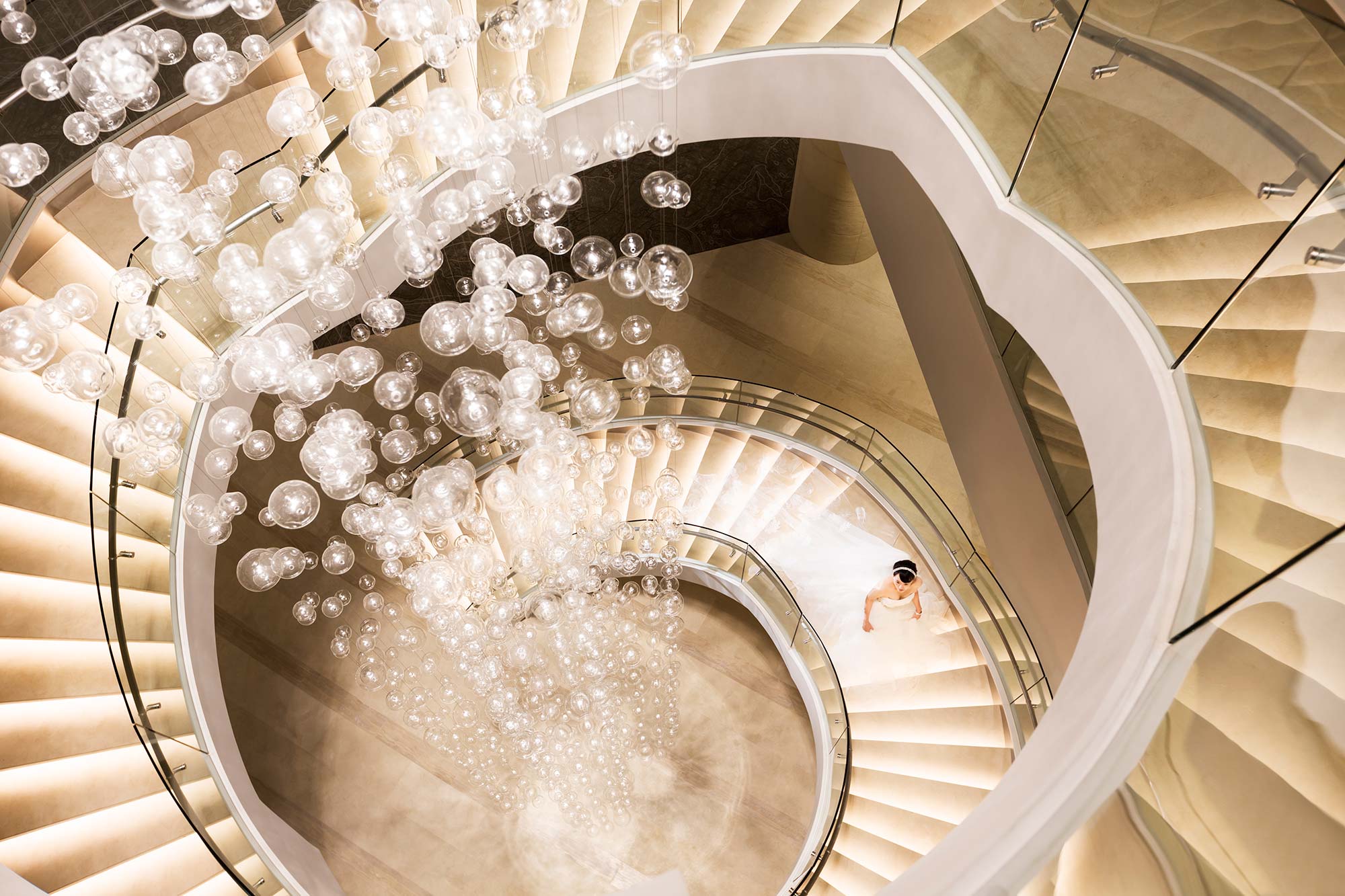 With remarkably quiet interiors (thanks to an acoustically advanced, glazed building envelope), the Westin hotel hovers over the rail station, with views of the trains, public square, soaring jets, and Rocky Mountains. Unlike old-school airport accommodations, this was designed as a destination hotel, with its own plush, resort-like offerings, including an enclosed rooftop pool. As Gensler's Tom Ito puts it: "It's not just about making the most of airport-adjacent property, but about offering something—a dynamism and excitement—that's only possible at an airport. At the same time, you're taking it in from a surprisingly tranquil setting, so it completely transforms the experience."

To compete for passengers, airlines are investing more in the airport side of how they meet, greet, and pamper them.
Rise of the airport city
Another rising airport city occupies the manmade island of Incheon, an hour outside Seoul, South Korea. It's the site of Gensler's Grand Hyatt Incheon hotel, a destination property designed to attract air passengers, vacationers, and locals. Though this is an international world-class hotel, it is subtly Korean in spirit. Inspired by flight, by the fluid movement of the ocean and air, the building's form is, Malik says, "almost like a wave rippling in the play of light." It's also about addressing all five senses, from atmospheric lighting and water sounds to the textured limestone exterior cladding that transitions to Carrara marble on the interior, where scents are piped in.
Amid an abstracted Korean textile pattern motif, the amenities extend from indulgent spa offerings to food and beverage venues. "And increasingly," says Malik, "people stay for a couple of days before flying out, just to savor the pleasures of the island and the hotel."
Although such enhancement of the travel experience is by no means universal, change—from aviation terminals and gate-side lounges to airport meccas and destination hotels—is undeniably under way.
---
Sarah Amelar writes for Dwell, Architectural Record, and the New York Times.