With U.S. and U.K. unemployment rates at their lowest points in nearly a half-century and a global human talent shortage of more than 85 million people projected by 2030, according to the consulting firm Korn Ferry, the global competition for talent is at an all-time high. One of the key ways businesses are able to attract and keep the best talent is by offering the best workplace experiences. Today's top talent wants more than a paycheck; they want spaces where they can be effective at their jobs while also feeling connected to a greater purpose. Moreover, our research shows that when businesses redesign their workplaces with things like a variety of spaces and amenities, their people become more engaged and productive, which leads to better business performance.
WHAT TALENT WANTS
Data and insights uncovered by the Gensler Research Institute show that people get their best work done when they have a variety of spaces that they can choose from during the day. Choice leads to a feeling of empowerment, which boosts individual performance.
For example, Gensler's 2019 U.S. Workplace Survey (U.S. WPS) found that a majority (79%) of people in workplaces that offer a variety of settings reported a great experience, and 71% of people with choice in where to work reported the same.
NESTLÉ'S USA HEADQUARTERS IN ARLINGTON, VIRGINIA, BOASTS A VARIETY OF PRIVATE, HIGH-FOCUS AREAS AND OPEN AREAS FOR FORMAL AND INFORMAL COLLABORATION.
WITH A BALANCE OF CREATIVE SPACES AND WORKSPACES, PATREON'S HEADQUARTERS IN SAN FRANCISCO CONNECTS CREATORS AND COMMUNITY MEMBERS.
AT ADOBE'S OFFICES IN SAN JOSE, CALIFORNIA, A MIX OF WORKSPACE, CONFERENCE ROOMS, AND OPEN COLLABORATION ZONES EMPHASIZE EITHER INDIVIDUAL WORK, FORMAL MEETINGS, OR COLLABORATION.
We're talking about spaces that are neither open nor closed, but somewhere in between. In other words, people still like open office setups as long as they have the option to dip into more private spaces at points during the day. By the same token, most people also don't prefer workplaces that are completely closed off into private offices. Our research finds that "mostly open" environments with ample on-demand private space clearly score the highest on effectiveness (as measured by Gensler's Workplace Performance Index) and score the highest on experience (as measured by the Gensler Experience Index).
THE IDEAL OFFICE IS BOTH OPEN AND PRIVATE
Percent of respondents who currently sit in each type of workplace environment, compared to what they say would be ideal
A great example of an office with a variety of spaces is Campari Group's new North American headquarters in Manhattan. The U.S. home of the global spirits group cultivates collaboration and experimentation among staff and clients with an innovation lab where master mixologists, bartenders, and visiting brand ambassadors can craft and quaff new cocktails. Within Campari's open workplan, four distinct "bars" provide alternative, but immersive spaces that foster connection and creativity.
A BETTER WORKPLACE EXPERIENCE LEADS TO BETTER BUSINESS PERFORMANCE
Businesses and organizations that are attracting talent with the workplace are also reaping the benefits of having happier, engaged people. According to the 2019 U.S. WPS, when people have great experiences at work, they are more engaged with the company culture, have better interaction with their peers, and are more productive. In fact, businesses with the highest engagement from their people report 21% higher profits, 41% lower absenteeism, and 10% higher customer loyalty than their peers, according to Gallup's "State of the American Workplace" report.
GREAT WORK EXPERIENCES LEAD TO BETTER BUSINESS PERFORMANCE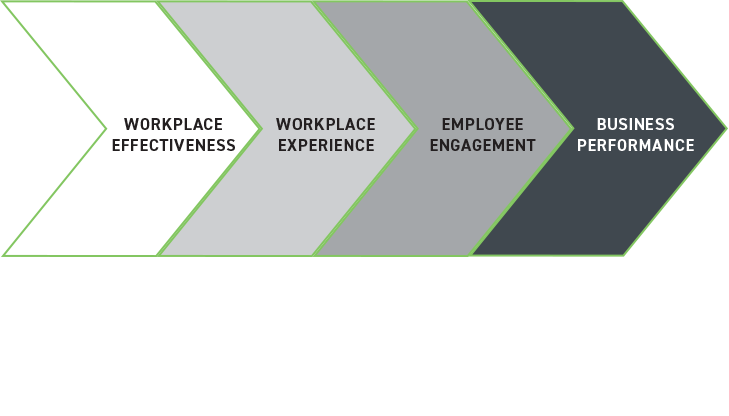 A variety of space in the office isn't the only thing keeping people engaged. Today's talent is seeking spaces where they can socialize and be inspired, according to the Gensler Experience Index. They also want a workplace that provides purpose and connection, and articulating these values in the workplace is critical to engagement. For example, Millennials are projected to comprise 75% of the global workforce by 2025, according to a Brookings Institution report. In a Kantar Futures/American Express global survey, 75% of Millennials said it was important that their employer's values match their values, and 74% said that successful businesses need to have a genuine purpose. It's clear that organizations that use design to highlight a tangible purpose for social good in an authentic way have a competitive advantage.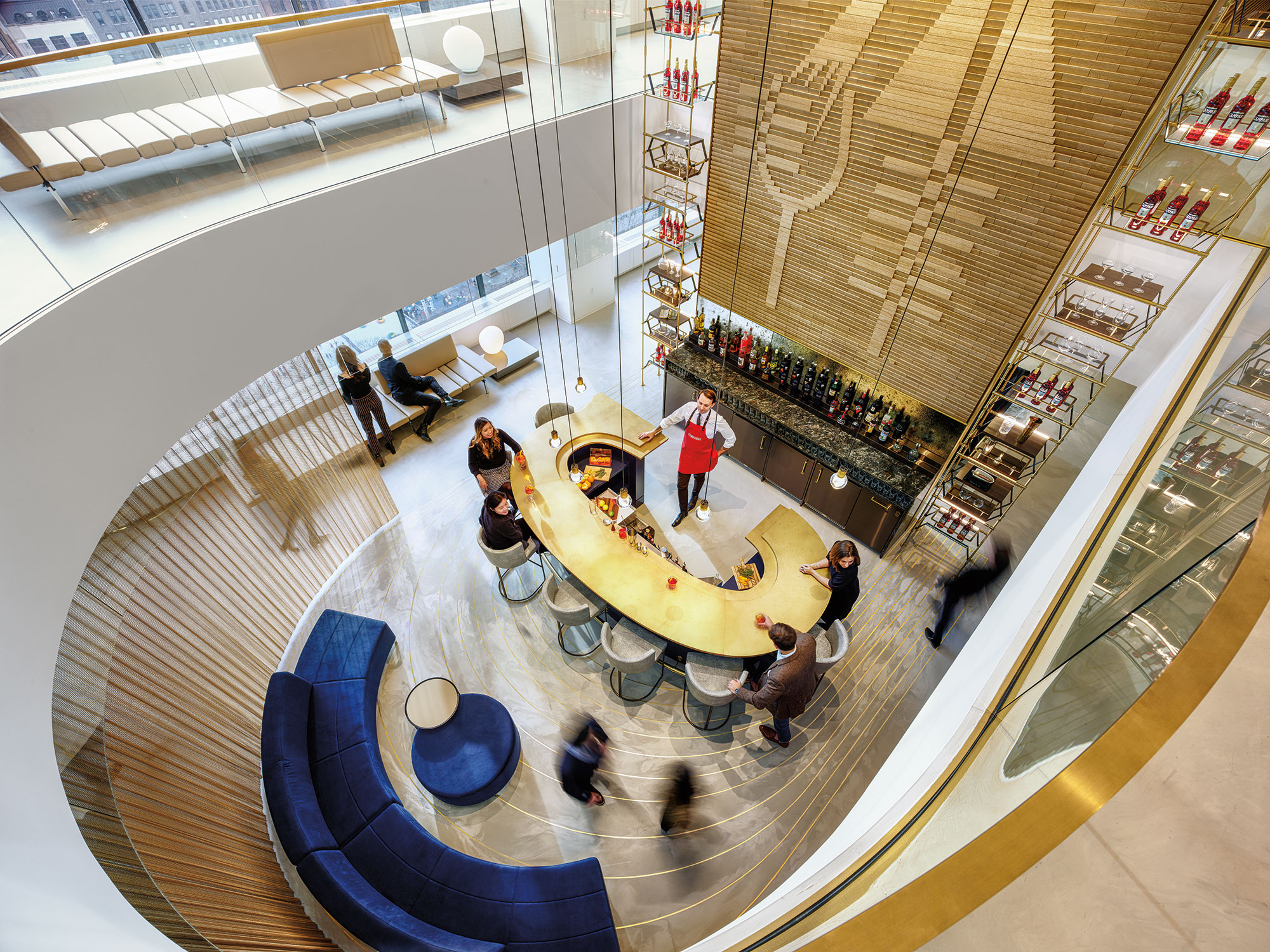 Organizations that attract talent with the workplace are also reaping the benefits of having happier, engaged people.
Take a look at Nestlé's headquarters in Arlington, Virginia. To connect local staff with Nestlé's global social impact, the company's leadership worked with Gensler's Brand Design and Digital Experience Design teams to create interactive digital experiences and immersive graphics that celebrate the earth, its animals, and the people who Nestlé serves on a daily basis.
To attract the most sought-after people, and to get the most productivity out of that talent, organizations must offer choice in the workplace — choice of workspaces, amenities, and options to engage. That's because choice leads to a feeling of empowerment, which boosts individual performance at work. Organizations that offer a wide range of choices in the workplace will attract the best talent while also improving their bottom line.