Amenities at the Edge: Where the Workplace Meets the Street
October 31, 2023 | By Brian Stromquist
Cities are springing back to life. Many of us are heading back into central business districts in increasing numbers and with increasing frequency, spurring the reawakening of some of the restaurants, shops, and offices that sat vacant during the early days of the pandemic. Some storefronts and lobbies still lay dormant, however. They're reminders that we're still living in uncertain times — with continued uncertainty around ever-evolving work behaviors, shifting models of retail, and the potential economic impact of global, geopolitical unrest.
The resultant patchwork of activity and dormancy signals our hesitancy to return to city life as we once knew it. Perhaps this hesitancy is coming from a place of anxiety, but perhaps — more optimistically — we're collectively figuring out how we want to shape our cities of the future. At this moment, we still have a fantastic opportunity to reimagine the ground floor of our cities — reinventing these sidewalk-facing storefronts as multiuse destinations that serve the community, not just single-use spaces that cater solely to the daytime workforce.
Collectively, these revitalization efforts will enhance the overall experience of being in central business districts (CBDs), which in turn has the ability to reset perception of cities — especially those cities whose reputations took the hardest hit since 2020. According to Gensler's 2023 City Pulse Survey, people who feel that their CBD provides a great experience are 79% more likely to say that their city provides a great experience.
And who better to participate in these reimagining efforts than the companies whose workplaces occupy the towers that soar above us as we walk down the street? Given our current — and lasting — focus on equity and opportunity, there's no better time to program these pedestrian-facing spaces in a way that connects workplace with community, harnessing our financial and human capital to enhance the urban experience for all.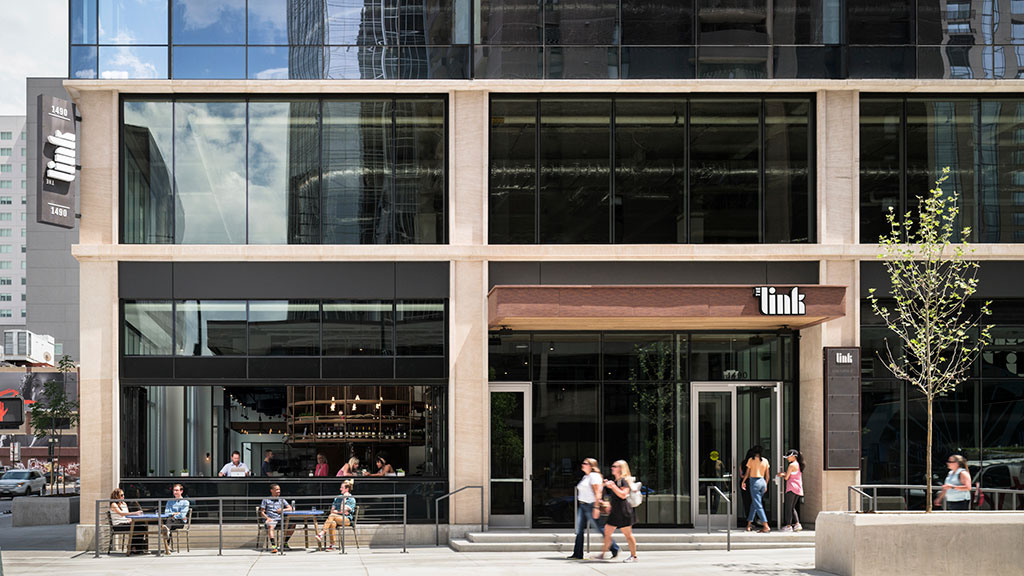 In thinking about how these spaces might be programmed, we can approach this challenge in two operational ways: 1) an "inside-out" approach, which extends the spaces and programs of the workplace out to the street; and 2) an "outside-in" approach, which brings the surrounding community in.
The "Inside Out" approach
The "Inside Out" approach involves designing spaces that extend company culture from the workplace to the street — workplace amenities to be enjoyed by the community. These solutions can be both physical and virtual, initiated by companies with subsequent engagement of community stakeholders. They could take the following forms:
1. The Storefront
What happens when you bring a company's physical workplace down to the city sidewalk? You get the Storefront, a space designed to interface between public and private, between employees and the community at large. These spaces, a few of which were piloted pre-pandemic, are becoming increasingly sophisticated, acting as hospitality-driven coworking spaces, membership experience centers, and semi-enclosed parks. By creating a public-facing space that's contiguous with the workplace, you dismantle the physical barriers between the office and the city, mitigating the "fortress effect" of workplaces that detach themselves from the city activity below.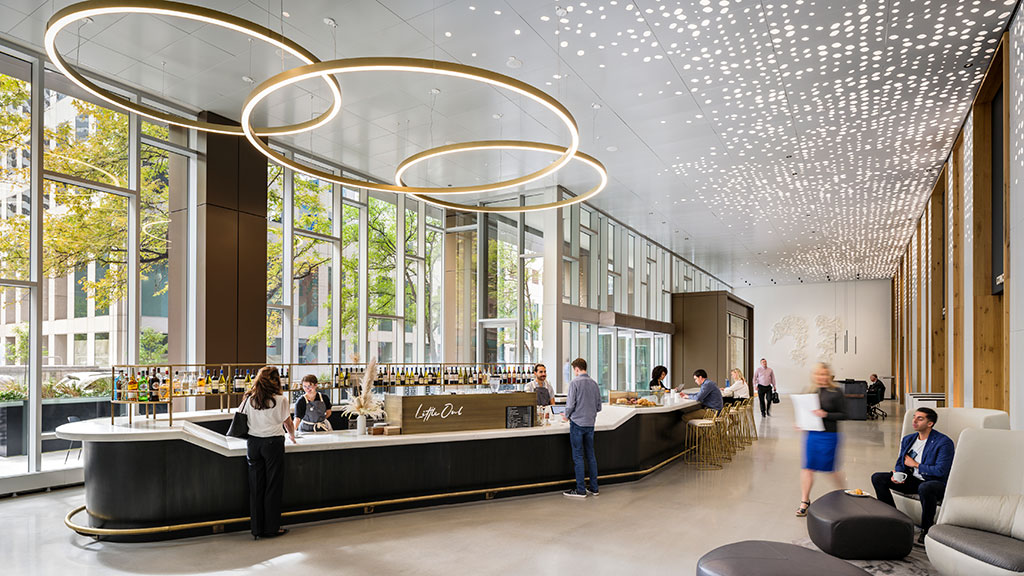 2. The Amenity
Like the Storefront, the Amenity is a public-private interface at the street level, but not necessarily contiguous with the workplace, and not as overtly branded. These spaces contain "look-and-feel" elements from the primary workplace and might even be in service of workplace operations. For example, a company could roll out an open-to-the-public restaurant whose design references elements of the workplace, but whose kitchen also remotely services culinary operations at the main office.
3. The Experience
A totally virtual approach, using VR and the metaverse to bridge between office environments and stakeholder communities. Physical spaces are digitized, gamified, and made available to the community. These virtual spaces become forums for user exploration and participation, and even provide opportunities to elicit community feedback for the design of future physical spaces.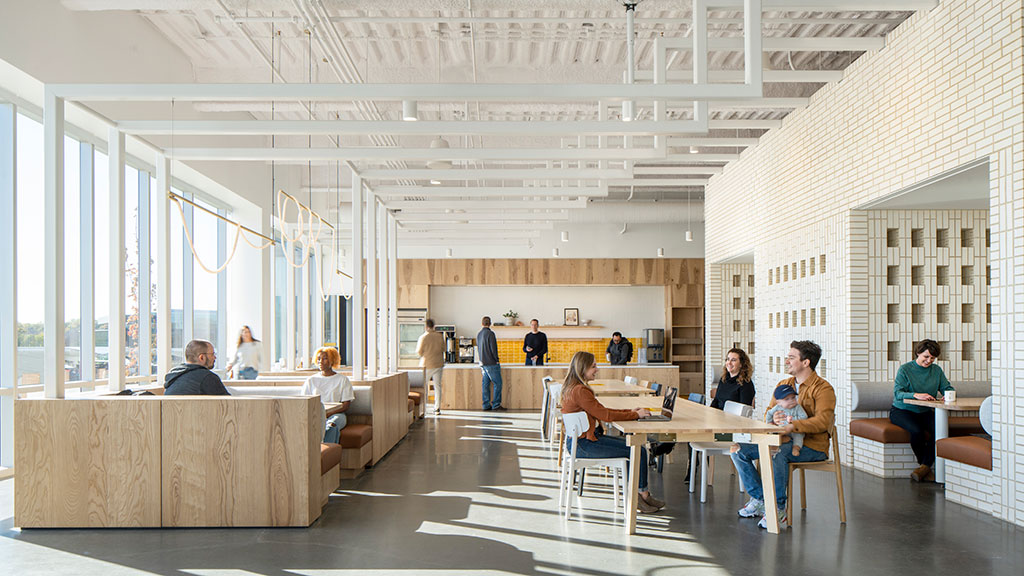 The "Outside In" Approach
The "Outside In" approach tackles the displacement of small businesses and communities by designing spaces and programs that literally bring people and local organizations into the building. These types of solutions are more collaborative, involving partnerships between organizations and communities. These partnerships could be brokered by either party or, in some cases, by a designer who brings them both to the table. "Outside In" approaches might help to mitigate the effects of market displacements — especially the displacement of creative communities. They could take the following forms:
1. The Residency
Primarily geared towards visual artists, environmental graphic designers, and digital content creators, residencies connect companies with local artists, inviting them in to create installations that evoke delight and enhance the visual character of the workplace. As we continue to explore the reasons why we want to return to the office, the ability of the office to provide a unique experience that you can't get in a remote setting routinely shows up at the top of this list — and art is critical to these enhanced experiences.
In some cases, these programs are initiated internally and are implemented solely within a single company. Alternatively, these programs can be developed by outside partners — including architects, art consultants, and community arts commissions — to connect local artists with a range of clients.
Currently, some of these residencies are being piloted in cities like San Francisco and Seattle — joyful antidotes to the "doom loop" narratives that have proven difficult to shake over the past couple years.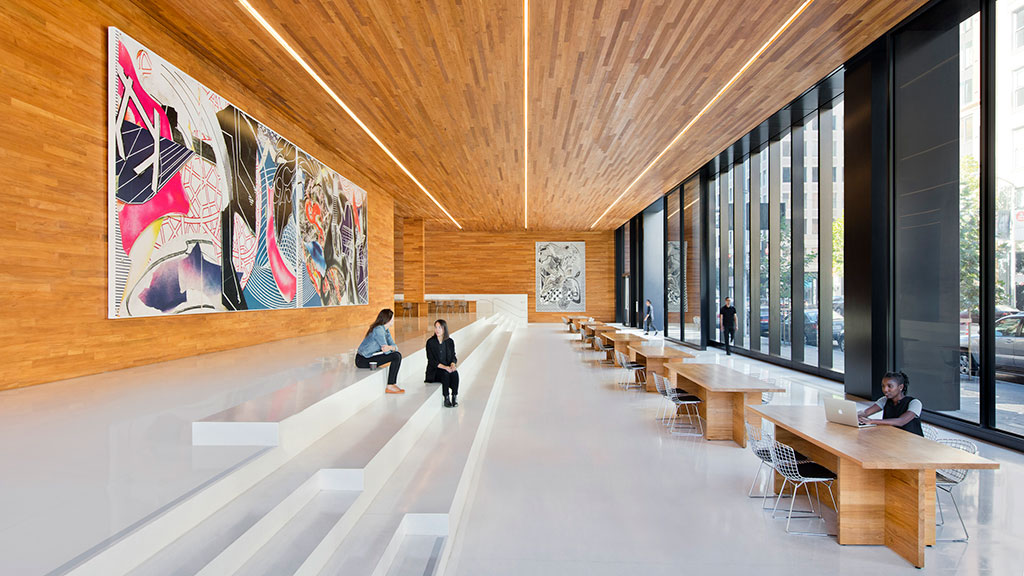 2. The Event Space
Similar to the Residency, but in service of education and developing the "whole self," these spaces enable connection between employees and neighborhood communities, with opportunities for reaching even larger audiences through streamed content. Participation can happen both in-person and virtually; a lecture by a well-known author could be attended in-person by employees and community members and would simultaneously be broadcast to anyone in the community who would like to attend — and participate — remotely.
Now's the time to be incredibly intentional about this kind of programming, to craft spaces that showcase and celebrate this kind of connectivity. To have maximum impact, these spaces should also integrate the same inclusive technologies that we're developing for workplace collaboration.
3. The Care Center
The Care Center is interchangeably an "Outside In" and "Inside Out" approach. It's a multipurpose space built to support a variety of community and cultural activities centered around care.
Based on community and employee needs, this might be programmed for childcare, a service that's important to many for the ongoing success of hybrid work, or mental health, which is more important than ever given the shifting nature of the world around us. Even pet care, once a nice-to-have amenity that's now being taken more seriously by both employees and employers alike, might find a home in one of these spaces designed to support work-life balance.
By approaching the design of these public-private spaces in thoughtful, dynamic ways, companies can improve public perception and affect change at a scale much larger than the spaces themselves. In so doing, they'll lay the groundwork for vibrant street-level experiences that persist well after the workforce has left the office for the evening.
For media inquiries, email .