Building Buzz: Strategies for Energizing the Workplace
February 09, 2023 | By Brian Stromquist
As workplace clients begin to consider their real estate investments in the coming years, they're paying increased attention to making sure that the utilization of these spaces matches the investment. In anticipation of this, many companies with hybrid or in-person work policies have engaged their employees using various strategies — including surveys, focus groups, and pilot studies — to gauge enthusiasm and get to the heart of why their employees want to be in the workplace. For these companies, the alignment of employee expectations with real-life workplace experience is critical to their real estate strategy.
According to a recent report by Accenture, leaders "must create reasons for people to want to come into the office, beyond free coffee — they must earn people's commute. Earning people's commute demands proper investment in designing intangibles."
How, then, do you design for "buzz" — that intangible phenomenon that bridges the anticipation of coming into work with the experience once you're there? And how do you harness this buzz to optimize workplace utilization? First, we'll explore what might constitute buzz — the dynamic interplay of variables that combine to form experiences unique to each organization. With an understanding of its intangible qualities, we can then look at specific activations that are buzz-promoting. These activations are strategic pairings of physical space and operational programming.
Mapping Buzz
Buzz is not a one-size-fits-all solution; it's a unique combination of sensory inputs (sight, sound, touch) and emotional inputs (expectation, personal investment, desired outcomes) that's tailored to an organization's culture and specific ways of working. Nor is it a universally experienced phenomenon; one employee's buzz could be another's distraction. It needs to be crafted with a significant degree of care and nuance, taking into consideration a host of accessibility and inclusivity considerations.
To identify an organization's unique energy, we'll start by looking broadly at sensory inputs and employee density (illustration 1). Sensory inputs track along the x-axis, ranging from low-input environments, with minimal sensory distractions, to high-input environments. Human activity tracks along the y-axis, increasing in density from solitary to jam-packed. A high-sensory, low-density environment might look something like a day spa; a medium-sensory, high-density environment might feel more like an airport.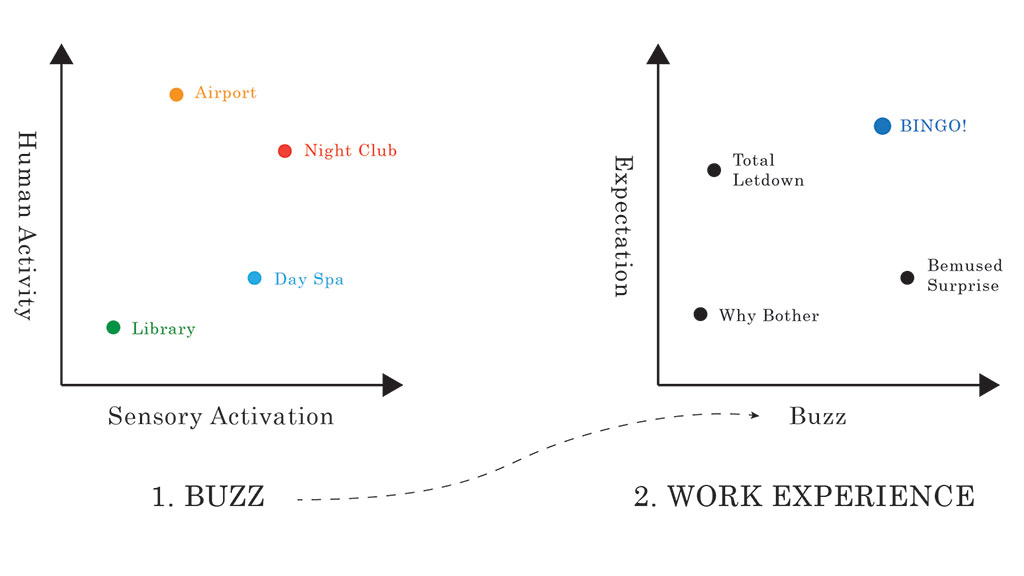 Once you've identified your organization's unique buzz, you can explore ways of tracking it relative to employee expectation (illustration 2). Here, we're really paying attention to optimizing environments so that workplace buzz matches — or even exceeds — employee expectation. The most successful workplaces will both excite employees who feel like their expectations have been met, and win over employees who have returned to the workplace with mitigated expectations.
It's worth noting again that buzz is not always a super-sensory, highly collective experience; it's instead a shorthand for the energy that resonates with a community of employees and visitors. Nor is it for everyone; people should have the option of engaging with a spectrum of buzzy and non-buzzy spaces within the office.
Buzz can — and should — exist within the full ecosystem of work environments, not just in the office. However, for the purpose of real estate utilization, we'll look at ways for designing for buzz within the workplace.
Planning & Programming
Architecturally, planning for buzz requires looking at those thresholds where expectation meets experience; it's the literal arrival points where first impressions are made. Tightening the alignment between expectation and experience will require immediate adjacencies of arrival zones and buzz-boosting environments. Traditionally, these environments have included reception areas, hospitality spaces, and event spaces. Within the workplace, buzz is achieved with similar thresholds — spaces through which employees pass as they engage in day-to-day work activities.
Successful buzzy spaces will require robust programming, too. An "if you build it, they will come" mindset will account for some degree of activation, but it will need to be accompanied by cyclical programming to bring people the office as well. These activities could include convening remote teams, interacting with customers, and engaging with the community. No space is going to utilize itself; sustained activation requires the participation of operations teams, people teams, and event teams.
With these planning and programming principles in mind, let's explore three architectural approaches for energizing the workplace.
1. On-site/Off-sites & Bookable Team Spaces
For companies with hybrid and remote-first work policies, team-building and purpose-building activities are paramount to their culture and business operations. Over the past couple years, many of these companies have embraced the concept of on-site/off-site programming to support this kind of activity. By clustering flexible conference rooms, lounge-like breakout areas, and food & beverage spaces, they've optimized the workplace to operate as a highly effective off-site host.
These on-site/off-site conferencing suites are sometimes accompanied by bookable team spaces — areas that teams can reserve for multi-day or multi-week periods for group projects or smaller-scaled retreats. In this new era of hybrid work, these spaces are often most utilized when they feel like elevated versions of traditional team rooms; modular worktables and moveable whiteboards are replaced by library tables, lounge seating, and embedded hospitality amenities.
By including these spaces as part of a front-of-house arrival experience, you're taking the built-in "buzz" of their use — the team collaborations, the keynote talks, the happy hour mixers — and weaving them into the sensory fabric of the workplace. To further amplify this buzz, one could really lean into the full travel experience, crafting an environment that captures the anticipation of travel, the user experience of booking transportation and rooms, the joy of seeing friends and colleagues, the concierge experiences that enhance your visit. You make design decisions that align the excitement of travel with the experience once you've arrived.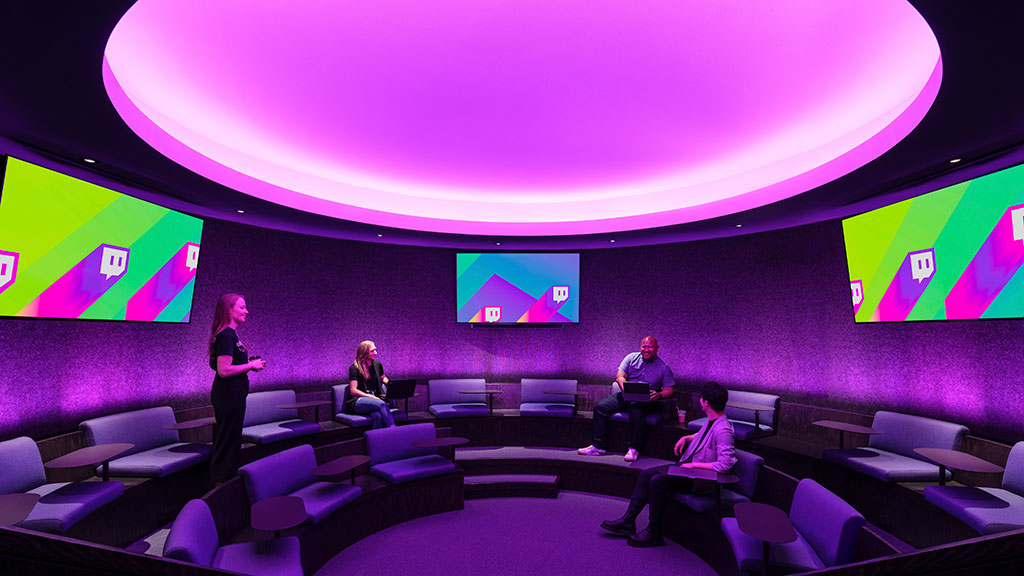 2. Customer Experience Centers & Executive Briefing Centers
For B2C and B2B companies whose business operations involve in-person engagement with customers and executives, Customer Experience Centers (CECs) and Executive Briefing Centers (EBCs) become important spaces for building buzz and transmitting brand.
Since the start of the pandemic, many of these spaces have undergone a transformation, especially CECs and EBCs embedded in larger workplaces (as opposed to standalone ones). What were formerly spaces dedicated to the exclusive use of visiting customers and executives have been made available for employee use, allowing employees to engage with a broader selection of amenity and collaboration spaces. Consequently, companies have reported consistent use of these spaces, even while utilization of the open office has been variable.
With these insights, we can be much more intentional about how we design these spaces, using brand elements and hospitality amenities to build buzz, and then to integrate these spaces as part of a more inclusive welcome experience. For guaranteeing consistent activation, event teams and product teams will play an outsized role, developing engagement-promoting events and actively inviting visitors to participate.
Importantly, in addition to creating brand-infused experiences, the democratization of the CEC/EBC is in service of transparency and community. Visitors want to physically interact with the people who are providing their products and services, especially at a time when automation and AI assistance makes these relationships seem a little more distant.
3. Community Club
Finally, there's the activation enabled by bringing in the community — especially the outside community. Like the conferencing center and CEC/EBCs, there's readily programmable in-person engagement, ranging from speaker series to food pop-ups to community education initiatives.
How might we design additional enhancements to bolster the buzz of these activities? Physical and digital exhibition surfaces can both advertise events and display community content, including art, sustainability commitments, and community impact metrics.
Workplace Buzz and Beyond
This buzz-building mentality should exist beyond the workplace, too. Regardless of one's preferred work location, we should continuously explore buzz at the intersection of space, tech tools, and cultural messaging. Ultimately, the success of one's real estate investment is dependent on the full ecosystem of workplace offerings — both physical and virtual. Anticipation and expectations are formed outside of the workplace, and can only be tracked against experience if they're successfully formed ahead of time. And when they're aligned, the resultant synergy between the two presents a bright outlook for commercial real estate for years to come.
For media inquiries, email .