Defining the Future of Our Cities: Five Areas of Opportunity for a Post-Pandemic World
May 08, 2020 | By Oliver Schaper
Cities are works in progress. At the core of what makes dense urban environments authentic, desirable, and attractive lies a network of forces that create unpredictability, serendipity, and diversity - qualities that in times of social distancing appear to be a threat to our personal safety and well-being. How can we, as urban planners and designers, devise strategies and tools to help influence the trajectory of these complex settings, enable equitable futures, and contribute to a sustainable and prosperous livelihood for communities and businesses — all while making people feel safer in a pandemic?
There is no quick fix. Even if an effective vaccine gets us past current quarantine practices, the possibility of pandemics will continue to exist. We need to continue to strengthen vital community infrastructure, shore up institutional support, provide spaces that can adapt to quarantine and surge-demand conditions, and in general establish effective communication protocols that deliver trusted and actionable information.
We are witnessing global disruption at an unprecedented scale. But if we can live though disruptions as a new normal, and in ways that allow us to keep the economy going while staying engaged with work, school, family, and friends — then we may emerge even stronger and more resilient as a community.
Getting us there will require work in areas that were already in need of attention prior to the crisis, as well as new opportunities that will emerge with the changing landscape. Given these uncertain futures, we should explore urban design as a flexible, process-based "inter-discipline" that can adjust for new factors, rather than be reduced to fixed, implementation-minded master plans.
Through our work on cities, we have been involved in shaping several trends that we believe will become fundamental change agents and interdisciplinary design priorities for the coming decade or two. Depending on market forces and regulatory frameworks, we see five major areas of opportunity: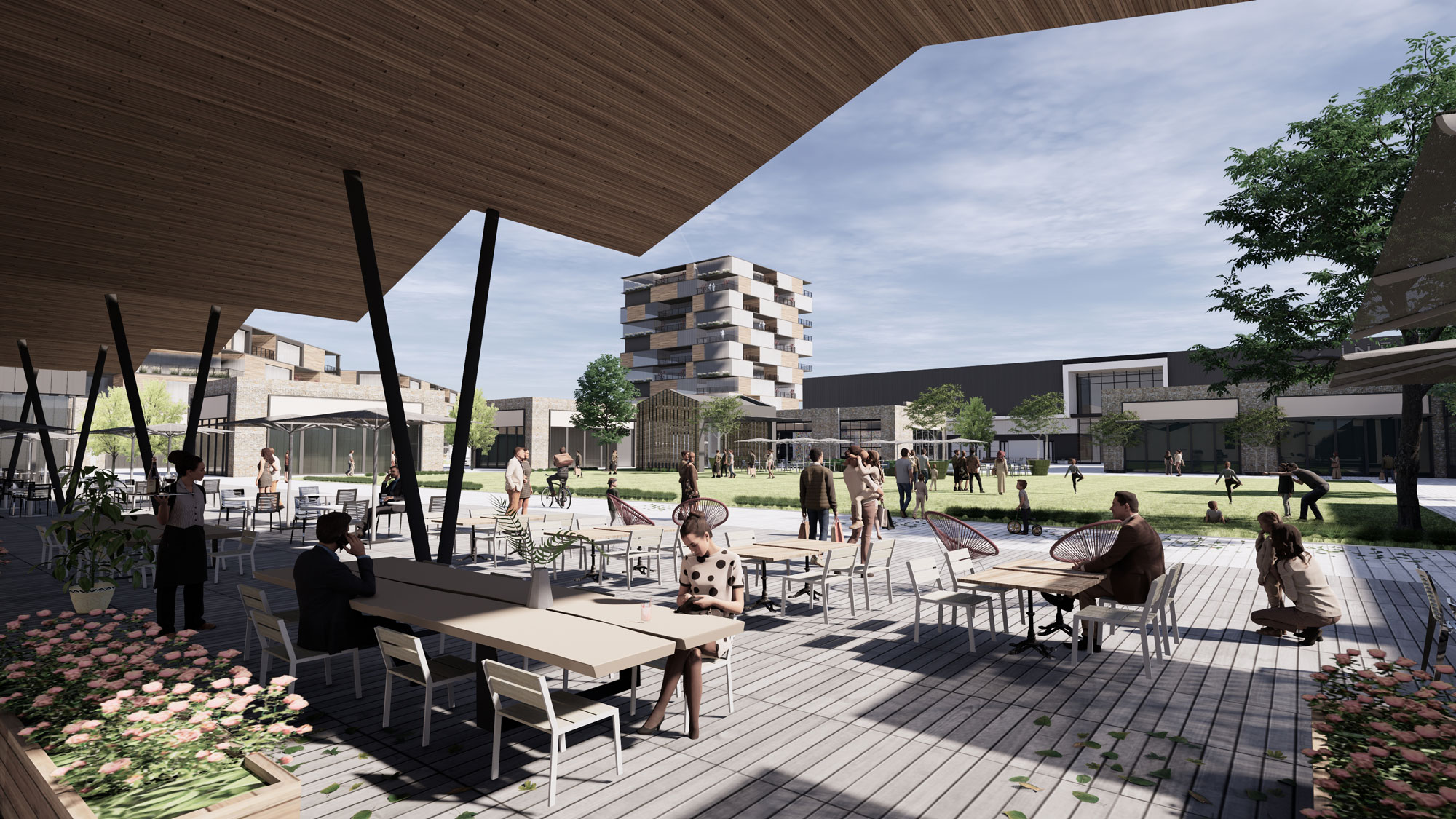 1. Creation of new, flexible urban typologies
Fueled by the increasing momentum of adaptive reuse and repositioning, single-use environments such as malls, industrial environments, corporate offices, and even higher education campuses in both urban and sub-urban locations are being reconfigured into walkable, mixed-use communities. In cities like New York, we are already seeing success combining advanced manufacturing and light industrial uses with live-work residential spaces, entertainment functions and retail. Planning for surge capacities in certain types of real estate during pandemics and flexibility of adaptation to changing operational protocols from the building to the neighborhood scale will inform future planning considerations.
2. Deepening impact of the new mobility paradigm
Emerging modes of personal mobility, such as e-bikes and scooters, have already created new autonomy of movement for many people, re-shaped our individual spatial relationships with cities, and offered alternatives to overcrowded public transportation systems. With next-generation transportation options like autonomous vehicles and aerial ridesharing on the horizon, we are still at the onset of this paradigm shift that will present wide-ranging opportunities for urban planning.
With smart design solutions, autonomous mobility could become a means of accessibility for all. It could expand the possibility of alternative uses for public rights-of-way and support more flexible use patterns of streets and roadways that account for about 30% of the public space in most cities. Sidewalks, for example, could be expanded outside of rush hours to be made accessible for neighborhood activities, as we suggested in our proposal for Park Avenue in New York City, or generally yield to the increased demand of space in times of social distancing.
3. Tandem focus on global and local challenges
Preparation for future pandemics will now be part of the layered global challenges we need to address to make progress towards achieving the UN Sustainable Development Goals. In particular, climate change and its related threats require unmatched innovation and decisive interdisciplinary action to protect vulnerable communities in coastal areas and elsewhere. Cities, not countries, will have to position themselves at the forefront of effective localized intervention, bolstering resilience and sustainability, integrating the needs of local communities while sharing effective strategies with the global community.
4. A process (r)evolution
Healthy communities are the basis for creating and maintaining economic activity. This has been true all along but deserves special emphasis after our recent experiences in lockdown around the world. Trust, a sense of belonging and robust community support structures are the necessary ingredients to build social cohesion and resilience. Our current planning practices will need to evolve new approaches to community engagement while balancing short-term gains with long-term needs, affecting positive change, and fulfilling the promise of prosperous and inclusive livelihoods. The planning discipline needs to be open to new concepts of emergent planning and "planning for complexity" — considering strategies that set up comprehensive community plans to flexibly react to multiple future scenarios. Neighborhood resiliency hubs could act as a communication link and facilitator to build bottom-up and top-down capacity for policy implementation and crisis assistance.
5. Cities are a model
Until now, the sheer complexity of cities has meant that urban planning was limited to making assumptions based on unavoidably incomplete data sets and so-called best practices. While the development of digital twin technology on a building scale has been a focus in our industry for the past 10-15 years, we are beginning to see digital twins being explored at the city scale. As this trend matures, we need to embrace the opportunities of smart city technology as an integrated component of the 21st century city and guide the tech industry past the isolated application of gadgetry in urban spaces. Acknowledging that privately owned sensors and data collection protocols should be held to follow the most compliant guidelines, this level of data availability clearly has a game-changing potential to support emergent cities and provide valuable insight into rapidly changing conditions like those we've seen in recent months.
We believe that the coronavirus has not and will not change the role of cities as the preeminent setting that encourages vital social cohesion, builds community and provides equitable socio-economic opportunity. However, the COVID-19 crisis demonstrates very clearly that we have a long way to go to fulfill this promise. As with any disruption, we are seeing opportunity to rethink how we plan and manage urban systems and infrastructure.
At Gensler, we have cultivated a broad range of practices, all collaborating seamlessly over a globally connected design platform. Our work on cities is affected by every single one of those practice areas. Cities + Urban Design provides the lens through which we decipher our increasingly urban world.
As designers and architects, we interact with the complexity of urban environments in order to define the future of cities. We must acknowledge that the big global challenges of our times need creative solutions generated through collaborations among disciplines that are too often disconnected. Ultimately, we want to create cities that promote safety, welcome diversity, foster inclusivity, address sustainability challenges, and enable resilient livelihoods in meaningful ways for people at the local level so that everyone can live to their potential through a pandemic and beyond.
For media inquiries, email .