Ford Reimagines Detroit's Oldest Neighborhood for an Evolving Workforce
November 18, 2020 | By Lily Diego, John Waller
As Ford continues to evolve its business for a new century, the company has returned to its roots in the Motor City as a launchpad for its plans to shape the future of global mobility, furthering Detroit's revitalization effort. In its multi-year adaptive reuse and repositioning of the iconic Michigan Central Station and several surrounding landmark buildings, Ford aims to create a new mobility innovation district in Corktown, one of Detroit's oldest neighborhoods. The new district is designed to attract world-class talent, startups, entrepreneurs, and partners to join Ford in designing new mobility solutions for the way people and goods will move around tomorrow.
So it's only fitting that the Ford-owned latest Book Depository, one of the first buildings to open in the Michigan Central development, isn't your traditional office space. It will become the industrial center of the district, with maker spaces, labs, and mobility studios. The repositioned 1930's Albert Kahn building, originally built as the city's main post office and then used as a Detroit Public Schools Book Depository, is emblematic of today's evolving workplace — it's a blended, collaborative environment, where the lines between traditional desking and adjacencies are increasingly blurred.
The multi-tenant, three-story building will bring together innovators, entrepreneurs, emerging technology companies, designers, technologists, and Ford employees to develop, test, and launch new mobility solutions in a creative, fluid space designed to flex for future needs.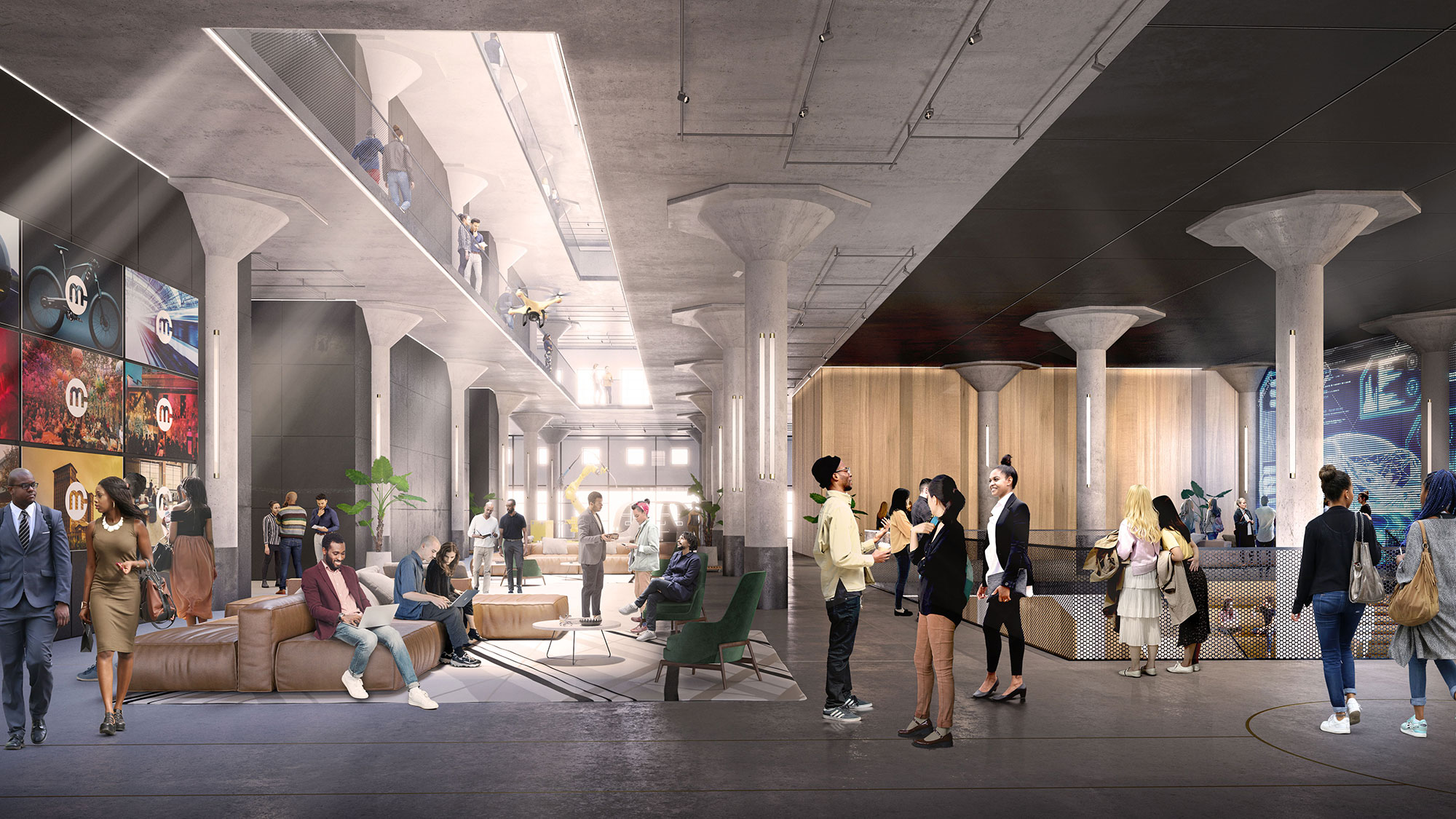 A workplace designed to support flexible, hybrid work
With built-in flexibility and choice as a cornerstone for the design, the Book Depository is designed to meet the demands of today's workforce. The entire space will be an adaptable kit of parts, where anything from furniture to fixtures can be flipped, moved, or reused to support a multiplicity of uses, so workers can engage with the space in different ways. Tenants are encouraged to collaborate, synthesize, and push ideas forward.
This notion is supported by Gensler's latest U.S. Workplace Survey findings, conducted in summer and early fall 2020, which suggest that the benefits of a hybrid work model are quickly emerging, with positive benefits including enhanced creativity, productivity, and quality of relationships.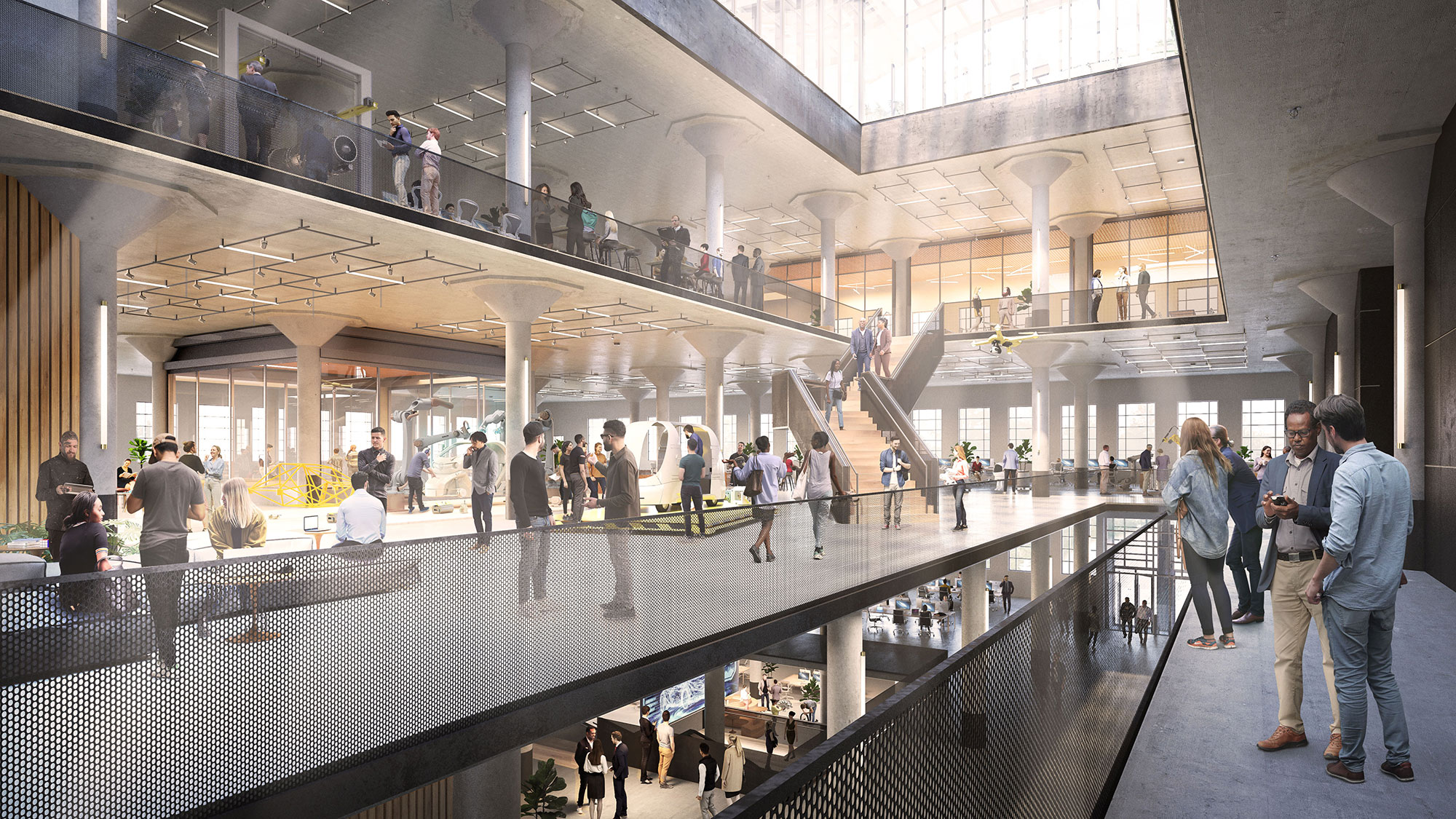 Even before the pandemic, Ford had been exploring distributed and hybrid work, and the Book Depository extends this ethos to support a diversity of tech-enabled workstyles across its tenants. For example, if half of a business unit is working at home, they can easily connect with a group that's working in the Corktown office. From conferencing to strategy rooms, all spaces will be tech-enabled to allow for real-time digital and virtual working among remote team members and collaborators.
Proximity is also key. With bigger floor plates and offset cores, the repositioned building frees up space for a larger, flexible workspace to spur collaboration and unexpected collisions among colleagues and industry partners.
High-value amenities to appeal to a creative workforce
In today's competitive work environment, where workers increasingly demand choice, employers need to find ways to make the workplace a destination, rather than a container for people. They need to give people reasons to come into the office.
According to Gensler's 2019 U.S. Workplace Survey, the best amenity strategies prioritize anywhere-working, creating hybrid settings that deliver both an amenity and a workspace. Our 2020 U.S. Workplace Survey research also finds that outdoor spaces, fitness centers, and other health and wellness offerings are among the most desired amenities.
The Book Depository will feature robust, shared amenities that promote employees' and tenants' healthy lifestyles. Ideas being explored include a grab-and-go market, 24/7 coffee, a wellness lounge, bike storage and lockers, and a roof terrace. This mix complements the district's overall amenities to create an elevated, hyper-local tenant experience.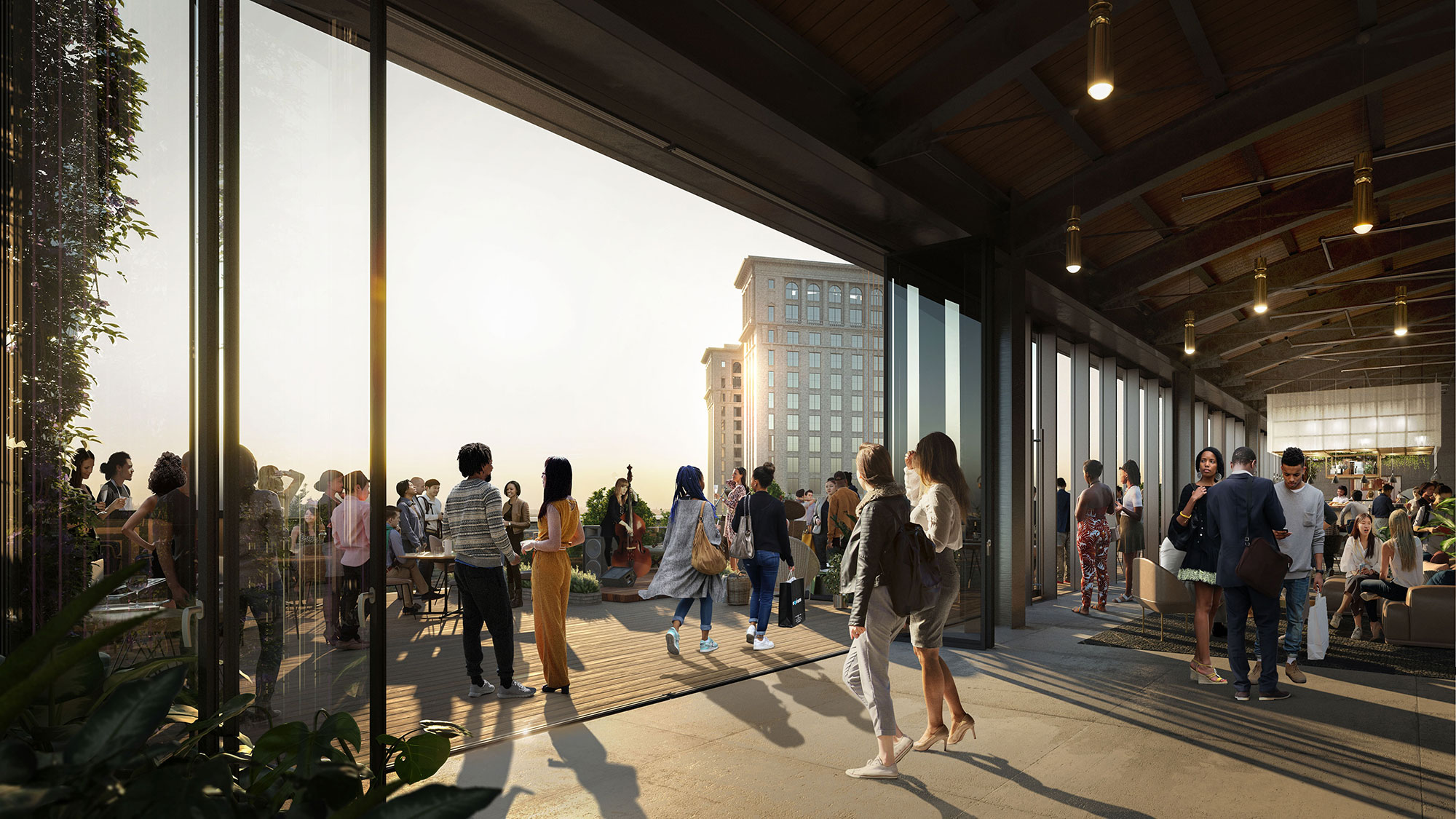 Forging community connections
Michigan Central will be a potential node on the State of Michigan's proposed connected and autonomous vehicle corridor running from Ann Arbor to Dearborn to Detroit, linking the district to the region's other centers of automotive research and testing. The Book Depository will act as a connecting gateway to Michigan Central Station and the first-of-its-kind mobility platform on the elevated railroad tracks behind it, as well as multiple outdoor plazas and open spaces that weave into the neighborhoods.
The new mobility innovation district represents Ford's commitment to the city of Detroit, its residents, and a nod to the critical role transportation plays in revitalizing cities of the future. Being in the heart of America's comeback city will help attract talent, startups, and engineers who want to tackle these challenges together with the automaker. Through meaningful, dynamic placemaking, we hope this development and its ecosystem will act as a community connector that will bring an influx of diverse people who will drive ideas forward together, while also bringing new vitality and resilience to the surrounding community.
For media inquiries, email .